Written by scoopsnews on November 11, 2015 – 9:47 am -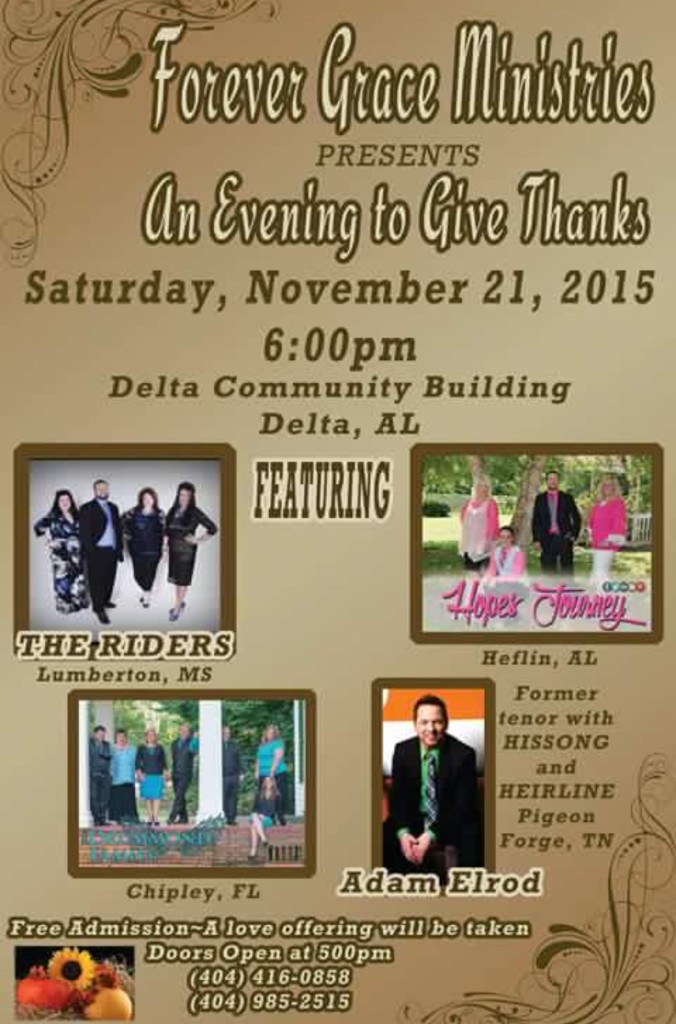 In just 10 days…..this awesome event will take place. Taking the stage that evening will be some of the best voices in gospel music…The Rider's from Lumberton, MS…The Drummond Family from Chipley, FL…local favorite, Hopes Journey from Heflin, AL and one of the best tenor singers in gospel music…Adam Elrod….known for his chart topping song, "That's When God Steps In"
There is NO admission to get in, but a love offering will be taken for the groups…The doors will open at 5. Come Hungry, there will be a concession stand open…Hot dogs…nachos…homemade cake…coffee…soft drinks.
Looking forward to seeing and meeting you all there.
God Bless,
Rhonda Wooten,
Forever Grace Ministries
Click here : for the best concert news.
Tags:
Adam Elrod
,
Forever Grace
,
Hope's Journey
,
The Riders
Posted in
announcements
|
Comments Off

on An Evening to Give Thanks
Written by SGN Scoops on September 4, 2013 – 7:10 am -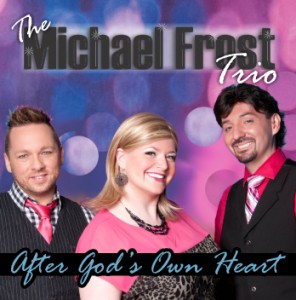 PIGEON FORGE, TN — The Michael Frost Trio, based in Pigeon Forge, TN, plan to release a new CD during The National Quartet Convention next week in Louisville, KY. In addition, the trio will perform during the Featured Artist Showcase on Tuesday, Sept. 10 at 1 p.m.
The trio includes the husband and wife team of Michael and Jen Frost along with tenor singer Adam Elrod, formerly of HisSong. Adam joined the group last year at NQC, where they made their debut appearance together during a showcase. Following that performance, they were invited to sing on main stage that same evening..
The new project, titled "After God's Own Heart," features 11 tracks, most of which were written by Michael Frost. The CD is produced by Shane Roark at Chapel Valley Studios. The first radio single, "When I Could Not Pray," is currently gaining radio airplay across the country. Visit the trio's website, www.themichaelfrosttrio.com, to order the project and to listen to sound clips. Visit the trio's booth at NQC to pick up a copy of the CD and soundtrack.
Tags:
Adam Elrod
,
hissong
,
Michael Frost Trio
,
nqc
Posted in
announcements
|
Comments Off

on Michael Frost Trio to release new CD at NQC
Written by SGN Scoops Staff on September 19, 2012 – 1:42 pm -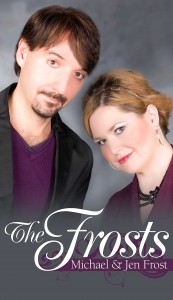 PIGEON FORGE, TN — Singer / songwriter Michael Jason Frost, along with his wife Jen, will soon be joining a new Christian-based musical production in Pigeon Forge, TN. Additional details about the show, the location, and more will be announced very soon.
In addition to performing in the new production, The Frosts will also serve as writers. Michael has written several songs for the show and Jen has written much of the script.
Michael and Jen Frost first met while working in Christian theater a few years ago. Both were performers in The Miracle, a large-scale musical production about the life of Christ that ran for six seasons. There, Michael played various roles from John the Baptist and Judas, to the leading role of Jesus. Jen also filled various roles, from Mother Mary to Martha.
"Jen and I are overjoyed to have the opportunity to work together once again in Christian-based theater," Michael said.
Following the closing of The Miracle, Michael toured and recorded with Dove-Award nominated trio, HisSong. He will exit the group to accept the new theater position this fall.
Michael is best known in the southern gospel world for his songwriting credits, including "That's God" and "Three Words, Three Nails, Three Days." Currently, Michael's songs can be found on the latest projects by The McKameys, Ivan Parker, HisSong, and more.
Michael and Jen are also known as vocalists in "The Michael Frost Trio." The trio, including singer Adam Elrod, recently made an impact at the National Quartet Convention (NQC) this year after being invited to perform an upcoming radio release, "Author and Finisher," on the main stage.
In addition to performing in the theater, Michael and Jen will continue their music ministry in churches and concert settings, presenting their blend of original songs and personal testimonies. The Frosts are represented by The Adoration Agency (www.adorationagency.com) and record for Chapel Valley Studios.
The Frosts have a daughter, Jael Esther, age 2. More information about The Frosts is online at www.michaeljasonfrost.com
Tags:
Adam Elrod
,
hissong
,
ivan parker
,
Michael Jason Frost
,
national Quartet Convention
,
southern gospel
,
Southern Gospel News
,
The Mckameys
,
The Michael Frost Trio
,
The Miracle
Posted in
announcements
|
Comments Off

on Frosts to write and perform for new Christian theater production
Written by SGN Scoops Staff on August 30, 2012 – 10:15 am -
Nashville, TN (August 30, 2012) – HisSong'sTenor singer, Adam Elrod, announces his departure from the group after a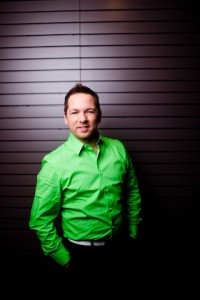 10 year faithful stand with the ministry. New and exciting things are to come as He ends this chapter with HisSong and starts a new chapter of his life in Music.
"For 10 years, I have been blessed to be HisSong's original tenor singer since it's beginning on Dec 26, 2001. Saying goodbye to family and friends I have made over this time period is not an easy thing for me to do, but nevertheless, a new chapter has begun for me. As I begin this new journey in my life, I ask for your prayers and support, as I work on my new Solo Cd, that God will direct my path and show favor on me. I am excited about the future God has planned and I am at peace with my decision."
Psalms 27:1(The Lord is my light and my salvation; whom shall I fear? The Lord is my strength of my Life; of whom shall I be afraid?) I want you all to know that I love you and look forward to seeing you real soon in concert. I want to personally say Thank you to Marvin, Helen, David and Dennis Humphries for allowing me a platform to minister the gospel in song for 10 years and most importantly to God for the Incredible Journey! God bless all ya'll… Adam
Tags:
Adam Elrod
,
Dennis Humphries
,
Faith
,
hissong
,
southern gospel
,
Southern Gospel News
Posted in
announcements
|
Comments Off

on Adam Elrod Departs HisSong