Written by SGN Scoops on August 27, 2012 – 6:10 am -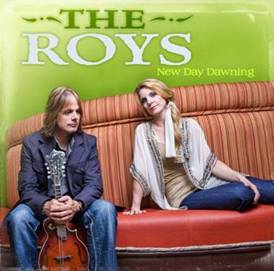 Nashville, TN (August 27, 2012) — Media excitement surrounds THE ROYS' new EP, NEW DAY DAWNING (Rural Rhythm Records), which will be in stores tomorrow. The trendy brother/sister duo is launching its new music by utilizing a well-timed blitz campaign of television, radio, web appearances and social media. The outreach connects with multiple-genre targets, including Bluegrass, Country and Americana outlets.
AOL Listening Party (August 27 – September 3) / AOL Music with cross-promotion on AOL's Country site, The Boot.
SiriusXM Freewheelin' (Road Dog Trucking Radio Channel, Sirius 147 and XM 171) /The duo will perform live in studio today from 1 – 1:30 p.m. Eastern.
Fox News "Edge" / Lee and Elaine will tape an interview and performance segment today for airing on 160 station affiliates and on Fox News Edge tomorrow, Tuesday, August 28.
Country Music Chat (#CMChat with Jessica Northey) / The siblings log on to Twitter Tuesday, August 28 and begin their chat at 5 p.m. Eastern.
Bluegrass Radio Network's Into The Blue with Terry Herd will air an album profile/interview on WSM Radio September 2 from 9-10 pm and on the other 138 affiliated stations of the Bluegrass Radio Network during the week of September 2 – 8.  Times and stations can be found at the BRN website.
GAC-TV's "On The Streets" gives a nod to the duo and the new EP tomorrow, Tuesday, August 28.   Check local listings for show times.
Exclusive video contentwas created especially for the following online destinations: Huffington Post, Billboard, Maverick, ParcBench, Roughstock, HighwayFM, Focusonthe615, TheAlternateRoot and BluegrassNation.
As part of their NEW DAY DAWNING pre-release media blitz, THE ROYS have already enjoyed an exclusive premiere of their "Still Standing" Lyric Video on PRESCRIPTION BLUEGRASS and a seven-week promotion with BLUEGRASS TODAY that featured a different video track each week.  SiriusXM Bluegrass Junction Channel 61 aired an in-depth "Track-by-Track" profile hosted by Kyle Cantrell August 22 – 26.
The seven-song EP (a first for a Bluegrass artist) finds the duo breaking new ground, focusing the spotlight on the siblings' impressive traditional-style vocals, while progressive instrumental attitudes are keeping their sound fresh.  Their current single "Still Standing" has been dubbed "Their strongest outing yet," by Music Row's Robert K. Oermann.  Other disc highlights abound and include the touching "Daddy To Me," the moving "Windin' Roads," the visually descriptive and heartbreaking "Grandpa's Barn" and the "hooky" "Fast As We Roll."
THE ROYS' first Rural Rhythm Records' CD, LONESOME WHISTLE, earned them a spot on BILLBOARD'S Top 50 Bluegrass Albums of 2011 Chart and gave them two hit singles: "Coal Minin' Man" and "Trailblazer."  The duo was named 2011 Inspirational Country Music's Bluegrass Artist of the Year and was previously honored with the ICM's Duo of the Year award in 2010 and 2009.
In case you missed Lee and Elaine's most-recent interviews, click on Inside Music Row and Urban Country News.
ABOUT THE ROYS
With over 150 dates booked so far this year, Lee and Elaine have shared the stage with George Jones, Lady Antebellum, Jason Aldean, Ricky Skaggs, John Rich, Darryl Worley, Doyle Lawson, Janie Fricke, The Oak Ridge Boys, Rhonda Vincent and Chris Young.  They have enjoyed high-profile TV gigs, including performances on Fox & Friends, Daytime, The Daily Buzz, ABC's What's The Buzz, GAC's Headline Country, RFD's Campfire Café and Larry's Country Diner and more.  THE ROYS were recently featured in the PBS television special Pa's Fiddle: Charles Ingalls, American Fiddler and have hosted seven episodes of the Bluegrass Mountains television show.
Copies of NEW DAY DAWNING are available at retail outlets Wal-Mart, Music Millennium, The Country Music Hall of Fame, The Disc Exchange, Ernest Tubb Record Shops and online at AMAZON and iTunes.
Tags:
AOL® Music
,
box news edge
,
country music chat with Jessica northey
,
Inspirational Bluegrass
,
Rural Rhythm Records
,
The Roys
Posted in
announcements
|
Comments Off

on Media Excitement Surrounds THE ROYS' New EP Release, NEW DAY DAWNING
Written by SGN Scoops Staff on July 5, 2012 – 2:44 pm -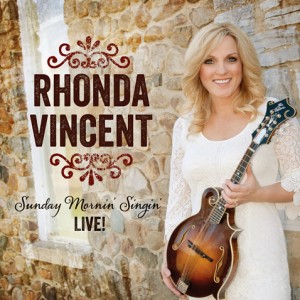 Nashville, Tenn. (Thursday, July 5, 2012) – The Queen of Bluegrass, Rhonda Vincent, has always dreamed of releasing an all-gospel CD and that dream is about to come true! Sunday Mornin' Singin' LIVE!, the first all-gospel release from five-time Grammy® nominee Rhonda Vincent, will be available in retail stores and online on July 10, 2012.
Recorded live at Rhonda's childhood home church, Greentop United Methodist Church in Greentop, MO, this release captures Rhonda, along with her multi-award winning band The Rage, singing gospel classics alongside new favorites with exquisite musicianship and heavenly harmonies resounding through the over 100 year old church.
Seven-time International Bluegrass Music Association (IBMA) Female Vocalist of the Year Rhonda Vincent is known for including Gospel music into her performances and grew up singing Gospel music with her family band, The Sally Mountain Show. Rhonda shared: "This is the music I grew up on – the music that shaped who I am today. My family sang this music all our lives and I've always included Gospel music in every performance. Going back to my childhood church to record this very special project made this moment in time unforgettable and I/m so excited to share this with all my friends."
AOL® Music is currently featuring the CD as part of their weekly Full CD Listening Party along with the soundtracks to the movies The Amazing Spider Man, Abraham Lincoln: Vampire Hunter and more. You can preview the entire CD online at http://music.aol.com/new-releases-full-cds. The free preview will last until July 15, 2012.
Additionally, the CD was featured on Sirius/XM's Bluegrass Junction on a special July 4th edition of Track-By-Track at 11:00 AM EST. It will rebroadcast Thurs. 7/5 at 9:00 PM EST, Sat. 7/7 at 8:00 AM EST and Sun. 7/8 at 11:00 AM EST. Rhonda is featured in magazines such as Country Weekly, Homecoming Magazine, SGN Scoops and on the TV show Inside Music Row sharing thoughts and details about each song on the new CD.
If all that wasn't keeping Rhonda busy enough, release week will find her celebrating her birthday with a special show during the Ryman Bluegrass Series presented by Springer Mountain Farms on Thursday, July 12, 2012. She will also be featured on several Nashville TV shows and on the radio on WSM.
Sunday Mornin' Singin' LIVE! is available on the Upper Management Music label and distributed by Universal Music Distribution. The CD will be available on July 10, 2012 at Best Buy, Walmart, Target, online at iTunes, Amazon and everywhere that great music is sold! You can order an autographed copy at www.RhondaVincent.com.
Connect with Rhonda online at Facebook.com/RhondaVincentOfficial and Twitter @RhondaVincent13
Sunday Mornin' Singin' Live! Track Listing:
1. I Feel Closer To Heaven Everyday
2. Blue Sky Cathedral
3. His Promised land
4. Where We'll Never Say Farewell
5. Silent Partner
6. Just As I Am
7. God Put A Rainbow In The Clouds
8. Prettiest Flower There
9. The Last Best Place
10. Walking My Lord Up Calvary's Hill
11. Fishers Of Men
12. Homecoming
13. Where No Cabins Fall
14. Help Me To Be More Like Him
15. Joshua
16. Old Rugged Cross
Tags:
AOL® Music
,
bluegrass
,
International bluegrass Music Association
,
Queen of Bluegrass
,
Rhonda Vincent
,
Sirius/XM
,
Southern Gospel News
Posted in
announcements
,
christian entertainment
,
Christian interest
|
Comments Off

on Rhonda Vincent Returns To Her Roots!