Written by Staff on June 12, 2019 – 11:37 am -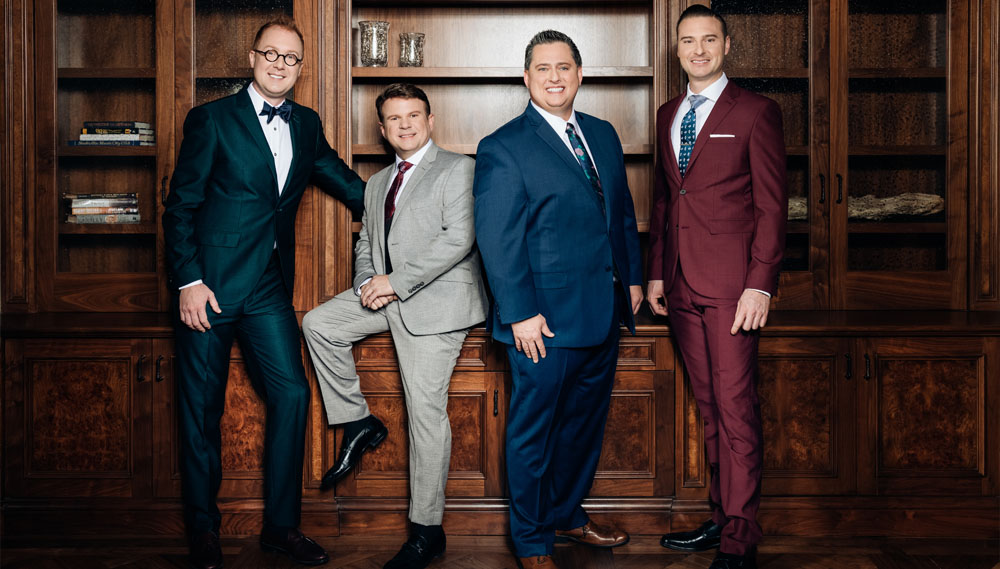 Heritage and tradition is incredibly important in the Southern gospel music field. The quartets of today often look to groups of old for inspiration, while putting their own spin on their style of music. One of the groups leading the way is fittingly named Tribute Quartet. This dynamic quartet, founded in 2006 by Gary Casto and Josh Singletary, honors those who have come before and is dedicated to sharing the Gospel through their music. Their mission statement is simple: "preserving the heritage and promoting the future of gospel music."
Tribute Quartet will be celebrating their 13th year in full time Southern gospel music this year. Over the years, this powerhouse group has been delighting fans with their energetic style, humor, courtesy of Josh Singletary, and the message of the Gospel via incredible songs. The current lineup is comprised of lead singer and founder Gary Casto, baritone and pianist Josh Singletary, bass singer Anthony Davis, and the newest member, tenor Gus Gaches.
Casto has been singing full time in gospel music for 36 years and his classic lead voice has captivated audiences all over the country. He also serves as the group's emcee at their concerts.
Josh Singletary has been singing in gospel music for 18 years. His unique, crooner- style voice adds a great dynamic to the group, as does his crazy sense of humor. Anthony Davis has been with the group since 2011, for eight years of experience in Southern gospel music. His smooth bass voice has cemented him as one of the most popular bass singers on the road today. Gus Gaches is no stranger to Southern gospel music, having traveled with both the LeFevre Quartet and Legacy Five. Gaches, who joined the group in January, has 19 years of experience and has become a fan favorite tenor.
These talented vocalists are inspired by many of Southern gospel music's finest. Casto states, "To name them all would take a novel. We all have a vast variety of musical influences. But the group as a whole has influences from the Cathedrals, Wilburns, and Statesmen, to the Imperials, Oak Ridge Boys, and a plethora of others."
Tags:
Anthony Davis
,
April 2018 SGNScoops Magazine
,
Gary Casto
,
Gus Gaches
,
Josh Singletary
,
SGNScoops Magazine
,
Tribute
Posted in
announcements
,
artists
|
Comments Off

on Tribute Quartet: Uniting the past, present and future of Southern gospel
Written by Staff on April 25, 2019 – 2:42 pm -
2019 April SGNScoops Publisher's Point By Rob Patz
Welcome to the April's Publisher's Point. I'm Rob Patz and this month I want to get very real and personal with you about the last few years of my life, and to be honest with you, probably even longer than that. I have not always been good at facing my fears. I will tell you that at times I've avoided my fears as much as possible and done as much as I could to steer clear of them.

Have you ever looked at the definition for fear?

"An unpleasant emotion caused by the belief that someone or something is dangerous, likely to cause pain, or a threat."

I will tell you this: Over that time I experienced an incredible amount of unpleasant emotions, mostly out of fear that I would fail, or that people would think I had failed, when in reality the failure was not facing the fear straight on.
Over the last few weeks, I have truly been seeking God over some decisions that I will be making over the next few months, one of which I will be announcing in May on our website. Be watching for that! My hesitation to do the things that I needed to do was based in fear.
Many of us who are in ministry or in business are at times crippled by fear, or we are crippled by the fact that we might fail. We're crippled by the fact that our ministry might be looked at as different because we make a bold decision.
Recently in a quiet time with God, he told me it was time to face my fears because in those times I would grow and learn from what he was going to teach me. I will tell you this, I still have a fear that someone will look at what I do as crazy or that someone else will think that I am a failure, but that is not it at all nor what we should worry about. We should worry about doing what God has called us to do and not worry about what man might say. I know that's easier said than done. But it's something that I have been practicing over the last few weeks; learning to understand my own fear and then realizing I can move forward past it.

Love these verses in Luke 12:22-26:
"Do not worry about your life, what you will eat; or about your body, what you will wear. Life is more than food, and the body more than clothes. Consider the ravens: They do not sow or reap, they have no storeroom or barn, yet God feeds them. And how much more valuable you are than birds! Who of you by worrying can add a single hour to his life? Since you cannot do this very little thing, why do you worry about the rest?"

So let me challenge you as we come to the mid part of 2019, that whether you're in business or in ministry: Face your fears. Set your face towards your fears, and learn how to overcome them, because he that is in you is greater than he that is in the world.
When we realize that fear does not come from God, we can begin to conquer many of the things that look like stumbling blocks in front of us.

Hey, I want you to be with us at Creekside 2019 in Pigeon Forge, Tenn., Oct. 27 – 31.  Please contact me about your hotel room, and come and enjoy over 50 great artists and five great days of gospel music!
This is the April Publisher's Point.
By Rob Patz.
First published in SGNScoops Magazine April 2019.
Download the latest edition of SGNScoops Magazine
HERE
Tags:
April 2018 SGNScoops Magazine
,
Fear
,
gospel music
,
rob patz
Posted in
Christian interest
,
sgn scoops magazine
|
Comments Off

on Facing your fears with Rob Patz
Written by Staff on April 19, 2019 – 12:58 pm -
We are happy to present the SGNScoops Magazine for April 2019. This is the month of Easter, Resurrection Sunday, Good Friday, and the celebration that comes with knowing Jesus Christ, our Lord, is alive!
We are thrilled to feature the Tribute Quartet on our cover. Justin Gilmore has written the feature which shares all of the news you want to know about one of Southern gospel music's favorite quartets. Find out what Gary Casto is looking forward to this year.
April is also Autism Awareness Month, and we are honored to share the story of Nolan Urbates, as told by Angela Parker. Dr. Greg Grillo helps us understand the special attention needed when giving dental care to children with special needs.
Robert York brings us up to date on the King's Heralds, Cheryl Smith talks to the mom of Karen Peck and New River, and Les Butler introduces us to his friend, Earle Wheeler of the Marksmen Quartet.
Special thanks to Dr. Bill Dykes who talks to a pastor who has experienced some deep valleys, Dr. Rudy Holland. Suzanne Mason reviews a new movie, The Pilgrims Progress, in time for Easter viewing. All of this, plus radio charts, the DJ Spotlight, new release reviews, the Publisher's Point and the Editor's Last Word.
Thank you all so much for your continued support and feedback about the SGNScoops Magazine. We appreciate your emails and we are thankful for all of our readers, as well as our faithful writers. I hope this month brings you all a renewed enthusiasm for everything you do for Jesus. He is Almighty God and He wants to be your friend today. If you want to meet Him, please contact any of our staff or email me at 
lorraine@sgnscoops.com
. Have a wonderful month!
Read the latest edition of SGNScoops Magazine HERE
Download the latest edition of SGNScoops Magazine
HERE
Tags:
April 2018 SGNScoops Magazine
,
Autism Awareness
,
Earle Wheeler
,
gospel music
,
SGNScoops Magazine
,
The King's Heralds
,
The Marksmen Quartet
,
Tribute Quartet
Posted in
announcements
,
artists
|
Comments Off

on April 2019 SGNScoops Magazine