Written by SGN Scoops on November 13, 2013 – 12:19 pm -
Jason Crabb appears on the red carpet at the 47th Annual CMA Awards in Nashville, TN on Wednesday, November 6, 2013 at Bridgestone Arena. The awards were broadcast on ABC Television Network.
Jason Crabb, Grammy® and multiple Dove award winner, walked the red carpet prior to the 47th CMA Awards held at Bridgestone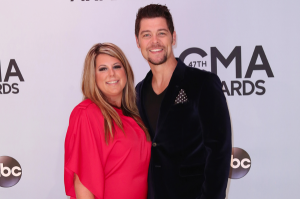 Arena on November 6, 2013. Accompanied by his wife, Shellye, Jason spent time chatting with reporters and media outlets sharing about his involvement in the new book, Country Faith, that was just released. The noted vocalist is featured alongside country greats Carrie Underwood, Brad Paisley, Wynonna, Alan Jackson, Barbara Mandrell, and more. The book was written and compiled by noted journalist Deborah Evans Price, who was honored with the CMA Media Achievement Award during the evening.
Jason Crabb and wife Shellye appear on the red carpet at the 47th Annual CMA Awards in Nashville, TN on Wednesday, November 6, 2013 at Bridgestone Arena. The awards were broadcast on ABC Television Network. Photo by Curtis Hilbun
Jason also spoke about his brand new single to country radio, "Love Is Stronger." The video and song have resonated with audiences around the country. After a successful USAtoday.com debut, the video is now available worldwide on TV stations and online. Sharing the message of hope and love, the single is quickly becoming one of the most-added songs at radio today.
During the night, Jason talked with FOX News, USAtoday, the Tennessean, Seventeen Magazine, People, Billboard, Inside Edition and met up with Willie Robertson from Duck Dynasty and rising country star Payton Rae.
The popular vocalist was recently featured as a special guest on the "Worship Around The World" tour with Michael W. Smith and is set to announce his Christmas tour dates soon. He recently released the third book in his JASE® CRABB ten-book children's series. The books, music and more are available at www.JasonCrabb.com
Connect with Jason Crabb online at www.JasonCrabb.com, www.FB.com/JasonCrabbMusic and Twitter @JasonCrabbMusic.
Tags:
Alan Jackson
,
barbara mandrell
,
Brad Paisley
,
cma
,
Country Music News
,
Jason Crabb
,
Seventeen
,
Shellye Crabb
,
Southern Gospel News
,
Wynonna
Posted in
announcements
|
Comments Off

on JASON CRABB TALKS COUNTRY FAITH AND NEW SINGLE "LOVE IS STRONGER" ON CMA AWARDS RED CARPET
Written by SGN Scoops Staff on November 17, 2011 – 5:08 pm -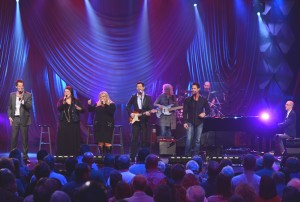 JASON CRABB and THE CRABB FAMILY on "PRAISE THE LORD"
followed by a one hour special presentation of the life, triumps and trials of
Grammy®-award winning artist JASON CRABB, "TRUSTING GOD TO GET YOU THROUGH" with host, journalist DEBORAH EVANS PRICE, featuring guest appearances by BARBARA MANDRELL, WILLIAM LEE GOLDEN, ANDY ANDREWS, and RUSS TAFF
Tags:
ANDY ANDREWS
,
barbara mandrell
,
Deborah Evans Price
,
Jason Crabb
,
PRAISE THE LORD
,
russ taff
,
tbn
,
The Crabb Family
,
William Lee Golden
Posted in
announcements
,
christian entertainment
|
Comments Off

on Jason Crabb On Praise The Lord Tonight
Written by SGN Scoops Staff on March 22, 2011 – 12:12 pm -
Nashville, Tennessee) –March 21, 2011 –That Christy Sutherland is on the brink of major artist breakthrough has
never been more evident than in the radio release this week of her newest single, "He Grew The Tree."
The poignantly stirring ballad is a song with a special history.  It was recorded in the 80's by country superstar, Barbara Mandrell. It was Mandrell who, in fact, encouraged her daughter-in-law Christy Sutherland to revive "He Grew The Tree" for Sutherland's forthcoming new gospel album—Greater Still –and was even gracious enough to go in studio to co-produce the album with Christy.
Notes Barbara: "'He Grew The Tree' is one of my top 5 favorite songs. I was the first artist to record it and I cannot think of anything better than having Christy record it—and asking me to produce it!  Christy's stellar vocals and immense songwriting talent have made my job of producing a pure joy.  I could not be more proud of her new single or of her upcoming album!"
Gospel radio's major influencers will this week get a preview of "He Grew The Tree" –in a specially bannered Christy Sutherland priority mailing that will include a personally handwritten note from Barbara Mandrell.  The impact at radio is expected to be a strong promotional set-up for the release of Sutherland's new studio album in early summer.
The heartwarming element of 'family ties' to her latest single are not lost on Christy.  She notes:  "I remember listening to Barbara's recording of 'He Grew The Tree' as a young girl—never dreaming that one day I would be recording the same song with Barbara producing!  We never know what God has in store."
Christy married Matt Dudney—now her manager—and the son of Barbara Mandrell and husband Ken Dudney—in July of 2006. In the five years of their creative partnership Christy has emerged as a major new presence in Christian music— presenting an amazing world-class vocal talent that transcends genres from southern gospel to contemporary and country inspirational formats.  She has appeared on a wide range of national television from CBN's "700 Club," to TBN's "Praise the Lord," to globally televised Easter and Christmas Specials from The Crystal Cathedral's 'Hour of Power.'
The Easter Special from Crystal Cathedral will air in April.
With a win in 2009 for 'Southern Gospel Female Vocalist of the Year' in the Visionary Awards, Christy Sutherland came back in 2010 with a Diamond Award as 'Christian Country Female Artist of the Year.' Her guest star billing over the past three years in the Louise Mandrell Christmas Specials staged at Nashville brought her in front of a diverse audience of new listeners. Christy recently has broadened her reach even further in taping her first Gaither Homecoming special.
A gifted songwriter, major artists such as Sandi Patty, Rizen, The Greenes and Kim Hopper have recorded her songs. The Triumphant Quartet scored a Top 5 hit with her song, Somebody Died For Me. Christy's God Is In This Place was published in a popular Word Music worship choral and her Cry In The Dark was picked up by Lifeway for a major Christmas musical.  During the past four years, more than 40 recordings have been done of Christy Sutherland songs.
Christy Sutherland is already proven as an artist with a remarkable 'reach' in a career that has only the realms of greatness to be achieved in the future.
"He Grew The Tree" will be the focal point of special national radio promotions throughout April and May as a lead in to the new album release.  Christy Sutherland will be the subject of a major spring promotional media/marketing campaign with national television, radio, and print being set.
Resource Christy Sutherland online:
Tags:
barbara mandrell
,
christy sutherland
,
He Grew The Tree
,
Matt Dudney
Posted in
announcements
,
christian entertainment
,
Christian interest
|
Comments Off

on CHRISTY SUTHERLAND: NEW SINGLE "HE GREW THE TREE" BRINGS A WEALTH OF TALENT AND FAMILY HISTORY TO GOSPEL RADIO & RETAIL
Written by SGN Scoops Staff on February 8, 2011 – 10:32 am -
Nashville, Tenn. — February 7, 2011 — Marc Oswald (pictured above left), co–owner of The Fontanel Mansion & Farm, and Jaime Dudney (picture above right), director of hospitality (and Mandrell's daughter), recently accepted one-of-a-kind memorabilia from the Nashville Music Garden to remain on permanent display at The Fontanel.
The highlight of the exhibit, the inspiration for the Nashville Music Garden logo, is a beautiful bouquet of vibrant roses artfully arranged in a pair of Mandrell's personalized boots. "One of our main intentions when we opened the Fontanel Mansion and Farm to the public last year was to give country music fans the opportunity to step inside the life of a Hall of Fame entertainer," said Fontanel co-owner Marc Oswald. "To have a pair of Barbara Mandrell's boots on display in the mansion, along with the photos from the beautiful Nashville Music Garden, really adds to the experience of our guests."
Pat Bullard, Nashville Music Garden founder, also presented The Fontanel with a collage of photos and memorabilia from the September 2009 Nashville Music Garden dedication ceremony. Country greats honored by the Nashville Music Garden and featured in the new exhibit at Fontanel include Little Jimmy Dickens, Brenda Lee, Lynn Anderson and Pam Tillis.
"Only in Nashville could there be the one and only Nashville Music Garden and only at The Mansion at Fontanel have Barbara's boots found their way back to her room for all country music fans to enjoy every time they visit," said Bullard.
About Nashville Music Garden:
Located in Walk of Fame Park in downtown Nashville (corner of Fourth Avenue and Demonbreun), the idea for the Nashville Music Garden was born when country music legend Barbara Mandrell gave her namesake rose to garden founder and friend, Pat Bullard.  The garden is a "living" walk of fame filled with over six dozen varieties of roses and daylilies named in honor of the music and artists synonymous with Nashville. The garden, created as a way to recognize these artists, songs and industry leaders and also beautify Music City, is the first to assemble all the flowers of the Nashville Music Garden Collection in one place for the public to enjoy.
About the Fontanel Mansion & Farm:

The Fontanel Mansion, a 27,000 square foot log home formerly owned by Country Music Hall of Fame® member Barbara Mandrell, opened to the public for guided tours on June 7, 2010. Located less than 15 minutes from downtown Nashville, The Mansion at Fontanel boasts three stories, over 20 rooms, thirteen bathrooms, five fireplaces, two kitchens, indoor pool and even an indoor shooting range on 136 acres of pristine land. The home and grounds have been the setting for numerous photo and video shoots, CMT's top-rated "Gone Country" show and most recently the hit Hollywood movie Country Strong. Nashville's only country music mansion tour, the Mansion at Fontanel gives visitors a sneak peek into the lives of country music greats by providing a truly interactive experience!
New additions to the property include The Farm House Restaurant, offering southern-style comfort food with a fun creative twist. The Woods is an outdoor music venue with a capacity of 4,500 surrounded by the woods of the Fontanel property. The Trails provide a two-mile system of free trails for both locals and visitors. The Studio Gallery is a 5,000 square foot multi-use performing arts facility that will feature the exciting Music City On Stage! dinnertainment show beginning in May, 2011.
The property is managed by Fontanel Attractions, made up of entertainment entrepreneurs Dale Morris and Marc Oswald, world-class developer, Alex Marks and Tom Morales, owner of TomKats, Inc., as the operating partner. For directions, hours, ticket prices and more, visit
www.FontanelMansion.com
.
Tags:
barbara mandrell
,
Fontanel Mansion
,
Nashville Music Garden
,
Pam Tillis
Posted in
announcements
,
christian entertainment
,
Christian interest
|
Comments Off

on MANDRELL BOOTS RETURN TO FONTANEL Nashville Music Garden and Mandrell Memorabilia Presented to Fontanel Mansion & Farm
Written by Rhonda on August 26, 2010 – 5:51 am -
(Suba Environmental Education of Kenya)
A benefit will be held on Thursday, September 2nd at 6:30 at the Nashville Palace 2611 McGavock Pike, Nashville, TN.  The featured guests are: Barbara, Louise and Irlene Mandrell and the African Dance Group.  Other music will be provided by Raul Malo, Mike Farris and the Roseland Rhythm Review, Christy Sutherland and others. (subject to change)  An auction will take place with items donated by: Reba Mcentire, Kenny Chesney, Little Big Town, Miranda Lambert, Lee Ann Womack, The Nashville Predators, Dolly Parton, Opryland Hotel, Purity Ice Cream, Barbara Mandrell and many more.  Tickets are $30.00 and can be purchased at
http://missionwild.org/
 or by calling 615-485-8300.
 S.E.E.K. is a Nashville based charity that changes the lives of thousands of Kenyons.  Through widow ministry, environmental education, caring for the orphans and helping the Kenyons living with HIV, this organization makes a difference.  You can make a difference too!  Join us for music and dining.  The ticket price is the amount of money it takes to care for one child with HIV for one month.  This includes food, medicine, education and protection.  100% of the proceeds go directly to S.E.E.K. 
Tags:
barbara mandrell
,
Irlene Mandrell
,
Louise Mandrell
,
mission wild
Posted in
causes
|
Comments Off

on Benefit for Kenya
Written by Scoops Staff on November 12, 2009 – 1:28 pm -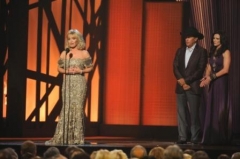 Recent Country Music Hall of Fame Inductee Recognized for Her Award-Winning Career
Nashville, Tenn.—November 12, 2009— After over 75 major awards, including two consecutive CMA Entertainer of the Year awards (1980 and 1981) and a career spanning nearly four decades, Barbara Mandrell was recognized in front of her fans and peers last night at the 43rd Annual CMA Awards. As one of the newest members of the Country Music Hall of Fame, along with Charlie McCoy and Roy Clark, Mandrell attended the awards last night, but was surprised when Martina McBride, along with George Strait, came out to sing her signature song, "I was Country When Country Wasn't Cool." Charlie McCoy also joined the performance playing harmonica.
"I may have been country when country wasn't cool, but it was always cool to me," Mandrell said as she was welcomed to the stage. "I am thankful for the faith my Daddy and so many [people] had in me that helped me to be standing here where I am today."
Barbara Mandrell learned to read music before she could read words. Over the years, she added steel guitar, alto saxophone, bass, banjo, mandolin and Dobro to her arsenal of instruments. At age 11, her father took her to a music trade show in Chicago where she performed and caught the attention of legendary country guitarists, Chet Atkins and "Uncle" Joe Maphis. Maphis invited Barbara to join his show at the Showboat Hotel in Las Vegas, which became one of the single greatest influences on her musicianship. By the time Barbara was a teenager, she was touring with The Johnny Cash Show, which included Cash, Patsy Cline, George Jones and June Carter.
Throughout her career she earned over 75 major awards, including two consecutive CMA Entertainer of the Year awards (1980 and 1981), making her the first artist ever to win two years in a row, CMA Female Vocalist of the Year (1979 and 1981), ACM Top Female Country Music Vocalist (1980 and 1986), NARAS Grammy Award for the Best Inspirational Performance (1983), Grammy Award for Best Soul Gospel Performance (1984), Dove Award for Gospel Album of the Year (1983) and nine People's Choice Awards (1983-1987). She is one of only six artists to have received the "Triple Crown" by winning all three of the most coveted awards, Top New Female, Top Female and Entertainer of the Year. Her NBC variety show, "Barbara Mandrell and the Mandrell Sisters" drew nearly 40 million viewers weekly and introduced a nation to country music. Her autobiography, "Get to the Heart: My Story" debuted on The New York Times Best Sellers list and remained there for six months.
When she retired in 1997, her final concert was filmed at the Grand Ole Opry House for a highly-rated TNN concert special, "Barbara Mandrell and the Do-Rites: The Last Dance." In 1999, Mandrell was inducted into the Country Gospel Music Hall of Fame. In 2000, the Academy of Country Music honored Barbara with their most prestigious award, The Pioneer Award.
BNA Records paid homage to Mandrell in 2006 with She Was Country When Country Wasn't Cool: A Tribute to Barbara Mandrell. The album featured many of today's top artists performing her classic hits, including Dierks Bentley, Terri Clark, Sara Evans, Reba McEntire and Kenny Chesney, Willie Nelson and Shelby Lynne, Lorrie Morgan, Randy Owen, Brad Paisley, Leann Rimes, Gretchen Wilson and gospel singer Cece Winans. She was inducted into Nashville's Music City Walk of Fame in 2007. People magazine ranked her among its "100 Most Beautiful" in 2007 and "100 Most Beautiful at Any Age" in 2008 and 2009. This year was a Hall of Fame year for Barbara as she became the newest member of the Country Music Hall of Fame, as well as the first woman inducted into the Steel Guitar Hall of Fame.
"I am humbled, I am honored and I am thrilled," said Mandrell of her recent induction into the Country Music Hall of Fame and her recognition at the 43rd Annual CMA Awards. Photo provided by Country Music Association.
Tags:
barbara mandrell
,
cma
Posted in
industry news
|
Comments Off

on BARBARA MANDRELL HONORED AT 43RD ANNUAL CMA AWARDS WITH TRIBUTE FROM MARTINA MCBRIDE AND GEORGE STRAIT