Written by Staff on November 30, 2018 – 4:00 pm -
Nashville, TN – Jason Crabb – GRAMMY® winner, 22 time GMA Dove Award winner, vocalist, musician, actor, author and songwriter – is set to open the 2018 Nashville Christmas Parade, benefiting Monroe Carrell Jr. Children's Hospital at Vanderbilt.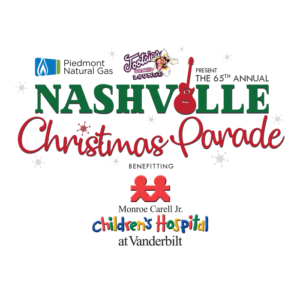 The parade kicks off the holiday season in downtown Nashville Saturday, Dec. 1, 2018 at 8:30 a.m. WKRN-TV will provide live coverage, and Timeless Syndication will make the parade available for TV stations and other outlets across the country through the holiday season.
Crabb will perform a song written specifically for the parade.
Crabb joins a star-studded entertainment roster that includes LeAnn Rimes, Craig Wayne Boyd, Bill Anderson, Diana DeGarmo, Mark Schultz, Janice Gaines, and more.
Since 1927, the Nashville Christmas Parade has been a staple of Middle Tennessee's holiday festivities and this year promises to be a year to remember – full of music, giant inflatable baloons, custom floats and more.
The event will support Children's Hospital. As a nonprofit organization, Children's Hospital provides pediatric specialty care to all children, regardless of the family's ability to pay. With a four-floor expansion now underway, Children's Hospital will be able to care for even more young patients in the region and beyond.
The parade also will support Piedmont's Share the Warmth, an energy-assistance program that helps local low-income families pay their energy bills at any point during the year, regardless of the energy source used in the home.
Tags:
Bill Anderson
,
Children's Hospital
,
Craig Wayne Boyd
,
Diana DeGarmo
,
gospel music
,
Janice Gaines
,
Jason Crabb
,
LeAnn Rimes
,
Mark Schultz
,
Nashville Christmas Parade
Posted in
announcements
,
artists
|
Comments Off

on Grammy Winner Jason Crabb to Open Nashville Christmas Parade
Written by SGN Scoops Staff on June 5, 2013 – 4:54 pm -

SIGNAL MOUNTAIN, TN June 5, 2013, Harmony Road TV host, Singing News Publisher and Solid Gospel Radio
host Les Butler will be in the TNN/The Nashville Network booth on Saturday June 8, at noon during the 42nd Annual CMT Music Festival and Fan Fair. Butler will be available to visit with friends and fans,
sign autographs and take pictures. Others who will be in the booth over the weekend include artists such
as The Oak Ridge Boys, Ray Stevens, Lee Greenwood, Crook and Chase, Ralph Emery, Bill Anderson, Mark Chestnut and other TNN personalities.
CMT Music Festival and Fan Fair has been a destination for country music fans for over 40 years. This year the event runs from June 6th -9th. When TNN was re launched last fall, the network continued the
tradition of including Southern Gospel in their programming. TNN continues to grow, adding stations regularly, and is now in tens of millions of homes in locations such as Nashville, Chattanooga,
Birmingham, Chicago, Rochester, NY, Boise, Idaho, Dayton, Ohio, Asheville, NC and more.
"All of us at Harmony Road are happy to be on The Nashville Network. Having Harmony Road on TNN allows us to help share gospel music and its message to core gospel music fans as well as an audience new to Southern Gospel" said Roger Spears, Harmony Road producer. "The opportunities to reach a larger audience, including those who may be presented with the gospel through music for the first time, has been our focus as TNN grows and we continue to add new broadcast and streaming outlets", continued Spears. "We are excited about this opportunity for Les to represent Harmony Road at a high profile event such as the CMT Music Fest and Fan Fair and we thank TNN for the opportunity", he concluded.
In addition to Les Butler, other members of the Harmony Road team include gospel pianist Cody McVey, who does many of the interviews and special segments you see on the program. Randy Liner is Technical Director and Roger Spears is Producer. More info can be found at www.harmonyroadtv.com or on facebook at www.facebook.com/harmonyroadtv. You can also email Harmony Road at info@harmonyroadtv.com.
Tags:
Bill Anderson
,
Crook and Chase
,
Lee Greenwood
,
Mark Chestnut
,
Ralph Emery
,
Ray Stevens
,
southern gospel
,
The Oak Ridge Boys
,
TNN
Posted in
announcements
|
Comments Off

on Harmony Road Host Les Butler to be in the TNN Booth at the CMT Music Fest Fan Fair this Weekend
Written by SGN Scoops Staff on August 2, 2012 – 9:02 am -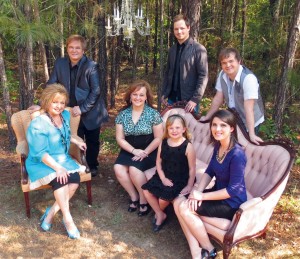 Two-time GRAMMY-nominated and six-time Dove Award-winning artists Jeff and Sheri Easter are scheduled to appear on the Grand Ole Opry on Saturday, August 4 for two shows at 7 and 9:30 p.m.
These gospel music family group mainstays will be premiering songs from their upcoming release Eyes Wide Open (Spring Hill Music) which will hit streets on September 18. They will be performing with other artists, including Carrie Underwood, Little Jimmy Dickens, Jeannie Seely, Jim Ed Brown, Jean Shepherd, Bill Anderson and many others.
"Jeff and I feel so at home at the Opry," states Sheri. "We both grew up in families of bluegrass gospel artists, so we made a lot of longtime friends over the years, many of whom are part of the Opry family. It always feels like coming back home when we're there."
Jeff adds, "Our music has always been country; our lyrics have always been gospel; and we love to sing love songs to each other; so stylistically, we fit in well with not only the Opry artists, but also the Opry fans."
To learn more about this week's Grand Ole Opry shows, visit http://www.opry.com or call 1-800-SEE OPRY.
Tags:
Bill Anderson
,
Carrie Underwood
,
Dove Award
,
Eyes Wide Open
,
Grand Ole Opry
,
Jean Shepherd
,
Jeannie Seely
,
Jeff & Sheri Easter
,
Jim Ed Brown
,
Little Jimmy Dickens
,
Southern Gospel News
Posted in
announcements
,
christian entertainment
|
Comments Off

on Grammy Nominees Jeff & Sheri Easter to appear on the Grand Ole Opry
Written by SGN Scoops on July 31, 2011 – 1:19 pm -
EHA-Nashville, TN} Darrell & Tojuana opened for the sensational HeeHaw

star, Lulu Roman, at Cloverdale Baptist Church in Grand Bay, AL on Saturday, July 2.
Lulu Roman is managed by Bill G. Anderson/BGA-Entertainment Group and continues to travel across the country singing the Gospel. She recently appeared on the Grand Ole Opry during CMA week alongside Roy Clark, George Hamilton IV, T. Graham Brown, and many more legends of Country Music on the 32nd Annual Sunday Mornin' Country show. Darrell and Tojuana  noted, "It was so special to sing in concert with Lulu Roman. She is still loved and remembered everywhere she goes. We hope to do it again!"
Darrell & Tojuana have been traveling and singing for many years and have had charting success with their, "God is in the Room" on the Southern Gospel Times. This past year they have been at the top of the charts. Their mission is to spread the Gospel in song and reach as many souls as possible, reminding people of God's grace and goodness. Their "Dealing With Gold" project was produced by Danny Kramer (Capitol), and David White (formerly of Karen Peck & New River.) The dynamic duet will also be in a National Quartet Convention artist showcase in Louisville, KY, September '11. For more info and booking info:
office@EHA-Nashville.com
or
www.darrellandtojuana.com
Address:
Darrell & Tojuana (Johnson)
16800 Emily Cauley Road Moss Point, MS 39562. Telephone: 228-588-6109 228-990-5876
Tags:
BGA Entertainment Group
,
Bill Anderson
,
cloverdale Baptist church
,
cma
,
Darrell & Tojuana
,
Grand Ole Opry
,
Hee Haw
,
lulu roman
,
Roy Clark
,
Southern Gospel News
Posted in
announcements
|
Comments Off

on Darrell & Tojuana Opens For Lulu Roman