Written by SGN Scoops Staff on March 1, 2013 – 10:07 am -
LEXINGTON, KY (March 1, 2013) – Doyle Lawson was heralded as a legend in his appearance on Woodsongs Old-Time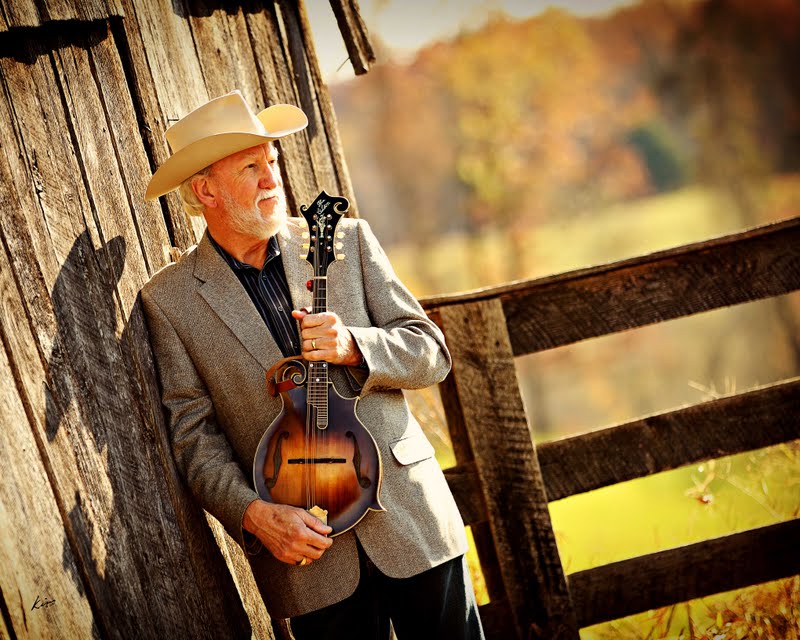 Radio Hour at the historic Lyric Street Theatre on Monday night in downtown Lexington.
With words of praise and appreciation for Lawson and his music throughout the show, host Michael Johnathon began the show talking with Doyle about his inspirations in music, both Bill Monroe and Doyle's dad. Doyle recalled listening to Bill Monroe on the Grand Ole Opry and admiring how Bill commanded the music he played. "I also grew up in a gospel quartet environment, as my dad sang in an a cappella gospel quartet," Doyle continued, "so the gospel side has been as much a part of me in developing my music as bluegrass."
While Lawson is known for his vocals and his band's signature harmony, with Doyle fresh off the heels of being awarded SPBGMA's Mandolin Player of the Year earlier this month, Michael Johnathon relayed that Doyle has been as important to the genre of Bluegrass as a musician as he has been as a singer.
New songs from DLQ's upcoming album were previewed on Woodsongs, such as "Hard to Be Forgotten," "One Small Miracle," and the toe-tapping "Fiddlin' Will" which gave six-time Florida State Fiddle Champion Jason Barie a chance to flex some musical muscle. In response to feedback Johnathon received about DLQ in prior performances on Woodsongs, Michael asked Doyle to give a sample of an a cappella song Johnathon especially liked with a calypso feel. DLQ obliged, and the audience raised the roof with applause for Doyle, Corey, Mike and Josh singing "Greatest Creator of Them All."
Michael observed that Doyle at 5 years old had listened to his heroes like Bill Monroe on the Grand Ole Opry, and Johnathon said he could imagine 5 year old kids tuning in at home listening to Doyle Lawson & Quicksilver's music and wanting to sound like them. Johnathon encouraged kids who were listening to put their hearts and spirits into music, and to be happy in the music they created. He then gave three children from the audience an opportunity to be on stage and introduce the last songs by each of the show's featured groups, DLQ and alternative grass band Lake Street Dive. Prior to DLQ closing the show with a revved up version of their perennial favorite, "Blue Train," Doyle was introduced as "one of the most important and best looking bluegrass musicians in History!"
Heralded by Power Source Magazine recently as being much more than sequins, stones and glitz, Doyle Lawson & Quicksilver sparkled in performance and appearance on that historic stage in Lexington, and may well have inspired a new generation of listening kids to pick up a mandolin or dobro and put their hearts into music … the way Doyle has spent a lifetime doing, leaving a legacy of priceless music along the way.
With nearly 40 albums to their credit, Doyle Lawson & Quicksilver have multiple Grammy, Dove, ICM, IBMA and SPBGMA Award nominations, and are 7-time winners of IBMA's Vocal Group of the Year Award. Every other album release for Doyle Lawson is Gospel, and he must be doing something right, as Doyle Lawson & Quicksilver are the reigning Inspirational Country Music Association Vocal Group of the Year, crowned in October at Nashville's Schermerhorn Symphony Center, while Lawson was still gratefully basking in the glow of his induction into the International Bluegrass Music Hall of Fame at the Ryman Auditorium in September.
Michael Johnathon's Woodsongs Old-Time Radio Hour is heard by over 1 million listeners on over 500 radio stations in the U.S. and internationally, plus The Village on Sirius XM Satellite Radio, in addition to the American Forces Radio Network which broadcasts into over 175 countries and every U.S. Naval ship at sea. The show is also seen in millions of homes in America on Public Broadcasting Service (PBS) television stations. Woodsongs also holds acclaim as the world's first multi-camera, weekly series broadcast on the Internet.
The Woodsongs show featuring Doyle Lawson & Quicksilver will be available for viewing in the show's archives on-line in the days to come as Show # 704 at the following link: http://www.woodsongs.com/showlist.asp.
Photo by Kim Hornsby, www.equineimagesbykim.com
Tags:
Bill Monroe
,
Doyle Lawson
,
Doyle Lawson & Quicksilver
,
Grand Ole Opry
,
Hard to Be Forgotten
,
radio
,
Sirius XM Satellite Radio
,
Southern Gospel News
Posted in
christian entertainment
|
Comments Off

on Doyle Lawson Heralded as Legend on Woodsongs
Written by SGN Scoops Staff on February 23, 2011 – 1:05 pm -
Nashville, Tenn. –February 23, 2011—Pat Bullard, a LifeWorks Foundation trustee and founder of the Nashville Music Garden, recently presented The Fontanel Mansion & Farm a priceless piece of Nashville's music history, a rare, original 78 recording of DeFord Bailey's "Ice Water Blues/Davidson County Blues" accompanied by photos of Bailey with the original members of the Grand Ole Opry cast, circa 1920.
Noted DeFord Bailey biographer David Morton gifted the record to the Nashville Music Garden and feels its place at The Fontanel Mansion is fitting. "I gave this record to the Nashville Music Garden, because of their dedication to making people aware of DeFord Bailey and his most significant role in the early development of the country music industry in Nashville," said Morton. "The record is one of my favorites with 'Ice Water Blues,' DeFord's classic rendition of a fiddle tune he learned from his grandfather, and 'Davidson County Blues,' a version of his popular 'Cow Cow Blues.' I am amazed and pleased with what the Nashville Music Garden has done with the record."
Dubbed "The Harmonica Wizard" and breaking ground as the first African-American performer on the Grand Ole Opry, Bailey has been called "the most influential harmonica player in the first half of the 20th century."  In fact, longtime Opry announcer, "Judge" George D. Hay, consistently credited Bailey as the inspiration for the naming of the Opry. On October 2, 1928, Judge Hay arranged for Victor Records to make the first known recordings in Nashville and specially requested that Bailey be part of the history-making session held in the city's YMCA building. Bailey recorded eight tunes in this session, two of which are on the record now displayed at Fontanel.
Marc Oswald, co-owner of Fontanel, says the one-of-a-kind memorabilia is a valuable part of Fontanel's collection. "Our original intention for Fontanel was not only to give Barbara Mandrell's fans the opportunity to tour the home she and her husband, Ken Dudney, built, but also to see and touch music history dating back many decades. This DeFord Bailey recording is a noteworthy piece of history we are very proud to display."
Bailey was controversially ousted from the Grand Ole Opry in 1941 with sources at the time citing licensing issues. While he continued to play his harmonica every day of his life while operating a shoe shine shop, he once lamented that he often played to "four walls and to God." After years of faithful lobbying by friends and fans, DeFord Bailey was inducted into The Country Music Hall of Fame in November 2005, and he is now recognized as a critical part of Nashville's music history.
"It is a wonderful idea to display and recognize my father's music, since he was one of the first stars of the Grand Ole Opry, along with Roy Acuff, Minnie Pearl, Bill Monroe and Uncle Dave Macon," said Bailey's daughter, Christine Bailey Craig.
Tags:
Bill Monroe
,
DeFord Bailey
,
Minnie Pearl
,
Roy Acuff
Posted in
announcements
,
Christian interest
|
Comments Off

on Rare DeFord Bailey Record is Prominent Addition to New Exhibit at Fontanel