Written by SGN Scoops Staff on May 15, 2012 – 7:43 am -
CHARLOTTE, NC (May 15, 2012) — Gear up for awesome NASCAR action this weekend with Doyle Lawson & Quicksilver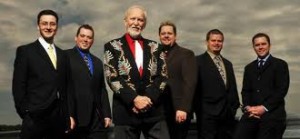 as they kick off a huge racing weekend at Charlotte Motor Speedway on Friday night, singing the National Anthem for the NASCAR N.C. Education Lottery 200.. 165,000 screaming fans.. Sprint All-Star Qualifying.. in fine company with other super stars on hand including BLAKE SHELTON and TIM McGRAW. SHELTON is performing prior to Saturday's All-Star Race, while McGRAW will introduce the Top 10 Qualifiers for Sunday's Coca-Cola 600.
Watch Doyle Lawson & Quicksilver rock NASCAR's second biggest track this Friday night, May 18, at 8:00 pm ET on Speed Channel!
http://www.charlottemotorspeedway.com/tickets/nc_education_lottery_200/
DLQ's National Anthem is currently scheduled for 8:04 pm ET … don't miss a note from Doyle Lawson, Mike Rogers, Corey Hensley, and Josh Swift .. LIVE on SPEED CHANNEL!
http://www.speedtv.com/schedule/filter/date/2012-5-18
Tags:
Blake Shelton
,
bluegrass
,
Charlotte Motor Speedway
,
Doyle Lawson & Quicksilver
,
NASCAR
,
Southern Gospel News
,
TIM McGRAW
,
tv
Posted in
christian entertainment
|
Comments Off

on Doyle Lawson & Quicksilver to Kick Off NASCAR Weekend in Charlotte
Written by SGN Scoops Staff on December 14, 2011 – 7:04 pm -

Dec. 14, 2011 – Nashville, TN – Christian music favorite Jason Crabb has added his name to the list of artists and celebrities speaking out in support of the 220th Anniversary of the Bill of Rights. Jason joins lauded musicians Wynonna, Blake Shelton, Brad Paisley, Frankie Ballard, Darius Rucker, The Civil Wars, Heart, John Oates, Joe Nichols and more. A full list of supporters can be found here: http://1forall.us/freetotweet
Jason joins the 1 For All campaign by participating in "Free To Tweet," a daylong online celebration of First Amendment rights on Dec. 15, Bill of Rights Day. During the tweetathon, all Americans are encouraged to tweet their support of the First Amendment and how they enjoy those freedoms – using the hashtag #FreeToTweet.
High School and college students nationwide are eligible to win one of 22 $5,000 scholarships by tweeting creatively about the First Amendment. More information can be found at FreeToTweet.org.
"I thank God and our forefathers for the ability and freedom to sing and tell others about Jesus Christ every single weekend all across this country," says Crabb. "I am honored to join the 1 For All campaign in support of the 220th Anniversary of Bill Of Rights."
The 1 for All campaign is the largest of its kind in scope and reach and uses a fresh approach by featuring public figures celebrating their freedoms to tweet, rock, write, read, sing, worship, assemble, petition and much more. For more information on the campaign, visit www.FreeToTweet.org
About "1 for All"
"1 for All" is a non-partisan, educational campaign that was launched in 2010 to address a general lack of awareness by the American public about the five freedoms afforded by the First Amendment. Initial support for campaign was provided by the John S. and James L. Knight Foundation, Newseum, McCormick Foundation, American Society of News Editors, First Amendment Center and Gannett Foundation. In addition, more than 1,000 news organizations, religious groups and educational institutions have devoted their time and resources in support of the "1 for All" campaign.
About Jason Crabb
Jason Crabb is known as one of the most respected and diverse vocalists in Christian music.  His soulful, heartfelt vocals have made him a critics' pick and a fan favorite on stages ranging from "The Grand Ole Opry" and the Brooklyn Tabernacle to the Gaither Homecoming arena platforms.  With a string of number one hits and chart-topping singles, a tour schedule of over 200 dates annually, ongoing tv appearances, a book on the shelves and a new recording, this vocal powerhouse's talent is topped only by his genuine personality and concern for others.
Tags:
220th Anniversary of the Bill of Rights
,
Blake Shelton
,
Brad Paisley
,
Darius Rucker
,
Frankie Ballard
,
Heart
,
Jason Crabb
,
Joe Nichols
,
John Oates
,
The Civil Wars
,
Wynonna
Posted in
announcements
,
christian entertainment
|
Comments Off

on Grammy® Award Winner Jason Crabb Joins 1 For All Campaign To Support Bill Of Rights Day
Written by SGN Scoops Staff on October 19, 2011 – 1:09 pm -
(Nashville, Tennessee) – The musical genius of Gordon Mote was honored with the 2011 Academy of Country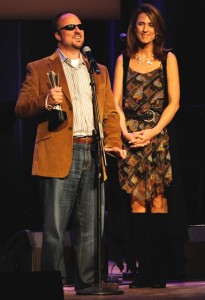 Music's Piano/Keyboard Player of the Year Award at the recent annual ACM Honors ceremony held at Nashville's historic Ryman Auditorium. Gordon, a seven-time nominee, was also honored with the coveted award in 2009.
Long recognized by the industry as one of Nashville's most talented studio musicians who seemingly knows no limits in effortlessly crossing musical styles and genres, Mote's talents can be heard on the recordings of some of the nation's premier performers, including Bill & Gloria Gaither and the Homecoming Friends, Billy Ray Cyrus, Blake Shelton, Scotty McCreery, Elvis Presley, The Hoppers, Brad Paisley, Ernie Haase & Signature Sound, George Jones, The Isaacs, Josh Turner, Alan Jackson, Keith Urban, Luke Bryan, Jason Crabb, Martina McBride, Reba McEntire, Rascal Flatts and Alison Krauss, just to name a few.
Since releasing his debut Southern Gospel recording in 2004, the talented singer and musician has enjoyed much success, including numerous Top 40 hits in multiple music genres and numerous Fan Award nominations. Mote's video release, "The Best of Gordon Mote," made its debut at Number 7 on the Billboard Music Video Chart in 2008. Mote's travels on tour are global – include stops in the US, Canada and Europe. He is a featured artist on the stage sharing his vocal and keyboard performances with music legend Bill Gaither and his Grammy Award winning Gaither Vocal Band and the Homecoming Friends.
The 5th Annual ACM HONORS represents an evening of musical tribute performances and special presentations celebrating the special honorees and non-televised category winners from the 46th Annual Academy of Country Music Awards, held earlier this year.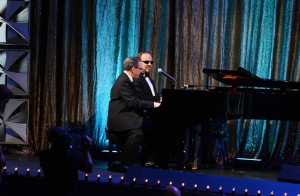 Fresh from his success at the ACM's presentation, Gordon had just enough time to place his latest trophy on the mantle before being called to more awards duties – this time to emceeing the Singing News Fan Awards / SGMA Hall of Fame Induction at Dollywood with Co-Host Gerald Wolfe of Greater Vision. Gordon delighted the Pigeon Forge crowd with his quick wit and humor-providing a show stopping moment when he settled down behind the keyboard for an impromptu piano duet with Gerald Wolfe.
Tags:
Alan Jackson
,
Bill & Gloria Gaither
,
Billboard Music Video Chart
,
Billy Ray Cyrus
,
Blake Shelton
,
Brad Paisley
,
Elvis Presley
,
Ernie Haase & Signature Sound
,
George Jones
,
Gerald Wolfe
,
gordon mote
,
Jason Crabb
,
Josh Turner
,
Keith Urban
,
Luke Bryan
,
Martina McBride
,
Rascal Flatts
,
Reba McEntire
,
Scotty McCreery
,
The Hoppers
,
the isaacs
Posted in
announcements
,
awards
|
Comments Off

on ACADEMY OF COUNTRY MUSIC AWARDS HONOR GORDON MOTE WITH 2011 ACM AWARD