Written by Staff on May 8, 2017 – 7:37 am -
As Mother's Day approaches on May 14, we at SGNScoops would like to share with our readers about the special women in our lives. We know that you will see many of the same attributes in the lady you call Mom. Please write us and let us know what you love about her!
Today we hear from Sarah Murray, one of our new writers, as she explains what is unique about her mom. Sarah is with Bless'd Ministries.
Let's hear from Sarah!
My momma- Kelly Edens
If I had to sum her up in a few words: Selfless, devoted, Christ-like.
She's selfless in every aspect. She literally lives to please others and see them succeed. She's devoted to everything God has given her: Her family, her career, her home, her marriage, but most of all, her walk with Christ.
My mother is the image of the Proverbs 31 woman. She carries herself with honor, she attends to her family at all times, and she lives a life fearing God yet living and walking in a true love with him.
My momma wears a lot of hats and plays a lot of roles. A lot of people depend on her every single day. However, she takes on every task of life with a pride in the life God has given her and doesn't let a day go by that she doesn't share Jesus with someone.
She's my best friend, my saving grace, and the woman I aspire to be. I'm beyond thankful God created her to be my momma.
To send in your tribute, write to lorraine@sgnscoops.com
For more on Sarah Murray, click here.
For Gospel music news, click here.
Tags:
Bless'd Ministries
,
Mothers Day
,
Sarah Murray
Posted in
announcements
,
sgn scoops magazine
,
special feature
|
Comments Off

on Sarah Murray: Tribute to Mom
Written by scoopsnews on September 21, 2016 – 11:52 am -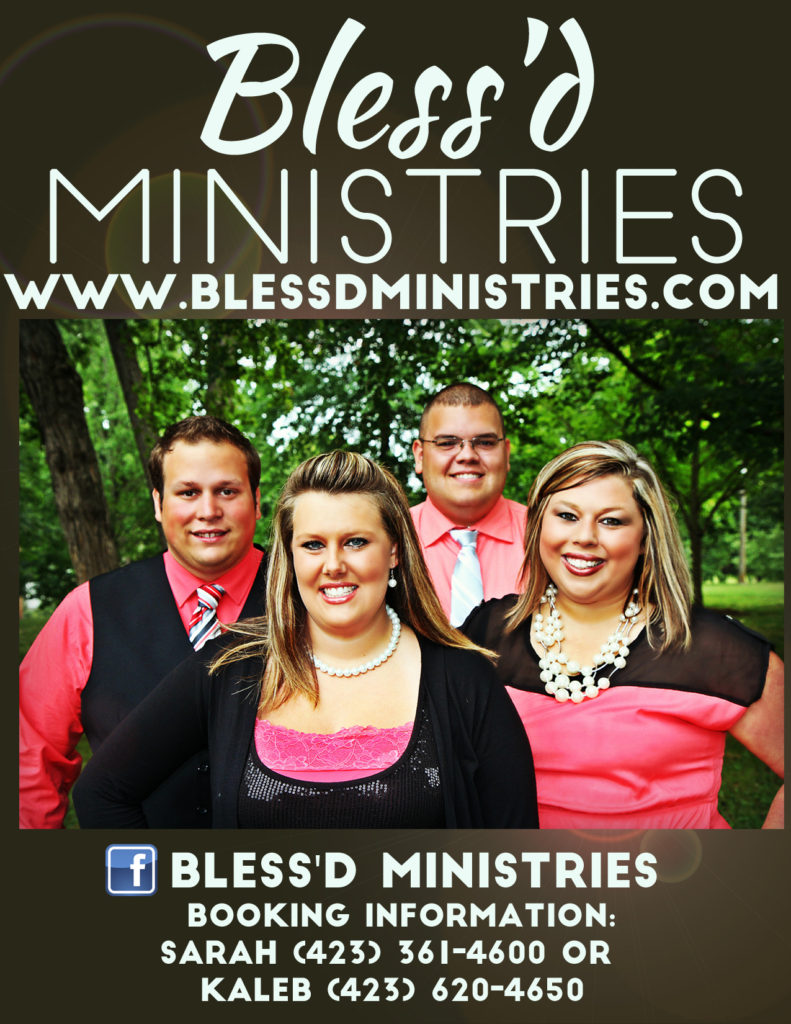 We recently had the opportunity to meet Bless'd Ministries in person at Gatlinburg Gathering. We asked them some questions to help you get better acquainted with these talented folks.
1. Tell us all about your ministry.
From the ages of 24-28, our ministry is like us, young but excited for what God is leading us to! We love to sing for the glory of the Lord and have dedicated our lives to doing so. We hope to be a blessing to each person we come in contact with. Our group name stems from every time we have the honor to sing, we just can't thank God enough for what he's done, and all of his blessings, so therefore, we are "Bless'd."
2. Tell us about your family.
All of our families are very supportive of our ministry and soak us in prayers. They can all be normally seen in the pews singing right along and worshipping with us, when we are local. Two of our biggest fans are Ashley's children, Leah (6), and Luke (4). Our family connection is pretty unique; Chase & Sarah are married, Ashley is the sister-in-law to Sarah & Chase, and Kaleb & Sarah work together. Therefore, when we say we are "family," we really mean we are all family.
3. Share your testimony with us?
Each of us were saved at young ages. Chase-8, Sarah-7, Kaleb-10, and Ashley-8. Through the years we have all rededicated our lives to Christ. Each of us can honestly say that God has been in control of every decision of our lives and has lead us to where we are today. By no means is singing and being a part of this ministry a coincidence, but only part of God's plan for each of our lives. We are in a trying and sinful world and as young people, we face tribulations each day but it is such a blessing to be able to share our faith with one another and the world. We are so UNASHAMED of the gospel of Jesus Christ and want to serve him through song and by daily giving him our hearts again and again.
4. If our readers would like to book you or purchase product, how can they do that?
If you would like to book us at your church or event, you can contact Sarah at 423-361-4600. You can view our webpage at blessdministries.com or our Facebook is listed under Bless'd Ministries. We would love to hear from you and be a part of you worship service.
We currently have 2 different t-shirts for sale and 2 different CD projects. You can purchase these products on our website or by contacting Sarah with your information.
5. What are some goals for your ministry for 2016?
Our ministry goals for 2016 are of course:
*travel and sing wherever God allows us to sing
*meet new brothers and sisters in Christ
*sing at NQC showcase or get involved with NQC
*but ultimately and most important, to see people get saved and secure their eternity with Jesus Christ.
Thank you Bless'd Ministries for sharing your ministry with us!
Tags:
Bless'd Ministries
,
Southern Gospel News
Posted in
announcements
|
Comments Off

on Fast Five with Bless'd Ministries