Written by SGN Scoops Staff on May 24, 2019 – 10:15 am -
Nashville, Tenn  (May 24, 2019) — We are excited to announce that the popular Creekside Gospel Music Convention has added a Bluegrass segment to the 2019 lineup.
The Creekside Convention is October 27-31 at the Smoky Mountain Convention Center in Pigeon Forge, Tenn. Les Butler will be hosting a nightly Bluegrass Gospel Showcase on the main stage October 28-31.  A  two hour Bluegrass Gospel Extravaganza will be presented on Wednesday from 11:00 a.m. – 1:00 p.m.  
You will be blessed by eight Bluegrass gospel groups; two groups each night, with all eight groups singing and playing in the two hour showcase on Wednesday.  
Featured artists include: King James Boys, Chigger Hill Boys & Terri, Golden Valley Crusaders, Bama Blu-Grace, Williamson Branch, Stevens Family Tradition, Family Sowell, and Walking By Faith. You will be able to connect with these artists at the BMG/FMG booth at the event.
This is not a talent show. However, each night the audience members will vote on their favorite group of the night and at the end of the week, the votes will be tallied and the artist with the most audience votes will receive an impressive promotion and advertising package.
Stay tuned for more promotional items and news related to this new and exciting event; we hope to see you there. 
Fans wishing to come to Creekside, especially those who are excited about the Bluegrass showcases, should call 360-933-0741 and mention "Bluegrass Gospel" for special accommodation discounts.
Find Creekside On Facebook
HERE
Tags:
Blue grass
,
Creekside
Posted in
announcements
|
Comments Off

on Bluegrass Gospel Added to Creekside 2019!
Written by SGN Scoops on December 11, 2012 – 6:20 am -
Nashville, TN (December 11, 2012) — THE ROYS recently connected with entertainment icon Marie Osmond for an episode of her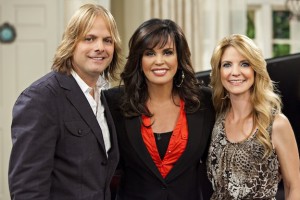 popular new Hallmark Channel TV show, Marie!  Lee and Elaine share insights unique to performing siblings with Marie and discuss their new CD and career goals.  The award-winning duo is honored to be the first Bluegrass artist to appear on the show, and they perform their current Top 20 single "Still Standing."  The song is an uplifting tale of triumph over adversity that features Elaine's passionate lead vocal and Lee's poetic harmony; the track is from THE ROYS' most-recent disc NEW DAY DAWNING (Rural Rhythm Records).  The episode airs Thursday, December 13 at 12 Noon ET on cable stations and at 9 a.m. ET on DirecTV. Click HERE for more information on the show.
"You hear people say they feel immediate connections with some folks," notes Elaine Roy. "But I have to say that we actually felt like we'd known Marie forever." Her brother Lee notes, "I have never met anyone more warm and welcoming.  It was an exciting experience to bring Bluegrass to such a unique platform."
Marie's successes continue to grow, and the new show proves her appeal is everlasting. Marie! embraces the "variety" format; other recent guests include Betty White, Florence Henderson, Jamie Lee Curtis, Kristi Yamaguchi, Dean Cain, Windell Middlebrooks and, of course, Donnie Osmond.
Catch up with THE ROYS at TheRoysOnline.com, Facebook and Twitter.
Photo Credit:  Crown Media United States, LLC/Alexx Henry Studios
Tags:
Blue grass
,
Hallmark
,
Inspirational Bluegrass
,
marie osmond
,
Marie Show
,
Rural Rhythm Records
,
The Roys
Posted in
announcements
,
christian entertainment
|
Comments Off

on THE ROYS Bring Bluegrass To Marie!