Written by SGN Scoops Staff on September 16, 2012 – 8:41 am -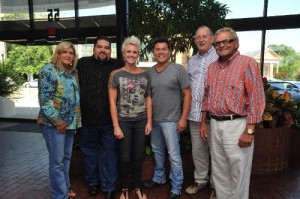 Nashville, TN — Asheville Forest Music, a division of Crossroads Entertainment & Marketing, has announced the signing of songwriters, Jamie Johnson and Susanne Mumpower-Johnson (aka: Iodine).
Spouses Jamie and Susanne are each accomplished writers and entertainers. Jamie is a member of the multi-award-winning bluegrass band, The Grascals (which earlier this year released the album LIFE FINDS A WAY on Mountain Home Records, a division of Crossroads Entertainment). An artist in her own right, Susanne has shared her original tunes at Nashville's famed Bluebird Café, known for showcasing the cream of Nashville's songwriting crop. Together, the powerhouse duo has penned tunes including the powerful "I am Strong," (co-written with Jenee Fleenor), which was written for the children of St. Jude Children's Research Hospital.
Tags:
Asheville Forest Music
,
Bluebird Cafe
,
Jamie Johnson
,
Southern Gospel Music
,
Southern Gospel News
,
St. Jude Children's Research Hospital
,
Susanne Mumpower-Johnson
Posted in
announcements
|
Comments Off

on Asheville Forest Music Signs Jamie Johnson and Susanne Mumpower-Johnson
Written by Rhonda on November 5, 2010 – 7:22 pm -
 Hendersonville, TN (November 5, 2010) – For Southern Gospel fans, the message found in the lyric of the song is just as important as the voice singing it.  However, it is not often that the fans are given a chance to hear from the writers themselves.  But next Tuesday night, November 9, 2010, beginning at 6:00 PM, fans are invited to join some of Daywind Music's most recognized songwriters at the Bluebird Café in downtown Nashville for a night of sharing through song. 
 Known for displaying talented songwriters in an intimate setting, the world-renowned Bluebird Café will host a list of award-winning Daywind writers, including Ronny Hinson ("The Lighthouse"), Marcia Henry ("I'll Pray For You"), Marty Funderburk ("I Believe God"), Kyla Rowland ("Did I Mention"), Ben Storie ("God Is Still In America"), Daryl Williams ("Singing With The Saints"), and Kenna West ("We're Not Gonna Bow").  Having writers of this caliber together on the same night will be a thrill for music lovers and songwriters alike.
  "Daywind is proud to present its exclusive songwriting staff for a special evening of Gospel music at the world-famous Bluebird Café," offered Rick Shelton, Director of Publishing for Daywind Music.  "Each writer will perform one of his or her chart-topping hits, as well as brand new songs never before presented to the public.  Gospel music speaks to one's soul, and these are the writers who craft the speech."
 To make reservations to attend this event, visit www.bluebirdcafe.com/reservations.
In addition to the writers mentioned, Daywind Music Publishing also represents writers such as Sheri LaFontaine, Jeff Steele, and Dianne Wilkinson.
To learn more about Daywind Music Publishing, contact Rick Shelton at rshelton@daywind.com.
Tags:
Ben Storie
,
Bluebird Cafe
,
Daywind Music
,
Kenna West
,
Kyla Rowland
,
Marcia Henry
,
Marty Funderburk
,
ronny hinson
Posted in
announcements
|
Comments Off

on WORLD-FAMOUS BLUEBIRD CAFÉ TO FEATURE DAYWIND MUSIC SONGWRITERS