Written by Staff on April 27, 2020 – 3:50 pm -
She is referred to as the, "Queen of Bluegrass." And, you know what? She is. Go ahead and listen for yourself. Most artists in bluegrass will record a gospel song or two on about every recording project. And they'll sing one or two in concert. Not Rhonda. She records entire gospel albums and always features multiple gospel songs every time she hits the stage. Why? Because it's important to her. This month's feature is on the Queen of Bluegrass, Rhonda Vincent.
Les Butler: What is your earliest musical memory?
Rhonda Vincent: My earliest musical memory was performing when I was probably five years old, on what was known as the Jerry Lewis Telethon. I grew up in a musical family in Greentop, Missouri. Music is traced back five generations, and now six generations, as Sally is carrying on the tradition. We had driven up to Ottumwa, Iowa, to be on the telethon at 3:00 a.m. Our performance was around 5:00 a.m., and I decided I wasn't going to sing. Well, my Dad took me in the back room and convinced me that I was going to sing. I can remember seeing myself in the TV monitor. Tears were streaming down my face, but I was singing the Bicycle Song, and people thought I was just acting out the wreck in song.  
LB: What's the first instrument you tried to play?  
RV: My Dad gave me a snare drum, stand, and a set of brushes for my sixth birthday. I became the drummer for my family band The Sally Mountain Show.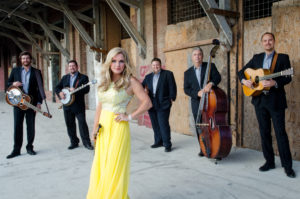 LB: State the instruments you play?  
RV: I started playing snare drum at six. Started the mandolin at eight. Fiddle at 12, guitar at 16, and throughout my teen years, I would get take turns learning many other instruments like the banjo and bass. I played autoharp on an award show. I play most any stringed instrument. Some better than others. The mandolin is my main instrument. 
LB: If you could only have one instrument on a desert island, which one would it be?  
RV: I would take my mandolin. I am most comfortable with that instrument, and I can play rhythm or pick out a tune on the mandolin.
LB: Who are your favorite musicians on each of the instruments you play?  
RV: Buck White is my favorite mandolin player, as well as my favorite piano player. Stuart Duncan, is my favorite fiddler. He just has a sweet tone. Kevin Grant is my favorite bass player. Ron Stewart is one of my favorite banjo players. Tony Rice is my favorite guitar player.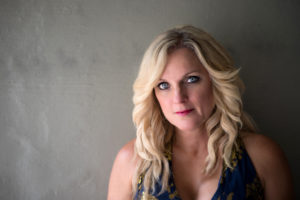 LB: Growing up in a musical family, did you ever have a desire to do something else? 
RV: I really didn't know anything else. I majored in accounting in college, and I also took a few photography classes. I loved learning about new things that I had interest in. I loved photography, and even ruined the white carpet in my parents bathroom by setting up a dark room in their bathroom. 
LB: Who dubbed you as the Queen of Bluegrass?  
RV: January 2000, the Wall Street Journal named me The New Queen of Bluegrass. Later, the National Old Time Music Organization held a ceremony and gave me a crown, deeming me the Queen of Bluegrass. 
LB: You've done it all…or have you?  What are a couple of the biggest/coolest things you've ever done?  What haven't you done that you'd like to do?   
RV: I'd love to meet and record with James Taylor. I love his music. I feel very blessed and thankful to have been given many opportunities. I'm honored to have performed on the Grand Ole Opry 214 times. Love working with Dolly (Parton) and pinch myself remembering how she came to my house in Missouri. I value her friendship very much and admire her kindness and humbleness. So many things, and I look forward to every new opportunity that comes my way.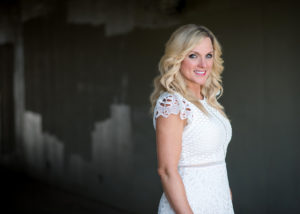 LB: Which do you enjoy the most: Playing live or in the studio?     
RV: I love performing live and having the chance to meet the audience. The studio is a necessity. I can't say I enjoy it as much. I love when a recording is completed. The process usually gives me a bit of stress, trying to make the best musical creation we can make. 
LB: You are a great singer.  Do you recall the first song you ever sang in public? 
RV: Thank you very much. I think my first song was the Bicycle Song. I also recorded with my family band in 1967, and I sang two songs for the recording. 
LB: What is your favorite song to play and why?
RV: I really enjoy performing the song "Please," which is a duet with Dolly Parton. I just never get tired of singing that song, and I love the message it says, which is, "Please….let me grow old with you." 
LB: Do you write? If so, what's the favorite song you've written?     
RV: I write on occasion. The song that always gets a consistently amazing response, and usually a standing ovation in the show, is titled, "His Promised Land," a gospel song I wrote, ironically, while visiting Las Vegas. 
LB: When you're not picking and singing, what are you doing?   
RV: I'm always doing something. Usually catching up on bills, email, computing royalties, and any other business-related work.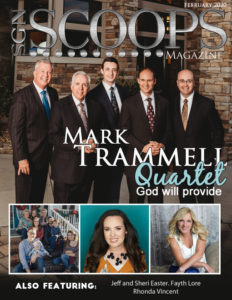 LB: Give us a brief testimony…
RV: I was saved when I was eight years old during a youth meeting in Greentop, Missouri.  The preacher gave an invitation. I remember feeling an urgency to go to the altar. God was speaking to my heart. We have been through so many trials and difficulties. I am so thankful I have a Savior who never fails me. No matter the situation I'm going through, God is always the answer. My daily prayer is asking God to strengthen my walk in faith, and his will for my life, and my acceptance of that will.  
By Les Butler
First Published by SGNScoops Magazine February 2020
Did you know that you can receive the printed, full-color version of SGNScoops Magazine by subscription? Find out more 
HERE
.
Find SGNScoops Magazine On Facebook 
HERE.
You can download the latest edition of SGNScoops Magazine 
HERE.
Read the latest edition of SGNScoops Magazine online
HERE
.
Listen To Today's Gospel Music
HERE
Tags:
bluegrass
,
gospel music
,
Les Butler
,
Rhonda Vincent
,
SGNScoops Magazine
Posted in
artists
,
sgn scoops magazine
|
Comments Off

on Les Butler and Friends: Rhonda Vincent
Written by Staff on December 16, 2019 – 12:54 pm -
Knoxville, TN – The Family Sowell along with Alpha Source Media Group announce an exciting collaboration that will impact the world of acoustic music.
The alliance was announced in Knoxville, TN. Together, The Family Sowell will work with Alpha Source Media Group to identify new opportunities to share their love of music and their message of hope.
"We are so excited to take this step in our music. God has told us to be bold for such a time as this. We look forward to working with Candi Combs at Alpha Source Media Group and seeing what doors might open," said Jacob Sowell, on behalf of The Family Sowell.
The Family Sowell has begun the final phase for a new project to be released early in 2020. Abigail Sowell stated, "We are holding nothing back!" Ben Isaacs, Grammy nominated artist from The Isaacs, is producing the sophomore project. "Ben inspires excellence which brings out the very best in each of us in the studio," Abigail continued.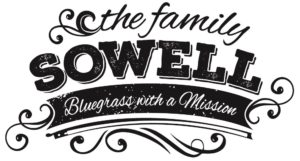 Unique to The Family Sowell is that they are a family of gifted musicians that brings a musical experience with a special blend of tight family vocals.
Today they stand as siblings: Jacob, Joshua, Naomi, Abigail, John-Mark and Justus on stages all over the United States as well as Eastern Europe. These gifted young singers and instrumentalists are a powerhouse that brings much energy and passion to The Family Sowell performance both on and off the stage.
The family is rich with ministry heritage and international service projects. For several years, the band has traveled to Romania and Serbia. The group travels to share their gift of music while teaching children to play the Ukulele.
For more information on Family Sowell, visit thefamilysowell.com. Follow The Family Sowell on Facebook, Instagram, Twitter, YouTube and streaming platforms.
ABOUT THE FAMILY SOWELL:
The Family Sowell is an award-winning, acoustic roots band, from the foothills of Knoxville, Tennessee. They are a favorite at many churches, theaters, and festivals across the country and in Eastern Europe. They feature beautiful family harmony, driving instrumentals, and heartfelt new originals. The siblings range from 23 to 13 years in age, starting with the oldest brother, Jacob on banjo, followed by Joshua on guitar, twin sisters, Naomi and Abigail, on bass and mandolin respectively, John-Mark on fiddle, and Justus on dobro. Jacob, Joshua, and Abigail handle the bulk of the vocal responsibilities with their mom, Cindy, and younger brothers being featured on special selections. John-Mark takes the performance to the next level with his natural gift of showmanship, bringing a good balance of clean humor and uplifting inspiration.
"From the Monroe Brothers to Cherryholmes, family bands have always been integral to the fabric of bluegrass
music. The Family Sowell are looking to add themselves to that great tradition. Hailing from Knoxville,
Tennessee, they are already gaining a reputation as a hard-working, fun-loving family, who are sure to put on
an energetic show. Winners of the prestigious 2019 SPBGMA band contest, The Family Sowell are looking to
carve out their own place in today's bluegrass music scene." – Laura Jane Mainer & Daniel Mullins, Southern
Ohio Indoor Music Festival
"Powerful bunch of enthusiastic players and singers. Strong-rooted in faith and committed to excellence, I
expect great things from their music ministry!" – Stephen Mougin, Guitarist for Sam Bush
Band,Owner/Operator at Dark Shadow Recording, Facilitator of Stephen Mougin Band Coaching
Awards & Accomplishments:
2019 SPBGMA International Band Champions
2017 KSMU "Youth in Bluegrass" Winners
2017 Jeff & Sherri Easter Talent Search Winners
"From Texas to Tennessee" Album #5 on Bluegrass Today's "Dave's Dozen" of 2018
Original Patriotic Song "God Knows Who He Is" debuts #3 on Bluegrass Today's Gospel Chart
Original Song "Dusty Gravel Road" as Bluegrass Borderline's #1 Song of the Year of 2018
Popular Song "Speak Love" 19 weeks #1 on the Fan Voted Chart
Original Song "Pilgrims' Prayer" 9 weeks #1, 26 weeks and running, on Mountain Bluegrass' Weekly Top 12
Read more Gospel Music News in the latest SGNScoops Magazine Online HERE.
Download The SGNScoops Magazine PDF 
Here
Find SGNScoops Magazine On Facebook 
Here
Listen To Gospel Music 
Here
Tags:
acoustic music
,
Alpha Source Media
,
bluegrass
,
Family Sowell
,
gospel music
Posted in
announcements
,
artists
|
Comments Off

on The Family Sowell Joins Alpha Source Media Group
Written by SGN Scoops Staff on November 15, 2019 – 3:55 pm -
Satsuma, FL  —  Evans Media Source is proud to announce they have acquired the Adams Bluegrass Festivals and will assume operations of the following events beginning in January 2020.
Jan 2-4, 2020 – 44th Annual New Year's Bluegrass Festival – Jekyll Island, SC
Feb 13-15, 2020 – 16th Annual Palatka Bluegrass Festival- Palatka, FL
June 11-13, 2020 – Cherokee Bluegrass Festival – Cherokee, NC
August 13-15, 2020 – 46th Annual North Carolina State Bluegrass Festival – Marion, NC
October 24-26, 2020 – Anderson Bluegrass Festival – Anderson, SC
November 12-14, 2020 – Fall Palatka Bluegrass Festival – Palatka, FL
November 26-28, 2020 – 51st Annual South Carolina Bluegrass Festival – Myrtle Beach, SC
Evans Media Source is an award-winning full-service music production company specializing in music festivals, concerts, music themed cruises and radio broadcasting. EMS is a family owned and operated company based out of central Florida servicing the southeastern United States and Caribbean since 1997.They currently promote the following events:
January 14-19, 2020 – Yee Haw Music Festival – Okeechobee, FL
February 18-23, 2020 – Florida Bluegrass Classic – Brooksville, FL
February 28-29, 2020 – Winter String Summit – Kissimmee, FL
March 26-29, 2020 – EMS Spring Bluegrass Festival – Brooksville, FL
"It is both an honor and challenge to step into the shoes of someone you consider a pioneer and a legend. Getting the initial phone call ranks high with the most exciting things that have happened in our careers, but working alongside Norman and Judy Adams for the next year will be like earning a masters degree in festival promotion. We are so grateful and still in shock," said Evans Media Source Owners Ernie and Debi Evans.
The bluegrass music community will certainly miss Norman and Judy Adams.  Norman has been in the bluegrass business for 45 years beginning his career in his hometown of Dahlonega, Georgia at the Mountain Music Park which he helped develop from a sawmill site.  He has won numerous awards for his event promotions including the most recent 2011 SPBGMA Promoter of the Year Award.  His wife Judy retired from BellSouth and has been in the bluegrass business 19 years. Their festivals host the top names in bluegrass music earning loyal attendees that come back year after year.  Both companies wish to thank these attendees and the performing artists for their continued support.
"For the last 28 years Norman Adams has supported Russell Moore & IIIrd Tyme Out and the friendship with Norman and July that we created over that time has been wonderful. Norman will forever be a legendary figure in the bluegrass festival scene. Over the last 7 years we have worked a lot of shows with Ernie and Debi, ironically the first show at Dixieland Music Park in 2013, I had laryngitis and could not sing. Ernie handled the situation like the professional he is and it has been fantastic working with him ever since. I am excited that Norman is passing the torch to Ernie to carry the festivals he has built into the future and I have full faith in Ernie's vision and talents to succeed for years to come," said Russell Moore.
For tickets and information regarding upcoming events, please visit evansmediasource.com and visit them at Facebook.
Tags:
Adams Bluegrass Festivals
,
bluegrass
Posted in
announcements
|
Comments Off

on Evans Media Source Acquires Adams Bluegrass Festivals
Written by SGN Scoops Staff on July 18, 2019 – 12:45 pm -
Nashville, TN  Heaven's Mountain Band had an exciting time at the 2019 Shadow Valley Sing in Fayetteville, TN.  It was a sold-out concert with no more parking or RV spots!  This event featured the Primitive QT, Bradley Walker and Heaven's Mountain Band. Based in Nashville, Tennessee, Butler Music Group provides professional management  services to Southern Gospel and Bluegrass artists including Heaven's Mountain Band, Williamsons, Old Time Preachers Quartet, Barry Rowland & Deliverance, and Jason Davidson. 
They also provide consulting services for Bob Sellers, the Arenos, Barber Family, Birchfield Family, Cheri Taylor, Covenant, GloryWay Quartet and Sacred Harmony.
BMG subsidiary, Family Music Group, is the label and radio promotion division of BMG. Label artists include Williamsons, Old Time Preachers Qt and Jason Davidson.   Over the last 40 years, radio Promotion artists have included Canton Junction, David Phelps, Goodman Revival, Ivan Parker, Guy Penrod, Hagees, Jimmy Fortune, Oak Ridge Boys, Booth Brothers, Dunaways, Larry Gatlin, and many others.
Tags:
bluegrass
,
Heaven's Mountain Band
Posted in
announcements
|
Comments Off

on Heaven's Mountain Band Performs to Sold-Out Crowds at Shadow Valley Sing!
Written by Staff on July 14, 2019 – 2:53 pm -
Les Butler and Friends: Jeff Tolbert of the Primitive Quartet
I've known Jeff Tolbert for many years, and I like him a lot. He's a great husband, father, musician and one of the all-time greatest singers I've ever heard. I thought I knew most everything about Jeff, but even I was surprised at some of his answers to my questions. For example, did you know that over the years he played for Jeff and Troy Tolbert, the Stanleys, the Easter Brothers, Jeff and Sheri Easter, and he filled in with the Lewis Family, Karen Peck and New River, the Isaacs and Ricky Skaggs. Of course, it feels like he's been a member of the Primitive Quartet forever. You'll enjoy getting to know my friend, Jeff Tolbert.                                                                                                                        
Les Butler: What is your earliest musical memory?                                                              
Jeff Tolbert: My earliest memories (for me) were singing with my dad. We sang everywhere; in our community, churches, outdoor festivals and at many radio stations. We were featured a lot on the Saturday Morning Merry Go Round at WPAQ in Mt. Airy, N.C.                                                                                                                                                                                        
Butler: What was the first instrument you tried to play?                                                               
Tolbert: I started playing the guitar and bass guitar about the same time, around the age of seven. After that, I started picking up other instruments. I remember my dad telling me when to change chords on the guitar. I couldn't wait for him to get home from work so we could pick.
Butler: What instruments do you play now?                                                                                   
Tolbert: I play the bass guitar, mandolin, fiddle, banjo, harmonica, autoharp and a little on the dobro.
Butler: Who are your top three musician mentors?                                                                         
Tolbert: I would definitely say my dad is my first musical mentor. He taught me so much about music as well as life. His spiritual influence and walk with the Lord started me on my journey many years ago, playing music and living for my Savior. I miss him dearly, but I know we will sing together again.  
The Easter Brothers would be my second mentors as well as much of their family. The Easter Brothers were from my home town of Mt.Airy, N.C. Their music has always been a part of my life. I still say, no one can sing three-part harmony like Russell, James and Edd.  My third musical mentor would be Ricky Skaggs. From Ralph Stanley and JD Crowe until now, he's always been my favorite singer and musician. I grew up learning how to sing harmony with Ricky's records. After reading Ricky's autobiography that he published, I realized our upbringing was so much alike, as we were both raised in a godly home with a love for music. I cherish his friendship and appreciate his music.
Butler:  If you could only do one thing; sing or play, which would you choose?                         
Tolbert:  As much as I love to play, I would have to choose singing. Dad always told me, (when)  you sing a song, listen to the words. If the song helps you, it will help others. I want to be a help and encouragement to someone. I want to be able to tell folks there's hope in a lost and dying world, and there's joy in knowing Jesus.
Tags:
bluegrass
,
Bluegrass Gospel
,
Jeff Tolbert
,
Les Butler
,
Les Butler and Friends
,
Primitive Quartet
Posted in
artists
,
sgn scoops magazine
|
Comments Off

on Les Butler and Friends: Jeff Tolbert of the Primitive Quartet
Written by SGN Scoops Staff on June 19, 2019 – 3:51 pm -
Nashville, TN  – From a beloved songwriting legend, and featuring three of today's sweetest Bluegrass voices, StowTown Records has released the song "Beside the Cross" to radio. Rhonda Vincent, Lizzy Long and Sally Berry could not produce a better blend to complement the lyrics of Fanny J. Crosby (1820-1915) and the songwriting collaboration of Wayne Haun, Jeff Bumgardner and Joel Lindsey.
When StowTown Records was offered the opportunity to look through a treasure trove of incomplete lyrics by the late hymnist, they were thrilled. Fanny Crosby, known for hymns such as "Blessed Assurance," "Tell Me the Story of Jesus" and "Pass Me Not, O Gentle Savior," was the most prolific songwriter of her time, having completed over 8,000 hymns in addition to numerous songs of various genres.
This particular song, "Beside the Cross," easily lent itself to a Bluegrass feel, and producer Wayne Haun knew that Rhonda, Lizzy & Sally were the perfect fit for the completed song. "It was such an honor for us to be asked to complete a work from one of the greatest writers in history," reflects Haun. "When you couple that with these three extraordinary voices, the end result is stunning. I know Fanny Crosby would be proud."

Tags:
bluegrass
Posted in
announcements
|
Comments Off

on Bluegrass Trio Comprised of Rhonda Vincent, Lizzy Long and Sally Berry Featured on New Song 100 Years in the Making
Written by Staff on March 22, 2019 – 5:28 pm -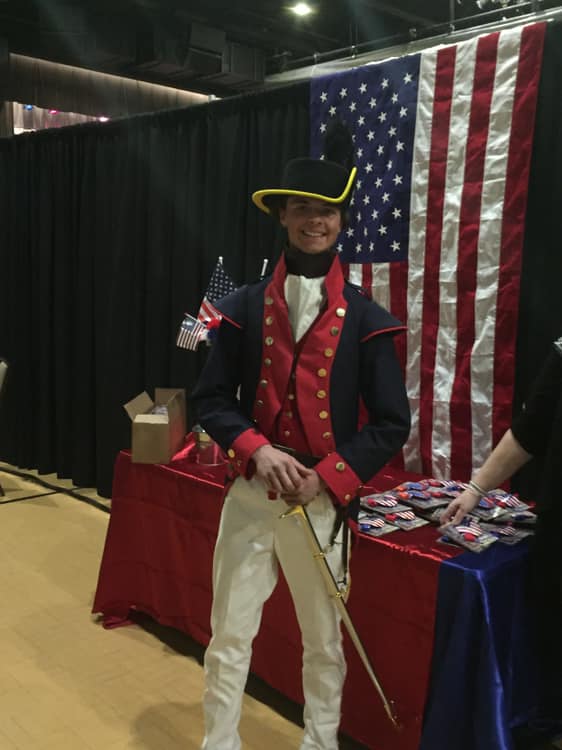 Oxford, Ala. (March 22, 2019) – The first day of Southern Gospel Weekend was filled with numerous gospel artists and styles, from the Bluegrass sound of Eagle's Wings to the Country gospel stylings of Tonja Rose and Jessica Horton. Fans began filling the auditorium at 5:00 p.m. and the excitement grew as the First Responders and Veterans began entering the hall, after a special private reception with the artists.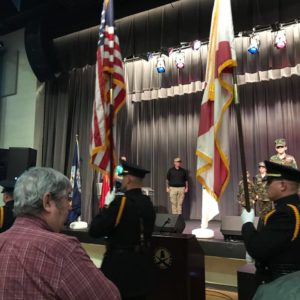 The Veterans Appreciation event began the evening with the presentation of the flags, followed by keynote speaker Ken Rollins, who honored the Veterans and First Responders for their service. Special music by Mark209 and Matthew Wilson of Eagles Wings.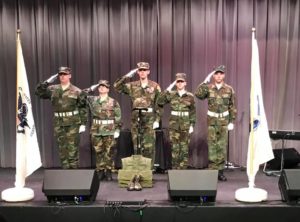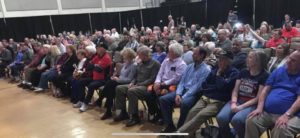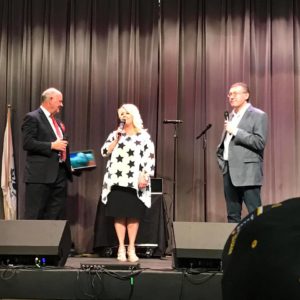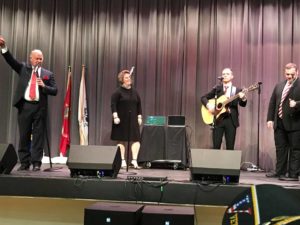 The musical portion of the evening was very well received, with artists like Mercy Rain, the Williamsons, New Ground and ClearVision Quartet.
After the concert, many went to eat at Hubbard's Off Main, where the Midnight Prayer portion was led by Tonja Rose.
We hope you enjoy the images we have captured for you.
Please note, for any that are in the Oxford, Ala., area:  All day Saturday there are events in the Civic Center. Most are free admission. Be sure to catch the Diamond Awards Top 10 big reveal.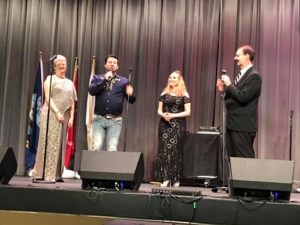 For more information please call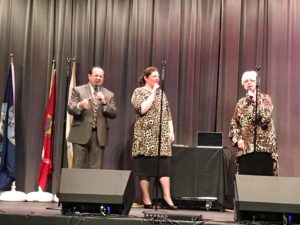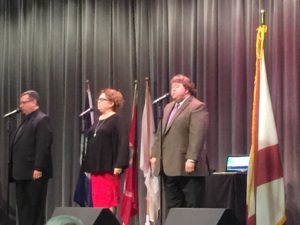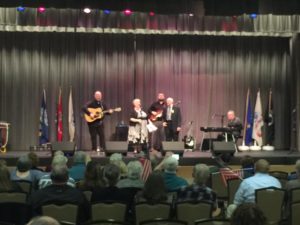 256-310-7892.
Tags:
bluegrass
,
christian country
,
Clearvision Quartet
,
country gospel
,
Eagle's Wings
,
gospel music
,
Jessica Horton
,
Mercy Rain
,
New Ground
,
sgnscoops
,
Southern Gospel Music
,
Southern Gospel Weekend
,
The Williamsons
,
Tonja Rose
,
Veterans appreciation
Posted in
announcements
,
artists
|
Comments Off

on First Day of Southern Gospel Weekend a blast!
Written by scoopsnews on March 21, 2019 – 10:20 am -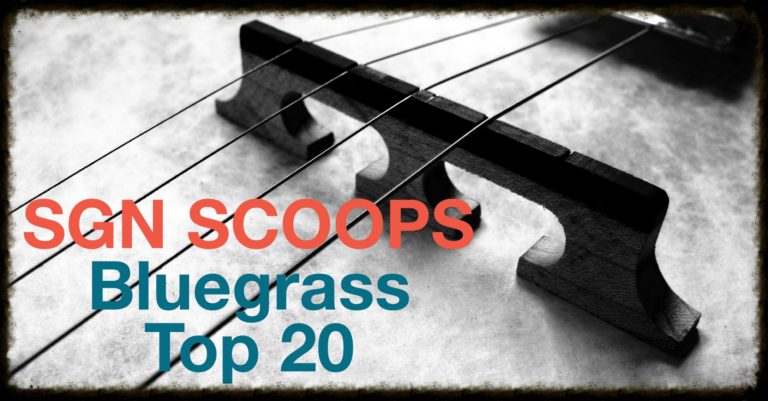 2019 April SGNScoops Bluegrass Gospel Top 20
1. Songs Like Those (For Days Like These) – Chigger Hill Boys and Terri
2. We'll Never Walk Alone – Doyle Lawson and Quicksilver
3. That's Grace – The Primitive Quartet
4. Let My Life Be A Light – Balsam Range
5. Most Requested Prayer – Heaven's Mountain Band
6. Thinkin' Outside The Box – Dave Adkins
7. Who But God – Eagle's Wings
8. I Start Each Day With The Lord – Britton Family and Friends
9. On The Sea Of Life – Jeff and Sheri Easter
10. His Eyes – The Rochesters
11. Little Black Train – Barry Abernathy and Darrell Webb
12. On The Far Side – The Marksmen Quartet
13. Why Should I Worry – Canaan's Crossing
14. Are You Ready To Go – Sally Berry
15. In A Whirlwind – The Little Roy and Lizzy Show
16. Wanna Be – Southern Raised
17. A Brighter Day – Primitive Quartet
18. Call On God – Tonja Rose
19. Was Nots – King James Boys
20. I Am The One – Walking By Faith
For more Radio Charts and other Gospel Music information read the latest SGNScoops Magazine HERE
Download The PDF Of SGNScoops Magazine
HERE
Find SGNScoops Magazine On Facebook
HERE
Listen To The Best In Today's Gospel Music
HERE
Tags:
bluegrass
,
Bluegrass Gospel
,
gospel music
,
SGN Scoops Top 20 Bluegrass
,
SGNScoops Bluegrass Gospel Top 20
Posted in
announcements
,
artists
|
Comments Off

on Congrats to The SGNScoops Bluegrass Top 20 for April 2019
Written by Staff on February 21, 2019 – 11:27 am -
While every single interview I have conducted for Inner Views has been distinctive and personally memorable to me, I must tell you that the Inner Views I am sharing with you today will forever hold an extraordinarily special place in my heart. Doyle Lawson, a humble man of God, is a legendary giant in the world of bluegrass music and is one of my biggest musical heroes, hands down.

Cheryl Smith:  Could you share with us about your childhood?  What are some of your favorite memories to recall from your time growing up?
Doyle Lawson:  As far back as I can remember I have loved the sound of music. Radio was the vehicle of entertainment in those days and there was an abundance of local, regional and national programs to listen to. The ones I remember vividly are of course the Grand Ole Opry on WSM in Nashville and the Farm and Fun Time show heard daily on WCYB in Bristol, Tenn./Va.. In the early 1950's, my dad and mother, along with one of his nephews, started singing in churches locally, and I loved to watch them work out the harmony parts, and I absorbed everything I heard them do.After hearing Bill Monroe and the Blue Grass Boys on the Opry, I was knocked out by Bill's voice and mandolin playing, and decided that I was gonna be a picker and singer…When I was 11 years old, we were living in Hancock County, Tenn., and Dad was singing lead with the Clinch River Quartet, and I discovered that one of the men in the quartet (Willis Byrd) had a mandolin. I asked Dad to ask Willis if I could borrow it to learn to play.
In 1958, I got to meet the man who became my first professional boss in music. Jimmy Martin was from Hancock County, Tenn. and had gone to work for Bill Monroe in 1949. He went on to front his own band, the Sunny Mountain Boys in 1954, first teaming up with the Osborne Brothers. On the 3rd day of Feb. 1963, I went to Nashville and auditioned for (Jimmy) to pick the banjo, and that started my 55 years and country music career.
Smith:  Were you raised in a Christian home?
Lawson:  Yes, I was brought up in a Christian home after my dad rededicated his life in 1950. He and Mom along with one of his nephews started singing in church as a trio and later added a bass singer. At the age of eight during a revival service, I realized that I was lost, and I went to the altar and accepted Jesus as my Savior…
The music business can be full of worldly trappings and it can be easy to lose your way. And I did for a good while. But on the 1st Sunday of May in 1985, I humbled myself and asked God to take control of my life because I had made a mess of it.
On the outside things looked – and were – going great, but inside me I was miserable. I didn't have the one thing I needed most of all and that was God. He never ever left me, I left him, but he was there when I truly asked for forgiveness. That was the best decision I have ever made as an adult.

Smith:  Who has most influenced you, musically?
Lawson:  Bill Monroe was my first musical hero and then came the first generation of what was to become known as Bluegrass music: Flatt and Scruggs, Mac Wiseman, Jimmy Martin, the Stanley Brothers, Reno and Smiley, and the Osborne Brothers and more.
Gospel music (influencers) would be: the Chuck Wagon Gang, the Statesmen Quartet, the Blackwood Brothers, the Masters Family, the Browns Ferry Four, and local and regional groups.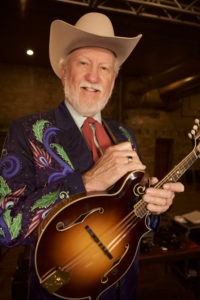 Smith:  Can you share with us about a special highlight in your career?
Lawson:  Oh my, there are many to draw from, but I suppose the first-time appearance at the Opry with Jimmy Martin was one of the standouts. I had always wanted to go see the Grand Ole Opry and as it turned out, the first time I saw it was from the stage. I was so nervous you could literally see my pants legs shaking. The National Endowment of the Arts Fellowship award is another treasured memory as well as being inducted into the IBMA Hall of Fame in 2012.
Read more »
Tags:
bluegrass
,
Bluegrass Gospel
,
Doyle Lawson
,
Doyle Lawson and Quicksilver
,
SGNScoops Magazine
Posted in
artists
,
sgn scoops magazine
|
Comments Off

on Inner Views of Doyle Lawson: Saved by Grace
Written by scoopsnews on February 19, 2019 – 12:24 pm -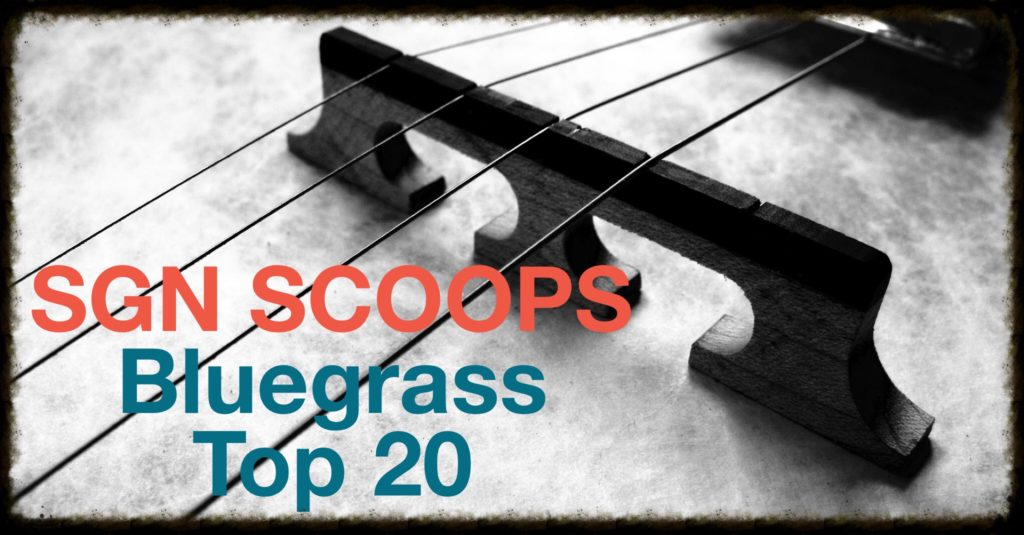 MARCH 2019
We'll Never Walk Alone- Doyle Lawson & Quicksilver
Let My Life Be A Light- Balsam Range
That's Grace- Primitive Quartet
Songs Like Those- Chigger Hill Boys & Terri
When The Storm Is In My Path- Heaven's Mountain Band
Super Water- King James Boys
Why Should I Worry- Canaan's Crossing
Wanna Be- Southern Raised
On The Sea Of Life- Jeff & Sheri Easter
Fill My Cup Lord- Stiff Family
Who But God- Eagle's Wings
Thinkin' Outside The Box- Dave Adkins
Most Requested Prayer- Heaven's Mountain Band
Little Why Church By The Way- Rumfelt Family
By The Marks In His Hands- Doyle Lawson & Quicksilver
Water Grace- Chosen Road
Now I'm Here- Stevens Family Tradition
Hide Me Behind The Cross- Tonja Rose
Little Black Train- Barry Abernathy & Darrell Webb
Glimpse Of The Kingdom- Chris Jones & The Night Drivers
Congrats Doyle Lawson and Quicksilver! NUMBER 1
Tags:
bluegrass
,
Doyle Lawson and Quck Silver
Posted in
announcements
|
Comments Off

on Congrats to The SGN SCOOPS BLUEGRASS TOP 20