Written by Staff on July 29, 2019 – 1:27 pm -
Brian Speer just knew he needed to get back on stage.
It didn't matter that it had been 36 years since he stopped traveling with his legendary family. It didn't matter that he really didn't know what direction he would take or who would sing with him. He just knew he needed to keep the Speer Family legacy alive.
"After all of Brian's people were gone, he woke up one day and said, 'I think we need to do a quartet,'" Brian's wife, Allison Speer, says. "It shocked me! We had never talked about it and had never discussed it."
But something had been burning in Brian's heart ever since his uncle, Ben Speer, and his aunt, Rosa Nell Speer-Powell, the last surviving members of the Speer Family, died in 2017. He knew someone should carry on the legacy of the Southern gospel pioneers who were active from 1921-1998.
With Allison, who has had a successful solo ministry for 35 years, fully on board with the idea, the New Speer Family was born, first performing last summer in Lawrenceburg, Tenn.
We caught up with the New Speer Family before their concert at Sand Spring Baptist Church in central Kentucky, less than an hour's drive from Allison's childhood home of Parksville. 
Tags:
Allison Speer
,
Ben Speer
,
Ben Waites
,
Brian Speer
,
Christian Music
,
gospel music
,
mike allen
,
New Speer Family
Posted in
artists
,
sgn scoops magazine
|
Comments Off

on New Speer Family continues to "Let the Songs Go On" again
Written by Staff on October 31, 2018 – 8:16 pm -
NASHVILLE, Tenn. (October 30, 2018) – The 
New Speer Family i
s proud to release their debut recording, 
A Singing Heritage
,
available now at 
www.newspeerfamily.com
 as well as digital outlets.
"Let the song go on," was a phrase G.T. "Dad" Speer would say during a concert after stopping a song to testify about God's goodness in his life. His frequent testimonies were a testament to his Christian faith. Now, for the first time since the Speers retirement in 1998, the signature songs of the Speer Family are once again being heard.
The son of Brock and Faye Speer, Brian, and his wife Allison, are joined by industry veteran Mike Allen and exciting newcomer, Ben Waites, to form the New Speer Family and the aptly titled project, "A Singing Heritage," is their first release.
"When the Speers retired at the National Quartet Convention in 1998, it was a hard time for us because not only were the voices retiring, but I felt that the songs were going away, too," says Brian. "For some time, Allison and I have been talking about how fun it would be to bring those songs back with a fresh sound, reviving them for those long time Speer Family fans and making them relevant to a new generation of listeners."
"A Singing Heritage" features the iconic and time-tested songs from the legendary family, including: "Heaven's Jubilee," "He Is Mine and I Am His," "Old Gospel Ship," "The King is Coming," and many more.
The Speer Family was formed in 1921 with G.T. "Dad" Speer, his wife Lena "Mom," dad's sister Pearl and her husband Logan Claborn. A Speer singing group travelled continually from that time until their retirement in 1998. In addition to family members, many "adopted" Speers were part of the group through the years.
Allison says, "I have always wanted to sing with a group. The thought of being a part of the New Speer Family is beyond my wildest dream. Our goal is to praise God with old Speer songs that still remain as classics. We are looking forward to having a blast with those who were touched by the original Speer Family. We're so excited and honored to revive this music again!"
To order music and for more information – including an extensive history of The Speers – visit
www.NewSpeerFamily.com
.
The New Speer Family is booked by Scott Caldwell at The Caldwell Agency, 615.436.0469,
scott@caldwell.agency,
www.caldwell.agency.
Tags:
Allison Speer
,
Ben Waites
,
Brian Speer
,
Christian Music
,
gospel music
,
mike allen
,
New Speer Family
Posted in
announcements
,
artists
|
Comments Off

on New Speer Family Revives and Refreshes Iconic Songs on A Singing Heritage Debut Release Available Now
Written by Rhonda on September 10, 2010 – 5:37 am -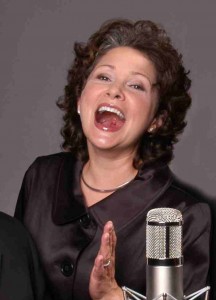 Allison Durham Speer will grace the platform of Grace Church of the Nazarene in Nashville, TN on Sunday, September12 at 6:00 pm.  This concert will premier her latest  project "The Holy Hills."  The album was produced by Allison and has received great reviews!   Allison says, "I think I am more excited about this project than any I have ever done. Producing it myself gave me a freedom I've never felt before and I think the end result reflects that. My prayer is that the songs will bless His Church and His People."  The album consists of 13 songs including "The Holy Hills of Heaven", "The Light of that City", "I'm Gonna Leave Here Shoutin'" and more. 
Allison has certainly gained a impressive reputation by singing in venues such as: Gaither Homecomings, SouthernBaptist Convention, Nazarene General Assembly, Billy Graham Crusade, Bailey Smith Conference, Louis Palau Crusade and more.  She has also been a featured soloist on many Gaither Homecoming Videos and has ministered in churches such as Charles Stanely's- "First Baptist Church" in Atlanta and Jim Cymbala's- "Brooklyn Tabernacle" in New York. 
Allison excels in musical performance and in communication.  She is a gifted speaker, story teller as well as a vocalist.  Allison is known for creating  "moments and memories" for her audience to cherish.  This Sunday night promises to be an unforgettable night in Nashville.   Grace Church of the Nazarene is located at 2620 Pennington Bend Road.  For more information about Allison Durham Speer, her music, "The Holy Hills" song clips and her concert schedule, visit http://www.allisondurhamspeer.com/
Tags:
Allison Durham Speer
,
Brian Speer
,
Gaither Homecoming Videos
,
Grace Church of the Nazarene Nashville
Posted in
announcements
,
new music
|
Comments Off

on Allison Durham Speer Premiers New Album "The Holy Hills" In Nashville September 12