Written by SGN Scoops Staff on March 27, 2011 – 5:03 pm -
Nashville, TN – Heartwarming Records artist Patsy Mayo has recently released her debut project on the label "I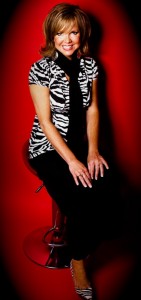 Believe" along with a companion DVD from the Homeland Entertainment's Brush Arbor Jubilee Television series.  The majority of the recording which includes Patsy's requested radio single "Your Love Is All I Need", is original material written by Patsy and her mother Pearlie Mullins.  Patsy has also been a regular featured artist on the national Television Gospel Music series "Brush Arbor Jubilee".
Born in Columbus, Ohio. Raised along with her three brothers by her parents, Bethel and Pearl Mullins. The backbone of Patsy Mayo's life is her strong belief in God. That faith, combined with her natural musical ability, guided Patsy's lifelong dream to become a Gospel singer. One of the blessings from God Patsy is thankful for is the gift to write songs. She wrote her first song, "I'll be Alright", when she was 12 years old, which is the title song to her first CD that was recorded in 1999. It featured original compositions by Mayo, as well as "The Lowest Valley" , a song written by her Mother. When recorded by The Isaacs and The Wilburns,  "The Lowest Valley"  hit the virtually every national gospel chart.  Also in 1999, Patsy won the Ohio statewide competition for Female Gospel Vocalist. She later represented Ohio at a national competition in Tennessee, where she was recognized as "Most Promising Female Gospel Vocalist". Patsy's self titled CD made its national debut in 2003. Her first national releases from it were called, "I Think I'll Run" and "You Rescue Me."  With the new release on Heartwarming records Patsy has been introduced to even a larger audience as she travels into new areas bringing her refreshing style of music to audiences that appreciate Southern Gospel with a country Flair that reaches all ages.
You can locate more information about Patsy Mayo at www.patsymayo.com or www.homelandentertainmentgroup.com.  Be watching for Patsy on future Brush Arbor Jubilee programs.  You can find broadcast schedules that Brush Arbor Jubilee airs by going to www.brusharborjubilee.com
Tags:
Brush Arbor Jubilee
,
homeland entertainment
,
Patsy Mayo
Posted in
announcements
,
christian entertainment
|
Comments Off

on Heartwarming Records Releases Debut Release of Patsy Mayo
Written by Rhonda on September 20, 2010 – 4:03 am -
Nashville TN- Homeland Recording artist The Toney Brothers announced today
that effective immediately, Jake Sammons, and Derrick Boyd, are joining
The Toney Brothers.
Jake Sammons will be singing baritone, and playing the keyboard, and
Derrick Boyd, will be singing tenor. Jake will be filling in for George
Amon Webster unitl he is able to return, after that time, Jake will remain
with the group, as a vocalist and as pianist as well.
These gentlemen are no strangers to Gospel Music Fans. Sammons spent four
years as lead vocalist with The Toney Brothers during the time when the
quartet had such Top 20 singles as "Gonna Make My Getaway" and "Mercy Came
Down".  Jake then spent several more years as Music Director and morning
drive host at WPOS Southern Gospel Radio in the Toledo Ohio market.
Boyd is one of Gospel Music Fans favorite all time tenors.  He has spent
over 20 years with such groups as the Dixie Melody Boys, Heaven Bound and
The Kingsmen.  Both of these men are welcome additions to the group and
they are looking forward to being back on the road seeing the fans at all
Toney Brother appearances.
Work is already underway for the new Homeland recording to be released
this fall, and the first single with this dynamite group "Just As He Is"
written by Dianne Wilkinson has just been shipped to radio.   The Toney
Brothers are also regular guest artists on the new nationally syndicated
Television program "Brush Arbor Jubilee" which can be seen throughout
various markets each weekend.   National Quartet Convention Fans will get
an opportunity to hear this group on Thursday afternoon at the Featured
Artist Showcase.
You can find more information at www.homelandentertainmentgroup.com or at
www.toneybrothers.com
Tags:
Brush Arbor Jubilee
,
Derrick boyd
,
Homeland entertainment Group
,
Jake Sammons
,
toney brothers
Posted in
announcements
|
Comments Off

on Jake Sammons and Derrick Boyd Join The Toney Brothers