Written by Staff on November 1, 2018 – 6:12 pm -
THE CREEKSIDE DIARIES, Volume Four. Wednesday, October 31, 2018. By Kristen Stanton.
The third full day at Creekside began with a chapel service in the showcase hall led by Dr. Jerry Goff followed by a time of music with the ALQC Road Revival featuring several Creekside artists who also perform at the Alabama Quartet Convention.  
Scott Washam from Day Three talked about the humble beginnings of their event. "We didn't have two pennies to rub together but we stepped out in faith."
Washam went on to explain how the Road Revival ended up with a show at Creekside. "One day I was talking to Vonda on the phone and she said, hey you should bring the Road Revival to Creekside.  I thought she was joking but here we are."
Several artists including Day Three, Living Faith, Gloryland, and Cami Shrock, performed for a packed house.
The evening concert included some first time artists from Indiana and Florida, showing just how far reaching the Creekside arms are extending.
The Gibbs Family, in their first trip, had the crowd on their feet in worship.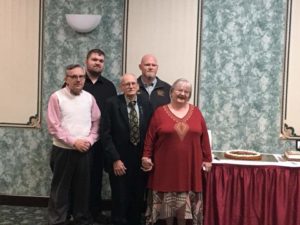 Eagle's Wings, winner of three Diamond Awards, was one of the night's featured groups.  Always a crowd favorite, the group sang some of their hit songs.
The concert finished out with another riveting message from C.T. Townsend followed by the Browders who brought the house down.  
Wednesday night at Creekside would not be complete without Midnight Prayer.  The Chandlers led an intimate time of prayer and worship where over fifty had gathered believing they would leave this event different than they did when they walked in.  
Creekside continues to change lives from night to night.  We have one more day until the event wraps up.
Join us live on Facebook for Thursday's concert and make your plans to join us next year at Creekside October 27-October 31, 2019.  For more information or to book your hotel, contact rob@sgnscoops.com.  
By Kristen Stanton
Read the latest online edition of SGNScoops Magazine HERE
Download The PDF Version Of SGNScoops Magazine HERE
Find SGNScoops Magazine On Facebook HERE
Tags:
Browders
,
C.T. Townsend
,
Creekside
,
Dr. Jerry Goff
,
Eagle's Wings
,
rob patz
Posted in
Christian interest
,
exclusive report
|
Comments Off

on Creekside Diaries v4: Eagle's Wings, C.T. Townsend and the Browders
Written by Staff on September 28, 2018 – 8:31 am -
PIGEON FORGE, Tenn. (September 26, 2018) –  It was a terrific Thursday filled with music and message at NQC. The day started bright and early with morning chapel service as the Mark Trammell Quartet and Mike Speck led the crowd in worship, followed by a message from one of the most dynamic preachers today, C.T. Townsend.
Moving forward into the day, Dennis Swanberg gave convention-goers a laugh-break with his comedy.
Next up was Bill Gaither and his Homecoming Friends, filling the LeConte Center with classic songs made popular on the Gaither videos.
The evening concerts were hosted by Josh Franks. Tonight's performers were: Gaither Vocal Band, Ernie Haase & Signature Sound, Hoppers, Legacy Five, Jonathan Wilburn, Gold City, Ball Brothers, Greater Vision, Tribute Quartet, Mark Trammell Quartet, Jim Brady Trio, Dr. David Jeremiah, Primitive Quartet, Three Bridges, Kingdom Heirs. Power half-hour performances by Tim Menzies, Torchmen, Jordan Family Band, Debra Perry & Jaidyn's Call
Among tonight's highlights were the classic harmony of the Gaither Vocal Band, and the comedy of Bill Gaither and his sidekick, Kevin Williams and the moving testimony of Josh Townsend – pianist for Legacy Five – as he told of suffering abuse at the hands of his father in the womb before he was even born. The abuse left his twin dead before birth and Josh suffered a stroke before being delivered. Due to this, doctors told his mother that he would never have use of his left hand, to which Josh testified tonight – "they were wrong." The crowd – with tears streaming down their face – gave Townsend a standing ovation after he performed the song, "God's Been Good."
NQC – the National Quartet Convention – continues until Saturday, September 29, 2018, at the LeConte Center in Pigeon Forge, TN. Over 40,000 people are expected to enjoy the concerts and festivities planned.
Coming up tomorrow, Friday, September 28, 2018:
Chapel with Jim Brady Trio and the First Baptist Church Indian Trail Choir and message by Dr. Mike Whitson
Blazing Pianos
Dr. David Jeremiah
Matinee Extravaganza
Evening Concerts featuring: Erwins, Dixie Echoes, Nelons, LeFevre Quartet, Taylors, Mark Trammell Quartet, McKameys, Lynda Randle, Perrys, Jeff & Sheri Easter, Isaacs, Joseph Habedank, Hoppers, Triumphant, Karen Peck & New River and Ernie Haase & Signature Sound
NQC – the National Quartet Convention – was founded in 1957 by gospel music legend and former backup vocalist for Elvis Presley, J.D. Sumner who co-produced the event with James Blackwood. The annual convention was moved in later years to Nashville, TN and then to Louisville, KY where it was held for 20 years.
Tags:
Ball Brothers
,
C.T. Townsend
,
Dr. David Jeremiah
,
Ernie Haase & Signature Sound
,
Gaither Vocal Band
,
gold city
,
Greater Vision
,
hoppers
,
Jim Brady Trio
,
Jonathan Wilburn
,
Kingdom Heirs
,
legacy five
,
mark trammell quartet
,
nqc
,
Primitive Quartet
,
three bridges
,
Tribute Quartet
Posted in
announcements
,
artists
|
Comments Off

on NQC RECAP: THURSDAY, SEPTEMBER 27, 2018
Written by Staff on March 5, 2018 – 4:24 pm -
Creekside Gospel Music Convention 2018 has just added C. T. Townsend to its lineup this fall. C. T. Is a young preacher whose ability to reach people of all ages with the message of Jesus has brought about revival and allowed the presence God to change lives. Creekside takes place Oct. 28 – Nov. 1 in Pigeon Forge, Tenn. at the Smoky Mountain Convention Center.
Convention organizer, Rob Patz, says, "We are so excited to have C. T. Townsend at Creekside this year. He is a terrific, bible-based preacher and teacher. I can't wait to hear him. I'm praying for revival and I know you won't want to miss it. Come join us at Creekside 2018!"
Creekside Gospel Music Convention celebrates its sixth anniversary in 2018 and this year will be bigger and better than ever. A $25 VIP pass for the best seats, best giveaways and best surprises Creekside has to offer will show that loved one how much you care. If you want your loved one to feel like a Very Important Person this Christmas, or if you are interested in purchasing your own $25 VIP ticket call Rob Patz at 360 933 0741.
For more information on tickets, reservations or booth space, contact Vonda Easley at vonda@sgnscoops.com or Rob Patz at rob@sgnscoops.com.
You Can Download SGNScoops Magazine HERE
Find SGNScoops Magazine On Facebook HERE
Listen To The Best In Todays Gospel Music HERE
Tags:
C.T. Townsend
,
Creekside 2018
Posted in
announcements
,
artists
|
Comments Off

on C.T. Townsend To Preach At Creekside 2018