Written by Staff on October 14, 2018 – 5:57 pm -
The Gospel Music Association of Canada, begun in 1974, will present the 40th Annual Covenant Awards on January 24, 2019, at the Shaw Conference Centre in Edmonton, Alberta. The awards will be handed out in over 30 categories, during a ceremony featuring live performances from various nominees.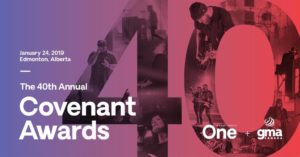 Some of the nominees in the Southern gospel and Country gospel categories include:
GROUP OF THE YEAR: West Of Here, Manic Drive, The Color, Canada's Double Portion, The Voyage
VIDEO OF THE YEAR: There Is More/Canada's Double Portion, In My Lifetim/Jordan St.Cyr, Born For Greatness/Warren Dean Flandez Feat. KJ Apa, Hiding Place/Addition [Andrew Marcus], Let It Be Love
The Color, Road To Greatness/Caleb Bloomfield AKA Xempt, Something To Say/Andrew Abbott
COUNTRY SONG OF THE YEAR: Heavenly Harvest/Rosemary Siemens, Billy Sprague & Joe Beck;  Voice Of Jesus/Tom Roe; Back To You/Michael Boucher, Jared Boucher, Nathan Boucher & Jordan Shew; Summertime, Summertime/Barbara Joy; Tornadoes/Michael Boucher, Jared Boucher, Nathan Boucher & Jordan Shew
SOUTHERN GOSPEL SONG OF THE YEAR: A Little Further Down The Line/Trevor Toews; Hands/ Christina Hemmerling, Debbie Hemmerling & Duncan A Hemmerling; Nothing But The Blood (Washes Over Me)/Barbara Joy & Robert Lowry (Public Domain); Voice Of Jesus/Tom Roe
COUNTRY / SOUTHERN GOSPEL ALBUM OF THE YEAR: Good Things/The Proverbs;
Faithful/Torchmen Quartet; Back To You/Open Sky; There Is More/Canada's Double Portion; Babies, Banjos & The Bible/Son Picked; Are You Ready/Tom Roe
For more information go to the GMA Canada website or Facebook page.
Read the September issue of SGNScoops Magazine HERE
Download The PDF Version Of SGNScoops Magazine HERE
Find SGNScoops Magazine On Facebook HERE
Listen To Todays Gospel Music HERE
Tags:
2018 Covenant Awards
,
Canada's Double Portion
,
Christian Music
,
GMA Canada
,
gospel music
,
Proverbs
,
southern gospel
,
Tom Roe
,
Torchmen
Posted in
announcements
,
artists
|
Comments Off

on GMA Canada announces nominees for 40th Annual Covenant Awards
Written by SGN Scoops Staff on September 25, 2012 – 1:18 pm -
BURLINGTON, ON – GMA Canada announced this morning during a press conference at the Crossroads Centre in Burlington, Ontario that The Amundruds are among the nominees for the 2012 GMA Covenant
Awards.
The Amundruds are nominated in the categories:
Group of the Year – The Amundruds
Country/Bluegrass Album of the Year: The Amundruds – At The Crossroad
Country/Bluegrass Song of the Year: The Amundruds – Catch Every Tear
Southern Gospel Song of the Year: The Amundruds – I Wanna Go
The Covenant Awards will be broadcast on CTS TV this November. Watch for times and local listing announcements to be made soon. The Amundruds are also scheduled to perform on the Awards Show
alongside artists: Starfield, Downhere, NewWorldSon, High Valley, Ben Cantelon, Greg Sczebel and the Toronto Mass Choir. Watch for more artist announcements coming soon! Visit GMACanada.ca for tickets and additional information.
Make plans now to join us in Ontario for GMA Week 2012!
Group Of The Year
The Amundruds
Downhere
High Valley
Newworldson
Starfield
Country/Bluegrass Album Of The Year
The Amundruds – At The Crossroad
Canada's Double Portion – Classics
Gary French – Sweetest Thing
High Valley – Love Is A Long Road
Kelly Manu – Believe
Country/Bluegrass Song Of The Year
The Amundruds – Catch Every Tear
High Valley – Have I Told You I Love You Lately
High Valley – Let It Be Me
Mike R. Schuster – Sunday
Rob Berg – Hammer Fall
Southern Gospel Song Of The Year
The Amundruds – I Wanna Go
Jassette Haughton – Once You Have Tasted
Blake Paul – Be Near Me
Torchmen Quartet – We Sing About a Saviour
Valiant – It's A New Day
Tags:
Canada's Double Portion
,
downhere
,
GMA Canada
,
High Valley
,
Kelly Manu
,
Soutehrn Gospel
,
Southern Gospel News
,
The Amundruds
Posted in
announcements
|
Comments Off

on 2012 GMA Canada Covenant Awards Nominees Announced