Written by Staff on September 15, 2015 – 5:31 am -
All of us at SGN Scoops were saddened to hear of the passing of Carroll McGruder last night.
His death was reported on the Facebook page of close friend Beverly McManus. On September 14, she wrote:
"Our God is Faithful.
Tonight at 10:40, we have witnessed the promotion of our beloved Carroll McGruder, to his eternal reward. He so aptly penned the lyrics to THE GREAT HOMECOMING; today they are relevant to him.
He made his transition peacefully in his own bed with family gathered around. His family and friends from around the world have held him and us in continuous prayer these past days. He expressed several times how he could "feel" that support.
We thank each of you for your calls, texts, and other expressions of concern. We will all miss this great man of God immensely and ask for your continued prayers as we begin a new phase of life without his counsel, presence, and support.
Our hope is in the witness that Carroll has left us. He received his reward, and we are resolved to go where he is.
Blessings,
The Carroll McGruder Family"
Our prayers and condolences to Carroll's wife Sharon, their children and the family and friends of Carroll McGruder.
Tags:
Carroll McGruder
,
southern gospel
Posted in
announcements
,
artists
|
Comments Off

on Carroll McGruder passes away
Written by SGN Scoops Staff on January 26, 2015 – 9:18 am -
Following a week of tests, Carroll McGruder's medical team has determined that he has lymphoma throughout his body. He has also been diagnosed with two broken vertebrae and a broken hip. Chemotherapy and radiation will begin immediately. His medical team is a group of highly respected and skilled surgeons and oncologists. By faith we anticipate a full recovery for Carroll! He, his wife Sharon and their children are so thankful for the prayers and outpouring of love to their family. We ask that you respect their privacy and Carroll's need to protect his immune system during this treatment process.
We appreciate your prayers, love and support for the McGruders!
Tags:
Carroll McGruder
,
Southern Gospel Music
,
Southern Gospel News
Posted in
announcements
|
Comments Off

on Please Pray For Carroll McGruder
Written by SGN Scoops Staff on June 21, 2013 – 2:14 pm -
June 21, 2013 (Nashville, TN) – Nelon Music Group congratulates Carroll McGruder on receiving top honors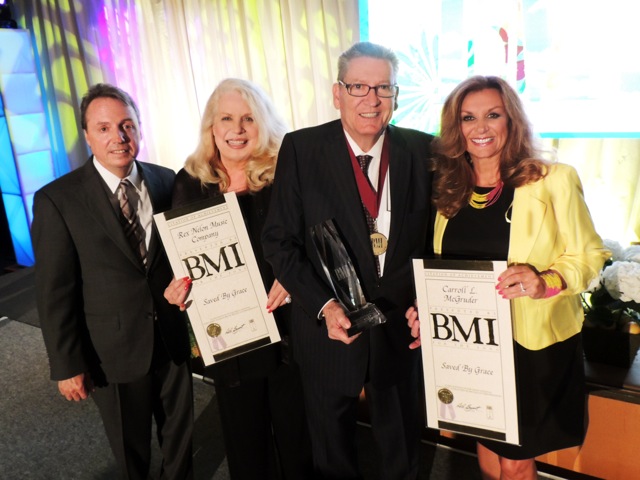 at the Broadcast Music, Inc.® (BMI) 2013 Christian Music Awards. During an invitation-only evening ceremony held on June 18, 2013, at the Nashville headquarters, Mr. McGruder was named Songwriter of the Year and honored for the song, "Saved By Grace," published by Rex Nelon Music, a division of Nelon Music Group and performed by Triumphant Quartet.
When McGruder arrived at BMI, he was aware that he was being honored for the song, "Saved By Grace," but he was surprised to hear his name called out as the recipient of one of the night's highest honors, Songwriter of the Year. "To say I was shocked is an understatement," commented McGruder. "To be allowed even the privilege of participating with such an elite group of talent and then to hear my name called…well, I can honestly say that it is a bit overwhelming. My wife, Sharon, had to pinch me and say 'get up there, they just called your name!'"
Continuing, McGruder stated, "I am thankful to everyone that has helped me through the years. I thank God for His mercy and grace. Judy Nelon and Kelly Nelon Clark have continued to promote my material and I thank them."
Judy Nelon, president of Nelon Music Group, shared, "Rex Nelon spent his life encouraging aspiring artists and writers. It is a joy to carry on his love of our music. Carroll L. McGruder is a shinning example of a gifted writer – his compositions are timeless!"
"Whenever Daddy told us he had a new Carroll McGruder song," Kelly Nelon Clark recalls, "We knew right away that we would be singing it for years to come."
McGruder was also honored for the song, "I'm Going Home With Jesus," published by Best of Zion Music.
Tags:
Carroll McGruder
,
Judy Nelon
,
Nelon Music Group
,
Rex Nelon
,
Saved By Grace
,
Songwriter of the Year
,
southern gospel
,
Southern Gospel News
Posted in
announcements
|
Comments Off

on NELON MUSIC GROUP CONGRATULATES CARROLL MCGRUDER