Written by Staff on March 15, 2016 – 11:27 am -
Johnson City, TN – The successful promotions company, IMC Concerts, has announced plans for the addition of several of Southern Gospel Music's most popular and talented recording artists to be featured during the 2016 Texas Gospel Music Festival. The event will take place November 4 & 5, 2016 at the McGorman Performing Arts Center in Ft. Worth, TX.
In the past, the event has featured the Cathedrals Family Reunion. This year's Texas Gospel Music Festival will again feature the Reunion with Legacy Five, Greater Vision and Ernie Haase & Signature Sound, as well as the Mark Trammell Quartet. The Cathedrals Family Reunion will serve as the finale for the weekend.
Additionally, the weekend will highlight The Booth Brothers, The Collingsworth Family, The Erwins, Mark Lowry and brand new trio Cana's Voice, featuring TaRanda Greene, Doug Anderson and Jody McBrayer. "We are very excited about the additions we have made to the Texas Gospel Music Festival," IMC President, Landon Beene, states. "Texas boasts a rich gospel music tradition. It is where many  gospel music legends got their start, including long-time Cathedral Quartet member Glen Payne, who called Rockwall, TX, home. We are very excited about what we believe will become another rich Texas gospel music tradition."
For those attending the weekend, IMC has created a number of lodging packages that will feature special activities with several of the artists featured on this event. "After a great night of music, there is nothing better than being able to go back to hotel and enjoy great fellowship with other event attendees and some of the artists featured on the program," Beene explains. "We are planning some very special activities for those who take advantage of the special lodging packages we are creating. This will be a really fun opportunity for those out of town guests who will be attending."
According to Beene, accommodations have been made for current ticket holders who have already purchased tickets for the 2016 event. "Revamping this event is something we believe will have a very positive impact. Current ticket holders who would like to make any changes to their reservations or upgrade their seats before tickets go on sale to the general public will have the opportunity to do so. IMC representatives will be available to assist. Current ticket holders may call
800.965.9324
to obtain assistance or any information."
Make plans now to be a part of the 2016 Texas Gospel Music Festival. Complete information, including lodging packages for this exciting weekend, is available at 
www.imcconcerts.com
.
Tags:
Cathedral Family Reunion
,
Ernie Haase & Signature Sound
,
Greater Vision
,
imc concerts
,
Legacy 5
Posted in
announcements
,
artists
|
Comments Off

on CATHEDRAL FAMILY REUNION AT SALUTE TO TEXAS GOSPEL MUSIC FESTIVAL
Written by SGN Scoops Staff on July 23, 2014 – 1:37 pm -
July 23rd, 2014—NASHVILLE, Tenn.—Gaither Music Group and Innovative Management and Consulting, LLC (IMC) have announced the release of an all-new CD and DVD entitled Cathedrals Family Reunion Past Members Reunite LIVE in Concert.
The recordings, which will be available on September 2nd, capture the historical concerts that took place on November 8th and 9th, 2013, in Fort Worth, Texas, at the MacGorman Performing Arts Center where five former members of the legendary Cathedrals combined voices to celebrate the group's legacy and pay honor to its founders Glen Payne and George Younce.
The two-day event featured performances by tenor Ernie Haase and his GRAMMY®-nominated quartet Ernie Haase & Signature Sound; baritone Scott Fowler and Legacy Five (a group he co-founded after The Cathedrals retired); lead vocalist and piano player Gerald Wolfe and Greater Vision (the heralded trio he formed upon leaving the group); beloved baritone and bass player Mark Trammel and The Mark Trammel Quartet; and tenor Danny Funderburk, now a popular solo artist and household name among gospel music lovers. The recordings, an encouraging walk down memory lane, are a tribute to group members Payne and Younce, two patriarchs and mentors who were an inspiration to countless singers for many decades. "Doing these great time-honored songs in the studio was great," described Haase. "We thought that was all there would be of the experience. Then to sing them 'live' with each other was beyond words. To have had that one special night captured 'live' on DVD & CD was truly a bonus blessing. Hardly ever can you capture heart, emotion and spirit the way it actually happens in a live setting. Well, I for one feel that is exactly what has happened. Get ready to laugh a little and cry a lot…I sure did."
The sold-out event marked the first time these five acclaimed vocalists had joined together to perform some of the most loved hits by The Cathedrals, whose career spanned over 35 years. The concert brought back countless memories for the singers and the audience alike, and the stories they shared left the congregation moved and inspired…and wanting more. The overwhelming response has resulted in a national tour in six select markets organized by IMC in association with Showcase Management. The tour will start this November in Akron, Ohio, the birthplace of the original Cathedral Quartet where it all began.
As with the original reunion event, each weekend will focus on celebrating the legacy of the iconic Cathedral Quartet, featuring music from each of the current artists as well as performances by this special Cathedrals Family Reunion line-up. The weekends will also feature memorabilia displays, special matinees, a behind-the-scenes Q&A session, a chance to tour "Silhouette" (the last tour bus The Cathedrals used) and more.
Produced by award-winning producer/songwriter Wayne Haun, the Cathedrals Family Reunion Past Members Reunite LIVE in Concert CD contains classic hits such as "Wedding Music," "Yesterday," "Somebody Touched Me," "Step into the Water," "Oh, What a Savior," "Champion of Love," "We Shall See Jesus" and more. The companion DVD, produced by IMC's Landon Beene, contains 17 songs including additions "Oh, Come Along," "We Shall Be Caught Up," "Search Me O God" and more.
The new CD and DVD will be part of a tv special in September, airing on Dish TV, DirecTV, AT&T Uverse, GaitherTV, TBN, RFD, FamilyNet, CTN, UPtv, GMTN, Guardian, Liberty, TCT and TLN. It will air in Canada on Vision TV, CTS, The Miracle Channel and Hope TV, and the projects will be featured in HOMECOMING Magazine.
Cathedrals Family Reunion, Past Members Reunite LIVE in Concert will be available for pre-sale on Monday August 4th at www.gaither.com and at www.CathedralsFamilyReunion.com.
The releases will be distributed by Capitol Christian Distribution and will available at retail and digital outlets worldwide including iTunes, Amazon and www.gaither.com. For more information on the event and/or to purchase tickets or product please visit www.CathedralsFamilyReunion.com.
Tags:
Cathedral Family Reunion
,
Ernie Haase
,
gaither
,
Gerald Wolfe
,
IMC
,
Southern Gospel Music
Posted in
announcements
|
Comments Off

on CATHEDRALS FAMILY REUNION Releases New LIVE CD and DVD
Written by SGN Scoops on May 30, 2013 – 9:30 am -
May 30, 2013 (NASHVILLE, TN) – Anticipation is high as tickets for the Cathedrals Family Reunion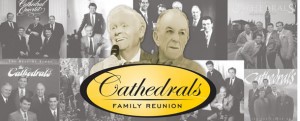 event are set to go on sale Monday, June 3, 2013. The two-day celebration of the iconic Cathedrals will be held November 8-9, 2013 at the MacGorman Performing Arts Center in Fort Worth, TX.
Today, organizers of the event – IMC Concerts and Showcase Media – have announced that a special Cathedrals Family Reunion CD is being recorded and will be released onNovember 8, 2013 during the weekend. For the first time ever, Scott Fowler, Danny Funderburk, Ernie Haase, Mark Trammell and Gerald Wolfe will unite their voices together to perform the signature classics of the Cathedrals. Some selections will also feature all 17 voices from the groups Ernie Haase & Signature Sound, Greater Vision, Legacy Five and the Mark Trammell Quartet. George Younce and Glen Payne will also be included in the album as their voices will be placed with newly recorded tracks along with the voices of Danny, Ernie, Gerald, Mark and Scott.
This event was created to celebrate the legacy of the Cathedrals and will feature music from each of the current artists as well as special once-in-a-lifetime "reunion moments" during every unique session. Several surprises and activities are scheduled including an exhibit of Cathedrals' memorabilia and a very special chance to see and tour "Silhouette," the the last bus George Younce, Glen Payne, Roger Bennett and all the Cathedrals traveled millions of miles on. A Q & A session with The Cathedrals alumni will be a special highlight of the event as fans are treated to a "behind-the-scenes" look into the world of The Cathedrals.
To view the official video press conference,  

CLICK HERE.
Tags:
Cathedral Family Reunion
,
Cathedrals
,
Danny Funderburk
,
Ernie Haase
,
George Younce
,
Gerald Wolfe
,
Glen Payne
,
gospel music
,
Gospel Music Events
,
macGorman Performing Arts Center
,
Mark Trammel
,
Scott Fowler
,
Southern Gospel News
Posted in
announcements
|
Comments Off

on CATHEDRALS FAMILY REUNION EVENT TICKETS ON SALE JUNE 3, 2013