Written by scoopsnews on August 9, 2019 – 1:31 pm -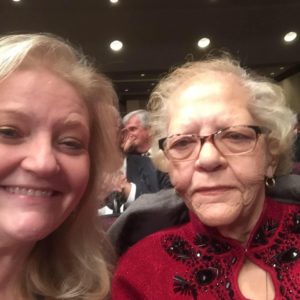 Janice Foster, 80, of Marietta Ga, mother of Hey Y'all Media Artist, Charlie Sexton & Homecoming, passed away from complications of oral cancer at Tranquility Hospice in Marietta, Georgia earlier today.  Arrangements are forthcoming from West Cobb Funeral Home.
Please pray for Linda, Charlie, and Family.
Vonda Easley Armstrong
Hey Y'all Media
Tags:
Charlie Sexton & Homecoming
Posted in
announcements
|
Comments Off

on Please Pray for Linda Foster (Charlie Sexton & Homecoming)
Written by scoopsnews on November 14, 2018 – 9:21 am -
What's been going on in the ministry?
"Each of the 4 members of 'Charlie Sexton & Homecoming' have their own, personal ministry efforts.  Dr. John Turner pastors Lighthouse Baptist Church in Hiram, GA. Selena Mangrum King sings and speaks at Women's Conference and is pianist at her home church.  Linda Foster also sings and speaks at Women's Conferences, and joins Charlie Sexton on a few select duo dates when their schedule allows.  Charlie wears many hats. He produces recordings for other artists, promotes concerts, and is a popular emcee within the ever-popular Red Back Hymn Sing Movement.  He also conducts choir workshops.
What is the Group's favorite place to eat when you're traveling?
"To be honest, we are so new that we truly haven't had a chance yet to share a meal together at a restaurant as a group. We have done a few Homecoming dates, so we have definitely enjoyed sampling some home-cooked delicacies there."
What is your website and booking info?
www.charliesextonandhomecoming.com
Charlie Sexton
(404) 210-5478
chsexton@mindspring.com
Tell us something we probably don't know about the group.
"We got our start when Dr. Johnny invited me (Charlie) and Foster to perform at his church's annual Homecoming Service.  During the booking conversation, their mutual friend, Selena, was mentioned and we decided it would be fun for the four of us to learn a song or two for the festivities.  When we got together, we realized that we were on to something and that we had that classic 'old school' sound that not many groups have today.  Selena's husband, Tim, made some impromptu video and posted them on social media.   Calls and requests started coming in for dates.  Only thing was, we didn't have a name… so, since we got our start at a Homecoming, Dr. Johnny suggested 'Charlie Sexton & Homecoming', and it stuck.  Sure hope
Bill Gaither don't mind… LOL"
Share a funny road story?
"Again, being SO new, we truly don't have any real road stories yet. But, because we all have been friends for so long, most of our time together is spent reminiscing about Church services and Gospel Music related events that we have all been a part of together over the years."
Come meet Charlie Sexton & Homecoming at Southern Gospel Weekend 2019 in Oxford Alabama.
Don't forget to like "Southern Gospel Weekend Page" on Facebook and keep up with all the updates and exciting news leading up to the event.
Tags:
Charlie Sexton & Homecoming
,
Southern Gospel Weekend 2019
Posted in
announcements
|
Comments Off

on "Shining For Jesus" Meet Charlie Sexton & Homecoming