Written by scoopsnews on December 19, 2019 – 5:03 am -
In the summer of 1994, I got the opportunity to join my favorite male singing group, "Liberty" from Cumming, Georgia.  I had been friends with these guys for years, and had prayed that God would allow me to one day be a part of the group.  They had already made great strides in the Gospel Music world, and had endeared themselves to countless thousands of fans from the southern tip of Florida up to Chicago and all points in between.  I was elated to finally have found my own place within this well-loved bunch of guys from the foothills of North Georgia.
About a year after I joined, the group went through a particularly upsetting change.  Two of the three vocalists and two of the four band members decided to leave the group.  It was devastating to me, especially.  They had been my heroes, and I had just begun to live out my dream of ministering alongside of them.  But, with God's guiding hand, we who remained, put together a fresh, energetic lineup of guys who had a desire to carry on the work with the same integrity and anointing that folks had come to know, love and respect.
We spent quite a few months of really intense rehearsal leading up the changeover.  The debut of 'The New Guys' had been scheduled for December 15th at a local eatery there in Cumming, so the Tuesday before, we planned one last practice.
That evening, I pulled my Ford Bronco into the driveway of the house where we were to rehearse, and my 'cellular bag phone' began ringing.  Each time I tried to answer it, no connection could be made.  I though that odd at the time, but in hindsight, it was God's hand of emotional protection for me.  Frustrated, I finally turned the device off, knowing that anyone truly needed to; they could get to me by calling the landline where we were holding our practice session.
While I waited for the others to arrive, I heard Vince Gill's signature song, "Go Rest High On That Mountain" for the very first time.  The song moved me to tears.  I had no idea at the time what was actually going on with my family back in West Atlanta.
Alas, after some of the other guys began to arrive, I got on out of the Bronco and we all went in.  We had a solid program lined up, and we were all thrilled with what was happening for us all. A few hours later, I drove the 90 minutes back to my home.
When I walked in the door, I knew that something was wrong.  My folks were sitting around the table (something they really rarely ever did) and my best friend, Dennis Shoup was there.  He carefully and gingerly gave me the sad news.  Bud Swafford, the only male cousin I had on my Mom's side of the family, had hung himself in the hallway of his home.  The news paralyzed me.  He was like my big brother.  In fact, he and I and his wife, Darlene, and another a friend of ours, had a very successful local group during my High School years. Bud was an amazing singer.  He just had that 'It Factor'.  He could tear a crowd up like no other.
The next few days were a blur.  Dealing with the untimely death – plus the anticipation of launching a new version of such a beloved singing group – was overwhelming to say the least.  With God's grace, we made it though the first afternoon of visitation, but with a broken heart, I left my family to go meet up with the guys and play my little piano for Jesus.  Afterwards, as I hurriedly sped back home to be ready to play at the funeral the next day, I heard that song again. As Vince sang the words, "I know your life on earth was troubled.  Only you could know the pain..." I lost it.  I cried, and screamed out to God.   What was He trying to prove?  Was this a test?  If so, I felt like I was failing miserably.  Why did He allow this?  Didn't He know I was doing everything I could for Him? Why?  Why? Why?
I pulled of the side of Georgia Highway 400, and wept for about 30 minutes.  Then it happened.  A Peace that I had never experienced filled my vehicle.   It stayed with me through the night, through the funeral, the graveside service, and through the dark days that followed.
A little over a week later, our little family unit gathered at Bud's parent's house to try to celebrate Christmas.  It was surreal.  There was sadness.  There were tears.  There were some forced smiles and even a few laughs, but they were few.  Very few.  No one really wanted to eat, and the opening of the presents was really more of a chore, than a joy.
Then, my Grandpaw Swafford – a mighty Soldier of The Cross- stood to speak.  With a tear in his voice, and the authoritative Power of God on His lips, he began to speak life into each of us.  I couldn't tell you exactly one thing that he said that day, but one by one, he gave us assurance that none of the events of the last two weeks had taken God by surprise.  He reminded us that Jesus was our Present Help, that we'd survive this current storm that had invaded our lives.
Let me tell you.  Business picked up in that little living room.  With a touch of that same, sweet Peace that I had felt on the side of a busy expressway, we began the healing process.  Has it been easy?  Heavens. No!  24 years later, almost all of my family is gone.  Loneliness is vial. Do I still grieve?  Yes, I do. More than people may realize – but not as one who is void of Hope. Friend, my Sweet Jesus IS my Hope!  Well, Glory!   Call on Him.  He promises to be near the sad, despondent, lonely and broken-hearted. You are gonna make it.  I am living proof.
Now, I realize that this may not truly be my most 'favorite' Christmas Memory, but in some strange way, it really is… because it changed me, and it made me a better person.  I hope that my sharing this story will encourage any of you who may have lost a family member to suicide – especially if your loved one battled addiction.  Please know that although it may be easy to be sad this year, you really can find a reason to celebrate life!!!
Charlie Sexton
Charlie
Sexton & Homecoming
Atlanta, Georgia
www.charliesextonandhomecoming.com
Tags:
Charlie Sexton
,
Favorite Christmas Memory
Posted in
announcements
|
Comments Off

on Favorite Christmas Memory- Charlie Sexton
Written by scoopsnews on February 18, 2018 – 6:14 pm -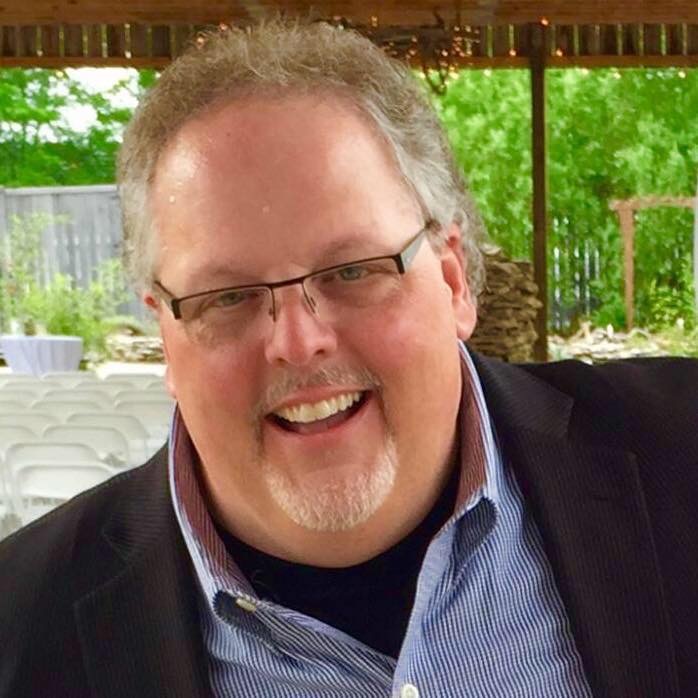 If you have been around gospel music very long, then I bet you have met this guy. Charlie Sexton is a great musician, friend , promoter, and most of all prayer warrior for so many people and ministries.
We just learned tht Charlie was admitted to the hospital earlier with chest pains and will be having some further testing tomorrow.
Please take a moment and pray for Charlie and his Lady Foster as they trust in the Great Physician for a complete healing!
We love you guys……
Tags:
Charlie Sexton
,
Linda Foster
Posted in
announcements
|
Comments Off

on Prayers for Charlie Sexton
Written by scoopsnews on June 17, 2017 – 5:29 pm -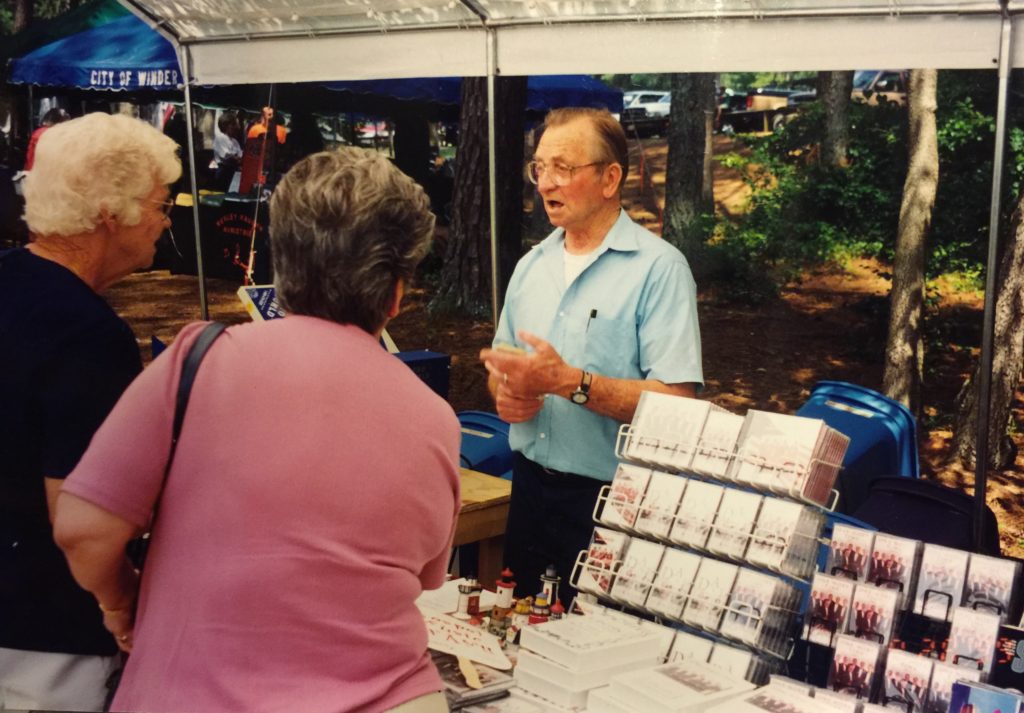 My Dad and I had very little in common. He was an avid sportsman who loved the outdoors. I am not. He was quiet and unassuming. I am not. He was a Man's Man. I am not. But, later in life, I realized that we had more in common than I thought. He had long supported me in my musical pursuits, though he couldn't carry a tune in the proverbial bucket. When I was with Liberty, from Cumming, GA, we worked a lot of outdoor 3 day festivals. We needed someone to watch our merch table, and Dad had just retired from Georgia Power. He fell in love with the traveling, the music, the bus life, and as this photo depicts, the people. They loved him, too. He garnered a following of his own, and a nickname that stuck…. Poppy. When he passed away 11 years ago, I had hundreds of calls from folks across America who loved me and my Dad. Happy Poppy's Day!!!
Love,
Charlie
Tags:
Charlie Sexton
Posted in
announcements
|
Comments Off

on Charlie Sexton talks about "Poppy"
Written by Staff on March 17, 2016 – 4:27 pm -
Charlie Sexton interviews Vonda Easley, Lauren Huckabee, Jordan Wilson and Chris Clay of Hope's Journey. Part One appeared in the March 2016 issue of SGN Scoops. Here, Charlie tells the rest of the story!
Several years ago, a young, energetic group from the foothills of Alabama came on the Gospel music scene who, in an unusually short amount of time, won the hearts of folks all across America. It's been my distinct privilege to watch them grow – not only as consummate professionals – but also as God-fearing ministers of the Gospel. Recently, I had the opportunity to sit down and spend some time with these fun-loving, down home folks. Today is your lucky day. You get to enjoy the rest of that conversation. Hang on. You ain't ready for this!
CS: Vonda here's one for you.  Before his death, Gospel Music legend Jake Hess suffered from many different health issues.  When his friends and fans asked him how he was feeling, his answer, without fail, was always  "Nothin' But Fine!" It eventually became his mantra. In recent years, you have become well known for starting your radio show and your social media posts with "Hey, Y'all!" How did that come about?
VE: I've said it all my life. I'm a country girl and I'm proud of that. We went to a church one night and I met the pastor on the way in. I greeted him and his wife with "Hey Y'all." He said,  "It is for real; you aren't faking!"  I remember telling him that if I was gonna be fake, I'd be more proper! I guess my "Hey Y'all" just stuck. I get asked all the time when I'm out shopping if I am The "Hey Y'all" Lady… Hey, it works!
CS: I love it!  In all honesty, people have just really come to expect you to say that!  It's kinda like going to a McKameys concert and anticipating Peg waving her hanky and kicking her shoes off.  It's not just a part of your 'shtick'; it's truly part of who 'you' are!               
Okay.  I'm going to ask each of you to tell me one word that best describes one of your fellow group members.  If you want to elaborate, that's fine… but give us that one word, first.
CS: Lauren, describe Jordan.
LH: Loveable.  Jordan is only 19 years old and he absolutely loves singing about Jesus! He is my little road trip buddy sometimes, and we always have a blast. After concerts at the table is always interesting because all the little ladies just love him to pieces! He is all around precious, and I look at him like the little brother I never had.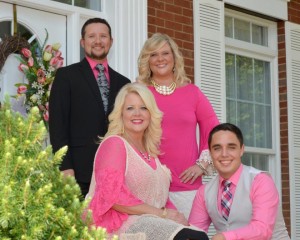 CS: Chris, describe Vonda.
CC: Loyal.  There are a lot of other words that fit her, but she may just be the most loyal friend I've ever had. If she tells you she'll be there, you can count on it. She's definitely one of the best friends I have ever had.
CS: Vonda, describe Lauren.
VE: Beautiful. That's her, inside and out!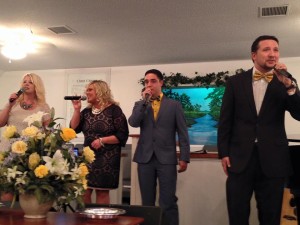 CS: Jordan, describe Chris.
JW: Jealous.  It's a known fact that Chris is terribly jealous of bass singers, so he really gives me a hard time…  (Jordan laughs.) No, seriously, Chris has been such been a good mentor to me, since I joined the group. He's a great singer and truly loves the Lord. I really enjoy working with him and I consider him a very good friend. So, that is my word to describe him… friend.
CS: Here's another fun question.  If they were going to make a movie about Hope's Journey, what Gospel Music personality would you like to play you?
VE: I think Brenda Robinson of New Desire could play me perfect. She knows me well and we even sound alike! I love that lady.
CC:      Mark Lowry. No doubt. Only his jokes are better than mine.
LH: Amber Nelon. Because she's beautiful, sweet, and has vocal talent like none other!
JW: My good friend Josh Singletary. I mean, really, don't you think he would make a good bass singer?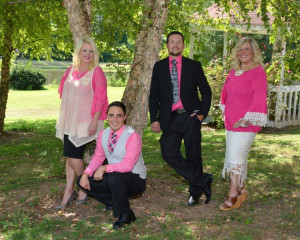 CS: Well, this has been fun, y'all! We could do this all day, but we need to close this down until next time. Any final thoughts from you, Vonda?
VE: I'd like to thank you, Charlie! This has been really fun. I've made so many friends in this industry through the years, but I'd have to say that you, my friend, are one of the best. You are one of the good guys, Charlie, and I'm thankful for you!
Editor's note: We are happy to welcome Charlie Sexton as a guest writer for SGNScoops, doing a terrific job of delving into the world of Hope's Journey. Be sure to catch more of his interview with this group in SGNScoops' March 2016 magazine.
See Hope's Journey on Facebook and online.
More news
Tags:
Charlie Sexton
,
Hope's Journey
,
southern gospel
,
Vonda Easley
Posted in
artists
,
sgn scoops magazine
,
special feature
|
Comments Off

on Hope's Journey Interview… The Rest of the Story
Written by SGN Scoops Staff on January 12, 2015 – 10:29 pm -
Hey, Y'all!! I'm deeply honored to have been asked by my friend, Karen Nalley, to help coordinate this Benefit Concert. Little 7 year old Kinsey Keever was diagnosed last September with a nongerminomatous germ cell brain tumor. PLEASE help us spread the word about this very important night! Special thanks to Troy & Tammy Burns; Sharron Kay King; Robert Reece & Glorybound Quartet; Vonda Easley & Hope's Journey; Linda Foster and Christie Bryant for donating their time to perform and minister. We're going to do our best to make a difference in the lives of this family. Will you help us?
Charlie Sexton
Tags:
Charlie Sexton
,
Glorybound Quartet
,
Southern Gospel Music
,
Southern Gospel News
Posted in
announcements
|
Comments Off

on Benefit Concert For Kinsey Keever
Written by Staff on May 16, 2014 – 8:34 am -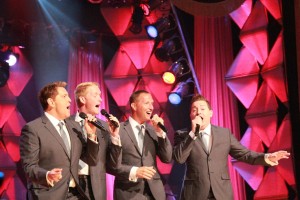 By Charlie Sexton
The timpani drum roll indicated that a magical night was just about to begin.   The capacity crowd burst into applause as the majestic sound of The Nashville String Machine Orchestra filled the Trinity Music City Auditorium in Hendersonville, Tennessee on a rainy Monday evening, July 9, 2012.   Just as the music hit it's crescendo, The Maestro, Lari Goss, strolled across the stage, and took his place at the 9 ft. Concert Grand Piano. When his nimble fingers caressed the ivory keys of the massive instrument, everyone in attendance knew for a fact that the magic had most definitely begun.
For the next three hours, the very elite of the Southern Gospel Music community paid homage to a humble, diminutive man who, when seated at a keyboard, is bigger than life!
The emcee for the evening was none other than Mr. Gerald Wolfe, Lari's Number One Fan, and close friend. He kept the banter conversational, and informative, yet took the audience on a journey of passion, purpose and perfection – the hallmarks of this legendary "man behind the music."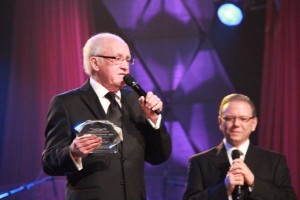 From humble beginnings in the quaint, rural town of Cartersville, Georgia, Mr. Goss began singing and playing Gospel Music with his brothers, James and Roni. Often considered lightyears ahead of their time, The Goss Brothers just did things a little different. They carved out a niche that is still the benchmark by which many of today's current groups are measured. Lari has since become a much sought after producer, and regularly finds himself doing intricate arrangements featuring world-renowned orchestras all over the world.
The concert line-up read like a virtual "Who's Who of Gospel Music." Groups like The Booth Brothers, The Hoppers, Greater Vision, The Mark Trammell Quartet, Legacy Five, The Nelons, Ernie Haase & Signature Sound, and The Martins, along with soloists such as TaRanda Greene, Babbie Mason and Charlotte Richie each shared songs that were arranged or produced by Mr. Goss. Many other great talents, such as Karen Peck, Reggie and Ladye Love Smith, Bradley Knight, and the Christ Church Singers graced the stage during this star-studded gala event.
Of course, no party is complete without surprises, and this evening was no exception. There were some heartfelt video tribute segments from Bill Gaither, Larnelle Harris and Jim Cymbala, pastor of the famous Brooklyn Tabernacle in New York. The audience was chock full of "movers and shakers" from the world of Gospel Music, as well. A few notables were Dusty Wells, Judy Nelon, Rhonda Frye, Jim Murray, Donnie Sumner, Wayne Haun, Joel Lindsey and Dr. Jerry Goff. Last, but certainly not least, were many of Lari's family members, including his lovely wife, Carolyn, and his brother, Roni.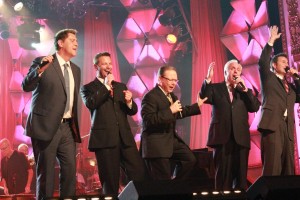 Clarke Beasley, Executive Director of The National Quartet Convention presented Mr. Goss with a lifetime achievement award. Upon accepting this, Lari gave a tearful testimony to the faithfulness of God, the ultimate Giver of Music.
Finally, a mass choir, comprised of all the artists who had performed, was assembled, and the evening concluded with a moving rendition of "Statement Of Faith."   For an encore, they sang "We Shall Wear A Robe And Crown."
After the final note had been sung, and the lid of the piano closed, a lengthy time of fellowship ensued as folks from as far away as New Zealand surrounded the stage just to get a handshake, a hug, or a photo opportunity with this beloved man… Lari Goss… The Man Behind The Music.
First Published August 2012 in SGN Scoops digital magazine. Written by Charlie Sexton.
Tags:
Charlie Sexton
,
Lari Goss
,
sgn scoops magazine
,
southern gospel
Posted in
announcements
|
Comments Off

on Lari Goss…. The Man Behind The Music
Written by SGN Scoops Staff on November 10, 2012 – 11:07 am -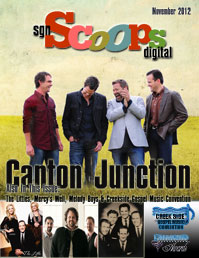 Tis this season to be thankful,and we have a lot to be thankful for at SGNScoops Magazine. Be sure to read the highlights of the Creekside Gospel Music Convention! Rhonda gives the details of Lou Hildreth's Celebration as well as details about this year's Diamond Awards Show. Congratulations to all the winners. We are grateful to all those who participated in this year's event and look forward to Creekside Gospel Music Convention 2013. We are very excited to present Canton Junction as the cover story and also highlight the ministries of Mercy's Well, Tyler Hudson, Wes Combs, The Breakfast Club and the Littles. Celebrate 50 years in Gospel Music with the Singing Cookes and the retirement of the Melody Boys Quartet in this issue too! Don't miss Ms. Lou's memories, a Mathis moment with John Mathis or inspiration from Scott Rhoades. And a "must read story" is in this issue written by special guest writer, Kenna West regarding faith sharing. Check out who is releasing new music this month and see who is topping the charts! All of this and more written by a staff with more than 100 years experience in the Gospel Music Industry thus making us a trusted and reliable source of news and information. Don't forget, our magazine is absolutely free! Please share with your friends! From the staff of SGNScoops Magazine, Happy Thanksgiving!
Download This Months Magazine Here
Tags:
Canton Junction
,
Charlie Sexton
,
Creekside Gospel Music Convention
,
diamond awards
,
john mathis jr
,
Kenna West
,
Lorraine Walker
,
Lou Hildreth
,
melody boys quartet
,
mercy's well
,
Pigeon Forge TN
,
Rhonda Frye
,
rob patz
,
Sandi Duncan Clark
,
Scott Rhoades
,
southern gospel concerts
,
Southern Gospel News
,
The Breakfast Club
,
The Singing Cookes
,
Tyler Hudson
,
Wes Combs
Posted in
announcements
,
sgn scoops magazine
|
Comments Off

on November 2012 Edition Of SGNScoops Magazine
Written by SGN Scoops Staff on October 9, 2012 – 8:56 pm -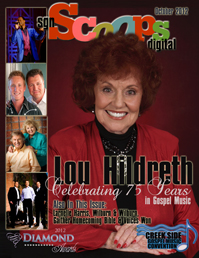 We are pleased to celebrate 75 years in Gospel Music with Ms. Lou Wills Hildreth in this edition of SGNScoops Magazine. Sandi Duncan Clark captured many of this living legend's memories in this month's cover story. Also in this edition enjoy ministry updates from Larnelle Harris, Voices Won, Freedom, Wilburn & Wilburn, the Hinshaws and Jim Mahalick. Get a peek inside the SGNScoops booth at the 2012 NQC as well as follow Charlie Sexton around as he talks to fans who attended this year's event. Laura speaks with Gospel Music Historian, Dean Adkins, Sandi shares a conversation with Greg Bentley regarding "talent competitions" and Rhonda Frye speaks with Gloria Gaither about the new Gaither Homecoming Bible. See who released new music and find out who is topping charts! Enjoy several inspirational articles including one from guest writer, Janene Dubbeld and keep up with Jeff Hawes as he travels the world with Karen Peck and New River! Don't miss the latest update on the Creekside Gospel Music Convention too! We excited to share about this year's outreach project! This month is packed with the latest news in the world of gospel music delivered by a dedicated staff with many years experience in the Industry. Please share with friends and remember- Always digital, always free…… always good!
Please Click Here
Tags:
Charlie Sexton
,
Creekside Gospel Music Convention
,
Dean Adkins
,
freedom
,
Gaither Homecoming Bible
,
Gloria Gaither
,
Gospel Music Historian
,
Greg Bentley
,
Janeen Dubbeld
,
Jennifer Campbell
,
Jim Mahalick
,
Karen Peck
,
larnelle harris
,
Laura Kennedy
,
Lorraine Walker
,
LYNDA RANDLE
,
Ms. Lou Wills Hildreth
,
national Quartet Convention
,
Rhonda Frye
,
rob patz
,
Scott Rhoades
,
southern gospel
,
Southern Gospel News
,
the Hinshaws
,
Voices Won
,
wilburn & wilburn
Posted in
announcements
,
christian entertainment
,
sgn scoops magazine
|
Comments Off

on October 2012 Edition Of SGNScoops Magazine
Written by SGN Scoops Staff on August 8, 2012 – 9:10 pm -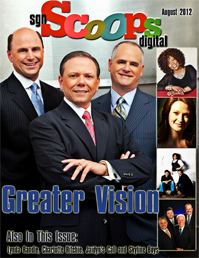 We're serving up another sizzling hot summer issue! This packed August edition unveils the list of the 2012 Diamond Awards Nominees! Also this month, Lorraine Walker, Sandi Duncan Clark, Jennifer Campbell, Charlie Sexton and Laura Kennedy presents the latest happenings in the ministries of Greater Vision, Charlotte Ritchie, Lynda Randle, The Skyline Boys, Jeff Steele and Jaidyn's Call. Look behind the music with Rob Estep as he talks with Ben Storie, and focus on the young with Victoria Shirey as she shines the spotlight on Rebecca Reynolds. Don't miss Rob Patz' Publisher's Point and enjoy a Media Minute with him along with Sylvia Green. Charlie Sexton covers the Lari Goss Celebration and Rhonda Frye catches up with Union Street, Roy Webb and Bruce Taliaferro on the road. Lou Wills Hildreth shares legendary memories, John Mathis Jr. offers a word of encouragement and Laurrette Willis' reminds us to eat healthy! Jeff Hawes shares memories from his home town, and special guest writer, AJ RINALDI offers post-trauma faith sharing tips. We also share our excitement regarding 2 major upcoming events: The National Quartet Convention and Creekside Gospel Music Convention! See what songs are topping the charts and who is releasing new music in this all-digital, all free August Edition! And… Share with your friends!
Download The Magazine Here
Tags:
AJ RINALDI
,
Ben Storie
,
Bruce Taliaferro
,
Charlie Sexton
,
Charlotte Ritchie
,
Greater Vision
,
Jaidyns Call
,
jeff hawes
,
Jeff Steele
,
Jennifer Campbell
,
Lari Goss
,
Lorraine Walker
,
Lou Wills Hildreth
,
LYNDA RANDLE
,
national Quartet Convention
,
Rebecca Reynolds
,
Rob Estep
,
rob patz
,
roy webb
,
Sandi Duncan Clark
,
Sylvia Green
,
The Skyline Boys
,
Union Street
,
Victoria Shirey
Posted in
announcements
,
sgn scoops magazine
|
Comments Off

on August 2012 SGNScoops Magazine