Written by Staff on October 16, 2018 – 11:54 am -
Hurricane Michael brought much devastation to the panhandle of Florida, especially to the northwest coastal towns like Mexico Beach and Panama City. We have readership in that area, and so many of you from across the country and in other countries have asked how to send aid quickly, directly and securely. We believe the Convoy of Hope, already in the area now, is a great resource for aid to those affected by the hurricane.
On their website, Convoy of Hope states: "As a faith-based, nonprofit organization, Convoy of Hope has helped more than 100 million people throughout the world by sharing food, water, emergency supplies, agricultural know-how and opportunities that empower people to live independent lives free from poverty, disease and hunger." They have shown up-to-date relief efforts on their site, and their latest statement gives a current view of aid to the needy.
OCTOBER 16, 2018 | 12:25 P.M. SPRINGFIELD, MO.  Convoy of Hope is responding in full force to help communities affected by Hurricane Michael. Since the storm made landfall, we've distributed more than 300,000 pounds of product to 15,000 individuals from our central distribution hub in Marianna, Florida.
Using drive-thru distribution, Convoy staff and volunteers are serving families and individuals with water, food, ice, hygiene kits, and other disaster relief supplies. Mobile distribution has also begun, and we've delivered supplies in 18 surrounding communities.
We are currently moving our distribution hub in Marianna from Walmart to Rivertown Community Church. The move allows Convoy to set up a more permanent location and will provide us with 15,000 square feet of warehouse space for product.
The pictures posted of Marianna, Florida, were sent from Angela Marie Parker who grew up there and who still has family in the area, many who are needing immediate aid. Parker is like many of our readers, feeling helpless because she is too far away to assist those that are in need.
"The Gibbs Family is generously helping out my niece. She has 2 babies and one on the way. So they are helping get her babies supplies," says Parker. "I feel out of sorts not being there helping them all. My hometown will never be the same."
Parker has also added to her personal Facebook page about other companies assisting the devasted, including Tyson Foods, who posted today about their activities:
CALLAWAY, Fla. (WMBB) – A food giant (Tyson Foods) is doing its part to help disaster relief efforts in Florida. The company is going to be serving meals to the Callaway community recovering from Hurricane Michael. This is all part of Tyson's "Meals That Matter" disaster relief program. The company will be serving food and water starting at 10 a.m. Tuesday in the Callaway Walmart parking lot. See more here.
Panama City Toyota is hosting a cookout today from 12-5. They will have enough food to feed 5000 people.
Parker notes that Alford workers, lineman, phone workers, any kind of workers in the community of Alford, we are feeding people at 7 am, 12 pm, and 5 pm. Limited supplies to give out. All churches and all businesses we are desperate for supplies. Call Mary 8505268734. HELP US.
Parker is posting more information as she collects it from various areas. Follow her facebook page here.
Patrick Drummond, Sr., of the Drummond Family, a gospel music group from Chipley, Fla., posted the following:
I keep getting asked what's needed in these hard-hit areas of Michael. These items are needed badly.
1. Baby formula- both premixed in individual
Bottles as well as powder and we got the AR and the gentlease and the regular because I know some babies have special needs. 
2. Baby wipes-tons both for babies and mommies. I know water and showers aren't easily accessible now. 
3. Diapers and pull-ups of every single size. 
4. Tons of toothbrushes and tubes of toothpaste.
5. Tons of deodorant.
6. Dry shampoo
7. Sunscreen
8. Chapstick
9. Tampons/feminine products
10. Bars of soap
11. Women's underwear 
12. 6-12 months boys clothing
13. Crystal light and Koolaid individual powder packets for water flavoring 
14. Kid's board games
15. Tons of adult Tylenol and ibuprofen 
16. First aid kits
17. Boxes of band-aids
18. Kids Tylenol and ibuprofen 
19. Tubes of Neosporin 
20. Lotion
21. Mouthwash
22. Kids snacks/mini boxes of cereal 
23. Water
24. Food 
25. Chain Saw Gas
26. Bar oil
27. 50/50 oil for saws
Staging at: Fountain's Victory Tabernacle 
18801 US 231
Fountain, Florida
Patrick's wife, Michelle, posted a picture of her area, also seen here.
Do you want to be the hands and feet of Jesus? Wherever and whoever you choose to help survive the aftermath of Hurricane Michael, we hope you are able to do so, and that you also pray for those who try to get on with life after the disaster. Thanks. SGNScoops.
Tags:
convoy of hope
,
Florida
,
God
,
humanitarian aid
,
hurricane assistance
,
Hurricane Michael
,
Jesus
Posted in
announcements
,
Christian interest
,
exclusive report
|
Comments Off

on Convoy of Hope at work in devastated Florida after Hurricane Michael
Written by Staff on September 7, 2017 – 12:47 pm -
NIGHT OF HOPE HURRICANE HARVEY RELIEF CONCERT
September 20, 2017 – 6:00 PM
Verizon Theatre
Grand Prairie, TX
100% OF TICKET PROCEEDS BENEFITTING TEXAS GULF COAST VICTIMS
VIA CONVOY OF HOPE
www.convoyofhope.org
Tickets on Sale 9/7 @ 10am CST
Direct Ticket link: http://axs.com/events/342611/night-of-hope-tickets
Conway, AR 9/5/17: NIGHT OF HOPE a Hurricane
Harvey relief concert will be held on Wednesday, September 20th at Verizon Theatre Grand Prairie. 100% of all ticket proceeds will go to support the relief efforts through Convoy of Hope. Night of Hope is a collaborative effort from local Christian radio stations KLTY, AiR1, Way-FM, & KCBI and is produced by Awakening Events. The lineup includes some of the biggest names in Christian Music today, please join us as we come together to help those impacted by this devastating storm.
Confirmed artist lineup:
MercyMe
TobyMac
Casting Crowns
For King & Country
Zach Williams
Natalie Grant
Danny Gokey
Phil Wickham
Josh Wilson
Chonda Pierce
Laura Story
Brandon Heath
Jason Roy of Building 429
Tauren Wells
Moriah Peters
Chris August
Jason Crabb
Wayne Watson
Plumb
John Tibbs
*Lineup subject to change
1025 FRONT STREET, STE. 1 Ÿ CONWAY, AR 72032 Ÿ 501-514-1717 Ÿ AWAKENINGEVENTS.COM
Read more Gospel.music news 
here
.
Listen here to Gospel music online 
here
.
Tags:
Chonda Pierce
,
convoy of hope
,
Danny Gokey
,
Hurricane Harvey
,
Jason Crabb
,
Mercy me
,
Night of Hope
,
Zach Williams
Posted in
announcements
,
artists
|
Comments Off

on NIGHT OF HOPE — HURRICANE HARVEY RELIEF CONCERT feat. Jason Crabb, Zach Williams, more
Written by Scoops Staff on June 23, 2011 – 1:03 pm -
Four-day event to include Dino, HisSong and others and will benefit Convoy Of Hope Disaster Relief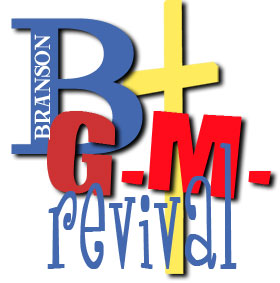 BRANSON, Mo. – (June 23, 2011) – The Branson Gospel Music Revival (formerly Convention) is returning to Branson, Missouri for the third time next week. The four-day annual event heads to a new venue this year, the Tri-Lakes Center, 2527 State Highway 248 in Branson.
Taking place Tuesday, June 28 – Friday, July 1, the gospel celebration consists of daily matinee and evening concerts featuring approximately 75 Gospel musicians from across the United States.
Dino, HisSong, Beyond the Ashes, Kenny Bishop, Ann Downing, Mike Allen, The Williamsons, Praise Incorporated, 2nd Generation, Voices of Glory, Jay Stone Singers, McMillan and Life, Rod Burton, Lynda Lynn, Sunday Edition, Mystery Men, and more will be part of the Revival, which organizers say puts the spotlight on the gospel message.
Also returning will be the popular SGN Scoops Diamond Awards, as well as the Tribute to Albert Brumley and  "Piano Praise" segments. Additionally, a  "New Faces" afternoon concert geared toward teens and those "young at heart" has been added. A Branson GMR Prayer Team, who will pray with audience members and artists alike during the week, is a new addition this year as well.
"We continue to learn and grow and are striving to make this an even more enjoyable event, one that continues to attract new people to this great city every summer," co-owner and host Rod Burton stated. "Meanwhile, our focus continues to be on fostering a time of refreshing and encouragement for our artists as well as the audience."
Having won the "Pacesetter of the Year" award from AbsolutelyGospel.com for the second consecutive year, Burton and his wife and partner, Kelly Burton, look forward to building on the success of what they still consider a very new event.
"It has been a true honor to receive some Gospel industry accolades," Kelly mentions. "What we hope that sort of recognition translates to is more people coming to hear the truly fantastic artists who gather here with us in Branson every summer, so they can receive the message of faith being offered through gospel music."
On that note, the couple has announced that Wednesday, June 29, will be "Disaster Relief Night" at the Revival, with a portion of all ticket and program book proceeds going to aid victims of Branson and Hollister area flooding as well as the recent catastrophic tornado in Joplin, Missouri. Donations will be made to the Assemblies of God relief organization Convoy of Hope, which has already provided substantial assistance throughout the region.
Concerts are scheduled daily Tuesday, June 28 through Friday, July 1 from noon-4:00 p.m. and again from 6:00 p.m.-10:30 p.m. Ticket prices start at $18.00 per day for adults and can be purchased by calling the Tri Lakes Center at 1-800-785-1550 or 417-336-0219.
More information about Branson Gospel Music Revival can be found at www.BransonGMR.com or by calling 615-530-3726.
Tags:
2nd generation
,
Albert Brumley
,
Ann Downing
,
Beyond the Ashes
,
branson
,
Branson Gospel Music Revival
,
convoy of hope
,
Dino
,
hissong
,
jay stone singers
,
Kenny Bishop
,
lynda lynn
,
McMillan and Life
,
mike allen
,
mystery men
,
Praise Incorporated
,
rod burton
,
SGN Scoops Diamond Awards
,
sunday edition
,
The Williamsons
,
voices of glory
Posted in
announcements
,
gospel events
|
Comments Off

on Branson Gospel Music Revival To Be Held At Tri-Lakes Center Next Week