Written by SGN Scoops Staff on February 4, 2013 – 9:48 am -
Tags:
brian free and assurance
,
Crimson River
,
Faith
,
Gospel Music Today
,
Ken & Jean Grady
,
legacy five
,
Mark Lowry
,
southern gospel concerts
,
Southern Gospel News
,
The Oak Ridge Boys
,
The Schwartz Family
,
The Southern Gospel Worship Gathering
,
The Weatherfords
Posted in
video
|
Comments Off

on Gospel Music Today On SGNScoops.com
Written by SGN Scoops on December 5, 2011 – 10:32 am -
The guests on the current edition of Gospel Music Today are Jerry Goff and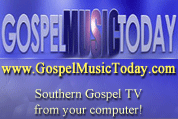 Little Jan Buckner-Goff. The Feature Group is Crimson River, and Ken and Jean Grady host southern gospel news and concert updates.  Ken and Jean visit Haskell, OK, to hear Brian Free and Assurance sing. Jean reviews an new CD by The Murphys, and the show features singing by The Hyssongs and The Carolina Crossmen. The latest show is online now at www.gospelmusictoday.com .
Tags:
brian free and assurance
,
Crimson River
,
Jerry Goff
,
Ken and Jean Grady
,
Southern Gospel Music
,
Southern Gospel News
,
The Murphys
Posted in
announcements
|
Comments Off

on Jerry Goff and Little Jan Buckner-Goff Special Guests on Gospel Music Today
Written by SGN Scoops on October 1, 2011 – 6:07 am -
Nashville, TN-  September 9, 2011 Heartwarming Recording Artists Crimson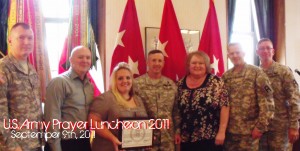 River had the privilege to sing to numerous soldiers and veterans from different walks of faith. A high ranking officer went to www.crimson-river.org  and listened to "WALK AWAY FREE" on the groups freshman Heartwarming recording Glorious Tomorrow. He immediately asked them to be a part of the special day to perform.  Crimson River received an appreciation plaque from the US Army after performing current single "Walk Away Free" at the 2011 US Army Prayer Luncheon for the "Remembrance of 9/11". (pictured are Crimson River with 1st Army General and 3 star Commanding General)   Crimson River has also just released a new single from the "Glorious Tomorrow" project titled "I'll Take Jesus"  which shipped to radio this week.  You can find more information at www.crimson-river.org  or www.homelandinspirationgroup.com
Tags:
Crimson River
,
Southern Gospel Music
,
Southern Gospel News
,
US Army
Posted in
announcements
|
Comments Off

on Crimson River Sings to U.S. Military