Written by SGN Scoops Staff on March 15, 2013 – 9:01 am -
SIGNAL MOUNTAIN, TN March 13, 2013,
This weekend's Harmony Road television program features the concept video "You Do Not Owe


Me One Thing" from Phil Cross. The Program also features Three Bridges with "Satan and
Grandma", music from Greater Vision and The Talleys as well as The Crist Family with "My
Heart Knows".
Harmony Road can be found each Sunday morning at 8 Eastern on TNN, The Nashville
Network. Information on TNN and its growing list of affiliates can be found at
www.watchtnn.com.
You can also find Harmony Road each Saturday evening and Sunday morning on WMJN29 in
the Huntsville/Decatur, Alabama area and streamed on the internet at www.wmjn29.com. The
program is also shown on Sunday afternoons in the Anniston/Gadsden Alabama area on tv24,
and on Charter Cable in Clarksville and Jackson, TN where it's also available "on demand".
Harmony Road is also seen Saturday evenings on theWALKtv. For a list of affiliates and
information on streaming, including ROKU, go to www.thewalktv.com
Watch for announcements regarding new markets for Harmony Road in several cities around
the country as well as news on great new contest with prizes valued at over $500 as well as
great tickets to top gospel events, trips, log cabin stays, dvds/cd's and more! Information can be
found at www.facebook.com/harmonyroadtv or www.harmonyroadtv.com.
Hosted by Singing News publisher and Solid Gospel Radio host Les Butler, this week's program
originates from Jim Oliver's Smokehouse in Monteagle, Tennessee. More information about the
Smokehouse can be found at www.thesmokehouse.com.
Other members of the Harmony Road team include Ball Brothers pianist, Cody McVey, doing
interviews and stories "from the road", as well as Randy Liner, Technical Director and Roger
Spears, Producer.
Tags:
Crist Family
,
Great vision
,
harmony road
,
phil cross
,
southern gospel
,
Southern Gospel News
,
TNN
Posted in
announcements
|
Comments Off

on This Weekend's Harmony Road TV Program Features Concept Video from Phil Cross
Written by SGN Scoops Staff on February 11, 2013 – 11:09 am -
Tags:
Bev McCann
,
bluegrass
,
Crist Family
,
gold city
,
Gospel Music Today
,
Ken & Jean Grady
,
Liberty Quartet
,
new day
,
New Grace Trio
,
southern gospel concerts
,
Southern Gospel News
,
THE LESTERS
Posted in
video
|
Comments Off

on Gospel Music Today On SGNScoops.com
Written by SGN Scoops on May 8, 2012 – 5:16 am -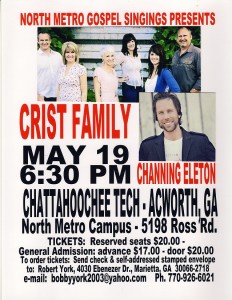 North Metro Gospel Singings presents The Crist Family and Channing Eleton on May 19th, 2012 at 6:30 PM. The concert will be held at Chattahoochee Tech's North Metro Campus at 5198 Ross Road Acworth, GA.  Tickets are on sale now and can be purchased by calling 770-926-6061 or by sending a check and self addressed stamped envelope to Robert York 4030 Ebenezer Drive Marietta, GA 30066-2718. Tickets are $20 Reserved Seating, $17 General Admission in Advance or $20 at the door. For more information, email bobbyyork2003@yahoo.com. Everyone is invited!
Tags:
Channing Eleton
,
Chattahoochee Tech
,
Crist Family
,
Robert York
,
southern gospel concerts
,
Southern Gospel Music
,
Southern Gospel News
Posted in
announcements
,
gospel events
|
Comments Off

on Channing Eleton, Crist Family in Concert May 19th Acworth GA
Written by SGN Scoops Staff on April 6, 2012 – 9:11 pm -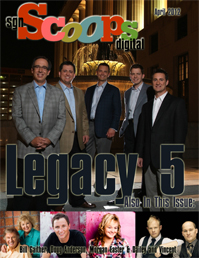 We are excited to present a PACKED April Edition of Scoops Magazine!  Thanks to Lorraine Walker for a fabulous cover story featuring, Legacy Five. We have stories on your favorite artists to include: Doug Anderson, Declaration Trio, Dailey & Vincent, Harold Reed, Jordan Wilburn, Gene McDonald and Morgan Easter. Rob Estep gives us a "behind the scenes" look with promoter, Rhonda Thompson and Lou Wills Hildreth tells us about the very first Dove Awards! Jennifer Campbell shares a very special conversation with living legend, Bill Gaither as he tells the story behind "Because He Lives!" Angela tells us what songs are topping the charts and Jonathan Edwards talks with Rich Crist of the Crist Family. Sandi Duncan Clark reviews brand new music and Rhonda Frye reviews a concert featuring The Greesons, McKameys, Michael Combs and the Singing Cookes.Scott Rhoades and Jennifer Campbell share their thoughts regarding Easter, John Mathis Jr encourages with words of wisdom and Laurette reminds us of the benefits of exercise. We were saddened at the news of the death of southern gospel promoter and friend to many, Jim Arneson. Rob Patz and several friends share the thoughts of Jim. We appreciate you reading our magazine and sharing the link with your friends, family and friends!
Read the Magazine Here
Tags:
bill gaither
,
Crist Family
,
dailey & vincent
,
Declaration Trio
,
Doug Anderson
,
Dove Awards
,
Gene McDonald
,
Greesons
,
Harold Reed
,
Jennifer Campbell
,
Jim Arneson
,
john mathis jr
,
jonathan edwards
,
Jordan Wilburn
,
legacy five
,
Lou Wills Hildreth
,
McKameys
,
Michael Combs
,
Morgan Easter
,
Rhonda Frye
,
Rhonda Thompson
,
Rich Crist
,
Rob Estep
,
rob patz
,
Sandi Duncan Clark
,
Scott Rhoades
,
SGNScoops Magazine
,
Singing Cookes
,
Southern Gospel News
Posted in
announcements
,
christian entertainment
,
sgn scoops magazine
|
Comments Off

on April 2012 SGNScoops Magazine