Written by SGN Scoops on September 4, 2012 – 2:20 pm -
Arden, NC – September 4, 2012 –  One of the industry's most talked-about new artists, 11th Hour, has just entered a long term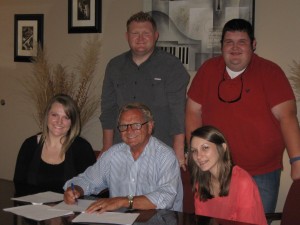 recording agreement with Crossroads Entertainment & Marketing.  The group is off to a strong start, already receiving multiple top 40 hits in the Singing News radio airplay charts and a recent top 10 nomination for Horizon Artist Of The Year in the 2012 Singing News Fan Awards.
"What a blessing," says group member Amber Eppinette.  "Crossroads is such a reputable company, representing the finest Christian music artists.  Being considered a part of their family is such an honor.  11th Hour's prayer is to always be found doing the will of God and we are very thankful He has led us to Chris White and Crossroads.  We look forward to a long and successful relationship for many years to come!"
Crossroads executive Chris White states, "I got a call from Steve French with the Kingdom Heirs late on a Sunday night.  He said, 'We just worked with a group you need to sign.  They are incredible!'  Since we don't sign very many new artists these days, I hesitated, but then I thought that they must be special for him to call me.  Truth is, they are, and I'm glad I took Steve's advice."
Tags:
11th Hour
,
Crossroads Entertainment & Marketing
,
singing News Radio Airplay Charts
,
Southern Gospel News
Posted in
announcements
|
Comments Off

on 11th Hour and Crossroads Sign Long-term Agreement
Written by SGN Scoops Staff on February 10, 2011 – 8:09 pm -
Arden, NC (Crossroads)  February 10, 2011
– Crossroads Entertainment & Marketing has just signed Barry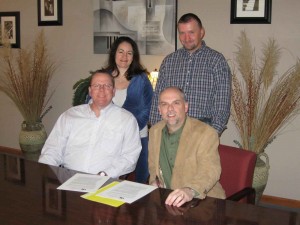 Rowland & Deliverance to a multi-year recording agreement. Barry Rowland & Deliverance is Barry Rowland (baritone), Tammy Rowland (lead/soprano), Shawn Rupert (lead/tenor), and Venessa Elliott (pianist). The group is based in Knoxville, Tennessee and has been on the road since 2005.
At age fourteen, Barry Rowland started singing in the Rowlands with his uncle, Ron Martin, and his mother, legendary songwriter Kyla Rowland. Yet four years later, at eighteen, he ran away from home. He recalls, "I was basically running away from God; I was trying to get away from her and her preaching to me—her consistent discipline, references to the Bible. I felt like it was just being thrown down my throat, and I was running away from it."
He adds, "I didn't realize at the time, in my immaturity and selfishness, how her heart was breaking." Yet God used this in a way nobody could have predicted—for the night he ran away was the night his mother wrote the unforgettable anthem "One Scarred Hand."
Four years later, "like the prodigal son," he says, "I came back to myself, and began to build my relationship back with her and back with God." He stayed off the road for several years; he was 25 before he started singing again in his home church, and 28 before he started singing again with his mother. After eight more years on the road with her, he launched Barry Rowland and Deliverance. "It was time," he says, "to share what Christ has done in my life. Through four years of being in the hog pen, I have a testimony. I already had a testimony of salvation, but He really gave me a testimony of knowing who He is, through His mercy and grace."
Crossroads Production Manager Jeff Collins states, "I've known Barry for several years through his mother Kyla as they recorded over the years here at Crossroads. But over this past year, through many good conversations, I've gained even more respect for this fine young man. His sincerity to honor the Lord in all he does, his attention to detail and his desire to lead people to Christ are all reasons we are thrilled to have Barry, Tammy, Shawn, and Venessa as part of our Crossroads recording family. Expect to see great things from this talented group!"
Barry Rowland expressed that he was looking forward to working with Crossroads, adding, "Through this, we're praying and hoping that there'll be no limits as to who can be reached and touched through our ministry."
Their first CD with Crossroads will release in April 2011.
Tags:
Barry Rowland
,
Crossroads Entertainment & Marketing
,
Kyla Rowland
Posted in
announcements
,
christian entertainment
|
Comments Off

on Barry Rowland & Deliverance Sign with Crossroads