Written by Scoops Staff on December 6, 2010 – 12:24 am -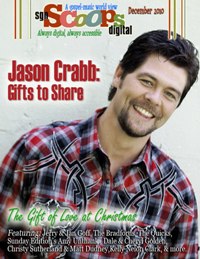 The December 2010 issue of SGN Scoops is now available for download. Click on the cover to read your issue in user-friendly .PDF format.
Jason Crabb, once of the most celebrated talents in gospel music today, discusses gifts, family, and hunting with us! Meanwhile, artitsts share stories of how love has touched their lives in unique ways: read testimonies from The Quicks, Amy Unthank, Dale and Cheryl Golden, Madison Easter and Shannon Norman, Jerry and Jan Goff, Christy Sutherland, and many more! Also, our new writer Sandi Duncan-Clark reviews new Christmas CDs by The Isaacs and David Phelps!
Last December, we celebrated The Gift of a Second Chance ~ return to the heart of Christmas with The Gift of LOVE!

Click here or on the cover preview to download.
Click here to subscribe – be notified when a new issue is published or news is announced.
Tags:
Amy Unthank
,
christy sutherland
,
dale and cheryl golden
,
david phelps
,
december 2010
,
jan goff
,
Jason Crabb
,
Jerry Goff
,
madison easter
,
sgn scoops magazine
,
sunday edition
,
the isaacs
,
the quicks
Posted in
sgn scoops magazine
|
Comments Off

on December 2010 SGN Scoops: Christmas & the Gift of Love, featuring Jason Crabb!