Written by Staff on December 8, 2018 – 11:41 am -
Lonesome Road Ministries recently hosted their sixth annual 3 Fold Cord Conference in Carmi, Illinois, to celebrate the life changing work that God is doing on the highways throughout the country.
Lonesome Road Ministries was started by Gary Rayburn as a tape ministry to truck drivers in early 2000. It has evolved into a "whosoever will" ministry that distributes thousands of free CDs each month with music, testimonies, and messages about the love of Jesus through their mailing list and the network of 150 plus Channel 21 chaplains around the country.
The ministry has expanded to also include radio programs on several stations around the country plus a television show. Lonesome Road Ministries is truly "a church without walls" as they receives calls and messages daily about the life changing effects of sharing the gospel through the various ministry outlets.
Six years ago Lonesome Road Ministries (formerly RIG Ministries) decided to start the 3 Fold Cord Conference in Carmi, Illinois as a way to bring drivers from around the country together and those partnered with the ministry for a few days to celebrate the life changing work that God is doing through the CD ministry. They decided on the name 3 Fold Cord Conference because of the principle found in Ecclesiastes 4:12 which says, "And if someone overpowers one person, two can resist him. A cord of three strands is not easily broken."
The 2018 conference was held recently at Trinity Assembly of God which is the new home to Lonesome Road Ministries.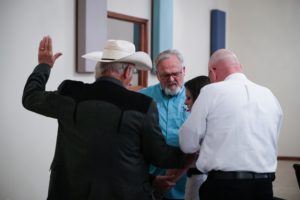 "It is an honor to partner with Lonesome Road Ministries, Chaplain Gary, and his staff. The work they do daily to spread the gospel around the USA is in line with our mission at TAG (Trinity Assembly of God). When Lonesome Road needed a new home for their ministry, it was a NO Brainer for us at Trinity Assembly of God to step up to the challenge. Soul winning is their heart. Soul winning is our heart. Most importantly, soul winning is GOD's heart!!" The 3 Fold Conference was exactly what we prayed it would be: uplifting, inspiring, and challenging. Soul winning through sharing personal testimonies is the Gospel at its best!" – Pastor Lee Hicks, Trinity Assembly of God
The 3 Fold Cord Conference was jammed packed with music, prayer, testimonies, preaching, fellowship, food, laughter, celebration and so much more. The conference kicked off on Friday at noon and continued through Sunday at noon. The weekend featured artists and speakers from around the country such as Barbara Fairchild and Roy Morris, James Payne, McKay Project, Joe Arview and family, Dan Duncan, Roger Barkley, Jr., Sonshine Road, Jim and Ann Davenport, Jackie Bowling, and Bill Schell.
There were many amazing moments throughout the weekend. Gary Rayburn shared recorded testimonies and we heard personal testimonies from those in attendance about the impact of Lonesome Road Ministries on their lives. Thousands of letters were laid out on the altar and we were called on to come up and pray over those needs and thank God for the blessings. On Saturday, Pastor Lee Hicks of Trinity Assembly of God, challenged everyone to go deeper and get out of our comfort zone.
Other highlights during the weekend included a Friday night session with music and testimony by Barbara Fairchild and Roy Morris. Saturday night was a double feature with the combined music, testimony, and preaching of McKay Project and James Payne. The conference wrapped up on Sunday with worship and a dynamic message by James Payne.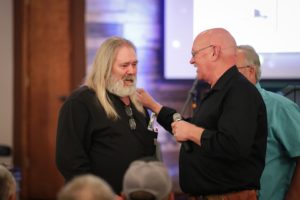 Of course, a gathering such as this wouldn't have been complete without great food and volunteers. A team of wonderful ladies from Trinity Assembly of God provided food for everyone on Friday night, Danny and Roda Dennis of Rodan Trucking provided lunch for everyone on Saturday, and Kevin Whitten of God's Grill provided lunch on Sunday. We honor those wonderful volunteers for giving of their time and resources to bless everyone that attended the conference.
"We had some great participation from my new church family – Trinity Assembly of God. They went above and beyond anything I expected from them.  We had great participation from our youth in our church. The ladies were great with decorating the church and gymnasium to making sure the hospitality room was stocked up. I can't say enough good things about Trinity. The men were great in helping set up tables, parking, security, cleanup crews, and shuttle drivers for our truckers who had to park about a mile away.  The sound crew was excellent and we appreciate Jack Baker Photography for all the great pictures.
Of course, I want to say a very special thanks to my Pastors Lee and Robin Hicks. Without their support and bringing Lonesome Road Ministries to Trinity, we couldn't have continued this conference.  This was our sixth year and by far the best as far as participation.  I am looking forward to our seventh 3 Fold Cord Conference in June 2019." – Gary Rayburn, Lonesome Road Ministries
For more information about Lonesome Road Ministries, check them out online at one of these locations:
Lonesome Road Website: www.lonesomeroad.org
Lonesome Road TV: www.rigtv.org
Lonesome Road Podcast: https://rigpodcast.podomatic.net/
*Photos Courtesy of Jack Baker Photography (www.jbakerphotos.com)
Tags:
Barbara Fairchild
,
Bill Schell
,
Dan Duncan
,
Jackie Bowling
,
James Payne
,
Jim and Ann Davenport
,
Joe Arview and family
,
McKay Project
,
Roger Barkley
,
Roy Morris
,
Sonshine Road
Posted in
announcements
,
artists
|
Comments Off

on Lonesome Road Ministries Hosts Sixth Annual 3 Fold Cord Conferenc
Written by SGN Scoops Staff on November 15, 2014 – 7:14 am -
It's November and we are thrilled to present the latest edition of SGNScoops for you to read and enjoy. Creekside Gospel Music Convention was a blast and we have lots of pictorial coverage in these pages, as well as on the fabulous front cover. Inside we have an update on the event with a list of the Diamond Award winners and so much more. We say an extra thank you to all of those who went above and beyond to help make Creekside the best ever. If we were to make a list, we might leave someone out, so to each and every one of you: we are so grateful to have you as part of our team.
Thanks to our artists for brightening our pages this month! Featured guests for November are: Soul'd Out, Tim Parton, Melanie Walker, the LeFevre Quartet, Triumphant, Hannah Webb, Canaan's Crossing, Sherry Anne, the Jordan Family, Quinton Mills and DJ Ron Foster.
Thanksgiving is quickly approaching and you will find several articles with different views on this holiday. We appreciate all of our artists for contributing what they are thankful for and also their favorite holiday food!
Our monthly devotional writers are back with more insights, as well as a new column entitled "Pastor's Corner". This month we welcome Music Pastor, Terry Snyder.
Since this is the month of giving thanks, we would like to thank all of our current authors that spend so much of their time and talents on SGN Scoops. Special thanks to Candi Combs, Chris Clay, Craig Harris, Dan Duncan, Dean Adkins, Dixie Phillips, Erin Stevens, Hannah Webb, Jennifer Campbell, Laura Kennedy, Lynn Mills, Marcie Gray, Paige Givens, Scott Rhoades, Tina Wakefield, Robert York, Sandi Duncan Clark and Vonda Easley. There are others who contribute in other ways and we are thankful to you as well: Vivian Belknap, Michelle Drummond and Bev Byrd.
We so appreciate all of our columnists, including Lou Wills Hildreth, David Staton, Laurette Willis, Jeff Steele, Kelly Nelon Clark and Sherry Anne.
SGN Scoops would look really dull without the artistic team of Stephanie Kelley and Staci and Pete Schwager. Joan Walker makes sure all of our i's are dotted and our t's are crossed. Lorraine Walker as acting editor pulls it all together. And of course, SGN Scoops' Publisher Rob Patz keeps us all focused and enthusiastic about the future of the magazine. And SGN Scoops would not exist without our founder, Dr. Allen Smith.
Above all we give thanks to our Lord Jesus Christ, for Whom we give our gifts and to Whom we give all praise and thanksgiving.
Happy Thanksgiving!
Tags:
Candi Combs
,
Chris Clay
,
Craig Harris
,
Creekside Gospel Music Convention
,
Dan Duncan
,
Dean Adkins
,
diamond awards
,
Dixie Phillips
,
Erin Stevens
,
Hannah Webb
,
Jennifer Campbell
,
Laura Kennedy
,
Lynn Mills
,
Marcie Gray
,
Paige Givens
,
Robert York
,
Sandi Duncan Clar
,
Scott Rhoades
,
SGNScoops Magazine
,
Tina Wakefield
,
Vonda Easley
Posted in
announcements
,
sgn scoops magazine
|
Comments Off

on November 2014 SGNScoops Magazine
Written by Staff on October 9, 2014 – 10:48 am -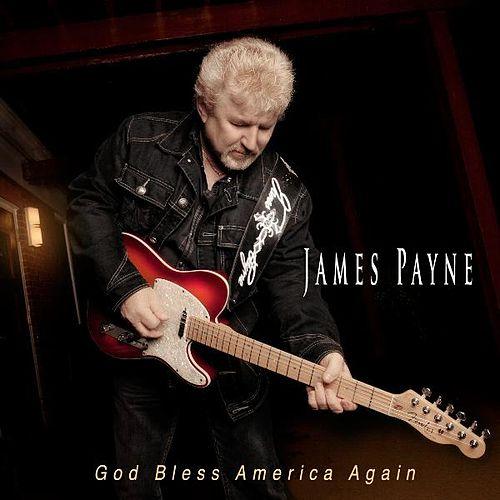 By Dan Duncan
I met James Payne the week I moved to Nashville, Tennessee from Boise, Idaho. Driving into the community, I passed by a church, which caught my attention. I said to nobody in particular: "That's where my family and I will be attending church." Two days later we slipped through the doors of that church just as James Payne stepped behind the pulpit. What I heard in the next few minutes impacted my life to this day. At age 27, James Payne preached with a power, a passion and an anointing rarely heard. The man could preach!   After church, we had lunch together. That was the beginning of a lifetime friendship.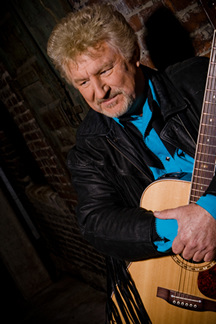 Through the years James and I have shared good times and bad times. I stood alone beside his hospital bed when he was given no chance of recovery and I saw God raise him up. I sat beside him in the listening room of a major Christian recording company in Nashville when he was told: "You have two choices; you can sign a contract now, or go home and pray about it, and come back and sign the contract tomorrow." We've sat for hours in solitude with pens in hand, laboring over songs we were writing together. We've shared the stage in Gospel concerts. And we've been together on worldwide television broadcasts, as his message was beamed into 170 countries of the world.
That being said, I'd like to assure you of two things:
James Payne is the Real Deal!
He is a man driven by the pursuit of excellence.
It is a privilege to share with you today the life and ministry of James Payne as I know him.
James Payne is one of the finest Christian Country artists of our day. His voice moves the heart. His writing is powerful. His album production is incredible. He is a mighty force whose influence has helped shaped Country Gospel music today.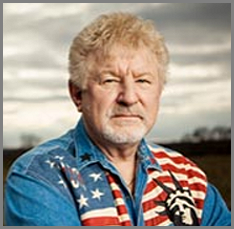 James was not raised in a Christian home. His family never attended church. He had no religious background whatsoever. James was a drug addict and an alcoholic when Jesus found him. He was lying in a hospital bed from an overdose of drugs, given up by his doctors, and pronounced dead. But Jesus appeared to him in that hospital room. James relates the story as follows: "I had an out-of-body experience. I was suspended in the room looking down at myself lying in the bed. I was physically dead at that point. All the monitors on my body flat-lined. I did not see the face of Jesus, but I did see His robe, His sandals and the nail prints in His hands. He touched me on my right foot and told me He was going to raise me up, and that I would preach the Gospel around the world. No one in my family had ever been a Christian before that time. As I look back, it's hard to believe that Jesus loved me enough that He would come to my room and change my life by saving me and delivering me from alcohol and drug addiction."
James grew up in pool halls and honky-tonks, not in church. The music he listened to was on the jukebox. It included George Jones, Merle Haggard, Conway Twitty, Hank Williams, Johnny Cash, Elvis Presley, and Waylon Jennings. Those were his honky-tonk heroes.
James was saved in a hospital room. Shortly after his release from the hospital, he began attending church. He felt the desire to do just what Jesus told him he would do: carry the Gospel around the world. He borrowed a Bible from his pastor and began reading it. He read the New Testament through 25 times the first year he was saved. The church needed a guitar player in their band, so James saved up $39.00 and bought his first guitar. He learned the chords and began playing in the band.
God rewards faithfulness. A few years after James was saved, he moved to Nashville, Tennessee to pursue his desire to preach and sing the Gospel of Jesus Christ.   He began pastoring a church there. God sent many musicians and singers from the country and gospel music industry into his church. They became great friends and mentors in the area of songwriting. Among those were Gospel artists like Kenny Hinson, Ronny Hinson and Rusty Goodman.
The first song James wrote was a song called "The Cloud He's Coming Back On." That song was recorded by the Happy Goodman Family and reached number two in the gospel charts. The song was recorded by a number of artists, and was later printed in the Church Of God hymnal. James comments: "That made me feel I had reached immortality. I was in the hymnbooks."
Throughout his 31 years of ministry, James has experienced some great successes and some devastating failures. He has written over 2200 songs, and has had over 700 different artists, choirs, and singers record the songs he has written. They include; Lee Greenwood, Terri Gibb, Tanya Goodman, White River, Ricky Van Shelton, Jimmy Swaggart, Del Way, the Florida Boys, Dixie Echoes, Betty Jean Robinson, Vern Jackson, Mike Purkey and hundreds of others.
When James began recording Christian Country music, very few others were doing it. It was all Southern Gospel. Very few Gospel soloists were heard on the radio. Quartets and trios were the order of the day. Southern Gospel artists have recorded many of the songs written by James, but when James sang them, they came out Country Gospel. He was country before country was cool.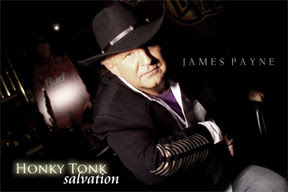 James has won numerous awards. Songs that he recorded have reached number one in the music charts. His awards include: Male Vocalist of The Year; Songwriter of The Year; Song of the Year; Album of The Year; Living Legend Award, and Evangelist of The Year. He was inducted into the International Country Gospel Music Association's Hall Of Fame and was recently was honored by the I.C.G.M.A. for achieving 50 number-one songs which he has written or recorded.
James was on a flight to Florida when he wrote what would become his signature song, "The Night Jack Daniels Met John 3:16". He recalls: "I was reading my Bible. The man in the next seat ordered two small bottles of Jack Daniels whiskey. I looked down at my Bible. It was opened to John 3:16. It took only about ten minutes to complete the song. It almost wrote itself."
At first, Christian radio refused to play the song. It was unheard of for the word "whiskey" to be written into a gospel song. Had it not been for Jan Crouch and TBN, the song would have died in obscurity. But they produced a television video of the song and began playing it on TBN. Nearly every time it played, people would call in and get saved. Whatever the song has accomplished, it is because Paul and Jan Crouch believed in it and played it almost every day for nearly a year. Because of its popularity, Christian radio decided to play it. This was a song God wanted the world to hear. He made a way and the song went to number one.
Looking back over the years of his music ministry, James feels the one thing that kept him going was his songwriting. There is a sticker on the back of his truck, which says: "It all begins with a song." A great song can make an average singer successful. An average song can make a great singer average. James believes every song should speak to the listener and it should be so graphic that it will move the heart of the singer.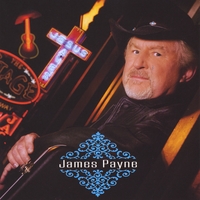 James is quick to credit those good people who have helped him along the way.   Ronny Hinson took time to help with his writing. His brother Kenny helped James with his singing and recording arrangements, as well as overall performing. Jimmy Gateley taught him to deal with criticism, and be true to himself.
James concludes with these comments: "I know that soon I will be too old to have my picture on the cover of my CD's," he laughs. "At that time I would like to see some young gun writing and recording music that has my fingerprints on it. I know there is a generation in the wings that can take this music to a larger market. With that in mind, I can sleep well at night."
By Dan Duncan
First published by SGN Scoops July 2014
For current issues of SGN Scoops visit https://www.sgnscoops.com/
Tags:
christian country
,
Dan Duncan
,
James Gateley
,
James Payne
,
ronny hinson
,
tbn
Posted in
announcements
,
artists
|
Comments Off

on James Payne: The Life of A Honky-Tonk Evangelist
Written by Staff on July 29, 2014 – 12:23 pm -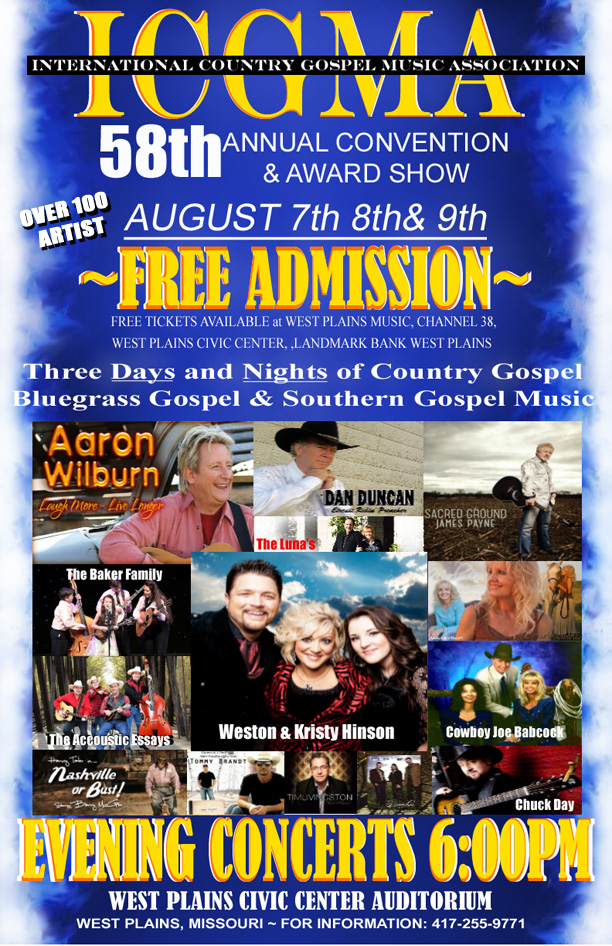 Tags:
58th Convention
,
aaron wilburn
,
Dan Duncan
,
ICGMA
,
International Country Gospel Music Ass
,
International Country Gospel Music Association
,
James Payne
,
The Baker Family
,
Weston And Christy Hinson
Posted in
announcements
|
Comments Off

on ICGMA 58th Annual Convention and Award Show
Written by SGN Scoops Staff on July 9, 2014 – 9:01 pm -
In this month of family vacations, celebrating freedom and enjoying summer, we hope you take a moment to see what we've done on SGN Scoops! We present to you a magazine filled with freedom, hope and all that is good in today's Southern Gospel and Christian Country music!
July brings a whole host of features, including our cover story on America's Favorite Gospel Music Family, The Hoppers. Craig Harris takes an in-depth look at the past, present and future of The Hoppers through the eyes of each of the family. Learn why Claude is smiling more these days and Karlye is studying hard. Read about Dean's and Michael's role in the group business and why Kim is humbled by her career. Take a close look at the 'Mother's Heart' of Connie Hopper and why she smiles even more widely at the thought of what may be in store for Lexus. A terrific summer read!!
Dixie Phillips fills us in on another of Southern Gospel's families, the Wilbanks; Marcie Gray tells us all about the Southern Gospel Music Associations' Hall Of Fame and new contributor Dan Duncan interviews Christian Country artist James Payne. Speaking of Christian Country, don't miss Natalie Taylor's first-hand account of Red Roots' appearance at Creation Festival NE 2014.
Jennifer Campbell shares her experience as part of a short-term missions trip to New York City. Lorraine Walker highlights Triumphant, who have just released a new praise CD, and Cross Pointe, whose new video can be seen on the right of the SGN Scoops website.
Don't miss the activities of Lou Wills Hildreth as she shares her Love, Life and Legends column; David Staton's 'Can You Handle The Truth;" life moment devotions by Dr. Jeff Steele, Kelly Nelon Clark and Sherry Anne; and the must-read Younger Perspective by Erin Stevens who interviews Riley Harrison Clarke. Lorraine also brings us closer look at D.A. Callaway, the man behind Silver Dollar City's Southern Gospel Picnic!
Other highlights include 'Event Planner', a concert review of the Karen Peck and New River Homecoming by Lynn Mills; super New Music reviews by our own Sandi Duncan Clark; and the new DJ Spotlight by everyone's favorite southern DJ, Vonda Easley. And don't miss Sandi's "Letter From…" in the first part of the magazine.
Our publisher, Rob Patz, gets to the heart of things with a few thoughts on 'Freedom' in his Publisher's Point. He also gets to interview his good friend, Pauline Patterson, in his column, 'What America Wants To Know About…".
Laurette Willis brings our thoughts back from summer sloth to healthy activities with her column, 'Present Your Bodies.'
All this plus a Creekside Update, SGN Scoops Top 100 and much, much more! Read what is encouraging, uplifting, creative and gifted about our Christian artists and their ministries.
We hope you have time this month to put your feet up on your lounger, grab your iced tea (or coffee!) and open up SGN Scoops July magazine. You won't be sorry!
Tags:
christian country
,
Creation Festival NE 2014
,
Dan Duncan
,
hoppers
,
James Payne
,
karen peck and new river
,
Lorriane Walker
,
Lou Wills Hildreth
,
Pauline Patterson
,
Red Roots
,
Sandi Duncan Clark
,
SGNScoops Magazine
,
Southern Gospel Music Associations
,
Southern Gospel News
,
Vonda Easley
,
Wilbanks
Posted in
sgn scoops magazine
|
Comments Off

on July 2014 SGNScoops Magazine