Written by SGN Scoops Staff on June 5, 2014 – 9:48 am -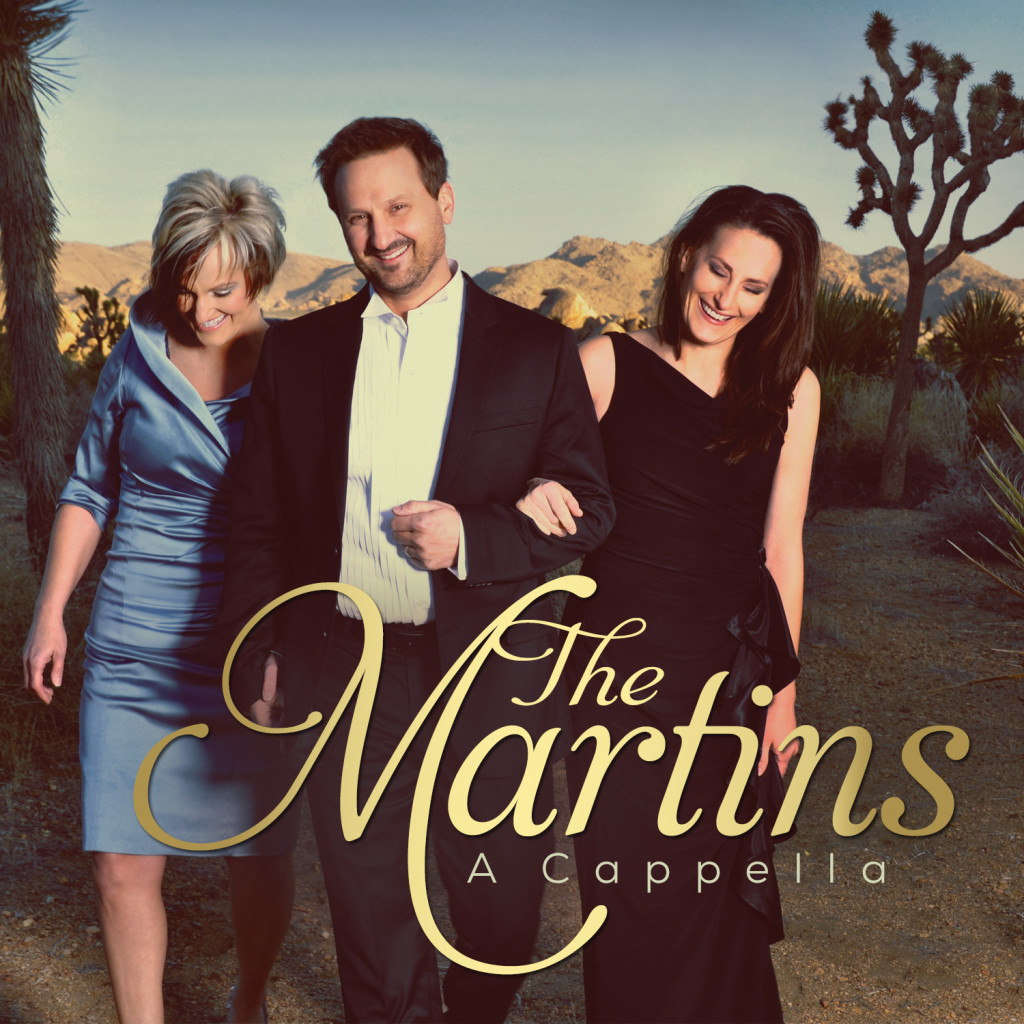 NASHVILLE, Tenn.-June 5th, 2014 – Popular GRAMMY®-nominated and eight-time GMA DOVE Award-winning recording artists The Martins are celebrating their all-NEW release, A Cappella which debuted at #2 on the Southern Gospel chart this week and landed at #17 on the Contemporary Christian Music chart according to Nielsen Soundscan.
It has been nearly two decades since The Martins released their first a cappella CD; and as the multi-talented group celebrates the release of their latest A Cappella recording, which has received glowing reviews, the family sat down with radio host Daniel Britt to discuss the new endeavor. The Martins will be featured on the next two broadcasts of SirusXM's "Daniel Britt & Friends" during the weeks of June 16th and June 23rd. These broadcasts will feature an intimate interview with Joyce, Jonathan and Judy, who talk about the making of the recording, allowing listeners the opportunity to catch up on the latest happenings with The Martins.
The one-hour program will air three different times over the next two weeks on SiriusXM Radio. The trio will be featured at 7pm (eastern) on Monday, June 16th & 23rd, as well as at 10pm (eastern) on Thursday, June 19th & 26th, and at 12 noon (eastern) on Saturday, June 21st and June 28th.
A Cappella, from Gaither Music Group, has been much anticipated from these siblings recognized throughout Christian music for their intense family harmonies and a cappella masterpieces. Distributed by Capitol Christian Distribution, the release is available now at retail and digital outlets worldwide including iTunes, Amazon and www.gaither.com and www.martinsline.com.
Tune into "Daniel Britt & Friends" during the weeks of June 16th & 23rd to hear the very latest from The Martins.
Connect with The Martins at www.martinsonline.com; visit them at facebook.com/martinsonline; or follow them on Twitter: @martinsonline.
Tags:
Daniel Britt
,
Gaither Music Group
,
grammy
,
Martins
,
SiriusXM Radio
,
southern gospel
,
Southern Gospel News
Posted in
announcements
|
Comments Off

on The Martins Celebrate Street Week of All-NEW A Cappella Release
Written by SGN Scoops on March 11, 2013 – 12:59 pm -
Coming up on the next Daniel Britt & Friends, broadcast the week of 3/11/13: With ties to California and Kentucky, The Hinsons
certainly left a mark on Gospel music that cannot be argued! For the hour, lifelong fan of The Hinsons, Mike Bowling joins Daniel
Britt to share in some of The Hinsons' best known songs, highlights, stories, and even Mike's journey from being a fan to later
working with them. Get a heavy dose of The Hinsons and fun discussions with Mike Bowling, on the next Daniel Britt & Friends!
Daniel Britt & Friends is a one-hour Gospel music radio show, available each week to nearly 30 million satellite subscribers*
throughout the U.S. and Canada on SIRIUS XM SATELLiTE RADiO's enLighten (Sirius XM Channel 18) – Mondays at 7PM ET, Thursdays at
10PM ET, and Saturdays at 12 Noon ET. You can also catch the show online at siriusxm.com, Smartphone devices, or with Dish Network
on channel 6018. After the broadcast, you can download the extended interview from www.danielbritt.com. Connect on Twitter
@BrittAndFriends and on Facebook at facebook.com/BrittAndFriend
Sirius XM Radio is America's satellite radio company.  SiriusXM broadcasts more than 135 satellite radio channels of commercial-free
music, and premier sports, news, talk, entertainment, traffic, weather, and data services to over 21 million subscribers. SiriusXM
offers an array of content from many of the biggest names in entertainment, as well as from professional sports leagues, major
colleges, and national news and talk providers.
SiriusXM programming is available on more than 800 devices, including pre-installed and after-market radios in cars, trucks, boats
and aircraft, smartphones and mobile devices, and consumer electronics products for homes and offices. SiriusXM programming is also
available at siriusxm.com, and on Apple, BlackBerry and Android -powered mobile devices.
SiriusXM has arrangements with every major automaker and its radio products are available for sale at shop.siriusxm.com and at
retail locations nationwide, including Best Buy, Circuit City, RadioShack, Target, Sam's Club, and Wal-Mart.
*Through its partnership with Dish Network, SIRIUS XM Radio programming is available to over 30 million satellite subscribers.
Tags:
Daniel Britt
,
mike bowling
,
sirius xm radio
,
Southern Gospel News
Posted in
announcements
|
Comments Off

on Mike Bowling with Daniel Britt
Written by SGN Scoops Staff on March 21, 2012 – 12:56 pm -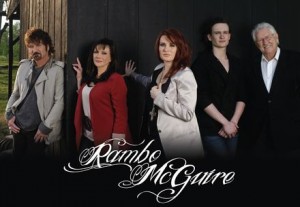 Nashville, TN  – The incredible music of Rambo McGuire which includes group members Reba Rambo McGuire (original member of The Rambos), along with husband Dony, daughter Destiny, son Israel, and father Buck Rambo (also founding member of The Rambos), will be featured this week in two major ways.
The group will be featured this Saturday, March 24th, 2012, at 4:30pm central/5:30pm eastern, on the *Daystar Network's Gospel Music Showcase television program. The network will be sharing interview segments, along with portions of Rambo Mcguire's National Quartet Convention performance. The performance includes new music that the group sang from their DOVE nominated recording, honoring the memory of their mother, Dottie Rambo, entitled Grassroots Rambos; Remembering the Rambos.
In addition to the television appearance, Rambo McGuire will be featured guests on satellite radio. Their recent interview with award winning commentator, Daniel Britt, will air during the week of March 26, 2012. The program will focus on Gospel music, family harmony, and the continuum of future generations. It is an hour long documentary and it will air on Sirius/Xm Enlighten's program, **Daniel Britt and Friends. Britt recently sat down and interviewed Reba, Dony, and Destiny, taking an in depth look at the generational blessing of the rich music of The Rambos moving forward into the future, and, how the family continues to honor the late Dottie Rambo through her songs and their ministry. He will share music from the DOVE nominated recording CD, Grassroots Rambos; Remembering The Rambos.
To learn more about the music and ministry of Rambo McGuire, visit RamboMcGuire.com. You can follow them on Twitter at twitter.com/RamboMcGuire and find them on Facebook at facebook.com/RamboMcGuire.
*To learn about Daystar and broadcast times and information, visit www.daystar.com.
Tags:
Christian TV
,
Daniel Britt
,
Daystar Network
,
national Quartet Convention
,
Reba Rambo- McGuire
,
Sirius/Xm Enlighten
,
Southern Gospel Music
,
Southern Gospel News
Posted in
announcements
,
christian entertainment
,
Christian interest
|
Comments Off

on Rambo McGuire To Be Featured On Daystar Television & XM/Sirius Enlighten's Daniel Britt and Friends!!!
Written by SGN Scoops Staff on June 10, 2011 – 10:43 am -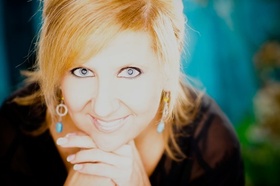 Winston-Salem, NC (06/10/2011) –  If you're a fan of music – any kind of music – you are probably keenly aware that the music industry has changed, and continues to change at a rapid pace. For music lovers, this means having digital access to the latest hits, the oldest classics, & the ability to bypass traditional gatekeepers to discover up & coming artists and talents. You've heard terms like "YouTube sensation," "illegal music downloads," & unlimited access to music from "the cloud." So, what does all of this mean to you, the fan, versus your favorite artists & their ability to maintain quality, creativity, & their ultimate calling to spread the Gospel? To answer these questions & explore the process of making music in the 21st Century, Daniel sits down with President of Daywind, President & Chairman Gospel Music Association, & Vice Chairman of Christian Booksellers Association
Ed Leonard
, Director of Daywind Publishing,
Rick Shelton
, & Producer & Radio Promoter,
Donna Beauvais
. The Music Industry for Dummies, a multi-part series, coming up on Daniel Britt & Friends!
Tags:
Daniel Britt
,
donna beauvais
,
Ed Leonard
,
gospel music association
,
rick shelton
Posted in
announcements
,
christian entertainment
,
Christian interest
|
Comments Off

on Coming up on a multi-part series of Daniel Britt & Friends, the weeks of 06/13/11, 06/20/11, & 06/27/1: THE MUSIC INDUSTRY FOR DUMMIES