Written by SGN Scoops Staff on September 19, 2013 – 2:40 pm -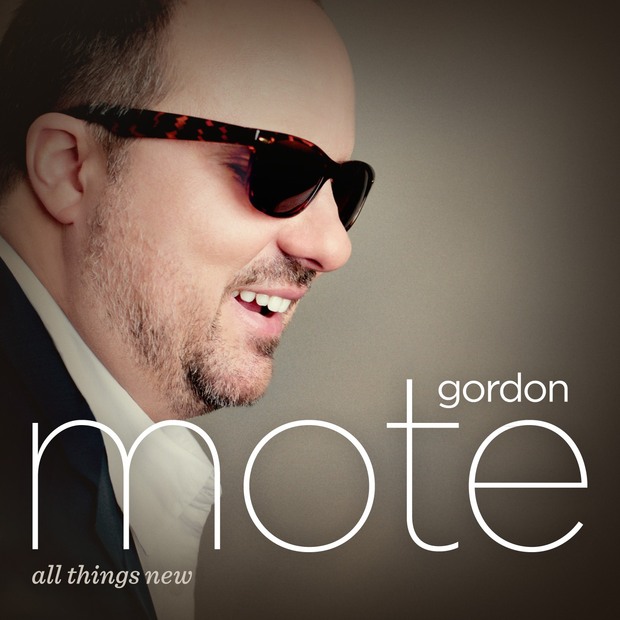 Nashville, TN (

September 19, 2013

) —- One of the most beloved and respected musicians/singers in the music industry, Gordon Mote, has released his latest project

All Things New

. The album was co-produced by Frank Rogers (Brad Paisley, Darius Rucker), and Dove-Award winning producers, Wayne Haun and Russell Mauldin. The project features vocal collaborations with such major artists as the Gaither Vocal Band, Trace Adkins, Darius Rucker, Josh Turner, Matthew West, and Scotty McCreery. This is the second album by Mote for his new label, New Haven Records, and the project will be distributed to the faith-based market through Provident-Integrity Distribution.
 "I wanted this project to encourage others to let the Lord use the rough parts of their lives for His glory just like He has in mine," says Mote. "Being born blind, God has given me so many blessings in spite of the setbacks I have had in my life. If we'll give God the chance to make all things new, He will."
The powerful ballad, "Faith Like That," is the first single being serviced to Christian radio, and the heartfelt lyrics were co-written by award-winning songwriters Don Sampson ("Waitin' On A Woman") and Jim Brown ("

Five O'Clock

Somewhere").  A noted songwriter himself, Mote co-wrote four songs on the new album including, "All Things New," "Sound A Dream Makes," "For You," and the autobiographical "Broken Open." The latter song describes Mote's personal journey of clinging to his faith to overcome a broken heart and how God can lift us up even during our darkest hours.
"I had a wonderful childhood, but grew somewhat lonely as a teenager as my friends were getting driver's licenses and leaving me behind," explains Mote. "Whether you're blind or not, all of us experience insecurities. I learned that my brokenness made me more open to God's love as well as more sensitive to the brokenness in other's lives."
In spite of what society calls a handicap, Mote has miraculously overcome multiple obstacles with his blindness that include; playing piano at 3-years-old without any professional training, being the first blind student in the country to be accepted into the public school system, graduating high school with honors, receiving a full scholarship to Jacksonville State University in Jacksonville, AL, and graduating from Belmont University in Nashville, TN with Cum Laude honors and a music degree.
Two days after graduation, Mote began touring with Country artist Lee Greenwood's band, which led to the talented musician touring and recording with such major superstars as Trisha Yearwood, Brad Paisley, Bob Seger, Alan Jackson, Rascal Flatts, Carrie Underwood, Gaither Vocal Band, and Lionel Richie. 
Mote's keyboard skills led him to being honored twice by the Academy of Country Music for Piano/Keyboard Player of the Year Awards, as well as two Music Row Magazine Instrumentalist of the Year Awards for playing on the most Top Ten albums. Mote has released nine albums as an independent artist, with If You Could Hear What I See earning Mote his first Dove nomination in 2004. Mote remains an active touring act by performing over 150 dates a year. 
For more information on Mote please visit his website, www.gordonmote.com and on twitter at @GordonMote.
About New Haven Records
New Haven Records is a Nashville-based music corporation that includes label, publishing, and film companies. For more than two decades, they have focused on the uniquely American genres of Black Gospel, Southern Gospel, and Country & Bluegrass Gospel.New Haven's product is distributed to the mainstream through SONY Distribution and to the Christian marketplace through Provident Music Distribution. For additional information, go to www.newhavenrecords.com
Tags:
Brad Paisley
,
Darius Rucker
,
Faith Like That
,
Gaither Vocal Band
,
Josh Turner
,
Matthew West
,
New Haven Records
,
Scotty McCreery
,
southern gospel
,
Trace Adkins
,
Wayne Haun
Posted in
announcements
|
Comments Off

on Award-Winning Musician and Singer Gordon Mote Releases Album All Things New on New Haven Records
Written by SGN Scoops Staff on December 14, 2011 – 7:04 pm -

Dec. 14, 2011 – Nashville, TN – Christian music favorite Jason Crabb has added his name to the list of artists and celebrities speaking out in support of the 220th Anniversary of the Bill of Rights. Jason joins lauded musicians Wynonna, Blake Shelton, Brad Paisley, Frankie Ballard, Darius Rucker, The Civil Wars, Heart, John Oates, Joe Nichols and more. A full list of supporters can be found here: http://1forall.us/freetotweet
Jason joins the 1 For All campaign by participating in "Free To Tweet," a daylong online celebration of First Amendment rights on Dec. 15, Bill of Rights Day. During the tweetathon, all Americans are encouraged to tweet their support of the First Amendment and how they enjoy those freedoms – using the hashtag #FreeToTweet.
High School and college students nationwide are eligible to win one of 22 $5,000 scholarships by tweeting creatively about the First Amendment. More information can be found at FreeToTweet.org.
"I thank God and our forefathers for the ability and freedom to sing and tell others about Jesus Christ every single weekend all across this country," says Crabb. "I am honored to join the 1 For All campaign in support of the 220th Anniversary of Bill Of Rights."
The 1 for All campaign is the largest of its kind in scope and reach and uses a fresh approach by featuring public figures celebrating their freedoms to tweet, rock, write, read, sing, worship, assemble, petition and much more. For more information on the campaign, visit www.FreeToTweet.org
About "1 for All"
"1 for All" is a non-partisan, educational campaign that was launched in 2010 to address a general lack of awareness by the American public about the five freedoms afforded by the First Amendment. Initial support for campaign was provided by the John S. and James L. Knight Foundation, Newseum, McCormick Foundation, American Society of News Editors, First Amendment Center and Gannett Foundation. In addition, more than 1,000 news organizations, religious groups and educational institutions have devoted their time and resources in support of the "1 for All" campaign.
About Jason Crabb
Jason Crabb is known as one of the most respected and diverse vocalists in Christian music.  His soulful, heartfelt vocals have made him a critics' pick and a fan favorite on stages ranging from "The Grand Ole Opry" and the Brooklyn Tabernacle to the Gaither Homecoming arena platforms.  With a string of number one hits and chart-topping singles, a tour schedule of over 200 dates annually, ongoing tv appearances, a book on the shelves and a new recording, this vocal powerhouse's talent is topped only by his genuine personality and concern for others.
Tags:
220th Anniversary of the Bill of Rights
,
Blake Shelton
,
Brad Paisley
,
Darius Rucker
,
Frankie Ballard
,
Heart
,
Jason Crabb
,
Joe Nichols
,
John Oates
,
The Civil Wars
,
Wynonna
Posted in
announcements
,
christian entertainment
|
Comments Off

on Grammy® Award Winner Jason Crabb Joins 1 For All Campaign To Support Bill Of Rights Day