Written by Staff on April 10, 2017 – 1:26 pm -
The dynamic duo of Christian music, Brian and Shawn Chrisagis, known as the Chrisagis Brothers, are bringing a powerhouse lineup to this years' 2017 Legends event. The Chrisagis Brothers are gathering together five classic artists from Christian music, including Southern Gospel, Rock, Ballads, Contemporary and Classical, all in the name of Jesus, music.
Artists to appear include Grammy and Dove Award winners, and members of the Gospel Music Hall of Fame: Dino Kartsonakis, Michael English, Phil Keaggy, Wayne Watson, and also the three-year staple for the Legends concerts, Scott Wesley Brown.
This year Brian and Shawn are also bringing along their long time friend and sister in Christ, legendary actress, super model and author, Jennifer O'Neill, to cohost with the Chrisagis Brothers. The event is Aug. 19, 2017, at The J.B. Chambers
Performing Arts Center in Wheeling, W,V. This beautiful center holds 1200 seats waiting to be filled with Christian music fans from across the United States.
This is the third year for the Legends event and each time the brothers bring their A-Game to the table with acclaimed artists. This year the legends are the cream of the crop. The duo will welcome Dino, known as a pianist extraordinaire, an artist who has been performing in his own stage show in Branson for many years.
Dino will take the stage with Phil Keaggy, one of the top three best guitarists in the world. Phil is world-renowned and has played with the Beatles.
Michael English is known as a solo artist and as a member of the multi-awarded Gaither Vocal Band. This man has had an amazing career and his voice is one of the greatest in Southern Gospel music.
Wayne Watson is best known for his duet with Sandi Patty, "Another Time and Another Place," but has won many awards and has had numerous No. 1 hit songs on the CCM charts.
Last is Scott Wesley Brown, the anchor man at the Legends concerts, and one of the greatest songwriters and Generals for God in his 40 years+ of ministry.
Welcoming these artists to the Legends concert event are the Chrisagis Brothers, award winners and nominees in several areas. They are especially proud of
winning the Extraordinary People Award for Duo of the Year. These two have ministered for over 35 years and have won many Hollywood Stars to Jesus.
They have a radio show called "It's a God Thing" that has allowed many of Hollywood elite to share their faith. Some of their friends and guests in Hollywood are Lindsay Wagner, Erik Estrada, Jennifer O'Neill, Joe Penny, Loni Anderson, Morgan Brittany, Cheryl Ladd, Kevin Sorbo, Corbin Bernsen, Pat Boone, Dolly Parton, Alana Stewart (from the Farrah Fawcett Foundation – who shared Farrah's faith in Jesus on the radio show.)
The Chrisagis brothers have also been very powerful forces in bringing their Legends events to various areas in the United States. These guys have won favor with CCM pioneers in the business and with Hollywood personnel. For more info on these two incredible ministers who are making a difference check out their website here.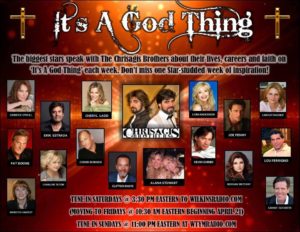 For more Gospel music news, click here.
Tags:
Chrisagis Brothers
,
Dino
,
Dino Kartsonakis
,
Jaclyn Smith
,
Jennifer O'Neill
,
Michael English
,
Phil Keaggy
,
Scott Wesley Brown
,
Wayne Watson
Posted in
announcements
,
artists
|
Comments Off

on Michael English and more at 2017 Chrisagis Brothers Legends concert event
Written by SGN Scoops on January 31, 2013 – 3:43 pm -
NEW YORK, Jan. 31, 2013 /Christian Newswire/ — Well-respected, award-winning Christian recording artists are honoring Israel this spring in a gala benefit concert being hosted at Carnegie Hall by pianist Dino Kartsonakis and his wife Cheryl.
The special "Honoring Israel at Carnegie Hall" concert will take place at 8 p.m. on Thursday, April 11, 2013, at the world famous venue. The event will feature performances, from the Philadelphia Boys Choir, Denver and the Mile High Orchestra, and The Christian Cultural Center Chorale as well as the musical talents of Robert Stearns, operatic tenor Daniel Rodriguez, and Grammy and Dove Award-winning singers Sandi Patty and Larnelle Harris.
"Anti-semitism is on the rise, and Israel is now surrounded by nations committed to her destruction," world-famous piano artist Dino said. "Cheryl and I have always prioritized praying and working for the peace of Jerusalem. My friends, it is vital that we stand together."
Robert Stearns, founder of Eagles' Wings, and a global leader in Jewish-Christian relations, said, "The evening of music will celebrate our nation's longstanding and unbreakable bond with Israel at one of Manhattan's most prestigious venues."
"There has never been a time in our nation's history that our public and private bond with Israel has been more critical," Stearns said. "With this historic concert, we hope to make it clear that New York stands with Israel."
Proceeds from the event will go to feed hungry Jews, Arabs and Druze in Israel through humanitarian non-profit, "Hope for Zion" as well as to help build a prayer and study center in Migdal Arbel, Israel, whose mission is to cultivate a love and understanding for the people and nation of Israel.
For more information and to purchase tickets visit www.carnegiehall.org or call 212-247-7800.
Tags:
Carnegie Hall
,
Dino
,
Dino Kartsonakis
,
Gospel Music News
,
larnelle harris
,
Robert Stearns
,
sandi patty
,
The Christian Cultural Center Chorale
Posted in
announcements
|
Comments Off

on Dino, Larnelle Harris, Sandi Patty, and Robert Stearns to Honor Israel at Carnegie Hall
Written by SGN Scoops Staff on May 25, 2011 – 12:00 pm -
Nashville, TN – May 24, 2011 —  "America's Piano Showman," GRAMMY Award-winning pianist Dino Kartsonakis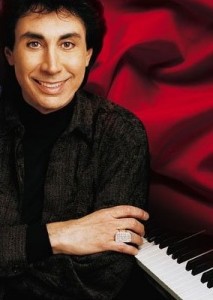 will host a benefit event to raise funds for victims of the recent Missouri floods on Thursday, May 26, at 6:30 pm CST at the Branson Convention Center. The night will feature a silent auction, special celebrity guests, and performances by Dino
and other world-class entertainers.
On April 25, Branson, Mo. suffered the most catastrophic natural disaster to date. After several weeks of unrelenting rain, Lake Taney Como rose to unprecedented levels, breaching levees and submerging everything in its raging path under freezing water. Officials estimate that the flood affected approximately 300 families, leaving hundreds homeless and destitute. Among those families was Kartsonakis and his wife Cheryl, who lost  a lifetime of musical awards, archives, grand pianos, furniture, clothing, photographs and family heirlooms in 13 feet of water.
The Official Branson Celebrity Flood Benefit is Kartsonakis' contribution to restoring his community. He comments, "Our goal with this event is to give back quality of life to the victims of this terrible tragedy. My hope is to make these victims victorious!"
Additional event sponsors include The Hilton, Branson Bank, and Christian Associates. All proceeds will be distributed by Christian Associates and will be given directly to the victims who have been hit the hardest. For more information or to reserve your seat, visit www.bransonflood.com or text BRANSONFLOOD to 90210.
About Dino Kartsonakis:
GRAMMY Award-winning Dino is one of the premiere performers of our time. He is indeed "America's Piano Showman" – a title aptly given to him by more than 80 million people who are witnesses to his majestic piano styling each year.
For 18 years, Dino entertained Branson, Missouri, audiences with his exceptional showmanship and talent making his Christmas production one of the most critically acclaimed shows in the entertainment city.
Taking time out from their seasonal show, Dino and his co-host and wife Cheryl make the trip to New York City, to tape "The Dino Show" – a weekly music and interview formatted show on TBN (Trinity Broadcast Network), the top rated Christian television network. TBN takes "The Dino Show" into 200 countries where Dino's message is wonderfully received.
In 2000, Dino joined forces with QVC, the 4th largest network in the U.S. in an auction benefiting MusicCares, an organization which helps musicians and singers experiencing difficult times.
For more information on Dino, visit www.dinoplayspiano.com.
Tags:
Branson Convention Center
,
Dino Kartsonakis
Posted in
announcements
,
christian entertainment
|
Comments Off

on GRAMMY AWARD-WINNING PIANIST DINO KARTSONAKIS HOSTS THE OFFICIAL BRANSON CELEBRITY FLOOD BENEFIT