Written by SGN Scoops Staff on January 17, 2012 – 1:00 am -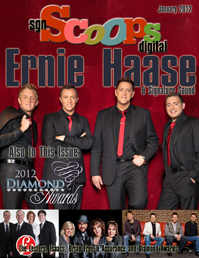 We're kicking the New Year off right at SGNScoops Magazine! We are so pleased to announce….DIAMOND AWARDS NOMINATIONS are underway! Check out Laura Kennedy's article for a little background on the Diamond Awards and follow the voting instructions. We're anticipating a great awards show this year as well as voting to top last year's record breaking participation. Help us spread the word about the Diamond Awards by posting our link to your website and all social media outlets.
Are you ready for some New Ernie Haase and Signature Sound music?!?! Check out our cover story and see what all Ernie Haase has to say about their new album and new tour! Features this month include Donna Beauvais, The Issacs, The Lesters, and Brian Free & Assurance. We have new music reviews, Voices Won Anniversary coverage and a concert story covering the Gaither's Jubilate 2011. As always, we provide inspiration and encouragement and the latest in Southern Gospel and Christian Country News. You'll also see what songs are topping the charts as well as find some great soup recipes! Thank you for reading and pass along to your friends! Happy New Year! Download The Magazine Here
Tags:
Brian Free & Assurance
,
Christian Country News
,
diamond awards
,
donna beauvais
,
ernie haase and signature sound
,
Faith
,
Gaither's Jubilate
,
Laura Kennedy
,
Lorraine Walker
,
Rhonda Frye
,
rob patz
,
Sandi Duncan Clark
,
SGNScoops Magazine
,
Southern Gospel Chart
,
Southern Gospel Music
,
Southern Gospel News
,
The Issacs
,
THE LESTERS
,
Voices Won
Posted in
christian entertainment
,
Christian interest
,
sgn scoops magazine
|
Comments Off

on January 2012 SGNScoops Magazine
Written by SGN Scoops Staff on June 10, 2011 – 10:43 am -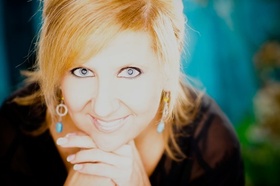 Winston-Salem, NC (06/10/2011) –  If you're a fan of music – any kind of music – you are probably keenly aware that the music industry has changed, and continues to change at a rapid pace. For music lovers, this means having digital access to the latest hits, the oldest classics, & the ability to bypass traditional gatekeepers to discover up & coming artists and talents. You've heard terms like "YouTube sensation," "illegal music downloads," & unlimited access to music from "the cloud." So, what does all of this mean to you, the fan, versus your favorite artists & their ability to maintain quality, creativity, & their ultimate calling to spread the Gospel? To answer these questions & explore the process of making music in the 21st Century, Daniel sits down with President of Daywind, President & Chairman Gospel Music Association, & Vice Chairman of Christian Booksellers Association
Ed Leonard
, Director of Daywind Publishing,
Rick Shelton
, & Producer & Radio Promoter,
Donna Beauvais
. The Music Industry for Dummies, a multi-part series, coming up on Daniel Britt & Friends!
Tags:
Daniel Britt
,
donna beauvais
,
Ed Leonard
,
gospel music association
,
rick shelton
Posted in
announcements
,
christian entertainment
,
Christian interest
|
Comments Off

on Coming up on a multi-part series of Daniel Britt & Friends, the weeks of 06/13/11, 06/20/11, & 06/27/1: THE MUSIC INDUSTRY FOR DUMMIES
Written by Rhonda on November 24, 2010 – 5:49 am -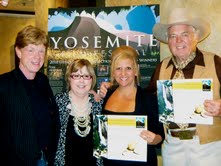 Nashville, TN (Nov. 23, 2010) – Actors, Ed Faulkner (multiple film and television credits) and Jon Walmsley (best known as Jason Walton from the Waltons), along with Christian music's multi-talented, Donna Beauvais, were recently in Yosemite National Park to receive multiple awards at the Yosemite International Film Festival held in the beautiful Tenaya Lodge in Fish Camp, California for their roles in the animated film Elf Sparkle Meets Christmas The Horse.
 
The cartoon received the Silver Sierra Award for Best Animated Film.  In addition, the associated music videos both received awards for Best Music Video.  Those were "Christmas In Our Village" and "Christmas Is Coming" (which was written by French song-writer, Cedric Coche, and performed by Beauvais).  Coche was also in attendance to receive his award, as was the creative writer and heart behind all of the cartoons, author, Beth Roose.
 
Beauvais (voice of main character, Elf Sparkle) shared, "This experience continues to be a 'pinch me if this is really happening' dream.  Yosemite was a beautiful place and these awards are truly an honor.  The bulk of the credit for these awards must be directed to author, Beth Roose.  Beth has the ability to take the scenes in her head and make them magic in a cartoon.  Besides that, she is intent on writing scripts that teach something positive to kids.  I am incredibly grateful to be a part of this endeavor.  I count it an absolute privilege."
 
For more on this cartoon and future releases, contact Buzzoose Productions at buzzoose@verticalskyonline.com.
 
About the Yosemite International Film Festival: Fostered in the spirit of the historic, and breathtakingly beautiful Yosemite, the world's most magnificent national park and one of America's premiere natural wonders, the Yosemite International Film Festival awards and bestows recognition for some of the world's finest and most visionary independent films made by many of the leading contemporary artists and creative minds working in cinema and screenwriting today.
Tags:
donna beauvais
,
Ed Faulkner
,
Jon Walmsley
,
Yosemite International Film Festival
Posted in
awards
|
Comments Off

on Actors, Ed Faulkner, Jon Walsmley, and Donna Beauvais, Receive Awards At The Yosemite International Film Festivalian Music
Written by Rhonda on November 14, 2010 – 1:03 pm -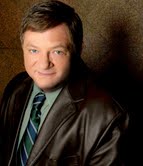 Nashville, TN (November 12, 2010) –Talented and versatile solo artist, Gary Skelton, is celebrating the release of his first recording on Crossroads Music Group's Pinnacle label.  The project entitled, Whosoever, released, along with debut single, "Looking In The Right Direction" this month.
 
The album was produced and recorded in Arden, NC by veteran music producer, Donna Beauvais. Producer, Jeff Collins, also played a very significant role in the project. Some of the best musicians in the industry including Collins, with David Johnson, Tony Creasman, and Jeremy Medkiff provided the instrumentation. Beauvais, along with Lauren Talley and Chris Allman, laid down the background vocals behind Skelton. The result of everyone involved is a heartfelt and dynamic project packed with wonderful songs, from fresh, upbeat tunes to powerful ballads.
 
Beauvais shared, "I am so honored to work with Gary.  He and his wife, Barbie, have become my dear friends. I know that this recording is not just another music project, but a true ministry effort that will touch many lives for the cause of Christ.  Gary lives what he sings and he cares deeply about the quality of his music.  Between he and the team at Crossroads Studios,. It was an absolute JOY to produce this record."
 
Be sure to request the new single, "Looking In The Right Direction" at your area Southern Gospel radio station today. To learn more about Gary Skelton, visit www.GarySkelton.com.
Tags:
crossroads music group
,
donna beauvais
,
gary skelton
,
vertical sky
Posted in
announcements
|
Comments Off

on Gary Skelton Celebrates Release Of His Debut Recording Along With A Debut Single