Written by Staff on April 21, 2016 – 3:54 pm -
West Monroe, La. (April 20, 2016) – One of the most important missions to Missy Robertson and her family has always been to work selflessly to help others find faith and happiness through charity. In that vision, Missy Robertson has created the jewelry line 'Laminin by Missy Robertson' and established The Laminin House to provide jobs for women in the West Monroe area who are in need of work while creating a quality product—a jewelry collection embodying a rustic and feminine feel with materials from all over the world. The jewelry consists of natural stones and beads with mixed metals, deer horns, Druzy stones, leather, rosary beads, and more.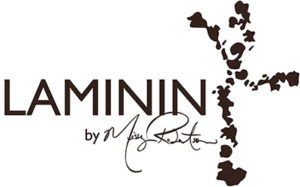 The company has a prospective goal of establishing hubs all across the United States, and will serve as a ministry to women coming out of hard situations and need assistance finding a way to break into the workforce, such as women coming out of sex trafficking, homelessness, single mothers and women in need of a purpose.
"The word "Laminin" is a molecular protein that holds everything in our bodies together. And this particular protein, if looked through a microscope is in the exact shape of the cross of our Lord Jesus Christ!," shares Robertson. "He is in all things And In Him all things hold together is a verse taken by Colossians 1:17. This meaning means more than our bodies, but our community of Laminin ladies that will be a part of this jewelry line!"
Not only will 'Laminin by Missy Robertson' provide a safe, positive and empowering working community for local women in need, they will also focus on supporting local charities by designing and selling signature pieces once a month with 100% of the profit from that limited-edition piece benefiting a specific worker and the non-profit of her choice. 'Laminin by Missy Robertson' has already begun these partnerships with several local philanthropies, including Project 41 and Heartfelt Ministry.
For more information, visit www.missyrobertson.com.
Tags:
Duck Dynasty
,
Missy Robertson
Posted in
announcements
,
christian entertainment
|
Comments Off

on Duck Dynasty's Missy Robertson launches new jewelry line, 'Laminin by Missy Robertson
Written by SGN Scoops on April 5, 2014 – 7:03 am -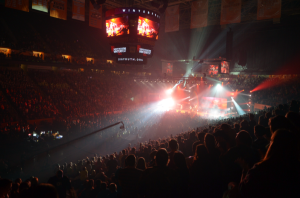 (Nashville, TN) April 4, 2014 – JASON CRABB – Grammy Award Winner and 21 time GMA Dove Award winner  – kicked off his 2014 Love Is Stronger tour with a little help from his friends. Well, make that 20,000 friends! Crabb recently began his tour with a stop in Knoxville, TN at Thompson-Boling Arena as part of Winterfest weekend. Appearing alongside Duck Dynasty's Luke and Sadie Robertson and the band Planetshakers, Jason's soaring vocals, signature guitar skills and his amazing band filled the arena and had the crowd of over 20,000 teenagers on their feet with hands in the air!
The theme of the night was one that Jason is very familiar with – camo! In honor of the Robertson appearance attendees were asked to wear camo and Jason was happy to ablige! "Anyone who knows me, knows I LOVE to hunt," said Crabb. "So when they asked for everyone to wear camo, I was in!" Jason surprised John Luke Robertson and his sister Sadie Robertson with a presentation of two very special "Duck-Crabb Calls" as the audience roared with laughter and applause!
From Knoxville, Jason made the trek back home immediately to Nashville, TN to make a special appearance during the WinterJam Tour Spectacular at Bridgestone arena in Nashville. Jason surprised the audience as he stepped into the middle of the massive arena to introduce his friends, NewSong. Crabb joined an impressive line-up of surprise guests including Carrie Underwood & Mike Fisher and Francesca Battistelli. The evening featured performances from Tenth Avenue North, Thousand Foot Krutch, Plumb, Colton Dixon, Lecrae and NewSong.
Along with the new tour, Jason recently partnered with relief organization Feed the Children. Around the world, Feed The Children provides nourishing meals every school day to more than 350,000 children. In 2013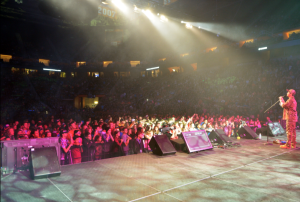 , the organization distributed over $129 million in food, medicine, and other essentials to children in 23 countries. The international programs, including child sponsorships, meet the immediate needs of children while also addressing the root causes of poverty through education and livelihood development.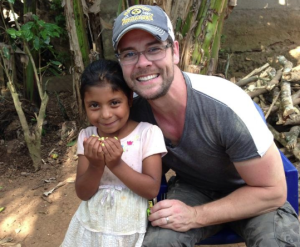 Jason recently made a voyage to Honduras, learning first-hand how the ministry of Feed the Children works in the lives of those it touches. "I sponsor a boy named Christian, and I got to meet him and his family for the first time" Jason shared. "It really was amazing to me to see the faces of these children, who have so little, full of smiles and laughter. I am proud to partner with Feed the Children to bring medical supplies, food and necessities to them."
Jason's latest single, "Love Is Stronger," is making an impact on listeners as he criss-crosses the nation encouraging audiences with songs of hope and love. MUSE concerts – a leader in tour promotion – will provide tour support on select dates during the 
Love Is Stronger
 tour. All tour information is available at 
www.JasonCrabb.com
.
Tags:
Colton Dixon
,
Duck Dynasty
,
Feed the Children
,
Jason Crabb
,
Lecrae
,
Newsong
,
Plumb
,
Southern Gospel News
,
Wnter Jam
Posted in
announcements
|
Comments Off

on 20,000 HELP JASON CRABB KICK OFF LOVE IS STRONGER TOUR
Written by SGN Scoops Staff on December 19, 2013 – 9:40 am -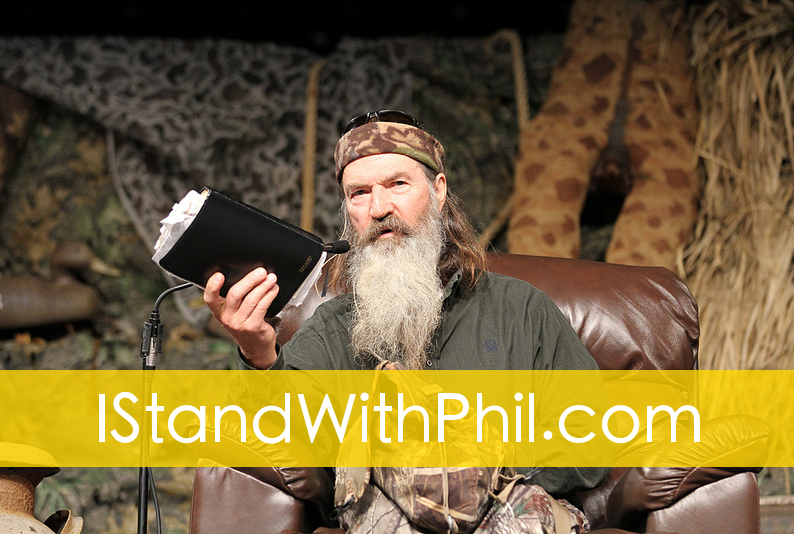 RALEIGH, N.C., Dec. 19, 2013  — Faith Driven Consumer, an organization connecting Christian consumers with faith-compatible companies, has launched the IStandWithPhil.com petition drive, which calls for The A&E Network to immediately reinstate Mr. Phil Robertson to its #1 hit show, Duck Dynasty. IStandWithPhil.com is garnering strong support from Faith Driven Consumers with its call for tolerance, fairness, and respect for differing viewpoints in America's rainbow of diversity.
"Simply put, Phil Robertson is being censored and punished for quoting the Bible, and A&E's treatment of him is punitive and highly discriminatory," said Chris Stone, founder of Faith Driven Consumer. "Everyday people will not stand for this, they know bullying and violation of religious freedom when they see it. A&E's actions are censoring Faith Driven Consumers and eliminating them from an entertainment choice that they have overwhelmingly supported."
IStandWithPhil.com is leading the charge in the call for fairness and equality as we defend the fundamental American right to free speech and tradition of tolerance.
The IStandWithPhil.com online petition drive cites the A&E network's "intolerant, discriminatory, and punitive treatment" of the Duck Dynasty star, noting that "A&E's position, which in your own words is 'championing' the gay and lesbian community…excludes the views of Faith Driven Consumers and effectively censors a legitimate viewpoint held by the majority of Americans." IStandWithPhil.com calls for respect for the millions of viewers of the show, and demands that the network immediately reinstate Mr. Robertson and "formally apologize to him, his family, and the millions of viewers who tune in every week, stand by him, and share his worldview."
The complete petition can be seen here: istandwithphil.com
Tags:
Duck Dynasty
,
Faith
,
Faith Driven Consumers
,
Mr. Robertson
,
Phil Robertson
,
southern gospel
,
The A&E Network
Posted in
causes
|
Comments Off

on IStandWithPhil.com Petition Drive Calls for Phil Robertson's Immediate Return to Duck Dynasty