Written by scoopsnews on September 29, 2020 – 8:06 am -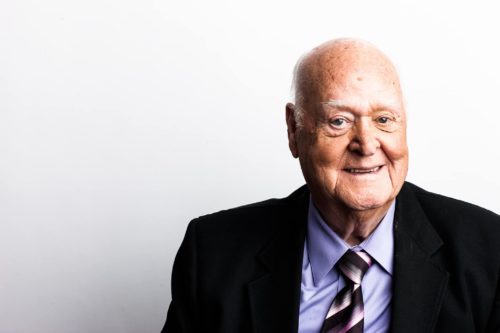 We at SGN SCOOPS are saddened to hear this news …
From James Easter :
Please remember Roger and Russell Junior and all of my brothers, Russell Easter's grandchildren, great grandchildren and loved ones in prayer He's in heaven right now.
We are praying for all of the Easter Family.
Tags:
Easter Brothers
,
James and Jeff Easter
Posted in
announcements
|
Comments Off

on Please Pray For The Easter Family
Written by SGN Scoops Staff on August 19, 2014 – 9:07 pm -
NASHVILLE, TN —The Gospel Music Association (GMA) announced the nominees for the 45th Annual GMA Dove Awards. Artists received nominations in 42 categories for the awards which will be held Tuesday, October 7th at Allen Arean on the campus of Lipscomb University in Nashville, TN and will air on the Trinity Broadcasting Network.
Artists on Pisgah Ridge (Crossroads Label Group) received nominations in the Bluegrass Album of the Year category.
The Easter Brothers are nominated for I'D DO IT ALL OVER AGAIN, which was produced by Jared Easter, Steve Schramm and Gerald Crabb. Earlier this year, the Easter Brothers were joined by Jeff and Sheri Easter for a star-studded event at the Sirius XM Music City Theater in Nashville to celebrate the release of the album.
Fans of the Easter Brothers eagerly anticipated the new collection from this legendary Gospel Bluegrass trio, their first in more than a decade. Russell, James, and Ed Easter are each accomplished song writers and have been ministering through their music for over 60 years. With decades of iconic recordings, special appearances, and numerous radio and television performances, this longstanding, hard-working music family is widely admired and respected throughout the country, bluegrass, and gospel industry.
The Easter Brothers have worked their way to legendary success in the gospel industry following humble beginnings in Mt. Airy, North Carolina in the 1930's. These enduring artists have collectively written over 300 songs, which include gospel greats such as "They're Holding Up the Ladder" and "Thank You Lord for Your Blessings on Me." Both of these Dove Award winning classics highlight this very special new album.
The Harper Family is nominated for THROUGH IT ALL which was produced by Tim Surrett. THROUGH IT ALL is The Harper Family's fifth release, their second on the Pisgah Ridge/Crossroads label. From the hills of the Ozarks in Missouri comes this modest, talented family, brimming with faith. The family consists of parents Gaylon and Katrina Harper. Dalton plays guitar and has a powerful voice. His songwriting skills show the deep spiritual side to his faith. Dillon plays mandolin and sings. Dillon is also an accomplished songwriter. Dillon is joined onstage by wife, Makeena, who is also from a musical family. "Baby sister," Hannah shares amazing vocals that belie her youth.
For more on the artists:
Tags:
bluegrass
,
Easter Brothers
,
Jeff & Sheri Easter
,
Pisgah Ridge
,
Southern Gospel News
Posted in
announcements
|
Comments Off

on Pisgah Ridge Recording Artists The Easter Brothers and The Harper Family Nominated in the 45TH Annual GMA Dove Awards
Written by SGN Scoops on March 4, 2014 – 5:55 am -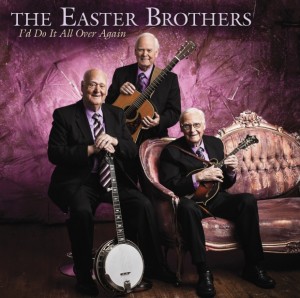 The legendary Easter Brothers have released their first project in over a decade on Pisgah Ridge/Crossroads Records – "I'D DO IT ALL OVER AGAIN."  From the Blue Ridge Mountains of North Carolina, siblings Russell, James and Ed have given us smooth family harmonies once again.
Not only does the project include original songs written by the brothers, but also songs penned by the Award-winning Songwriter, Gerald Crabb.  "These guys are my Heroes! Singing over 60 years, they gave us one of the church standards, "Thank You, Lord, For Your Blessings On Me". What an honor for them to record 3 of my songs on this album and including me as co-producer. I love the entire Easter Family with all my heart.  Be sure to get your album, It's Great!!"  (Gerald Crabb)
"Let the Hallelujahs Roll," written by Jared Easter, Linda Thompson and Steve Schramm, has debuted at #9 on the Singing News Bluegrass Chart!  Keep listening for great things coming from this amazing family.
Tags:
Easter Brothers
,
gerald crabb
,
Jared Easter
,
Southern Gospel News
Posted in
announcements
|
Comments Off

on EASTER BROTHERS RELEASE FIRST PROJECT IN OVER DECADE
Written by SGN Scoops Staff on May 14, 2013 – 9:56 am -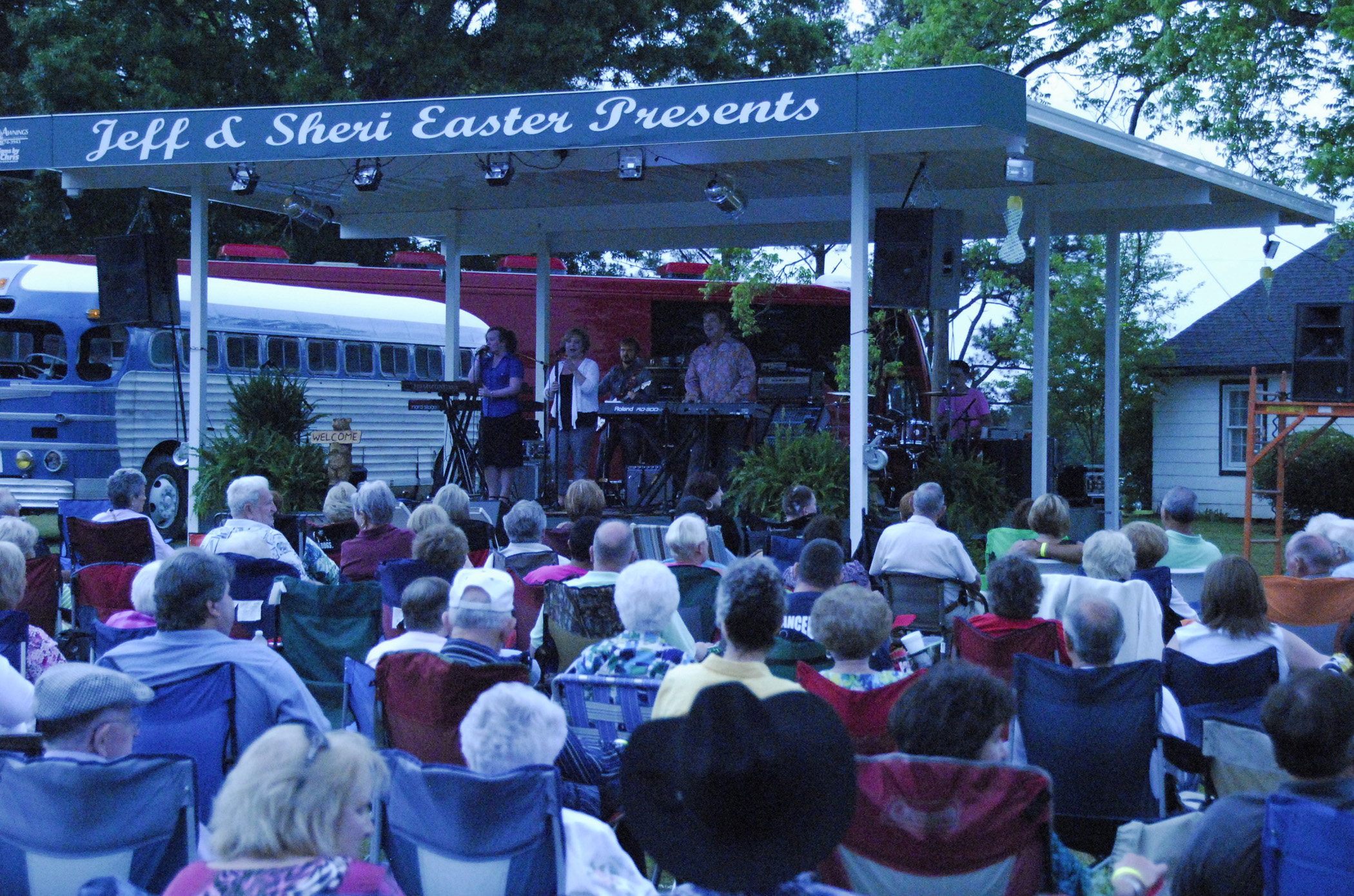 "Jeff & Sheri Easter rock," exclaimed Mallory Shires, age 8. Shires and her sister Alyssa along with other youth at the event actually joined Jeff & Sheri to sing "Sitting on Top of the World."
The Lewis Family Homeplace teamed with hundreds of fans each night for the Jeff & Sheri Easter Homecoming in Lincolnton, Ga.
Carl and Ruby Johnson of Augusta, Ga. attended all three days of the 5th annual Mother's Day event.
"It's been awesome," she said. "Jeff & Sheri are so great and I just loved Lynda Randle and Little Roy."
Fans traveled from throughout the country to gather at the historic site honoring the legacy of America's First Family of Bluegrass Gospel music.
"It was a wonderful celebration of the Creator of the universe in praise of our Savior who continues to love and watch over us," said Carolyn White of Charlotte, NC.
Lynda Randle, Little Roy Lewis and Lizzy Long Show, Karen Peck & New River, Lewis Tradition and Jason Crabb joined Jeff & Sheri Easter as they raised several thousand dollars for the Lewis Family Homeplace Restoration Fund.
"God brought some wonderful performers to share His message and His hope through their talents with all our friends who gathered at the homeplace," said Jeff Easter.
In addition to the evening concerts Sheri hosted a women's brunch featuring her personal devotion on peace on Saturday morning.
"I think it gave me a better understanding of what peace is really all about even in the troubled times and how you don't need to worry your life away," said Lisa Lane of Brunswick, Ga.
On Saturday, nearly 30 contestants performed contemporary, Southern, country and bluegrass gospel for a talent contest to win 10 hours of studio time produced by Jeff Easter. Three independent judges including the current Miss Macon, Georgia, decided the winner from among the performers.
The Griggs of Stanley, N.C. featuring Pete Grigg, Terry Grigg, Wayne Billings, Arnold Clayton and Zolia Clayton won the contest.
On Saturday night, Jason Crabb brought tremendous excitement to the homeplace with his upbeat and Spirit-filled show. Fans of all ages lined up to spend a few minutes with him after his performance.
"We've had a great time here every night," said Deeann Bailey of Simpsonville, S.C.
As an added bonus James Easter of the Easter Brothers preached a Sunday morning worship service for attendees
featuring music by Jeff & Sheri, James and special musical guest Randall Franks, "Officer Randy Goode," from TV's "In the Heat of the Night."
Two of the newest additions to the homeplace are a 1948 GMC Silverside bus under restoration similar to the first Lewis Family bus and for the convenience of attendees – new bathrooms.
"This year's event was in God's hands as he kept the rain in the area from the event and as He sent so many of his saints to help us prepare and volunteer as we welcomed those who came to support what we are doing at the homeplace," Sheri said. "Hundreds walked through the home seeing the rooms where the Lewis Family grew up, the exhibits on their career and their experience of living here in Lincolnton."
According to Sheri, plans are already underway for next year's event.
"We are growing and pray that every year as we gather here, folks will only find greater blessings by making this event part of their annual plans," she said.
Tags:
"Little" Roy Lewis
,
Easter Brothers
,
Jason Crabb
,
Karen Peck & New River
,
Lewis Tradition
,
LYNDA RANDLE
,
Officer Randy Goode
,
Soutehrn Gospel Concert
,
Southern Gospel News
Posted in
announcements
|
Comments Off

on Fans flock to Lincolnton for Jeff & Sheri Easter's Homecoming
Written by SGN Scoops Staff on April 13, 2012 – 9:30 am -
{EHA-Nashville, TN} Sensational Southern Gospel songwriter and recording artist, Tammy Jones-Robinette, will be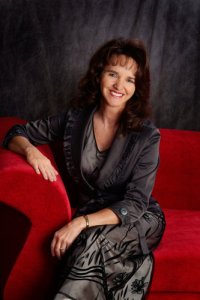 showcased on Great American Gospel television starting Friday, April 13. The show is produced by Danny Kramer, who will be featuring Tammy with some of her recent popular hits, including; There's a Bloodline, Rise Up My Children, and Proud to be Christians. As more shows are broadcast, viewers will enjoy more of Tammy's award-winning original songs, making her one of Southern Gospel music's favorite writers and recording artists. With her exceptional ability for songwriting and singing, Tammy has garnered 25 Top 80′s in Singing News, and her 30 year history in the ministry has spun out a #1 for the Bishops and a #7 for the Perrys. Great American Gospel was founded by Danny and Dee Kramer, who have long been recognized as innovators in Gospel Music media. When the Kramers' partnered with David White and America Media Group, their mission was to broaden the Christian music viewing audience by taking the show to major networks. Today, FOX, NBC, and numerous major networks air the program, as hundreds of millions of viewers enjoy Great American Gospel in more than 200 countries around the world, with more than 200 tv station affiliates. Along with Tammy Robinette, other household names in Gospel music are featured on the show, including; Gerald Crabb, Anchormen, Blackwood Brothers, Easter Brothers, Florida Boys, Brian Free and Assurance, Chuck Wagon Gang, Dixie Melody Boys, Dixie Echoes, and more. In addition, producers, Danny Kramer and Russell Easter, Jr. are adding the Bluegrass Road Television program that will be featuring Dailey & Vincent. For more info on Tammy Jones-Robinette: Jim Robinette: 419-602-7471, Management: EHA-Nashville, 615-545-1241 or 256-616-4872 For more info about Great American Gospel and a list of viewing stations: http://greatamericangospel.tv/the-show/
Tags:
America Media Group
,
anchormen
,
Blackwood Brothers
,
brian free and assurance
,
Chuck Wagon Gang
,
Dixie Echoes
,
Dixie Melody Boys
,
Easter Brothers
,
florida boys
,
gerald crabb
,
Great American Gospel television
,
southern gospel
,
Southern Gospel News
,
Tammy Jones- Robinette
Posted in
announcements
,
christian entertainment
|
Comments Off

on Tammy Jones-Robinette on Great American Gospel TV Broadcasting Worldwide