Written by SGN Scoops Staff on January 21, 2015 – 12:01 pm -
Country Legend Marty Stuart to Host Film & Live Performance
Franklin, TN  — On Tuesday, February 10th, 2015 New Haven Films will screen a full-length documentary celebrating the 75-year history of The Chuck Wagon Gang entitled "America's Gospel Singers, The Legacy Lives On" at 7PM in Tennessee's historic Franklin Theatre.
The project, developed by Marty Stuart and filmed by world-renowned photographer Jack Spencer, chronicles the group's history through rare family photographs, poignant personal stories, old recordings, new live performances and features special appearances by Merle Haggard, Charlie Daniels, Connie Smith, Eddie Stubbs, Dan Rather, Norah Lee Allen, and Duane Allen of the Oak Ridge Boys.
The inspiring documentary, which is being released in DVD format by New Haven Films, is being released concurrently with "Meeting in Heaven–The Chuck Wagon Gang Sings the Songs of Marty Stuart" a brand new CD of songs written by Country Music legend, Marty Stuart.
Stuart reflects, "I found myself writing an entire album for the group–songs I hope will form a new legacy for the current Chuck Wagon Gang. Although they live in the shadow of a titanic body of work created by their ancestors, there is no doubt in my mind the current group will make a mighty and long-lasting contribution to the storied history of the Chuck Wagon Gang."
Ken Harding, president of New Haven Records and Films, couldn't be more excited about the debut of these projects: "Rarely do we have the privilege of standing at the crossroads where country, bluegrass and gospel music so meaningfully converge with American history and culture. The timeless hope embodied in the Chuck Wagon Gang is as relevant today as it was when they began during the Great Depression three-quarters of a century ago."
Tickets for this once in a lifetime event are available for $25 and $35 online at www.franklintheatre.com. Doors open at 6PM and the event, hosted by Marty Stuart, begins at 7PM. Following the screening, The Chuck Wagon Gang will perform a few of their classic favorites.
For more information, contact Keri Sawyer (615) 327-3300 at ksawyer@newhavenrecords.com
Tags:
charlie daniels
,
Chuck Wagon Gang
,
Connie Smith
,
Dan Rather
,
eddie stubbs
,
Merle Haggard
,
Norah Lee Allen
,
Southern Gospel News
Posted in
announcements
|
Comments Off

on Chuck Wagon Gang Documentary To Premiere At Historic Franklin Theatre
Written by SGN Scoops on October 5, 2012 – 3:34 pm -
Doyle Lawson received the honor of induction into the International Bluegrass Music Hall of Fame during the 23rd Annual IBMA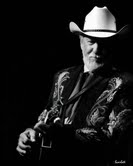 Awards at Nashville's famed Ryman Auditorium on Thursday, September 27, 2012.
Lawson received a thunderous standing ovation following his introduction by heralded WSM and Opry announcer Eddie Stubbs.
In a classic line from Doyle's acceptance remarks, he said with a big grin and twinkle in his eye, "Just because I'm in the Hall of Fame doesn't mean I'm done!"
Doyle Lawson & Quicksilver's debut of their new song "Dixie Road" at the Ryman that evening brought the house down, so being 'done' definitely does not appear to be anywhere on Doyle Lawson's agenda!

Lawson and his music seem to keep getting better, as echoed by Charlie Sizemore, attorney and respected musician who shared the stage with the likes of Dr. Ralph Stanley before starting his own band in 1986. Charlie recently shared in congratulatory remarks to Lawson:  "Doyle has set a high bar – even for himself. But having recently seen and heard him – and having known him for a lot of years, I would not be the least bit surprised if the best music from Doyle Lawson is yet to come."
Of his Hall of Fame Induction, Lawson shared:
"I woke up this morning reflecting on my week at IBMA and how humbled I feel by all that transpired this week. Then I thought of how many of the pioneers that planted the seeds for the birth of the IBMA never got to enjoy the fruits of their labor.  Had it not been for them, none of us would be enjoying the Bluegrass sounds of music.  So here I am almost 50 years after arriving in Nashville to play banjo for Jimmy Martin having no aspirations other than to be a bluegrass musician in a band.. I never dreamed it would come to this. I am blessed beyond belief to be inducted into IBMA's Hall Of Fame. To be there with heroes is indescribable. My heartfelt thanks to everyone for their congratulations. And I thank God for it all. To Him be the Glory!"
Doyle Lawson & Quicksilver are currently in studio laying down tracks for their upcoming album, scheduled to be released in early 2013.
Photo by Anthony Scarlati, www.scarlati.net.
Tags:
bluegrass
,
Doyle Lawson
,
Doyle Lawson and Quick Silver
,
eddie stubbs
,
IBMA Awards
,
International bluegrass Music Hall of Fame
,
Opry
,
Ryman Auditorium
Posted in
announcements
|
Comments Off

on Doyle Lawson Expresses Gratitude for Hall of Fame Honor
Written by Scoops Staff on December 3, 2010 – 6:38 am -
IVE BROADCAST ON WSM FROM THE COUNTRY MUSIC HALL OF FAME AND MUSEUM'S FORD THEATER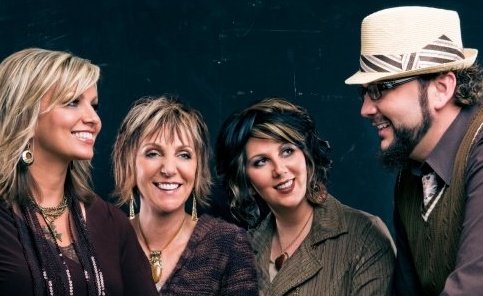 NASHVILLE, TN – THE ISAACS will be the special guests on Monday, December 6, 2010 during "AN INTIMATE EVENING WITH EDDIE STUBBS" at the COUNTRY MUSIC HALL OF FAME AND MUSEUM'S FORD THEATER in Nashville, TN. The national radio show, hosted by CMA Award Winner EDDIE STUBBS, airs live on 650 AM WSM and WSMOnline.com.
"We've been a big fan of Eddie Stubbs and his incredible contribution to the world of music through the years," said Lily Isaacs. "It is an honor for our family to be on his show and share stories of our personal lives."
Tickets to the live broadcast are available only by winning them from WSM on-air or the web site. Click here to register for tickets.
The Isaacs will discuss their career and new project THE ISAACS – CHRISTMAS which has been in the Billboard Bluegrass Charts Top 5 since its September 28, 2010 release.
ABOUT THE ISAACS:
The Isaacs, a multi-award winning family group who began singing 30 years ago, are based out of LaFollette, TN (30 min north of Knoxville). Lily Isaacs, Ben Isaacs, Sonya Isaacs and Rebecca Isaacs Bowman have a unique style that blends tight, family harmony with contemporary acoustic instrumentation that appeals to a variety of audiences. They perform frequently at the Grand Ole Opry, are active members on the Gaither Homecoming Videos and Concert Series and travel throughout the year performing internationally.
Lily Isaacs, matriarch of the group, was born in Germany after World War II to two Jewish Holocaust survivors and moved to the United States when she was 2 years old. She grew up in the Bronx, NY studying theatre and performing on Off Broadway and in 1968 recorded a folk album on Columbia Records with her friend as "Lily and Maria." She became a Christian in 1971 when a death in the family brought her and patriarch Joe Isaacs to church for the first time. That night, they began singing Christian music and laid the foundation upon which the Isaacs ministry has been built.
Siblings Ben, Sonya and Rebecca all sing and play different instruments. Ben, the oldest, sings and plays upright bass on stage. He spends much of his off time in the studio producing and playing bass on numerous other artists' albums including Merle Haggard, George Jones, a Jimmy Martin Tribute Project and Cherryholmes, and has received 5 Grammy nominations for the latter two artists. He arranges many of the Isaacs songs and is their sound technician on tour. Ben and his wife Melinda and their three children, Jacob, Cameron, & Kyra, make their home in Hendersonville, TN. Sonya, also living near Nashville, TN is married to Jimmy Yeary, and is the middle daughter and mandolin player/vocalist for the Isaacs. Sonya's husband Jimmy recently co-wrote the Rascal Flatts' hit "Why Wait." Rebecca, the youngest sister, sings and plays guitar and resides in LaFollette, TN with husband John Bowman and their 2 children, Levi and Jakobi. Sonya and Rebecca collaborate on many of the Isaacs songs and have penned most of their hits. They have also penned songs for many other artists including Gold City Qt, Trisha Yearwood, Mark Lowry, Vince Gill, Cherryholmes, Jeff and Sheri Easter, and many others. Sonya is a songwriter for Disney Music Publishing and appears in the 2009 Hannah Montana Movie as a background singer for Miley and Billy Ray Cyrus.
The Isaacs have made frequent guest appearances on many other artists records including Dolly Parton, Trace Adkins, Brad Paisley, Paul Simon, Vince Gill, Randy Owen, Trisha Yearwood, Ralph Stanley, Mark Lowry, and many more. They enjoy singing and traveling most though, and provide a professional, style sensitive performance wherever they go.
For more information, visit www.TheIsaacs.com, www.facebook.com/theisaacs, and www.twitter.com/isaacsmusic.
ABOUT WSM:
650 AM WSM's first official broadcast day was October 5, 1925. The station is the radio home of the Grand Ole Opry, which has been broadcast live over the airwaves since its inception. WSM can be picked up in 38 states on 650 AM and worldwide on www.wsmonline.com. 650 AM WSM is owned by Gaylord Entertainment (NYSE: GET), a Nashville-based hospitality and entertainment company that owns and operates Gaylord Hotels and the Grand Ole Opry. For more information, visit www.wsmonline.com or www.gaylordentertainment.com.
Tags:
concerts
,
eddie stubbs
,
nashville
,
the isaacs
Posted in
gospel events
|
Comments Off

on THE ISAACS TO APPEAR ON "AN INTIMATE EVENING WITH EDDIE STUBBS"