Written by Staff on January 8, 2019 – 12:28 pm -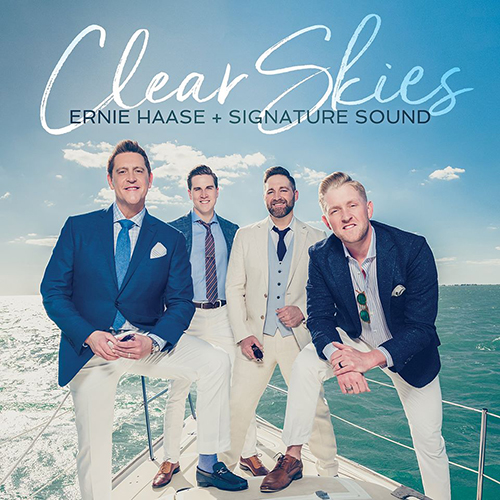 Ahead of the 61st Annual GRAMMY®  Awards, 
Ernie Haase & Signature Sound are celebrating their nomination in Gospel Roots Category 40 by releasing their impassioned "Sailing with Jesus" video on Parade.com this week.
The "beautiful, calming and upbeat song and video perfectly 
showcases
  this act's substantial vocal and writing talent" (Parade.com), which is included on their GRAMMY® nominated project Clear Skies.
The quartet's tenor, Ernie Haase, is also an accomplished songwriter and co-wrote seven of the 13 songs on the project.  
"This has been a challenging year for Ernie Haase & Signature Sound, but with this nomination, I really do see Clear Skies, and it feels great! It took us two years to get Clear Skies to the finish line. Each lyric, each phrase and each note was carefully crafted.
Throughout the process, I knew we had something special. I would put the sonic quality of this album up against any other album in any other category and no one can beat our message," Haase shared with Parade.com. 
CLEAR SKIES TRACK LISTING
1. CLEAR SKIES
2. HEAVEN IS
3. GIVE ME JESUS
4. SAILING WITH JESUS
5. AS FOR ME AND MY HOUSE
6. GIVE THEM ALL TO JESUS
7. A LONG LINE OF LOVE
8. LOVE TOOK HIS BREATH AWAY
9. THREE MEN ON A MOUNTAIN
10. YOU'LL FIND HIM THERE
11. MY HALLELUJAH
12. WALKING THROUGH FIRE
13. LONGING FOR HOME
To order Clear Skies, click HERE. 
Read the latest issue of the SGNScoops Magazine HERE.
Download SGNScoops Magazine PDF 
Here
Find SGNScoops Magazine On Facebook 
Here
Listen To Today's Gospel Music 
Here
Tags:
Christian Music
,
Clear Skies
,
Ernie Haase
,
Ernie Hasse And Signature Sound
,
gospel music
Posted in
announcements
,
artists
|
Comments Off

on ERNIE HAASE & SIGNATURE SOUND SHARES "SAILING WITH JESUS" ON PARADE.COM IN CELEBRATION OF GRAMMY® NOMINATION FOR CLEAR SKIES
Written by SGN Scoops Staff on April 19, 2013 – 12:19 pm -
Paul Harkey Of  Ernie Haase and Signature Sound

Welcomes Son
Weston James Harkey was born at 7:48 am this morning. Weighing in at 10lbs 10oz and 23 inches, he's gonna be a big boy!!! :-)))))
Here's Mommy and Son's first photo together!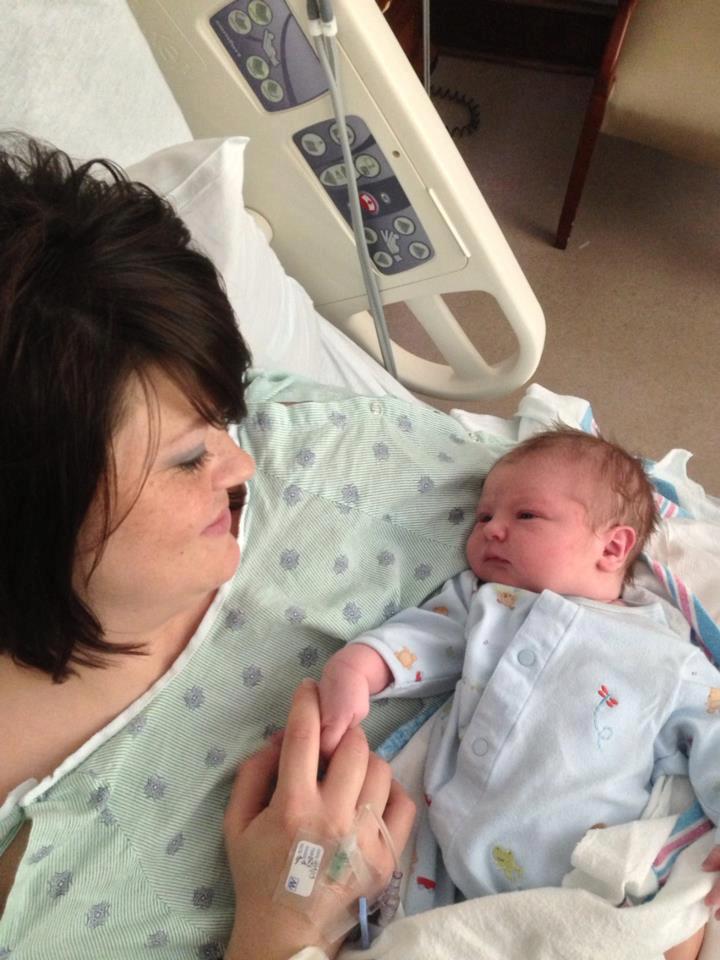 Tags:
Ernie Hasse And Signature Sound
,
Paul And Jennifer Harkey Welcome Son
,
Southern Gospel Music
,
Southern Gospel News
Posted in
announcements
|
Comments Off

on Paul And Jennifer Harkey Welcome Son
Written by SGN Scoops Staff on October 23, 2012 – 1:40 pm -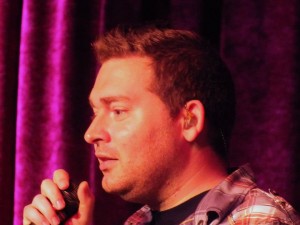 Since the departure of long time bass singer Matt Fouch, in mid August, Soul'd Out Quartet has been diligently seeking God and following his leading in the attempt to find the right person to be our bass singer. Despite having met many great people through the audition process, we (the men of Soul'd Out) had made the decision to remain a trio unless God provided the absolute right fit for our team and ministry.
Soul'd Out Quartet is thrilled to announce that God has provided us with the right bass singer!! We are so excited to have Ian Owens joining the Soul'd Out family! You may have heard Ian's name before as the bass singer for Gospel Quartets such as "The Imperials" and "Ernie Haase and Signature Sound". Ian has 12 years of full time ministry in gospel music and we are so pleased that this chapter of our lives brings us together to proclaim the Good News!! Ian's first appearance with Soul'd Out will
be on November 9th, 2012. We ask for your prayers for both Ian and the current Soul'd Out members as we transition into this new and very exciting time. God has great things in store for this ministry! Come and see us when we are in your area and welcome Ian aboard! Dusty, Michael, Bryan, Rick and Matt.
From: Ian Owens
"After spending a weekend on the road with Soul'd Out Quartet, I know beyond a shadow of a doubt that joining their team is God's will for my life. I am very excited to have the opportunity to spread the Word of God with such strong men of faith and integrity! Matt, Bryan, Dusty, and Michael all have such a sincere and earnest desire to see souls won and lives changed. I absolutely can not wait to be "pounding the pavement" with these awesome men! However…..I'm scared I may not be much of a bass singer for them if I'm always hoarse from laughing at them! They're funny!!"
Ian
Tags:
Ernie Hasse And Signature Sound
,
Faith
,
Ian Owens
,
soul'd out quartet
,
southern gospel concerts
,
Southern Gospel News
Posted in
announcements
|
Comments Off

on Soul'd Out Quartet Adds Ian Owens As New Bass
Written by Rhonda on September 1, 2010 – 4:27 am -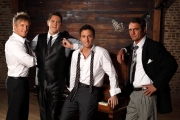 ESPN TO BROADCAST EVENT LIVE
NASHVILLE, TN (August 31, 2010) – Ernie Haase & Signature Sound will perform the National Anthem prior to the Emory Healthcare 500 NASCAR Sprint Cup Series night race at Atlanta Motor Speedway on Sunday, Sept. 5.
The patriotic pre-race event will feature the group performing the National Anthem, preceded by, "I Pledge My Allegiance." The group will be joined by a choir from Hampton First Baptist Church in Hampton, GA. During the performance, local families of fallen military members will join Ernie Haase & Signature Sound in the Atlanta Motor Speedway Infield where they will help display a vast American flag to honor America's soldiers.
Ernie Haase commented, "We are honored to sing the National Anthem at the Emory Healthcare 500 NASCAR Sprint Cup Series. We are grateful to Ed Clark, the president of the Atlanta Motor Speedway for giving us a chance to celebrate America and the Altanta Motor Speedway's 50th Anniversary."
In addition to Sunday's performance by Ernie Haase & Signature Sound, pre-race entertainment will be provided by legendary rock band Foreigner.
ESPN will broadcast the Emory Healthecare 500 NASCAR Sprint Cup Series live at 7:30pm (EST) / 6:30pm (CST).
The biggest Labor Day party in the USA is at Atlanta Motor Speedway for the Emory Healthcare 500 race weekend on Sept. 3-5. For more information or to purchase tickets, contact the Atlanta Motor Speedway Ticket Office at 770-946-4211, 877-9-AMS-TIX, or visit www.atlantamotorspeedway.com.
Tags:
Atlanta Motor Speedway
,
Ernie Haase
,
Ernie Hasse And Signature Sound
,
ESPN
Posted in
announcements
|
Comments Off

on EHSS SINGS NATIONAL ANTHEM AT NASCAR RACE, ESPN BROADCASTS LIVE