Written by SGN Scoops on June 18, 2012 – 12:07 pm -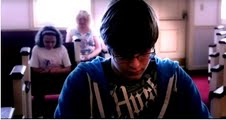 Nashville – Eternity's Crossing released "Stand Strong" produced was launched YouTube this week.  The all-female trio from West Virginia is already seeing good results from the launch, quickly reaching close to 400 views in only a few short days.
"We believe that God is going to do great things with this video" said EC vocalist Karen Meadows.  The video tells the story of a heartwrenching car accident that leaves a young teenager unable to walk.  Throughout the video is captured his struggles to keep the faith in a small tabernacle where he reaches out to God.
"The song definitely provokes emotion," said Brittany Maxwell, Director of Media at Godsey and Associates, "People are going to like this video. The ladies do a great job at showing their hearts in it. They are some awesome ladies of faith because I can tell they believe what they are singing."
"Stand Strong" is now available to view on the Godsey and Associates YouTube Channel (youtube.com/godseyandassociates).  In addition to the video, Eternity's Crossing is offering the song as a free ringtone, available to download now on their website (eternityscrossing.com).
The group is also active in posting updates and statuses on the popular social media site, Facebook.
Check out their fan page here:
https://www.facebook.com/pages/Eternitys-Crossing/123384107723888.
To find out more about Eternity's Crossing, visit www.eternityscrossing.com
To find out more about Godsey and Associates, visit www.godseyandassociates.com
Tags:
Brittany maxwell
,
Eternity's Crossing
,
Godsey and Associates
,
Karen meadows
,
Southern Gospel News
Posted in
announcements
|
Comments Off

on Eternity's Crossing Release "Stand Strong" Official Music Video
Written by SGN Scoops Staff on March 16, 2011 – 10:36 am -
Nashville, TN-  Heartwarming Records ( a division of Homeland Entertainment Group) has recently

released their new project titled "Keep On Running".
This ladies quartet is comprised of Group members Karen Meadows, Dorothy Clark, Larah Gravely and Vicki Birchfield.  Eternity's Crossing is based in Shady Spring, West Virginia and they possess tight harmonies with an exciting style of the manner they present the gospel.  Ten selections from the pen of such writers as Melinda Standiford, Roni McCaslin, Alan Brady, Martha Drake, group member Larah Gravely and others complete this recording.  Their latest single which is also the title cut from the recording "Keep On Running" is being well received at radio.
Heartwarming Records is enthusiastic about the future of Eternity's Crossing and is anticipating more people become fans and friends of their music as they travel singing to new audiences.  You can find further information on Eternity's Crossing at www.eternityscrossing.com or www.homelandentertainmentgroup.com
Tags:
Eternity's Crossing
,
Heartwarming Records
Posted in
announcements
,
christian entertainment
|
Comments Off

on Eternity's Crossing Releases New Project with Heartwarming Records