Written by SGN Scoops on May 29, 2012 – 3:42 am -
Fiddlers, guitarists, mandolinists, bands and cloggers from states across the south descended on Ringgold, Ga. May 26, 2012 to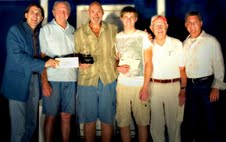 compete in the 1890s Day Jamboree Old Time Fiddlers Convention.
Fiddlers of all ages rosined up their bows and cloggers kicked up their heels to win nearly $7,000 in prize money on the Northwest Georgia Bank stage at the historic Catoosa County Courthouse.
"Each year it is amazing to see all the new contestants that travel to be part of this event," said contest organizer Lewis Taylor. "Our volunteers work hard to make this event an enjoyable one for contestants and attendees alike. I am sure that is one of the reasons we see it grow every year."
Taylor is a champion harmonica player winning titles in several states and numerous contests.
Johnny Ray Watts of Lineville, Ala. won the Randall Franks Trophy at the 1890s Day Jamboree for the third time.
Watts also won the 22-50-age category for the chance to compete for the trophy.
In the fiddle off, he faced Doug Fleener of Leitchfield, Ky., from 16-21 age category, who placed second, and Mack Snoderly of Clyde, N.C., winner of the 51 and up category, who placed third.
The top prize is named in honor of Appalachian Ambassador of the Fiddle Randall Franks, "Officer Randy Goode" from TV's "In the Heat of the Night." He cheered the top three competitors on in their bid to win the Randall Franks Trophy and the $500 prize. He presented the winners on the main stage with Taylor and emcee Kevin Mudd.
Once holding the title of Georgia State Bluegrass Champion, the International Bluegrass Music Museum Bluegrass Legend and Atlanta Country Music Hall of Fame inductee is a former member of Bill Monroe's Blue Grass Boys, Jim and Jesse's Virginia Boys and numerous other groups who as a guest star often shared his talents for the Grand Ole Opry. Franks co-hosts the Grand Master Fiddler Championship in Nashville each year. For more information, visit randallfranks.com.
"What a wonderful day of Appalachian fiddle and dance traditions performed from all ages," he said. "We had an amazing explosion in contestants for the 10 and under fiddle category this year, which was exciting to see."
Main Stage Fusion won the team dance competition, Center Stage took second place and Mainstream won third and Main Stage Old Timers received fourth. All the groups were from Springfield, Tenn.
In the bluegrass band competition A Step Ahead of Greenbrier, Tenn. won first place with Cadillac Creek of LaGrange, Ga. taking second, Outta the Blue of Lenoir City, Tenn. took third, Cedar Ridge of Chattanooga, Tenn. earned fourth and Junction Grass of Ringgold, Ga. received fifth.
Joel Whittinghill of Bowling Green, Ky. won both the guitar and mandolin contests.
The next 1890s Day Jamboree Old Time Fiddlers Convention will be Memorial Day weekend Saturday 2013 in Ringgold, Ga. For more information, visit www.cityofringgold.com.  Read more »
Tags:
1890's Day
,
Bluegrass Music
,
Fiddle competition
,
Randall Franks
,
Southern Gospel News
Posted in
announcements
|
Comments Off

on Ringgold's 1890s Day Jamboree Old Time Fiddle Convention highlights talent of all ages