Written by SGN Scoops on December 17, 2012 – 7:21 am -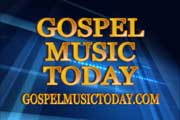 The members of Brian Free and Assurance are the guests on the current edition of Gospel Music Today.  Ken and Jean Grady host southern gospel news and concert updates.  The Feature Group is The Murray Family, and Jean reviews a new CD by Four Fold.  The show has singing by The Melody Boys Quartet, a new music video by Brian Free and Assurance, and exclusive concert footage of The Ascension Quartet, recorded by Gospel Music Today's cameras at the Southern Gospel Worship Gathering in Broken Arrow, OK.  The show is online now at
www.gospelmusictoday.com
, and it's on every Monday at 6:00 PM on KWHB TV47 in Oklahoma.
Tags:
brian free and assurance
,
Four Fold
,
Gospel Music Today
,
Southern Gospel News
,
The Melody Boys Quartet
,
The Murray Family
Posted in
announcements
|
Comments Off

on Brian Free and Assurance Interview and Video on Gospel Music Today This Week
Written by SGN Scoops Staff on October 24, 2011 – 7:18 pm -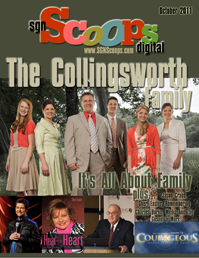 We are proud of this month's issue of SGNScoops Magazine. In the October edition, read the inside Scoop on the Collingsworth Family, Jason Crabb, Sheri LaFontaine and Adam Brown. This month's album reviews feature new music from Russ Taff, Selah, Four Fold and Crawford Crossing.  Be sure to read a review on Sheri Easter's new book, "Hear My Heart."  Staff writer, Lorraine Walker has written part one of a three part series concerning the media and the gospel. This month, the focus is on the Christian Film Industry and  the new movie "Courageous" is highlighted. Publisher, Rob Patz shares his thoughts about NQC  and the late Charles Burke is remembered by many friends in this issue. As always, this edition offers plenty of inspiration and encouragement to lift spirits. We are proud of our experienced staff of writers for bringing the latest developments in the Southern Gospel Industry with integrity. This month's contributors include Sandi Duncan Clark, Lorraine Walker, Stephanie Kelley, Rob Estep, Jeff Hawes, Lou Wills Hildreth, Jennifer Campbell, Victoria Shirey, Laurette Willis, Rhonda Frye, Rob Patz and our newest addition- John Mathis Jr.  We also welcome our new layout/ graphic designer, Pete Schwager to the staff. Thank you for reading SGNScoops magazine and please remember to share it with your friends! Click Here
Tags:
Charles Burke
,
collingsworth family
,
Courageous The Movie
,
Four Fold
,
Jason Crabb
,
jeff hawes
,
Jennifer Campbell
,
Laurette Willis
,
Lorraine Walker
,
Lou Wills Hildreth
,
Rhonda Frye
,
Rob Estep
,
rob patz
,
russ taff
,
Sandi Duncan Clark
,
Selah
,
Sheri LaFontaine
,
southern gospel
,
Southern Gospel News
,
Stephanie Kelley
,
Victoria Shirey
Posted in
sgn scoops magazine
|
Comments Off

on October Issue of SGNScoops Magazine
Written by SGN Scoops on September 25, 2011 – 4:05 am -
Newmarket, NH September 22, 2011.The American Society of Gospel Music (ASGM) is

pleased to welcome to their newest gospel member groups: Four Fold, The King's Heralds, One Less Stone, and Praise Incorporated. Having met ASGM at the recent National Quartet Convention, the groups decided ASGM provided the perfect venue to reach their audiences through Artist & Group Discussion Boards, Live and Interactive Web Events, and Online Concerts.
All three groups had some specific ideas in mind, from reaching their global fan base and sharing their homecoming concerts, to doing a global broadcast of a benefit concert. They found ASGM online events to be the solution they were looking for.
"We're honored to have such leaders in the gospel music industry join ASGM," said Steve Case, Director of Events and Membership. "In talking with the groups, they expressed the need to reach fans who couldn't always come to where they were playing. ASGM provides that solution through our online, interactive platform."
Look for upcoming dates on The American Society of Gospel Music (ASGM) website. For more information, visit www.theasgm.org
About The American Society of Gospel Music (ASGM)
Where Artists and Fans Connect
he American Society of Gospel Music (ASGM)
is a membership-based organization where artists and fans connect. Our purpose is to broaden and deepen the connection between gospel music artists and fans through a variety of social networking channels.
ASGMprovides access to the groups and their music, through discussion boards and other Web 2.0 tools. Members also participate in Live and Interactive web events, where the groups interact live and discuss their ministry in a personal setting. ASGMalso provides online concerts, providing a venue to inspire other Christians, from those who may have previously been out of reach, to those who share a deep commitment to the gospel.
ASGMreaches all people, from those who may not have had the opportunity to become familiar with the gospel, as well as provide real-time access to artists and groups to share and expand the messages through the music we all love. For more information on the association, or to view upcoming events, please visit www.theasgm.org
Tags:
American Society of Gospel Music
,
Four Fold
,
One Less Stone
,
praise inc.
,
Southern Gospel Music
,
Southern Gospel News
,
The King's Hearalds
Posted in
announcements
|
Comments Off

on Four Fold, The King's Heralds, One Less Stone, and Praise Incorporated Join The American Society of Gospel Music (ASGM)
Written by Rhonda on August 31, 2010 – 1:42 pm -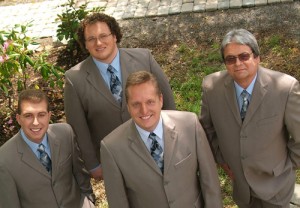 Sharps Chapel, TN- Four Fold Quartet and Chapel Valley are pleased to announce that they have reached a recording, marketing and radio promotion agreement.The Quartet will be signed to the Sanctuary Label. This agreement also includes that they will be involved with Chapel Valley's, SonShine Promotions, which includes their popular and often sold out cruises, Christmas in the Smokies and other various events around the country.
 
Four Fold's owner and Tenor singer, Greg Powers, is not only excited about the highly anticipated recordings that they will release with Chapel Valley, but also all the opportunities that the record company has to offer. Greg is ecstatic about the hiring of Floyd Cairns as their new bass vocalist. He has just come aboard with the group and their friends and fans will enjoy his bass singing.
 
Richard Hyssong, Marketing and Artist Director for Chapel Valley, appreciates the fact that Four Fold has always kept a high standard in gospel music as well as their witness for God. "They have had a successful 30 years in southern gospel music and our record company knows that even better days are ahead for this high energy group. Greg Powers and I are currently working on getting a song out to radio soon. It has been almost a year since their last release and DJ's are really anticipating their next one. It will be our privilege to promote their next song off our compilation disc," states Richard.
 
From day one of negotiations both Four Fold and Chapel Valley knew that they would be a good fit. "Sometimes you just know that musically and spiritually you connect," states Shane Roark, Co-owner of Chapel Valley. "We are already planning their upcoming project with us and cannot wait for the the southern gospel world to hear it!"
 
For more information about Four Fold go to www.four-fold.com. You can also keep updated about Chapel Valley by going to www.chapelvalleystudio.com. If you or your group would like to know how you can become part of Chapel Valley contact Richard at cvradio1@hotmail.com.
Tags:
chapel valley
,
Floyd Cairns
,
Four Fold
,
Greg Powers
,
Shane Roark
,
SonShine Promotions
Posted in
announcements
|
Comments Off

on Chapel Valley Signs Four Fold