Written by Staff on July 3, 2019 – 9:55 am -
4One Quartet based out of Reed City, Michigan, is seeking a tenor to replace John Croy, exiting the group on July 16.
Group owner Jim Quales formed the group in 2012 based on the concept of 4 guys singing for one God.  
The group carries a full schedule and needs to fill the vacancy as soon as possible.  Relocation is not necessary.
If you are interested in auditioning, please email a photo, your testimony, and an audio and video sample to Jim Quales at jimquales@yahoo.com.  
Find 4One on Facebook HERE.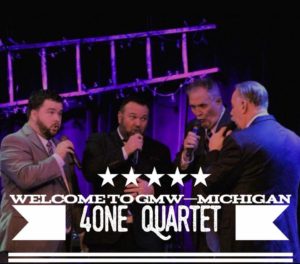 4One is one of the artists scheduled to appear at the Gospel Music Weekend — Michigan.  Rob Patz and Coastal Events are excited to announce that a brand new event is hitting the state of Michigan in 2020. Gospel Music Weekend—Michigan is coming to Ann Arbor June 4-6, 2020.
Taking place in the eclectic southern Michigan college town, known primarily as the home of The University of Michigan, Gospel Music Weekend-–Michigan will feature some fantastic artists from the Great Lakes Region, such as Diamond Award winning Gloryway, Michigan's own Justified Quartet, Diamond Award nominee Cami Shrock, as well as some of the Creekside family of artists including The Dodrill Family, Livin' Forgivin, Ezekiel's Call, Harley Madden, Matchless Grace and Kristen Stanton.
Gospel Music Weekend—Michigan will also be showcasing other talent from Michigan, Indiana, and Ohio and introducing artists from outside the region to the state of Michigan.
Concerts are slated for Thursday, Friday, and Saturday evenings as well as daytime showcases, chapel services, and the popular Midnight Prayer
Gospel Music Weekend – Michigan is also going to be a host location for a Creekside Artist Search. With over one hundred artists currently on a waiting list for Creekside Gospel Music Convention, this will be an incredible opportunity for artists from across the country to be considered for a coveted spot on the Creekside artist roster. The winning artist will sing on the main stage of the Saturday evening concert in Ann Arbor and be afforded the chance to also sing on the main stage at Creekside 2020 as part of the pre-concert festivities. This event will be taking place on Saturday, June 6, 2020, and is open to all artists.
Find Gospel Music Weekend On Facebook HERE
If you are an artist wishing to participate or if would like more information, please send an email to rob@sgnscoops.com.
Read the June SGNScoops Magazine Online HERE
Download June SGNScoops Magazine On PDF
HERE
Find SGNScoops Magazine On Facebook
HERE
Listen To Todays Gospel Music
HERE
Tags:
4One. Michigan
,
Gospe music
,
Gospel Music Weekend
,
Southern Gospel Music
Posted in
announcements
,
artists
|
Comments Off

on Michigan Quartet 4One Seeks Tenor
Written by Staff on January 8, 2017 – 11:16 am -
By Dusty Wells
One of my favorite cherished memories that I hold onto, of my many years of traveling, ministering, taking care of and walking alongside of the late prolific songwriter, artist and my friend Dottie Rambo, was listening to her tell me stories of how she was divinely inspired to write certain songs. Or how she would come up with ideas for her lyrics and music….you see Dottie was not one that liked to be put into a room and told to write something. She hated having deadlines for writing for a new project. She always wanted her heart, life and soul to be open, honest and vulnerable to where she was on her own journey.
Dottie lived what she sang and then she sang what she lived. She chose to live her songs and then share them with the world. Many days and nights of our traveling together or sitting at her house doing work during the evening, I would hear her crying out in pain from her back problems. I knew one of the only things that would help is when she would get in the anointing, so I would start asking her to tell me about her life, her journey, the fans she loved and the story behind the songs.
I had the opportunity to tape many of those conversations via an old cassette recorder that she loved to tape on while recording new song ideas. She always wanted to have a book out on the Story Behind the Songs. We would always end up with tons of used Kleenex tossed aside, and tears and laughter taking us to new places. She had a story for everything or so it seemed. I loved listening to her and I loved to encourage her to tell me more.
This morning as I was out walking, I was doing a little praying and seeking God for some certain answers not only for our life but also for several friends who are in desperate need for answers. I looked around at the beautiful foliage and greenery that surrounds the lake which we live close to, and I was reminded so gently that God is all around us. Yes He is in the churches where we worship, in the concert halls we sing at,and in the grand cathedrals that were built in His honor. He is found in all of those places, but He is right here in our hearts. That is His dwelling place. I felt Him in a fresh way and I knew He was right there with us.
I started humming the classic Dottie chorus, "Holy Spirit Thou Art Welcome," and all of a sudden I remembered her telling me the story of how that song came to be.
The Rambos (Buck, Dottie and Reba) had been invited to sing behind the Iron Curtain in the early '70's. They were told they could sing any and all of their songs, but they could not talk about God or the blood of Jesus if they were to talk and share in between the songs. All they could do was sing the Gospel. Nothing else would be tolerated.
Tags:
Dony McGuire
,
Dottie Rambo
,
Dusty Wells
,
Gospe music
,
Reba Rambo- McGuire
,
sgnscoops
Posted in
announcements
,
Christian interest
,
sgn scoops magazine
|
Comments Off

on Wisdom from Dusty Wells: This Place