Written by SGN Scoops Staff on October 3, 2020 – 3:11 pm -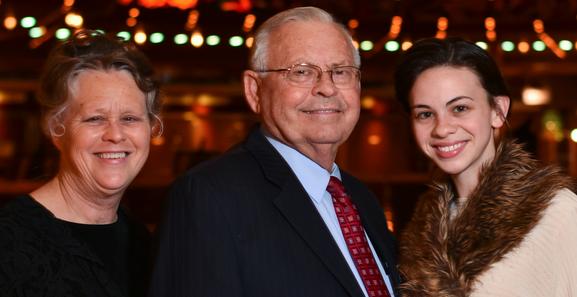 Veteran Indie artist, Denae Joy, is thrilled to present her 7th solo album, "The Scarlet Cord", her 5th to be produced at Daywind Studios in Hendersonville, TN.  The 11 song collection showcases Denae's prolific songwriting, with 10 solid and meaningful originals that span a variety of music styles.  Also included is "He's Been Faithful" a beloved classic by Carol Cymbala of The Brooklyn Tabernacle.
Denae Joy was born and raised in Scottsdale, AZ.  She grew up in a preacher's home and at a young age it became evident she had a heart for God and people, a beautiful voice, and a gift for songwriting. Music ministry came very easily for the young female artist, and she started recording at age 14.  Denae Joy now travels with her parents, The David Abbott Family, and her music continues to bless people across the United States, as well as other countries.
In regards to her latest release, Denae Joy says, "This recording is very special to me. The title song tells the unique story of Rahab of Jericho and her incredible encounter with God's mercy.  This was the first song I've been privileged to involve live orchestrations on, and it really made the lyric come alive!  I believe in the power of music, and my prayer is that this recording will encourage the saint and reach the sinner with the power of the Gospel!"
With a wide variety of styles ranging from Southern Gospel to Classical, this album offers encouraging, meaningful and even fun songs for the whole family.  Be sure to listen for, "I Can't Wait", a new song with a timeless message about heaven and a bluesy, Pentecostal feel.
For more information or to order CDs, you can visit:
Or email:
Tags:
Denae Joy
,
Gospel Music News
Posted in
announcements
|
Comments Off

on Denae Joy, is thrilled to present her 7th solo album, "The Scarlet Cord",
Written by SGN Scoops Staff on November 29, 2019 – 3:14 pm -
Nashville, TN  – Upon returning from performing on IMC's Gospel Music Celebration Mexican Riviera Cruise, StowTown Records artists, Tim Lovelace and Geron Davis, along with Ronnie Booth of The Booth Brothers and Royce Mitchell of Liberty Quartet had a unique opportunity to tour the Taylor Guitars factory in El Cajon, CA.
What made this tour extra special was the fact that Taylor Guitars founder, Bob Taylor, took time out of his busy schedule to lead the tour himself. Taylor humbly shared the history of his renowned company and how he and his business partner, Kurt Listug, have made it a priority to create quality instruments since their 1974 beginnings. He walked the tour group through many areas of the El Cajon factory and explained the detailed process and intricacies of building these magnificent instruments. Comedian/musician Tim Lovelace was impressed with the company's environmental endeavors and shared, "I have owned a Taylor guitar for many years. Guitar players all around the world are fully aware of the quality and innovation of this stellar guitar company. But what really thrills me is the Taylor reforestation projects happening around the globe. We could hear Bob's heart as he discussed the subject of balance and sustainability of the world's precious forests. Giving back more than you take is definitely music to my ears. Many thanks to Bob and Cindy Taylor for all of the time they took with us!"
Acclaimed songwriter/musician Geron Davis had this to say about Bob and Cindy Taylor, "What a joy to spend time with my longtime friends, the amazing guitar guru, Bob Taylor, and his incredible wife, Cindy. Bob has built a staggering global business, and he and Cindy have remained some of the most down-to-earth, precious people I know. I am honored to call them friends and thankful to be able to spend several hours together!"
From beginners to popular touring artists of all genres to world-class studio musicians, Taylor guitars are loved by countless players of all levels of proficiency. For more information about Taylor Guitars, visit their website at www.taylorguitars.com.
Tags:
Gospel Music News
,
Taylor Guitar
Posted in
announcements
|
Comments Off

on StowTown Artists Tour Taylor Guitar Factory
Written by SGN Scoops Staff on July 16, 2019 – 9:17 am -
Nashville, Tenn.  — Larry, Steve & Rudy: The Gatlin Brothers are in full sprint to help aid all those grieving a military loss. The legendary country trio has announced the release of a new running/walking shoe that will be sold to help benefit the Tragedy Assistance Program for Survivors (TAPS). The national non-profit organization provides peer-based emotional support, grief and trauma resources, seminars, camps for kids, casework assistance and a 24/7 helpline. All resources and services are provided at no cost to military survivors.
Designed by Boulder, Colorado-based Newton Running, the TAPS x Gatlin shoe is decked out in red, white and blue, and embedded with the Gatlin Brothers and TAPS logos.
"For 25 years, TAPS has provided support for more than 85,000 loved ones and care givers whose families have made the ultimate sacrifice for the freedoms we all enjoy," explains Bonnie Carroll, TAPS Founder and President. "We have enjoyed a long friendship with the Gatlin Brothers who have always given generously of their time and talent to our families. And, we are so excited that we can now welcome Newton Running to the TAPS Family."
"At Newton Running, we are delighted to be partnering with the Gatlin Brothers on this special edition running/walking shoe to benefit TAPS," adds Newton Running Co-Founder Jerry Lee. "We believe that every great cause begins with movement. This project holds a special place in our hearts as we deeply value all those who have served our country and their families."
On Saturday morning's edition of Fox & Friends, Larry Gatlin unveiled the new shoe. Following his appearance, the sneakers were sold out within three minutes. Newton Running has since ordered its manufacturing team to step up production to accommodate the groundswell of public demand. Pre-orders are available at newtonrunning.com.
The shoe retails for $150.00 with $50.00 of each purchase going to TAPS.
"Great shoes, great people, great cause," says Larry. "Buy 'em. I do!"
Tags:
Gospel Music News
,
The Gatlin Brothers
Posted in
announcements
|
Comments Off

on The Gatlin Brothers Release New Sneakers to Aid Families of Fallen Military Heroes
Written by SGN Scoops Staff on February 23, 2019 – 12:27 pm -
Nashville, Tenn.  – Country Music Hall of Fame member Ricky Skaggs and legendary country group Larry, Steve & Rudy – the Gatlin Brothers are set to appear on this weekend's edition of Huckabee on TBN.
Skaggs joins former Arkansas Governor Mike Huckabee on set to discuss his recent induction into the Country Music Hall of Fame, while the Gatlins appear to perform and celebrate the 35th anniversary of their No. 1 hit song, "Houston (Means I'm One Day Closer to You)."
Catch Skaggs and the Gatlins on
Huckabee
 on TBN this Saturday night,
February 23
 at
7 PM CT / 8 PM ET
. The program will re-air on
Sunday
,
February 24
 at 
7 PM CT / 8 PM ET
. For local listings visit
TBN.org
.
Tags:
Gospel Music News
,
Ricky Skaggs
Posted in
announcements
|
Comments Off

on Tune-In: Ricky Skaggs, Gatlin Brothers Appear on this Weekend's Edition of HUCKABEE
Written by SGN Scoops Staff on November 30, 2018 – 2:30 pm -
Nashville, TN – TaRanda Greene's powerhouse vocals filled the air during Lipscomb University's Lighting of The Green, hosted by superstar, Amy Grant. TaRanda performed "Cool Yule," along with "O Holy Night," which resulted in a standing ovation of thunderous applause from the capacity crowd. 2018 marked the 14th year for the event and is one of Nashville's most cherished holiday traditions.
"'I can think of no better way to kick off Christmas than to be a part of Lipscomb University's Lighting of the Green," said TaRanda. "Thank you, Amy Grant and Lipscomb University, for the honor of allowing me the wonderful opportunity to welcome in the Christmas season with you. It truly was a magical night."
Upon the conclusion of TaRanda's performance of "O Holy Night," Grant commented "I'm going home tonight and buying every single TaRanda Greene project available! Her heart and smile is as big as her voice!"
For more than a decade the Lipscomb University community has celebrated the start of the holiday season with beloved Nashville entertainer Amy Grant and friends at the annual Lighting of the Green concert.
Greene has recorded seven studio albums including her latest, The Healing, released earlier this year. She has been a featured guest soloist with the famed Brooklyn Tabernacle Choir and has performed throughout the world from Europe to Carnegie Hall. Greene performs both as a soloist and a member of the award-winning Christian Music group, Cana's Voice.
From the Lipscomb University event, TaRanda went full-speed ahead into the Christmas touring season. She's headlining a string of tour dates by herself, as well as a Christmas tour with Charles Billingsley and concludes the holiday season as a featured vocalist during the Brooklyn Tabernacle's Christmas production in New York, NY.
Tags:
Gospel Music News
,
Taranda Greene
Posted in
announcements
|
Comments Off

on TaRanda Greene Kicks Off Busy Christmas Tour Season at Lipscomb's Lighting of the Green, hosted by Amy Grant
Written by SGN Scoops Staff on March 27, 2018 – 12:59 pm -
NASHVILLE, Tenn.—Platinum-selling, GRAMMY®-nominated Point of Grace return April 3 with a landmark new collection, Beautiful Name. The iconic trio's second LifeWay Worship set and first full-length recording of hymns and worship songs, the project showcases Point of Grace's signature harmonies atop 10 fresh arrangements of beloved favorites, old and new. 
 
Produced and arranged by Kent Hooper and Phillip Keveren, Beautiful Name features cherished hymns  "All Creatures of Our God and King," "Holy, Holy, Holy" and "Blessed Assurance," among others, alongside such worship classics as the Twila Paris-penned "How Beautiful"; Hillsong Worship's anthemic "Cornerstone"; and renowned modern hymn "In Christ Alone (My Hope Is Found)," by Keith Getty and Stuart Townend. 
"We have always known at some point in our career we would record a hymns and worship project," said Point of Grace's Shelley Breen. "After being together for 25 years, this seemed like the perfect time. So much of our ministry is based on the foundation we received growing up in the Church and singing these hymns that are so theologically rich and full of verity."
"These days, especially, we believe every single song we record and release needs to be heavily anchored in Truth," Breen adds. "Our hope is that the words of this project will remind people of the absolute trustworthiness and freedom we can find in a life with Christ."
"Because of the awesome response to Sing Noël, our Christmas project with Point of Grace last year, we couldn't wait to get these great artists back in the studio," said Mike Harland, director of LifeWay Worship. "Their new album, Beautiful Name, is full of familiar songs with a fresh and exciting sound only Point of Grace could deliver. Denise, Leigh and Shelley have created an extraordinary worship collection that truly expresses just how beautiful His Name is!"
For more than two decades, Point of Grace's soaring melodies and rich harmonies have helped define the sound of contemporary Christian music. The seminal group has sold more than 8 million units; garnered two Platinum records; three GRAMMY® nominations; 27 #1 singles and numerous Dove Awards. With a discography including 10 best-selling studio recordings and five beloved Christmas albums, Point of Grace are known for such Christian radio standards as "I'll Be Believing," "Keep the Candle Burning," "Circle of Friends" and "Jesus Will Still Be There." Comprised of Shelley Breen, Denise Jones and Leigh Cappillino, the group founded the groundbreaking Girls of Grace conference and have authored multiple books. Point of Grace regularly appear on the historic Grand Ole Opry stage.
LifeWay Worship is a division of LifeWay Christian Resources and represents the music, worship and church supplies ministries of LifeWay Christian Resources, a not-for-profit company. We exist to help churches in their mission of making disciples.
Beautiful Name will be available exclusively at LifeWay Christian Stores around the country, as well as on LifeWay.com and iTunes.
For further information visit pointofgrace.net, lifeway.com or turningpointpr.com. Follow Point of Grace on Twitter, Facebook and Instagram.
Tags:
Gospel Music News
,
Point of Grace
Posted in
announcements
|
Comments Off

on POINT OF GRACE BOW FIRST-EVER HYMNS RECORDING APRIL 3
Written by SGN Scoops Staff on March 26, 2018 – 1:51 pm -
Paintsville, KY  – Johnson County native, Marlana VanHoose has been invited to sing the National Anthem at the Sunday, April 1, 2018, NCAA Women's Division I Championship game at the Nationwide Arena in Columbus, OH.  The announcement was made from VanHoose's home located in rural Denver, KY.
"I love basketball and I love this country.  It is a complete honor to be chosen to honor my country on this platform with the NCAA for the Women's Championship game," said VanHoose.  The game is set to tip off on ESPN at 6:00 p.m. EST.
VanHoose's dynamic voice has won her invitations to some of the largest sporting events in the United States.  The Kentucky native first won the hearts of fans when she performed for the University of Kentucky's Women's Basketball team in 2012.
Jason Clark, Producer and Co-Founder of CNS Entertainment, also a longtime member of the GMA Hall of Fame group, The Nelon's, is VanHoose's producer and biggest fan.  "It's not often a music producer gets to work with such a unique and special artist as Marlana.  Her voice is as big as her heart and her story will be heard and seen by millions more leaving a wake of inspiration in her path. Expect to hear much more from this little dynamo in the future," Clark replied when learning of the invitation.
For more information about Marlana VanHoose, visit www.littlemarlana.com.
Tags:
Gospel Music News
,
Marlana Vanhoose
Posted in
announcements
|
Comments Off

on NCAA Women's Championship Game to Host KY's Marlana VanHoose
Written by SGN Scoops Staff on February 2, 2018 – 10:47 am -
Nashville, Tenn. — Comedian Tim Lovelace has once again brought his musical comedy to major broadcasting outlets in Nashville. Lovelace was featured on WSMV-TV's popular midday show, "Today in Nashville," where he performed the title track from his current DVD/CD, Living In A Coffee World. His performance can be viewedHERE. The next stop was at WSM-AM, where Lovelace was guest host on Devon O'Day's program, "Nashville Today," for three hours. He performed his musical comedy routines, delivered a lot of talking humor and turned the conversation to the more serious subject of bullying. Lovelace was bullied as a child growing up in Alabama, which spurs him to continue to bring national attention to this issue.
Lovelace has launched this month his "Living in a Coffee World Tour," with concert dates all across North America. For continued updates about Lovelace, www.timlovelace.com,www.facebook.com/comediantimlovelace, www.twitter.com/timlovelace,www.instagram.com/timlovelacecomedy.
Tags:
Gospel Music News
,
Tim Lovelace
Posted in
announcements
|
Comments Off

on Tim Lovelace Brings Musical Comedy to WSM-AM and "Today in Nashville"
Written by SGN Scoops Staff on January 27, 2018 – 1:52 pm -
Lighthouse Media is overjoyed to announce their latest artist on their Southern Gospel roster, Chronicle. For those who are unfamilar with this artist, they are a husband-wife duo located in the heart of Denham Springs, Louisiana. Their mission is to tell all the world through message and song about a man named Jesus, and how his power still saves, heals and delivers.
Chronicle currently consists of Tim Kinchen (husband) and Missy Kinchen (wife). They have been singing since 2009 and have shared the stage with many of the finest in Gospel music such as Michael English, The Dixie Echoes, The Bowling Family, and The Kingdom Heirs. When attending a concert, some songs you may hear are: "Where The Wind Go," "Jesus Proved His Love," "Everybody Ought To Praise His Name," and "I'll See Him." Through listening to their music, you will find yourself lifting your hands as the Holy Spirit convicts your heart of the true message of the Gospel and the love that was shed for you and I upon Mount Calvary.
When speaking with Andrew Brunet, owner of Lighthouse Media Group, he shared this statement: "Upon speaking with Missy and Tim, I have found no better couple to call friends. They share the true message of Jesus Christ with such conviction and such power that is given through the Holy Spirit and that is exactly what the world needs to hear today.
You can find out more information about Chronicle via their
website
, and their
Facebook page
. For booking inquiries, you can give Tim Kinchen a call at
225.270.6192
Tags:
Chronicle
,
Gospel Music News
Posted in
announcements
|
Comments Off

on Chronicle Joins Lighthouse Media Group
Written by SGN Scoops Staff on January 21, 2018 – 10:44 pm -
NASHVILLE, Tenn.  – Nashville Christian Songwriters, a coaching and resource company dedicated to empowering Christian songwriters worldwide, has announced its first ever NCS Song Power Week, a Facebook Live event launching Monday, January 22, 2018, and running through Saturday, January 27, 2018, from 11:00 a.m. – noon.
"NCS Song Power Week 2018 is the first week-long songwriting event of its kind on Facebook Live," says John Chisum, founder and managing partner of Nashville Christian Songwriters. "Don't miss this opportunity to engage with powerful insights and inspiration for your songwriting from amazing artists, songwriters, publishers, and industry influencers. If you're stuck as a songwriter wondering how you'll ever get inspired again, don't miss Don Moen, Ginny Owens, Cheri Keaggy, Cindy Morgan, Jordy Searcy from The Voice Season 7, Jon Thurlow from the International House of Prayer in Kansas City, Jared Anderson, Solveig Leithaug, Jennifer McGill, and many more great songwriters on NCS Song Power Week 2018!"
From
11 a.m. through noon (CT)
each day from
January 22 – 27, 2018
, NCS Song Power Week will go Live on the NCS Facebook Fan Page (
facebook.com/nashvillechristiansongwriters
)
, bringing participants as much power-packed inspiration and quick interviews with CCM artists, songwriters, and industry personnel as can fit into the one-hour session each day. In addition to providing invaluable information from established Christian songwriters and guest artists, participants will have the opportunity to interact live, and ask questions. To top it off, there will be daily giveaways as the NCS Song Power Week ramps up to the Grand Prize, which will be announced during Saturday's session.
"Our goal for the NCS Song Power Week is to give participants access to the insights and training needed to become successful Christian songwriters," explains Chisum. "And the best part is, the event is absolutely free!"
Tags:
Gospel Music News
,
NASHVILLE CHRISTIAN SONGWRITERS
Posted in
announcements
|
Comments Off

on NASHVILLE CHRISTIAN SONGWRITERS LAUNCHES NCS SONG POWER WEEK JANUARY 22-27