Written by Staff on May 10, 2016 – 6:39 pm -
Nashville, Tenn. (May 10, 2016) – This past weekend, for the first time in nearly 25 years, legendary country music group Shenandoah returned to the stage of the Grand Ole Opry.
Fronted by Marty Raybon (who recently rejoined the group after a 17 year absence), the legendary country group performed on Friday and Saturday nights, blistering through several of their hit songs including "The Church on the Cumberland Road," "Two Dozens Roses" and "I Wanna Be Loved Like That."
The group's return to the Opry stage is the latest highlight of what has been a very busy year for the boys from Alabama. The band recently performed at the Academy of Country Music's (ACM) All-Star Jam in Las Vegas and also just released their first-ever Gospel album, Good News Travels Fast.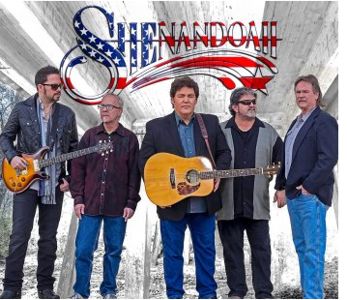 Shenandoah is keeping the tour trail red hot and is expected to perform more than 70 live dates by the year's end.
2016 Shenandoah Tour Dates:
May 14 – La Vernia City Park – La Vernia, TX
May 27 – Knucklehead's – Kansas City, MO
May 28 – Rustique Ampitheater – Lancaster, TN
May 29 – Mudbug Madness – Shreveport, LA
Jun 25 – DABA Annual Fireworks Fest – Denver, NC
Jul 1 – Balloon Festival – Ridgeland, MS
Jul 2 – Breathitt Heritage Fair- Jackson, KY
Jul 8 – Dosey Doe – Spring, TX
Jul 22 – Anderson Music Hall – Hiawassee, GA
Jul 23 – The Texan Theatre – Greenville, TX
Jul 30 – RiverBend RV Resort – Watertown, WI
Aug 13 – Manchester Music Hall – Lexington, KY
Aug 20 – Windsor Harvest Picnic – Windsor, IL
Aug 27 – Rio Grand Scenic Railroad – Alamosa, CO
Aug 28 – Rio Grande Scenic Railroad – Alamosa, CO
Sep 4 – SamJam – Piketon, OH
Sep 9 – Silver Dollar City- Branson, MO
Oct 7 – Arlington Music Hall – Arlington, TX
Oct 8 – Conway's Dancehall – New Braunfels, TX
Oct 12 – The Mansion Theatre – Branson, MO
Oct 13 – The Mansion Theatre – Branson, MO
Oct 14 – The Cotillion – Wichita, KS
Oct 15 – Hoyt Sherman Place – Des Moines, IA
Oct 19 – The Mansion Theatre – Branson, MO
Oct 20 – The Mansion Theatre – Branson, MO
Oct 21 – Bluegate Theater – Shipshewana, IN
Oct 22 – Meyer Theater – Monroe, MI
Nov 12 – The Newton Theatre – Newton, NJ
Nov 18 – Newberry Opra House – Newberry, SC
About Shenandoah
Shenandoah originally formed in Muscle Shoals, Alabama in 1985. The band has charted 26 singles on the Billboard Hot Country charts, including #1 Hits "The Church on Cumberland Road," "Sunday in the South" and "Two Dozen Roses" from 1989, "Next to You, Next to Me" from 1990, and "If Bubba Can Dance (I Can Too)" from 1994. The single "Somewhere in the Vicinity of the Heart," which featured guest vocals from Alison Krauss, won both artists a GRAMMY®, Award for "Best Country Performance by a Duo or Group with Vocal." To date, the group has sold millions of albums worldwide and is a recipient of the Academy of Country Music's coveted "Vocal Group of the Year" award.
For more information on Shenandoah, visit www.shenandoahband.com
More news
Tags:
Grand Old Opry
,
Shenandoah
Posted in
announcements
,
artists
|
Comments Off

on SHENANDOAH RETURNS TO GRAND OLE OPRY STAGE AFTER NEARLY 25 YEARS
Written by Staff on May 29, 2014 – 9:27 am -
I am asking God to use me this year, any way He wants to use me. I am a yielded vessel and am listening to His voice to give me new songs, new sermons and new places to minister.  I am excited and looking for great things in 2014." (1)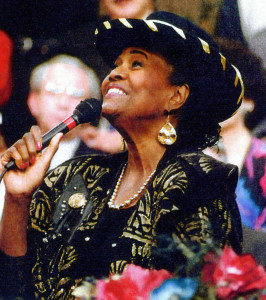 In our ongoing effort to pay tribute to long time Gospel singers, allow me to introduce Ms. Lillie Knauls. This beautiful, never married, woman of God has been singing and preaching Jesus for over 35 years.  Miss Lillie (as she likes to be addressed) is a regular on the Gaither videos. If you are a viewer of the Gaither videos, Ms. Lillie is not hard to spot.  Her beautiful smile seems to illuminate those around her.  Ms. Lillie is also known for the many hats she wears. She is respectfully known as the hat lady.  The reason for these hats is not just for style as Ms. Lillie explains, "I grew up in the church and as a little girl I played the piano and tambourine and sang in the choir. The first Sunday of the month was Communion Day. All the women wore hats to the services."
Being respectfully recognized as the hat lady has opened many doors for Ms. Lillie.  She has had countless opportunities to speak and sing at ladies breakfast and luncheon meetings. There is much more to Ms. Lillie Knauls than her hat ministry, which can be traced back to the '60's, where she was a soloist for her home church in San Jose, California.
In 1969, she became part of the Edwin Hawkins Singers and traveled the world. The Edwin Hawkins Singers are perhaps best known for their arrangement of "Oh Happy Day." "That was a great time in my life, being able to sing with that fabulous choir.  It opened so many doors for me, but since I had a full time job working at a telephone company, I did not have the time to work all the bookings that came my way, so in August of 1978, I resigned and a whole new world opened up to me!"
One of the first assignments from God to Ms. Lillie was to travel to Hawaii to work with a beach ministry that conducted a Sunday church service for the tourists.  Ms. Lillie says, "We ministered at the most beautiful church in the world!"  Hawaii has become Ms. Lillie's most favorite place.
I had the good fortune to speak with Ms. Lillie on the phone, from her California home. During our conversation, I learned that Ms. Lillie has been a part of the Gaither videos for over 20 years! I asked her if she had any favorite moments from the videos and she replied, "Quite honestly, every moment I'm there is a favorite moment.  Just being with all those legends and singing the songs I grew up with that still move me.  I am so grateful for Bill and Gloria Gaither for blessing the world, with these videos." Read more »
Tags:
Bill and Gloria Gaither
,
Dove Award
,
Edwin Hawkins Singers
,
Gaither Homecoming
,
gospel music
,
Grand Old Opry
,
Hat Lady
,
Lillie Knauls
,
Mahalia Jackson
,
Philip Foster
,
Rosetta Tharpe
,
sgm radio
,
Vestal Goodman
Posted in
SGM Radio
|
Comments Off

on Homecoming Sweetheart Lillie Knauls