Written by SGN Scoops Staff on January 5, 2012 – 2:59 pm -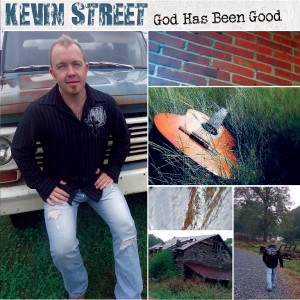 Bessemer City, NC (Son Sound Studios, Inc.) — Son Sound West Records is excited to announce the release of the first ever solo release by Kevin Street, of the Dove award Nominees, The Far City Boys. The recording, which is now available for digital download and direct from Son Sound, combines Country and Southern Gospel influences to produce a top-quality project that features the soon to be released single, "God Has Been Good."
"God's Still Been Good", produced by Street and Holly Robinson-Blanton, features songs penned by such wonderful writers as,Mike Upright, Greg Day, Sue Smith and many others.
"This project has been a long-time in coming, and I am thrilled to finally let folks hear it," shares Holly. "It really has a lot of Kevin's heart in it – I am sold out to what the songs speak to, and believe that we all need to hear these messages. Now we'll see what God's planning to do with it."
"God's Still Been Good" is available digitally at iTunes, cdbaby and other popular outlets as well as on www.sonsoundstudios.com. You may also call Son Sound direct at (704)868-4807. For more information on Son Sound Studios, visit sonsoundstudios.com. For more information on Kevin Street and The Far City Boys
visit farcityboysonline.com.
Tags:
Country
,
Greg Day
,
Holly Robinson-Blanton
,
southern gospel
,
Southern Gospel News
,
Sue Smith
,
The Far City Boys
Posted in
announcements
,
christian entertainment
,
Christian interest
|
Comments Off

on KEVIN STREET RELEASING SOLO RECORDING
Written by SGN Scoops Staff on May 10, 2011 – 12:32 pm -
The Dixie Melody Boys were recently in Nashville finishing work on their 50th Anniversary album, "The Call Is Still The
Same". The monumental project is a long time in the making. "It's been nearly ten years since we have done a project of this scale. It will be a milestone for the Dixie Melody Boys. "said Ed O'Neal, Hall Of Fame bass singer and owner. To honor the history of this legendary group, they have included two previous DMB songs on the album. The rest of the project includes new material written by Gospel musics top writers including Daryl Williams, Marty Funderburk, Greg Day and Rodney Griffen. The album also boasts two songs written by lead singer Donald Morris. The new album highlights the current groups new direction and sound. "We are excited to blend our traditional Southern Gospel roots with a fresh approach reminisant of the DMB Band era." stated Donald Morris.
The Dixie Melody Boys will be joined on this historic album by many former DMB Alumni as well as a few friends. "When we started working on this, so many of our friends wanted to be involved. It evolved from there into having them lend their talents on several of the songs. It will truly be a special event for us." said tenor Matt Felts. Jason Crabb, Ernie Haase, Ben Speer, McCray Dove, Rodney Griffen and Harold Reed are just a few of the guests appearing. This will be the debut album for the group since signing with Song Garden Music Group earlier this year. A release date of July 1st has been set. A "CD Release Event" will be announced soon. For more information on the new album or where you can purchase a copy of this years must have album, go to
www.dixiemelodyboys.com
or to
www.songgardenmusicgroup.com
.
Tags:
Ben Speer
,
Daryl Williams
,
Ed O'Neal
,
Ernie Haase
,
Greg Day
,
Jason Crabb
,
Marty Funderburk
,
McCray Dove
,
Rodney Griffen
Posted in
announcements
,
christian entertainment
|
Comments Off

on Dixie Melody Boys Finish Historic Album