Written by Scoops Staff on February 9, 2010 – 3:04 pm -

We would like to invite your church to partner with Soles4Souls, the world's largest provider of free shoes to people in need, by going Barefoot4Haiti any Sunday between now and May 2.
On this special Sunday, churches will invite their members to give their gently used shoes and/or financial contributions to help Soles4Souls provide free shoes to the people in Haiti.
As you know, less than a month ago, a 7.0 earthquake rocked Haiti displacing more than one million people. Soles4Souls immediately responded, committing to distribute 1.3 million pairs of shoes to people in need. Soles4Souls' shoes are already on the ground in Haiti, and we are now planning for the impoverished country's long-term needs. We believe that with the support of organizations like yours, we can help protect millions of Haitians from foot injury and disease.
What is Barefoot4Haiti?
Barefoot4Haiti is a program designed to encourage churches around the country to take off their shoes and go barefoot to raise awareness for the more than 1.5 billion people worldwide who do not own a single pair of shoes.  This spring, more than 150,000 churches will be asked to join in and get involved by taking off their shoes for one Sunday.  As part of this powerful movement, congregants can bring their new or gently worn shoes to church or donate to Soles4Souls to help put shoes on the feet of the impacted Haitians as well as the 300 million children around the globe who are barefoot.  Your feet can make a difference!
Planning to go Barefoot4Haiti is easy because we have created all the tools you'll need! visit our website to download – posters, bulletin inserts, art for your website, promo videos and more. Once you select a date for your effort, we'll also send your church a banner, boxes for shoes, donation cards and brochures.
Thank you for your consideration of Barefoot4Haiti. As it says in Isaiah 52:7, "how beautiful are the feet of those who bring good news."
Wayne Elsey
Founder and CEO

PS -If you know of another church that may be interested in going Barefoot4Haiti, please forward this email.
Visit www.barefoot4haiti.org to learn more.
Tags:
causes
,
haiti
Posted in
causes
|
Comments Off

on Barefoot for Haiti
Written by Scoops Staff on January 22, 2010 – 1:52 pm -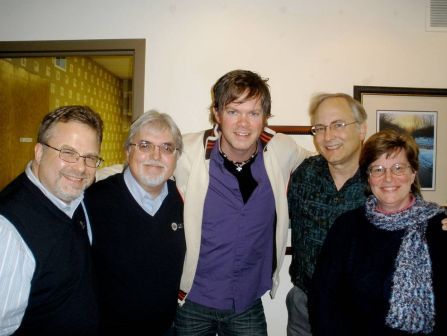 GRAY COMPLETES RADIO TOUR IN SUPPORT OF SINGLE, "MORE LIKE FALLING IN LOVE," THAT COVERED 2000 MILES AND SEVENTEEN RADIO STATIONS
Nashville, TN (January 22, 2010) —- Renowned singer/songwriter, Jason Gray, brought hope and comfort recently to some of the littlest victims of Haiti's recent earthquake.  The Rescue Children Orphanage is run by volunteers at Lifechurch in Allentown, Pennsylvania and last Friday the church members showed the children a video that was filmed late last year at the orphanage.  The music bed for the video was Jason Gray's song, "Fade With Our Voices," that is on his latest CD, Everything Sad Is Coming Untrue, and was written by Gray and Jason Ingram.  The chorus begins with: Does our worship have hands? Does it have feet? Does it stand up in the face of injustice? The story is documented in an MSNBC.com story from January 15th by network reporter, Bill Dedman, entitled, "A Joyful Reunion, But Now What?" Monday afternoon the children were evacuated to a safer orphanage forty miles from Port-au Prince, Love A Child, where they remain safely settled.
At the same time, Gray was on the second leg of a successful radio tour that covered two-thousand miles, from Houston, Texas to Minneapolis Minnesota, and during the trip he visited seventeen Christian radio stations.  Gray is promoting his second single, "More Like Falling In Love," that is from his latest CD, Everything Sad Is Coming Untrue.  Stations already playing the song include: KLTY/Dallas, Texas; KXOJ/Tulsa, Oklahoma; KCVO/Camdenton, MO and WNWC/Madison, Wisconsin.
PHOTO ID (LEFT TO RIGHT): JASON GRAY WITH STAFF AT WNWC/LIFE 102.5 Bruce Barrows, Program Director/Morning Show Co-Host; Mike Powers, Midday Air Personality; Jason Gray; Greg Walters, Station Manager/Afternoon Air Personality; Ann Manion, Morning Show Co-Host.
Tags:
chairitable causes
,
haiti
,
Jason Gray
Posted in
causes
|
Comments Off

on JASON GRAY'S MUSIC BRINGS HOPE AND COMFORT TO THE CHILDREN AT HAITI'S RESCUE CHILDREN ORPHANAGE