Written by SGN Scoops Staff on July 5, 2012 – 9:38 pm -
Heart To Heart, the multi-award winning singer/songwriter duo based out of Branson, MO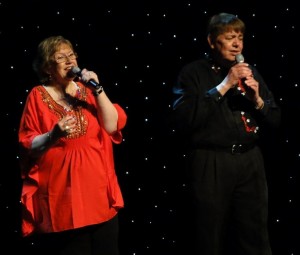 (and formerly of Malden, MO), known as "The Heart and Soul of Branson" was honored on June
23, to be awarded the National 2012 AGAPE Fan Award for Duo of the Year during ceremonies
held near Dallas, Texas.
Sharon and Jerry Mays, 2010 GMA/IMMERSE-Nashville Duet & Vocal Group of the
Year and 2011 Country Gospel Int'l. Choice Awards Duo of the Year, brought home the coveted
AGAPE Fan award after performing several times during the week to crowds with rousing
applause and standing ovations. Sharon and Jerry said with a smile, "It's a God thing! We
couldn't sing a note or write a word without Him working through us. We are so thankful to our
fans for believing in us. Without them as well as the radio DJs, theaters, churches, community
events and industry folks, we could not do what we do.
Heart To Heart are currently on several national Top 20 Charts with their songs "If That
Don't Make You Wanna Go Home" and "Pieces To Peace;" and their original "Pieces To Peace"
hit No. 1 on the RadioActive Airplay Charts in June. They were also honored to write "Father
Who Cares" for America's Got Talent Top 5 Group, Voices of Glory.
Heart To Heart are regularly featured artists in Branson at The Night Light Theater (owned
by the Barbara Fairchild Family); Treasure Lake Resort and Branson Radio Live. When not in
Branson, they are Winter Texan/Snowbird Artists in the Rio Grand Valley each winter and spend
the remainder of their full-time Gospel and Family Music Ministry time serving churches and
community events throughout the nation and songwriting.
If that is not enough, Heart To Heart are Dove and Grammy nominees and host their own
radio show, "The Branson Gospel Groove." airing on several internet stations to include
LCInternetRadio.com; ToPraiseHim.com; ActsRadio.com and CGCRadio.com to name a few.
Sharon also writes a monthly feature article in the Country Gospel Connection Magazine
called "An A-Mays-Ing Report."
Tags:
AGAPE Fan Award
,
Barbara Fairchild
,
branson
,
GMA/IMMERSE-Nashville
,
Heart to Heart
,
Jerry Mays
,
southern gospel
,
Southern Gospel News
Posted in
christian entertainment
,
contests
|
Comments Off

on HEART TO HEART, MULTI-AWARD WINNING SINGER/SONGWRITER BRANSON DUO WINS COVETED 2012 AGAPE FAN AWARD FOR DUO OF THE YEAR
Written by SGN Scoops on December 21, 2011 – 7:01 am -
 HEART TO HEART VOTED 2011 COUNTRY GOSPEL CONNECTION CHOICE AWARDS DUO OF THE YEAR
&
2012 DOVE AWARD NOMINEE FOR WRITING "FATHER WHO CARES" PERFORMED BY VOICES OF GLORY
Heart To Heart, regulars on the Branson Stage and a well-loved, full-time gospel and family music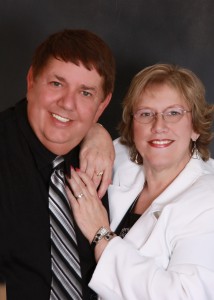 group has recently received the honor of being voted 2011 Country Gospel Connection Choice Awards Duo of the Year. This award is determined by a panel of music industry professionals and is based on Heart To Heart's excellence in promoting the Gospel of Jesus Christ through Christian Country Gospel music. Heart To Heart has also just learned that their original song, "Father Who Cares," written for America's Got Talent finalists Voices of Glory, has been nominated for a Dove Award!
Heart To Heart are singers and songwriters with original songs on the charts and receiving airplay worldwide such as "That's Why I Cry," "See a Rainbow," "Father Who Cares," "Rock of Ages, Roll On," "My Little Boy" and "Where Tears Won't Fall." They have twice been voted awards for Song of the Year by the Gospel Music Association in Nashville and were GMA Duo and Vocal Group of the Year last year. Heart to Heart hosts their own radio show called "The Branson Gospel Groove" which airs on several stations to include VoicesofGlory2020.com, ToPraiseHim.com, HeirwaveRadio.com and CGCRadio.com.
Sharon and Jerry Mays who make up Heart to Heart are quick to point out that these awards are not just "fireplace mantel furniture" but are tools to open doors to enable them to reach more people with encouragement and the Good News of Jesus. Sharon says "We work 24/7 for the Lord and are honored to serve at every opportunity." "We gave up a lot of 'stuff' a few years ago when the Lord told us to go full time and He would make a way for us. He whispered and we didn't listen but when he shouted, we had to make the change. We both had full-time jobs and good benefits. Jerry was a National Marketing Director and I am a Degreed Paralegal. We gave all that up to work for the Lord and; once we got out of His way to do His will with our lives, we have been blessed beyond measure since!"
Heart To Heart not only performs regularly on two Branson stages, The Night Light Beacon of Branson (owned by the Barbara Fairchild family) and Branson Radio Live with Karen Berka at the Branson Mall Centerstage, they are members of GMA, ICGMA, CGMA, SGMA and ICMA and tour the country when not on the Branson stage to serve churches, schools and communities.
Sharon comes from a musical family. Her dad, Leon Barnett, was the lead guitar player for Narvel Felts & the Rockets "back in the day," and guys like Roy Orbison, Conway Twitty, Carl Perkins and Chet Atkins ran through her house when she was four or five years old, always getting ready for the next "gig." Jerry grew up on a farm in rural Missouri and didn't know he could sing until he met Sharon! Together, they are forging a legacy in Gospel music with their powerhouse vocals, amazing connection with their audiences and dedication to their Calling; and the industry is definitely taking notice. You WILL be hearing more from Heart to Heart – that's for sure! For more about Heart to Heart, visit their website at www.hearttoheartmusicgroup.com.
Tags:
America's Got Talent
,
Branson Gospel Groove
,
Country Gospel Connection Choice Awards
,
Dove Awards
,
Heart to Heart
,
Southern Gospel News
,
voices of glory
Posted in
awards
|
Comments Off

on HEART TO HEART VOTED 2011 COUNTRY GOSPEL CONNECTION CHOICE AWARDS DUO OF THE YEAR
Written by Rhonda on September 13, 2010 – 3:25 am -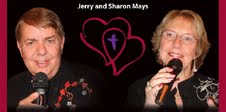 The 80th Annual Missouri/Mid-South Gospel Singing Convention will be held on Friday and Saturday, September 24 and 25, beginning at 5:30 p.m. each evening, at the Malden, MO Community Center located on Business Hwy 25, just south of Walmart in front of the School.  This will be the most exciting Convention ever with an awards ceremony honoring the founders; live broadcasts and interviews from KMHM Radio, 104.1 FM with radio personality, Gene Peacock serving as Master of Ceremonies for this legendary two-day event of gospel music.
            Over 22 groups and soloists will be taking the stage to include the following:  Heart to Heart, 2010 National GMA/IMMERSE Nashville Duet & Vocal Group of the Year and Featured Branson Artists; Tina Sadler, Double Dove Award Winner; Robert Penny of Branson, CGMA 2010 Male Vocalist of the Year; award winning area favorites Doug Thornton, Full Circle and The Bradfords; Heart and Soul; Tina Collins; Gloryland Quartet; Darrel & Kathy Hobbs; Heartland Quartet; Canaanland Gospel Singers; Dennis Baker; Eldon Wright; Mark Cave; Frank Wallace Trio; The Hutsons; Jennifer Krepps; Joyful Noise; Marvin and Karen Lawless; Southern Grace; Dayspring and Belinda (Hill) Venters.   
            This spectacular event is FREE and open to the public.  A love offering will be accepted each evening to offset event expenses.  Make plans to attend and bring your friends or church group for two evenings of gospel music shared by the Mid-West's Premier Gospel Artists.
This event is hosted by Heart to Heart and Doug Thornton.  Sound provided by Wil Thornton and stage manager, Nathan Martin.  For more information, call 417-576-5188 or 573-276-5827.
Tags:
Doug Thornton
,
Full Circle
,
Gloryland Quartet
,
Heart to Heart
,
KMHM Radio
,
Missouri Mid South Gospel Singing
,
Robert Penny
,
Tina Collins
,
Tina Sadler
Posted in
announcements
,
gospel events
|
Comments Off

on NEWS RELEASE 80TH ANNUAL MISSOURI/MID-SOUTH GOSPEL SINGING CONVENTION (MISSOURI AND ARKANSAS ARTISTS) SEPT. 24-25