Written by Staff on June 8, 2015 – 10:00 am -
Nashville,TN – This Week in Gospel Music with Mickey Bell has announced an exciting offer for the avid Gospel music lover. One lucky listener will win tickets for two to the 2015 National Quartet onvention in Pigeon Forge,
Tennessee. For the first time in history, the most exciting syndicated radio program is teaming up with one of the most exciting up-and-coming groups in Southern Gospel for this promotion. That group is the Erwins!
The Erwins are a young family group, who are members of the StowTown Records family and were featured in the May 2014 publication of SGN Scoops. They travel for more than 270 engagements per year and will be featured on the NQC main stage on Wednesday night of NQC.
To register for the contest, just visit www.ThisWeekinGospelMusic.com and then listen to Mickey Bell on This Week in Gospel Music on the weekend show of September 4th when Mickey will announce the winning name. The winner will receive two (2) tickets for every night of the convention including the Sunday bonus night.
To learn more about how to win your tickets to the NQC, click on the picture below to hear more from Mickey:
Tags:
Micky Bell
,
national Quartet Convention
,
nqc
,
SGN Scoops Presents This Week in Gospel Music with Mickey Bell
,
The Erwins
Posted in
announcements
,
breaking news
,
christian entertainment
,
Christian interest
,
contests
,
industry news
,
sgn scoops magazine
|
Comments Off

on Exciting News from Mickey Bell and the Erwins!
Written by Staff on May 27, 2015 – 9:24 am -
Nashville, Tenn (May 26, 2015) The very popular RFD-TV Gospel music variety program The Music City Show is excited to announce the opening of Season Four on Thursday, May 28th, with more great talent and a fascinating Give-Away creating an electrifying atmosphere.

Season Four features some of Gospel and Country music's most popular artists. Aaron Tippen, Michael English, Jeff & Sheri Easter, Gordon Mote, Mark Trammell Quartet, Whisnants, Don Moen, Allison Speer, Freemans, Tim Lovelace, Blackwood Brothers, and  The Freedom Singers, as well as the show regulars, the Positive Cowboy – Jim Sheldon, and the Blue Jean Band.

Help The Music City Show Season 4 Premier on RFD-TV by entering the contest give away. Follow the instructions below and it will be easy and fun, plus you may just be a winner.
Enter the MUSIC CITY SHOW SEASON 4 FAN APPRECIATION GIVEAWAY!
$25.00 each in merchandise to 10 fans.
Here's how to enter:
1. Like The Music City Show Facebook fan page.
2. Like this post
3. Share this post to your page.
We will announce the winners on Friday, May 29th!!!!!
In the meantime click this link for a super preview of some of the talent scheduled for Season 4.
https://youtu.be/L3yiEw9S2l8

To learn more about the Music City Show go to http://www.themusiccityshow.com or https://www.facebook.com/themusiccityshow . Twitter them at https://twitter.com/MusicCityShow .

                                                                 ####
About The Music City Show
The Music City Show, a Southern/Country Gospel weekly show featuring top artists like the Oak Ridge Boys, Adam Crabb, Karen Peck and New River, the Browders, the Bowling Family, the Blackwood Brothers, the Hoppers, Comedian Tim Lovelace, Gene McDonald, Aaron Wilburn, Lynn Anderson, the and many more. The show features special host, Tim Lovelace, each week with Nashville's own Blue Jean Band and The Positive Cowboy Jim Sheldon. The Music City Show is a series based in Nashville, Tennessee – America's favorite Music City. The show has many elements of Nashville that people love, namely a live house band, talented artists, heartfelt interviews and comedic entertainment. It is likened unto The Tonight Show, with comedy segments, and a beautiful cityscape backdrop.
The Show has now expanded to four networks which include RFD-TV, The Heartland Network, FamilyNet, and the NRB Network.
Tags:
Aaron Tippen
,
Allison Speer
,
contest
,
Don Moen
,
Freemans
,
gordon mote
,
gospel music
,
Jeff & Sheri Easter
,
mark trammell quartet
,
Michael English
,
Music City Show
,
Tim Lovelace
,
Whisnants
Posted in
announcements
,
artists
,
contests
,
special feature
|
Comments Off

on RFD-TVs Music City Show Set To Open Season Four With Big Give-Away
Written by SGN Scoops Staff on May 4, 2015 – 11:12 am -
A new reason to  love Mondays! SGNScoops.com invites you to become a part of #musicmondays  We will be giving away a new CD  every week. All you have to do is enter! Everytime you mention this contest and use the hashtag #musicmondays on either Facebook or Twitter, you earn an entry into that week's random draw. The more entries  you earn the greater your chance of winning.
Enter this week's contest now! This week's prize is the latest CD from The Old Paths!  Enter today and share to win!
Find SGNScoops On Facebook
Here
Tags:
#musicmondays
,
sgnscoops
,
The Old Paths
Posted in
contests
|
Comments Off

on SGNScoops.com #musicmondays Giveaway
Written by SGN Scoops Staff on July 5, 2012 – 9:38 pm -
Heart To Heart, the multi-award winning singer/songwriter duo based out of Branson, MO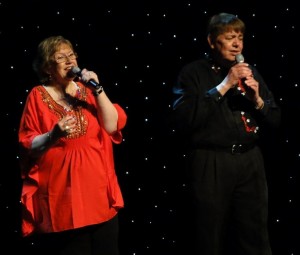 (and formerly of Malden, MO), known as "The Heart and Soul of Branson" was honored on June
23, to be awarded the National 2012 AGAPE Fan Award for Duo of the Year during ceremonies
held near Dallas, Texas.
Sharon and Jerry Mays, 2010 GMA/IMMERSE-Nashville Duet & Vocal Group of the
Year and 2011 Country Gospel Int'l. Choice Awards Duo of the Year, brought home the coveted
AGAPE Fan award after performing several times during the week to crowds with rousing
applause and standing ovations. Sharon and Jerry said with a smile, "It's a God thing! We
couldn't sing a note or write a word without Him working through us. We are so thankful to our
fans for believing in us. Without them as well as the radio DJs, theaters, churches, community
events and industry folks, we could not do what we do.
Heart To Heart are currently on several national Top 20 Charts with their songs "If That
Don't Make You Wanna Go Home" and "Pieces To Peace;" and their original "Pieces To Peace"
hit No. 1 on the RadioActive Airplay Charts in June. They were also honored to write "Father
Who Cares" for America's Got Talent Top 5 Group, Voices of Glory.
Heart To Heart are regularly featured artists in Branson at The Night Light Theater (owned
by the Barbara Fairchild Family); Treasure Lake Resort and Branson Radio Live. When not in
Branson, they are Winter Texan/Snowbird Artists in the Rio Grand Valley each winter and spend
the remainder of their full-time Gospel and Family Music Ministry time serving churches and
community events throughout the nation and songwriting.
If that is not enough, Heart To Heart are Dove and Grammy nominees and host their own
radio show, "The Branson Gospel Groove." airing on several internet stations to include
LCInternetRadio.com; ToPraiseHim.com; ActsRadio.com and CGCRadio.com to name a few.
Sharon also writes a monthly feature article in the Country Gospel Connection Magazine
called "An A-Mays-Ing Report."
Tags:
AGAPE Fan Award
,
Barbara Fairchild
,
branson
,
GMA/IMMERSE-Nashville
,
Heart to Heart
,
Jerry Mays
,
southern gospel
,
Southern Gospel News
Posted in
christian entertainment
,
contests
|
Comments Off

on HEART TO HEART, MULTI-AWARD WINNING SINGER/SONGWRITER BRANSON DUO WINS COVETED 2012 AGAPE FAN AWARD FOR DUO OF THE YEAR
Written by SGN Scoops on July 13, 2011 – 3:39 am -
Red Roots give fans a chance to participate in their upcoming music video, "Double Wide Church."  All interested applicants must
upload a photo dressed as a "hillbilly" and submit contact information. The top 30 will be invited to share a picnic with Red Roots on the music video set and will appear in the music video. Filming will take place on September 20 in Nashville, TN.
 
Red Roots consists of identical triplets- Nicole, Nika and Natalie. The multi-talented young ladies have been well received since they stepped into the music scene with their first album, entitled "Red Roots," in January 2011.  Red Roots has been nominated for a several awards since and their music has been successfully climbing the charts.  For more information about the music video contest, visit:  http://theredroots.com/unrrmusicvid.cfm
Tags:
Red Roots
Posted in
contests
|
Comments Off

on Red Roots Include Fans in Upcoming Music Video
Written by Scoops Staff on April 14, 2011 – 11:35 am -
Song Placement Opportunity
| | |
| --- | --- |
| | Wednesday, April 13th – Thursday, June 1st 2011 |
| | Jessica Ford & Children's Christian Choir ~ Christmas Alubm |
| | Submissions are open now! |
| | Fri June 1st 2011 |
| | $0.00 |
Jessica Ford & Children's Christian Choir is Non Profit 501(c)3 A.C.T. Intl and is looking for songs for Ministry and to outreach for the Christmas season. These songs are for recordings and live performances, a benefit album that will be sold for the Christmas Season (November – December 31st). Jessica Ford and Children's Christian Choir "C3" are offering you the opportunity to be a part of this one-of-a-kind compilation. This is your chance to be included on a compilation and be involved in a much needed Ministry effort and outreach.
If your song is selected, C3 will message you through your email and will ask that you sign a royalty waiver form. Then ask that you submit the selected song in a MP3 format. This MP3 must be of master quality (even if it's not mastered). Faith based Christmas Songs and Christian Songs will be accepted and you must own the rights to your song. You will also have the opportunity to gift merchandise like signed CD's and gain notoriety and awareness to you as a songwriter/Publishing Company. You will receive CD's to give away as an extra incentive to raise funds and have credits.
We will contact the selected songwriters and receive the proper MP3 file along with the backing tracks. You will receive the paperwork so please check your inbox as often as possible once your song has been selected.
We request that any selected songwriters tweets/blogs/posts on Facebook, or otherwise lets their fans know about this compilation and great cause. C3 will provide sample copy and information for anyone who would like it.
To learn more about Children's Christian Choir, click the links below
How do I increase my chances of being selected?
Syncing your Facebook and MySpace pages to our website http://www.ChildrensChristianChoir.com and http://www.LetFreedomSingTour.com page and adding  us on Facebook http://www.facebook.com/ChildrensChristianChoir will boost your Fan Totals instantly. Also, providing us with background tracks for your demo is a huge plus and will increase your chances of being selected. None of this is mandatory of course, but showing the Talent Buyer more about you is always a plus.
http://www.facebook.com/pages/Let-Freedom-Sing-Tour/168627059845436
http://www.facebook.com/jessicafordfans
Email: childrenschristianchoir@gmail.com
Tags:
chrildren's christian choir
,
contests
,
songs
,
songwriting
Posted in
contests
|
Comments Off

on Children's Christian Choir – Song Submission
Written by SGN Scoops Staff on February 3, 2011 – 5:01 pm -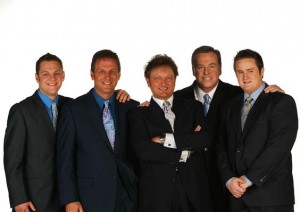 In honor of Valentine's Day, The LeFevre Quartet has announced that one of their fans will win a free date night during the month of February. All you have to do to enter is go The LeFevre Quartet's website (www.thelefevrequartet.com) and share your story about how you met your spouse or the special person you are dating. The best entry will be chosen on February 14th and the winner will be announced and posted on the group's website.
David Staton, lead singer for the group said, "Someone once said that behind every great man is a woman rolling her eyes! Well, we know how special our wives are and we know we couldn't do what we do individually or as a group without the love and support of our wives". So if your story is heartwarming or hilarious, share it and win a special Valentine's Day package and let The LeFevre Quartet pay for it!
For more information:
www.thelefevrequartet.com
www.freedatenight.info
Tags:
David Staton
,
free date night
,
The LeFevre Quartet
,
Valentine's Day
Posted in
announcements
,
christian entertainment
,
Christian interest
,
contests
|
Comments Off

on Valentine's Day Promotion
Written by Rhonda on August 31, 2010 – 5:11 pm -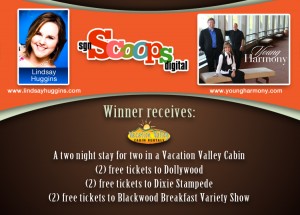 October is the month when Dollywood celebrates with their Gospel Music Festival.  This Week in Gospel Music is going to send one lucky listener and a friend on a free vacation for two to enjoy the sounds of Southern Gospel Music in the great Smokey Mountains.  The winner will receive a two night stay for two at a Vacation Valley Cabin, two tickets to Dollywood, two tickets to the Dixie Stampede and two tickets to the Blackwood Breafast show.  "We are excited about this promotion", says Mickey Bell, host of the show.  "This will be a great trip that I feel will bring great excitement to our show."  This promotion is being presented in part by Young Harmony and Lindsay Huggins.  Winner will be announced on October 1st.
For more information: 205.588.1109 or twgmprogram@gmail.com
www.ThisWeekinGospelMusic.com
Tags:
Lindsay Huggins
,
mickey bell
,
This Week In Gospel Music
,
Young Harmony
Posted in
contests
|
Comments Off

on Dollywood Vacation Giveaway
Written by Scoops Staff on March 17, 2010 – 8:30 pm -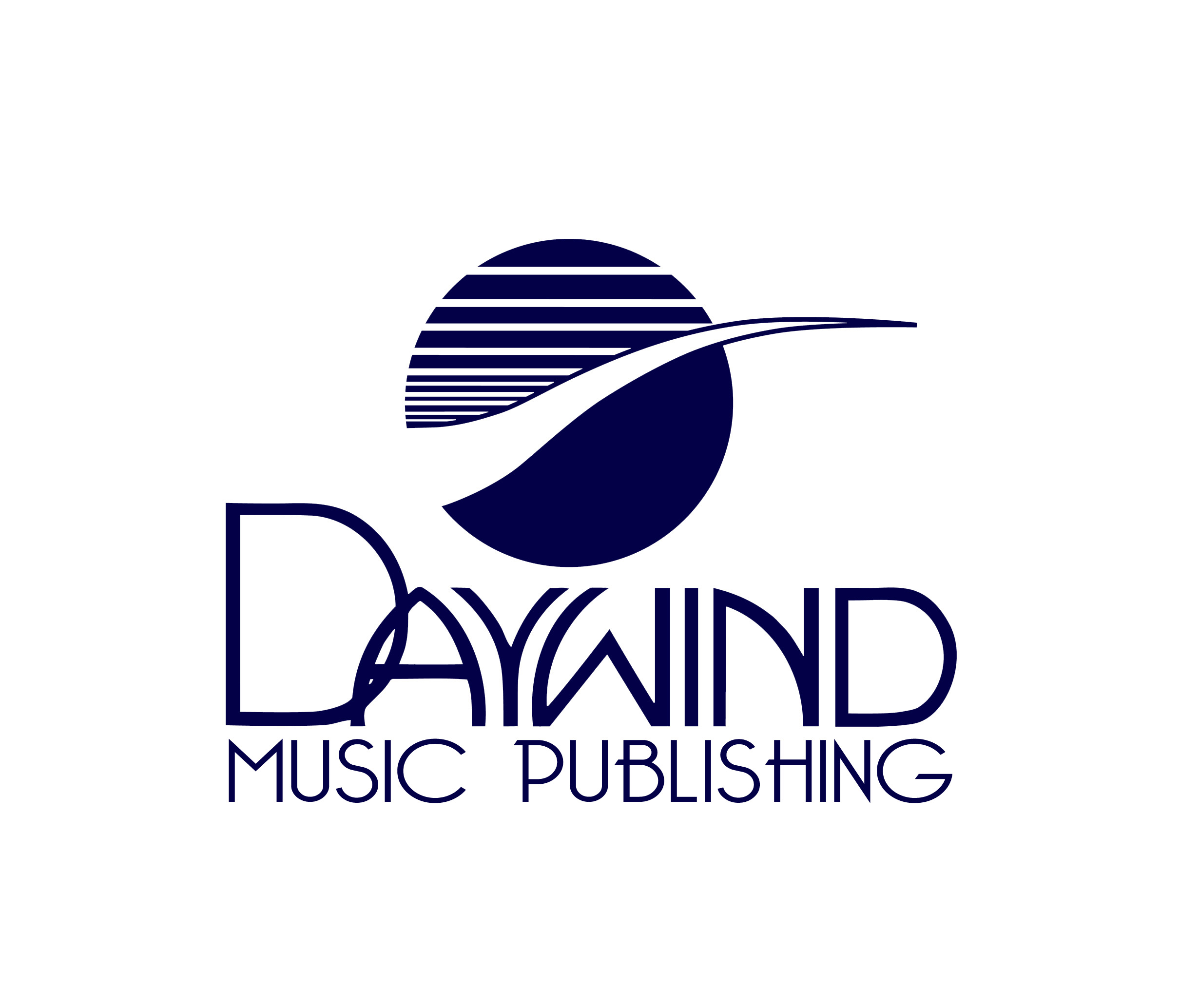 (Songwriters, enter soon.  Deadline is April 8, 2010)
Nashville, TN (March 17, 2010) – Daywind Music Group and the Gospel Music Association (GMA) have partnered to host the Southern Gospel Song Contest with the intent of finding the best-unknown Southern Gospel songs and offer a chance to have them recorded by a nationally recognized artist. Unpublished songwriters (currently unaffiliated or unsigned to a publishing company) are encouraged to submit their Southern Gospel song(s) for review (see "Submission Instructions" below).
Songs submitted will be judged by Daywind Music Publishing's staff, a team of publishers working daily with top songwriters and artists such as Gerald Crabb, Ronny Hinson, Marty Funderburk, Austins Bridge, Karen Peck & New River, Triumphant, The Perrys, and many other award winners.
The Southern Gospel Song Contest opened March 12, 2010 and runs through April 8, 2010. Any submission after April 8, 2010, 5:00 PM CST will not be included in the judging. A valid entry will include a Song Submission Form found below and the $25 entry fee (per song). Songs should be limited to 4 minutes and 30 seconds. No more than two songs per person will be accepted.
One Grand Prize winner and two Runner-Up winners will be chosen and announced by April 30, 2010. Winners will be contacted by the GMA.
The Grand Prize winner will receive:
-One free registration to GMA's Immerse event in July 2010
-Automatic semi-final place in the Immerse song contest
-Single song publishing agreement with Daywind Music Publishing
-CD stack from Southern Gospel music's top names
-Opportunity to be recorded by a nationally recognized artist
The two Runner-Up winners will receive:
-One free registration to GMA's Immerse event in July 2010
·    -CD stack from Southern Gospel music's top names
Each song submission will also receive an individualized critique by one of the Daywind Music Publishing judges, complete with invaluable feedback and advice. It's not just a contest; it's a chance to learn something, too!
SONG SUBMISSION INSTRUCTIONS
Print out the Southern Gospel Contest Song Submission Form (found here) and fill in all fields.
Mail completed form with payment to:
Gospel Music Association
The Southern Gospel Song Contest
1205 Division St. Nashville, TN 37203
(615) 277-1376
Once payment and submission form are received, an email will be sent to you with instructions on where to send your song(s) and typed lyric sheets.
You are welcome to send your song recorded on a CD and your typed lyric sheet (one page per song) with your paid registration. If you are submitting multiple songs, please include a separate CD for each song and write your name and the song title on the front of the CD.
For a complete listing of contest rules and in-depth submission instructions, visit gospelmusic.org and click on the Daywind contest logo.
For questions or customer service, please contact Scott at (615) 277-1376.
Tags:
contest
,
daywind
,
songwriting
Posted in
Christian interest
,
contests
|
Comments Off

on Daywind Music Group And The Gospel Music Association Partner In Southern Gospel Song Contest