Written by Scoops Staff on May 22, 2010 – 8:30 am -
HOMEWOOD, Ill.  – Up and coming soloist Rod Burton is announcing his departure from the newly formed Hinson Revival after this weekend's dates with the group.  Due to time constraints with Rod's solo ministry, YMR Music Productions and the Branson Gospel Music Convention, and his family, Rod felt the need to step down from the group in order to focus his energies on those areas of his life.
"I'm grateful for my time with Hinson Revival. I grew up listening to Hinson music and thoroughly enjoyed the time I had to minister with it on stage," mentioned Rod. "There is nothing like Hinson music. I hope it always continues to bless people with its message. My family and I will continue to support Eric and April in friendship."
Rod will continue to minister as a solo artist, having recently released his latest CD, The Difference, on New Hope Music Productions, a Nashville-based label he has started with Darrell Webb.
News on Burton's replacement will be coming from the Hinson Revival camp at a later date.
On the heels of three nominations on the Top 10 ballot for the 2010 Diamond Awards, Rod announced the release of The Difference.  The Difference was produced by Grammy-winning engineer Adrian Payne and co-produced by Rod's longtime friend and talented session musician Jason Webb. This recording is the first release for the newly formed New Hope Music Productions.

The Difference features special guests that have been an encouragement to Rod's ministry through the years as well.  Grammy winning vocalist Russ Taff makes a special appearance on Rod's cover of "Water Grave." The country-rock flavor of the track is a marked departure for the celebrated vocalist. Rod also enlisted the help of Sunday Edition's Amy Marie Unthank and Chris Unthank on background vocals as well as his daughter Paige Burton and producer Adrian Payne.

The Difference is now available to purchase online or at live events.  For more information on the new recording, visit http://www.rodburtonmusic.com .
Fans are encouraged to visit Rod's MySpace at http://www.myspace.com/rodburtonmusicinc.  Rod's ShoutLife can be found at http://www.shoutlife.com/rodburtonmusic.
Tags:
announcements
,
hinson revival
,
rod burton
Posted in
artists
|
Comments Off

on Rod Burton Exits Hinson Revival
Written by Kelly on April 27, 2010 – 5:40 pm -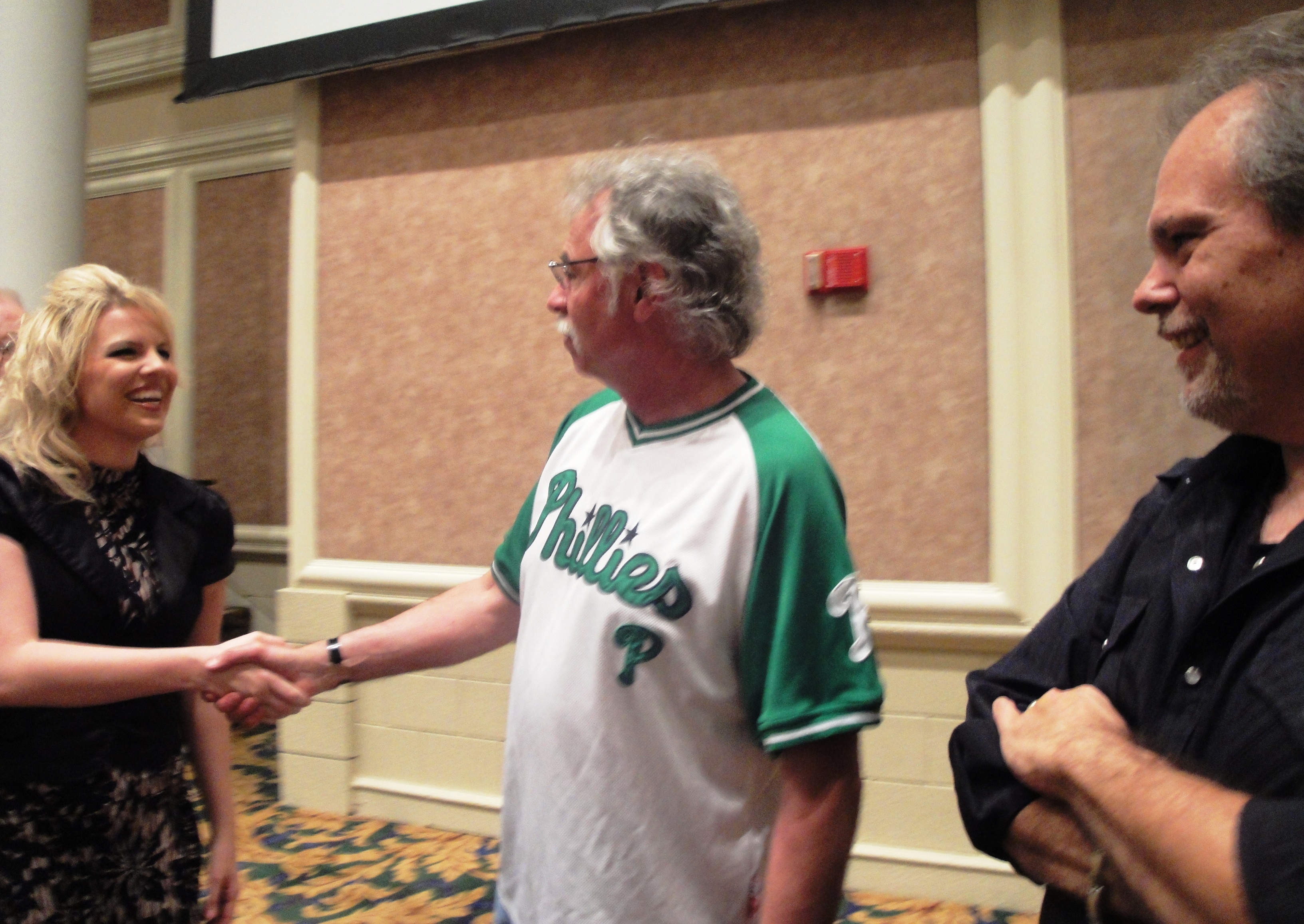 By Kelly Capriotti Burton
Many artists known as southern gospel royalty graced the stage of the Southern Gospel Music Guild Harmony Honors, held last week at the Gaylord Opryland Hotel in Nashville, TN, including The Perrys, Karen Peck and New River, Jeff and Sheri Easter, The Nelons, Jason Crabb, and Guy Penrod.It was a chance to showcase many of the steller songs and performers on top in SG right now, and for one group whose place in gospel music was further cemented by SGMG's Presidential Honor, it was a time to celebrate and connect with gospel friends.
SGMG President Judy Nelon presented the long-standing quartet, Oak Ridge Boys, with the honor near the start of the evening. The group sang several songs, including their 1969Dove Song of the Year "Jesus is Coming Soon" and their most recent charting single, "Mama's Table" (for which writer Jamey Johnson joined them on stage).
Soon after, to the delight of a decidedly traditional southern gospel crowd, Oak Ridge Boys returned to the stage to sing "Everyday" with Triumphant Quartet – the song has been a hit for both groups, years apart. The encore? A verse and chorus of the iconic "Elvira."
The Oak Ridge Boys watched the rest of the concert from the front row, but after it ended, group member, spokesperson and popular Twitter-user Joe Bonsall organized a "tweet-up" with his gospel music/social-networking friends.
The reaction?
@chrisunthank : Cool meeting @joebonsall tonight! I'm officially starstruck! 😉

@libbistuffle: @joebonsall gr8 seein u tonight! Y'all rocked the house!

@MaddyFatty (aka Madison Easter): Been hangin with @joebonsall all night. Had a blast! Loved seeing all our friends!

@rodburtonmusic: Cool to see you @joebonsall . Y'all rocked it tonight!

@joebonsall: Great to have had the chance to spend time with our friends in Southern Gospel tonight. So many fine folks. The award was a real honor!
Above Photo: April Hinson of Hinson Revival meets Joe Bonsall while Rod Burton looks on. Photo by Miranda Burton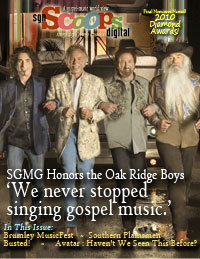 Read more about Joe Bonsall, The Oak Ridge Boys, and their place in gospel music….coming Monday, May 3 in an all new SGN Scoops Magazine!
Tags:
guy penrod
,
hinson revival
,
Jason Crabb
,
jeff and sheri easter
,
karen peck and new river
,
oak ridge boys
,
scoops preview
,
sgmg
,
the nelons
,
the perrys
Posted in
gospel events
,
scoops
|
Comments Off

on Oak Ridge Boys Celebrate Honors With 'Gospel Friends'
Written by Scoops Staff on March 16, 2010 – 8:41 pm -
MECHANICSVILLE, Va. – Joseph T. Lee Ministries will be sponsoring two concerts this coming May in order to raise money for those affected by the Haiti earthquake which took place this past January.  The "Help For Haiti Relief Concerts" will take place on Friday, May 21, 2010 and Saturday, May 22, 2010 in central Virginia.
The May 21, 2010 concert will feature Hinson Revival, Vertical Praise, and Lee & Loyall.  The venue for the concert is Oak Knoll Middle School in Mechanicsville, Virginia.  There is no ticket admission. A love offering will be taken up during the event.
Saturday, May 22, 2010 will feature an evening with Vertical Praise and Lee & Loyall.  This event will be take place at Orange Assembly of God in Orange, Virginia. A love offering will be taken up at this event as well.
All proceeds and money donated will be given to Sunshine Ministries. Sunshine ministries funds and sponsors orphanages and churches in Haiti.  The money raised will help the orphaned children of Haiti, feeding & clothing, and rebuilding churches.
"My heart has gone out to the people of Haiti ever since I heard about the terrible devastation that has taken place there," mentioned Joseph T. Lee.  "I am so thankful that I am in an industry that has groups that would give up their time and money to be a part of something like this."
More information on the event can be found at http://www.josephleeministries.com or by calling Joseph T. Lee at (804) 241-8231.
More information on Joseph T. Lee can be found at his website – located at http://www.josephleeministries.com .  Contact and booking information can be found at the site. Fans are also encouraged to visit Joseph on ShoutLife by heading to http://www.shoutlife.com/josephlee .
Tags:
chairitable causes
,
events
,
hinson revival
,
joseph t. lee
,
vertical praise
Posted in
causes
,
gospel events
|
Comments Off

on Joseph T. Lee Ministries to Sponsor Help For Haiti Relief Concerts