By Kelly Capriotti Burton
Many artists known as southern gospel royalty graced the stage of the Southern Gospel Music Guild Harmony Honors, held last week at the Gaylord Opryland Hotel in Nashville, TN, including The Perrys, Karen Peck and New River, Jeff and Sheri Easter, The Nelons, Jason Crabb, and Guy Penrod.It was a chance to showcase many of the steller songs and performers on top in SG right now, and for one group whose place in gospel music was further cemented by SGMG's Presidential Honor, it was a time to celebrate and connect with gospel friends.
SGMG President Judy Nelon presented the long-standing quartet, Oak Ridge Boys, with the honor near the start of the evening. The group sang several songs, including their 1969Dove Song of the Year "Jesus is Coming Soon" and their most recent charting single, "Mama's Table" (for which writer Jamey Johnson joined them on stage).
Soon after, to the delight of a decidedly traditional southern gospel crowd, Oak Ridge Boys returned to the stage to sing "Everyday" with Triumphant Quartet – the song has been a hit for both groups, years apart. The encore? A verse and chorus of the iconic "Elvira."
The Oak Ridge Boys watched the rest of the concert from the front row, but after it ended, group member, spokesperson and popular Twitter-user Joe Bonsall organized a "tweet-up" with his gospel music/social-networking friends.
The reaction?
@chrisunthank : Cool meeting @joebonsall tonight! I'm officially starstruck! 😉

@libbistuffle: @joebonsall gr8 seein u tonight! Y'all rocked the house!

@MaddyFatty (aka Madison Easter): Been hangin with @joebonsall all night. Had a blast! Loved seeing all our friends!

@rodburtonmusic: Cool to see you @joebonsall . Y'all rocked it tonight!

@joebonsall: Great to have had the chance to spend time with our friends in Southern Gospel tonight. So many fine folks. The award was a real honor!
Above Photo: April Hinson of Hinson Revival meets Joe Bonsall while Rod Burton looks on. Photo by Miranda Burton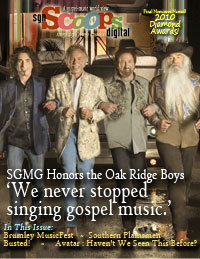 Read more about Joe Bonsall, The Oak Ridge Boys, and their place in gospel music….coming Monday, May 3 in an all new SGN Scoops Magazine!