Written by Staff on April 15, 2020 – 10:25 am -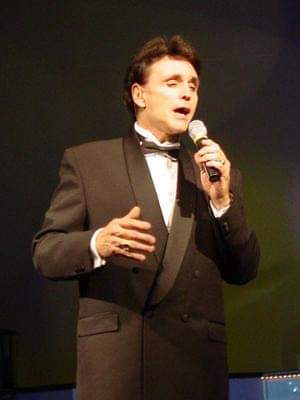 According to Mark Trammell's Facebook, well-known and loved vocalist Gary McSpadden has passed away from this life. Trammell posts:
"Just got word that another hero has gone home this morning. One of the kindest men I've ever known. RIP Gary McSpadden. We'll see you soon!"
McSpadden had a long and illustrious vocal career, performing with the Statesmen, Oak Ridge Boys, Imperials, Bill Gaither Trio, and Gaither Vocal Band. He was also a soloist, songwriter, producer, television host, speaker and pastor of the Faith and Wisdom Church in Branson, Missouri.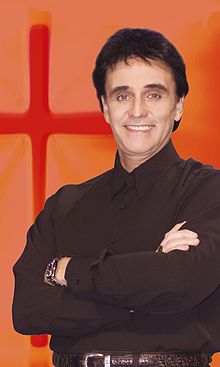 After a battle with pancreatic cancer,  McSpadden leaves behind his wife Carol, his sister Cheryl Kartsonakis and her husband Dino Kartsonakis.
Please join us in prayer for the family, friends, and congregants of Gary McSpadden.
Tags:
and Gaither Vocal Band
,
Bill Gaither Trio
,
Christian Music
,
Gary McSpadden
,
gospel music
,
Imperials
,
oak ridge boys
,
Southern Gospel Music
,
Statesmen
Posted in
announcements
,
artists
|
Comments Off

on Gary McSpadden passes away
Written by Staff on March 25, 2020 – 2:43 pm -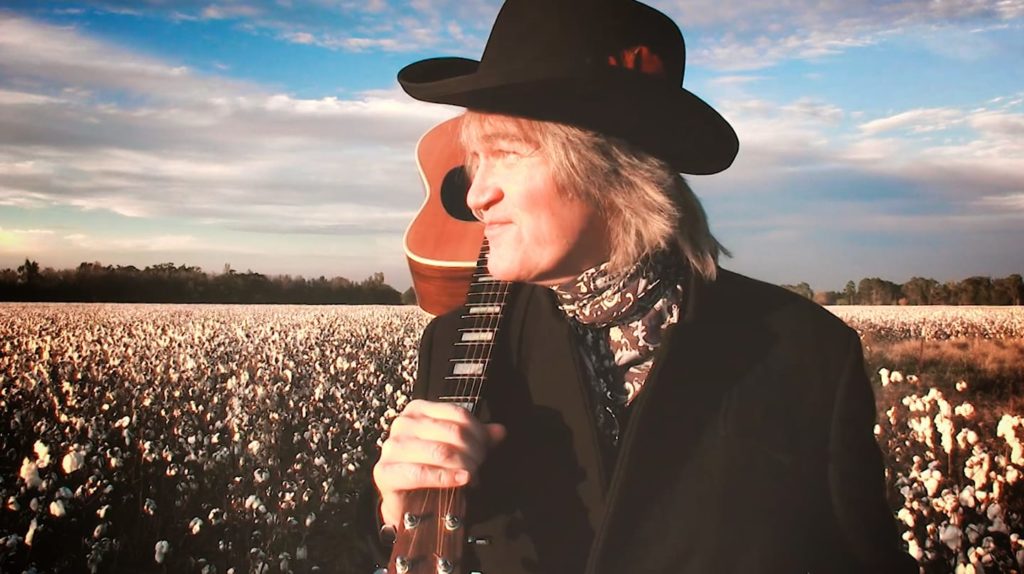 Chris Golden was born into country music royalty as the son of William Golden of the Oak Ridge Boys. Raised in music, Chris has naturally assumed such roles as an engineer, sound man, promoter, photographer, and many more throughout the industry. The gifted vocalist, songwriter, and instrumentalist played with the Oak Ridge Boys, Alabama, and Restless Heart, as well as with his brother, Rusty, as the Goldens.
In the current decade, Chris has released eight solo recordings, in both country and Christian country music. His songs and videos have been recognized by leading music magazines as well as the ICGMA and the ICM Awards. His latest recording, "Grateful," has generated the top single of the same name. 
Chris was recently interviewed by Jantina Baksteen.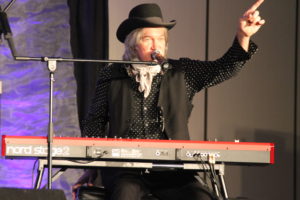 JB: Can you share your testimony with us?
CG: I was raised in church and first gave my heart to the Lord at a revival in South Alabama when I was about 13 or 14 years old. Out of high school, I slipped away from my raising and started living the lifestyle that pleased me. You would have thought I had forgotten everything I had been taught. Sometimes a man has to take the long way around to come back to the things he holds dear. I rededicated my life in 1998, but didn't get baptized until I was in my mid 40's. It was after, what I believe to be an angel, told me to "play for the One who gave you the gift." I got baptized in the Jordan last year on a trip to Israel and a white dove landed 10 feet from me. I knew it was a God wink letting me know I am right where he wants me. 
JB: What's your favorite Bible verse and why?
CG: Luke 6:31 "Do unto others as you would have them do unto you," because it is the great commandment, the golden rule. 
JB: Your current radio song is "Grateful," from the same titled album. Can you tell us something about that song? 
CG: I did not write it, but in those cases I always try to pick songs I wish I had written, songs that resonate with my core. I was listening to songs pitched to my father by Dave Cobb (producer for Chris Stapleton, Jason Isbell, others) for the Oaks' latest project. I knew at first listen I would record it but I actually shot the video before I even recorded the song. We have a family farm in south Alabama, and the cotton was in full bloom. I only had a small window before it was picked, so on a whim I gathered some cameras and tripods, rented a drone, and shot the video with help from my cousin Ron and a friend from Nashville. We filmed around the Holiness Church where I gave my heart to Jesus and where I first sang, and the little graveyard where all my people are, so it became a special project for me. I was grateful for it to receive Video of the Year at both the ICM Awards at the Opry House, and the ICGMA. At the time we filmed it, I didn't even know who wrote the song because I thought it was named "The Road That Lies Ahead." Turns out it was named "Grateful," which has been my hashtag for the last several years. "Grateful" for each opportunity to sing. It was written by Bill DiLuigi, Troy Castellano, and Reed Waddle. 
JB: How is "Grateful" doing on the radio charts?
CG: SGNScoops had it as the No. 1 Christian Country song a while back. It is a special song which seems to keep giving and I am glad it got its due. I am very humbled and "Grateful" to radio and all who made it happen. 
JB: You have a quote on the web page that says: "Music is my life, my gift, my love." Can you explain that?
CG: Music is who I am. I know where the gift comes from and I thank the Lord for it. He promised to exalt me if I put him first, so I play for the One who gave me the gift. When I put my hands on a piano, guitar, drums, mandolin, or any instrument, or when I sing… I am giving God the praise. 
JB: Is there anything fans might not know about you?
CG: Music has allowed me to go places I never dreamed I would go, and to perform for every living President. Although I play several instruments and have been fortunate to have always made my living playing and singing, I flunked band in high school.
JB: What is on the horizon for you in the near future?
CG: I sang on the Huckabee show recently, and at least three more singles off the new album before it is said and done. I plan to shoot as many videos as well. I have been busy in the studio producing Elaine Roy's (The Roys) new solo album, a band from Indiana, Faith Country, and also producing award winning singer/songwriter Greg McDougal. On the weekends I got out and do live performances, and will also be doing several select Christmas shows this year. 
JB: What would be on top of your bucket list?
CG: That list is way too long for me. I need a bigger bucket. 

You can find Chris Golden on the web at chrisgolden.net and that will lead you to all his social media sites. 
By Jantina Baksteen
First published by the SGNScoops Magazine in October 2019
More news from SGNScoops Magazine:
Did you know that you can receive the printed, full-color version of SGNScoops Magazine by subscription? Find out more 
HERE
.
Find SGNScoops Magazine On Facebook 
HERE.
You can download the latest edition of SGNScoops Magazine 
HERE.
Read the latest edition of SGNScoops Magazine online
HERE.
Listen To Today's Gospel Music
HERE
Tags:
Chris Golden
,
christian country
,
gospel music
,
oak ridge boys
,
sgnscoops
,
Southern Gospel Music
,
William Golden
Posted in
artists
,
Beyond the Song
|
Comments Off

on Chris Golden is Grateful
Written by Staff on August 31, 2019 – 11:31 am -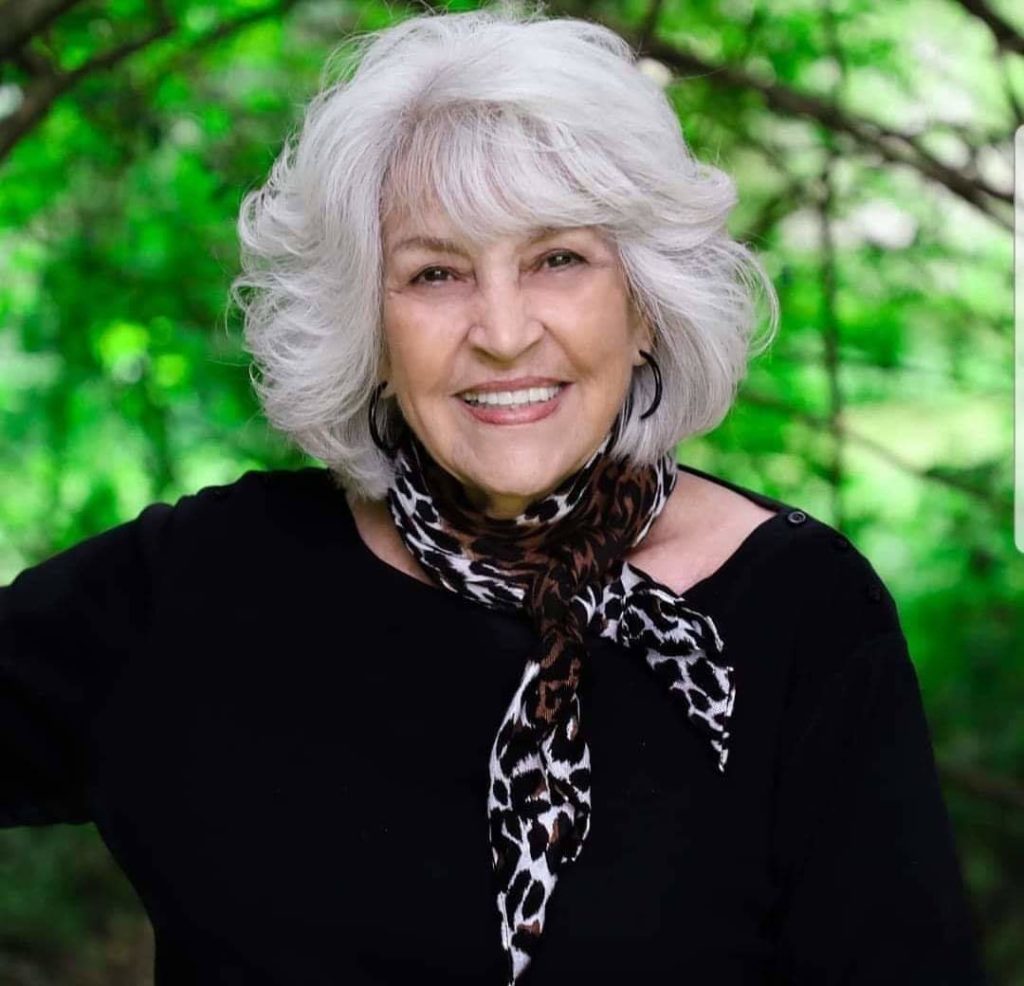 Rusty and Chris Golden, both singer/songwriters and active in the Christian music industry, have requested prayer for their mother, Frogene Normand.
Chris posted the following on Facebook earlier today:
URGENT PRAYERS NEEDED!
Our dear mother was diagnosed with pancreatic cancer a few days ago and after weeks of pain, sickness, and suffering, she is trying to gain strength enough to make the trip from south Alabama to Nashville today. Brother Rusty is with her and will be taking her straight to the hospital. We have an appointment with the team at Vanderbilt next week for consultation about the next steps and a treatment plan. Please join our family in praying for strength, guidance and direction, wisdom, and healing if it be His Will.
Chris, Rusty, and their brother Craig, are sons of Frogene Normand and William Lee Golden of the Oak Ridge Boys.
For more information please follow Chris Golden on Facebook HERE.
Tags:
Chris Golden
,
Christian Country Music
,
Christian Music
,
Frogene Normand
,
oak ridge boys
,
Rusty Golden
,
William Lee Golden
Posted in
announcements
,
artists
|
Comments Off

on Prayers requested for mother of Rusty and Chris Golden
Written by scoopsnews on October 5, 2016 – 12:31 pm -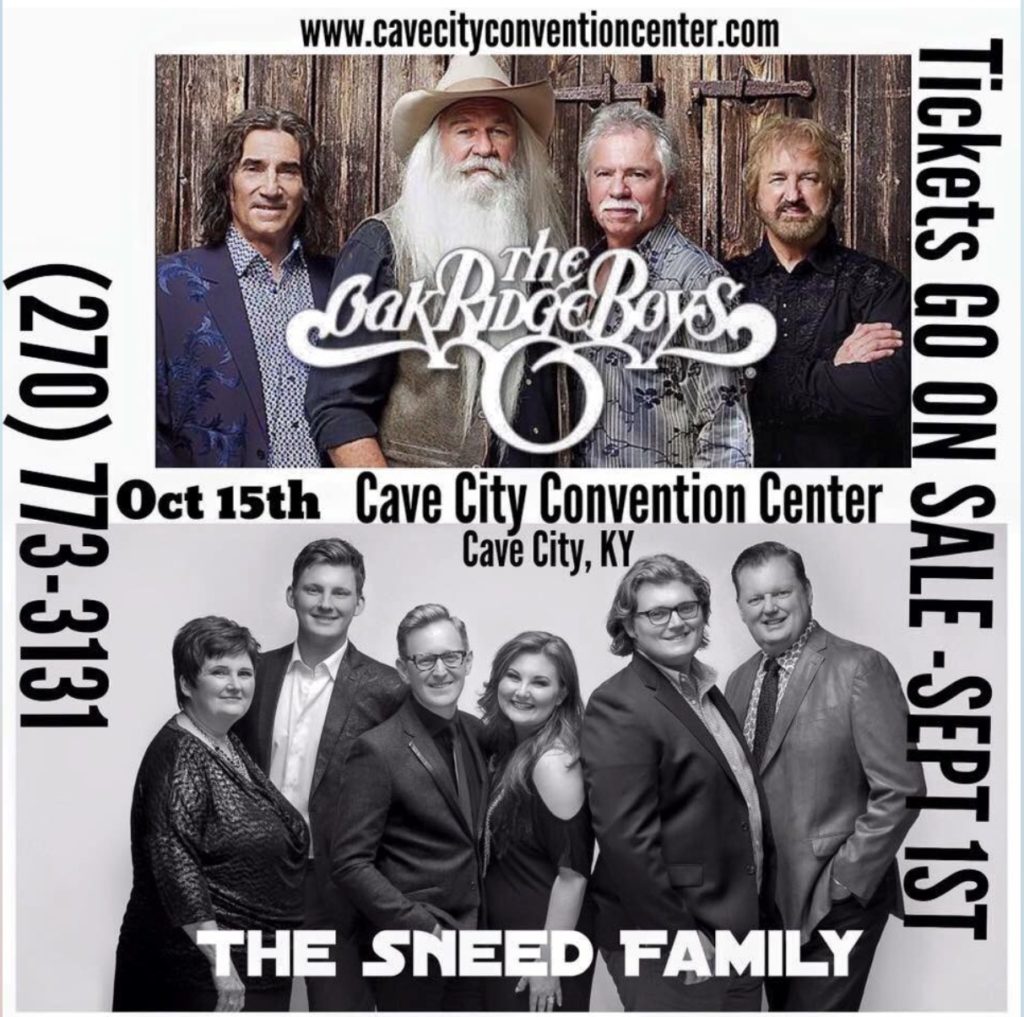 Country Meets Gospel Music in Kentucky
Oak Ridge Boys and Sneed Family in Concert
Glasgow, KY (October 4, 2016) – The Oak Ridge Boys will join The Sneed Family for a historic concert to be held in Cave City, KY. The event on Saturday, October 15, 2016, will feature the two groups for a one-time performance.
"We are thrilled to bring the Oak Ridge Boys to our Kentucky friends! This event is intentionally designed for any family who loves music. We hope that families can come together to be strengthened by a night of fellowship and fun," said Jeff Sneed, patriarch of The Sneed Family.
The Oak Ridge Boys were inducted into the Country Music Hall of Fame in 2015. They have performed before audiences at The Grand Ole Opry and worldwide, boasting such hits as, "Elvira" and "Thank God for Kids".
The Sneed Family released their latest project, "The News For Today" on the Main Stage of the National Quartet Convention last week in Pigeon Forge, TN. The project, produced by Southern Gospel icon, Ben Isaacs, is positioned to be a break through for this talented group. The Sneed Family is a favorite to their southern Kentucky fans. They provide an honest worship experience while providing encouragement.
Watch for them on stage as well as on television with their production of "Sneed Family Music". The program is seen in over one million homes each week. The Sneed Family brings music, and interviews from the best in Southern Gospel Music. The show is now available online.
The event will be held at 7:00 PM at the Cave City Convention Center located on Interstate 65 in Cave City, KY. For convenience, tickets may be purchased at cavecityconventioncenter.com or by phone at 270-773-3131.
For more information on The Sneed Family, visit sneedfamily.com
Tags:
oak ridge boys
,
Sneed Family
Posted in
announcements
|
Comments Off

on Country Meets Gospel…. Don't Miss This!
Written by scoopsnews on February 5, 2016 – 7:00 pm -
Look what just happened at the Utah Jazz game!
The Oak Ridge Boys sing National Anthem!
Way to go guys…..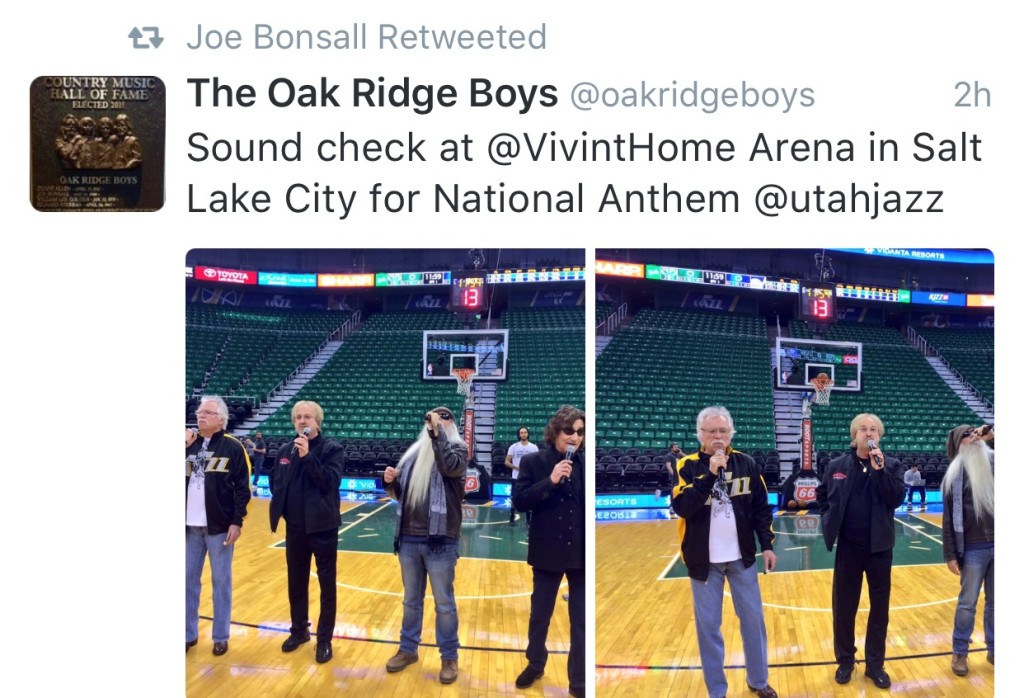 More News
Tags:
joe bonsall
,
oak ridge boys
Posted in
announcements
|
Comments Off

on Oak Ridge Boys perform National Anthem
Written by Staff on October 17, 2015 – 2:19 pm -
Signal Mountain, TN (October 16, 2015) – This week's episode of Harmony Road TV, the Southern Gospel Television program, hosted by Les Butler, includes a premiere video, exclusive interview, a performance of the new #1 song in Southern Gospel music and more.The program will feature the world broadcast premiere of the Williamson's challenging new video, "Monday."  The Williamsons will also perform their just announced number one hit, "Shout."
Also included is the second installment of the Harmony Road exclusive interview with Joe Bonsall of the Oak Ridge Boys.
Joe discusses the Oak Ridge Boys new Southern Gospel release, "Rock of Ages," and more about the group's involvement in Gospel music through the years.
This week's Harmony Road TV episode will also include Ernie Haase and Signature Sound, featuring Devin McGlamery, with "From My Rags to His Riches."  Music from Reggie and Ladye Love Smith rounds out this special episode.
Harmony Road TV is now available to over 90 million homes nationwide through a variety of networks, local affiliates, online networks, cable systems, ROKU, DirecTV, Amazon Fire TV, Mobile app and more. For information on the program, including where to watch, go to www.harmonyroadtv.com, or email program@harmonyroadtv.com.
Tags:
ernie haase and signature sound
,
Harmony Road Television
,
oak ridge boys
,
Williamsons
Posted in
announcements
,
artists
|
Comments Off

on Harmony Road TV Set to Air Special Episode This Weekend
Written by Staff on October 15, 2015 – 10:35 am -
Label's Artists Take Home 2015 Honors for Southern Gospel Artist of the Year, Country Song of the Year and Bluegrass/Country Album of the Year
Label Line-up Gives Stirring Show Performances
NASHVILLE, Tenn–October 15th, 2015—The Gaither Music Group roster of artists took home three 2015 GMA DOVE Awards during Tuesday night's ceremony held at Allen Arena at Lipscomb University in Nashville, Tennessee.
Gospel Music Hall of Fame members and GRAMMY® Award winners the Gaither Vocal Band were awarded Southern Gospel Artist of the Year. Group member Adam Crabb, who accepted the award on behalf of the group, stated, "What an honor to accept this! To be here receiving this as a part of this group is unreal to me. I am living the dream I had as a child, singing with one of my all-time favorite groups—the Gaither Vocal Band. I am grateful to Bill [Gaither] for giving me the opportunity to join this group, and we appreciate the GMA honoring us in this way."
The group's founder and bass singer, gospel music legend Bill Gaither joined Christian music artist Matt Maher for the awards program to perform "Because He Lives (Amen)." Penned by Chris Tomlin, Daniel Carson, Ed Cash, Gloria Gaither, Jason Ingram, Matt Maher and Bill Gaither, the song was awarded Praise and Worship Song of the Year.
Also nominated for a 2015 GRAMMY® Award, the Gaither Vocal Band has garnered five GRAMMY® nominations, two GRAMMY® Awards and 18 GMA DOVE Awards to date.
Country music icons and Gospel Music Hall of Famers The Oak Ridge Boys took home the award for Country Song of the Year for their recent country single, "Sweet Jesus," an original song penned for them by country music star Merle Haggard, who joined the group for the recording of the song. The award-winning tune is a part of the group's Rock of Ages, Hymns and Gospel Favorites recording, a 15-song project produced by Ben Isaacs and group member Duane Allen.
"To win a coveted DOVE Award is a chilling experience," stated Allen. "However, to share this with Merle Haggard is beyond words. Thank you, Gospel Music Association, for choosing 'Sweet Jesus' as the Country Song of the Year!"
"It as an honor to be a small part of this legendary performance," stated Isaacs. "I have been a fan of both The Oak Ridge Boys and Merle Haggard for years. I knew it was special when we recorded it. Now I know I'm not the only one who feels that way."
The Oak Ridge Boys were inducted into the Gospel Music Hall of Fame in 2000, and they have garnered ten GMA DOVE Awards and five GRAMMY® Awards.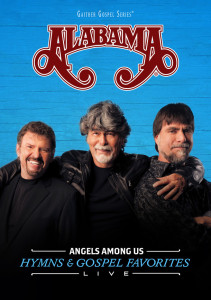 Country music legends Alabama received the 2015 DOVE Award for Bluegrass/Country Album of the Year for Angels Among Us, Hymns & Gospel Favorites, produced by group members Jeff Cook, Teddy Gentry and Randy Owen. This marked the band's first DOVE Award and 178th career award.
"I am so happy for these country music icons, who are still breaking new ground," stated Bill Gaither. "May their first DOVE Award for Angels Among Us be just the beginning of more exciting days ahead for Alabama."
The release, along with its DVD companion featuring behind-the-scenes interviews with Gaither, have been seen on 15 TV networks including PBS, RFD, TBN, DirecTV, DISH TV and AT&T U-verse. These two-time GRAMMY® Award winners have sold more than 73 million albums and singles and achieved 43 No. 1 songs, and they are members of the Country Music Hall of Fame.

GRAMMY®-nominated and multi-DOVE Award-winning family trio The Martins (Joyce Martin Sanders, Jonathan Martin and Judy Martin Hess) performed a cappella alongside singer/songwriter/comedian Mark Lowry. The packed audience rose to its feet following their unique rendition of "When I Survey the Wondrous Cross" found on Lowry's new solo recording How We Love (Spring Hill Music).
The Martins have garnered four number one singles and four top ten singles in multiple Christian music formats in addition to eight GMA DOVE Awards. A GRAMMY® and GMA DOVE Award winner, Lowry was inducted this year into the Gospel Music Hall of Fame.
The award-winning Isaacs (Sonya Isaacs Yeary, Rebecca Isaacs Bowman, Ben Isaacs and Lily Isaacs) gave a special performance alongside contemporary Gospel singer Erica Campbell, who co-hosted this year's ceremony. The family formed an acoustic band around Campbell and added background vocals to her hit "A Little More Jesus," creating a riveting performance that ignited the crowd.
Gaither Music Group projects are exclusively distributed by Capitol Christian Distribution and Universal Music.
Tags:
alabama
,
gaither
,
Gaither Vocal Band
,
Isaacs
,
Mark Lowry
,
Martins
,
oak ridge boys
Posted in
announcements
,
artists
|
Comments Off

on Gaither Music Group Celebrates Three 2015 GMA DOVE Award Wins
Written by Staff on August 17, 2015 – 11:26 am -
Pigeon Forge, TN (August 17, 2015) – The newest event in Pigeon Forge, Christian Country Expo, is thrilled to welcome Chris Golden to the line-up which features favourites Marty Raybon and T. Graham Brown, as well as Jan Harbuck, Ava Kasich, Tina Wakefield, Jerry Branscom, and many more.  From August 24th through the 27th, Christian Country fans and artists will fill the Smoky Mountain Resort with music and the sounds of fellowship.
Chris Golden is the son of William Lee Golden, vocalist with the Oak Ridge Boys.Chris travelled with the Oaks, as well as being a member of rock bands and other musical ventures. He has recently released Sunday Shoes, a CD full of Gospel Music that has him singing the music he first heard as a young boy. Chris is sure to excite the crowd at Christian Country Expo.
During the Christian Country Expo,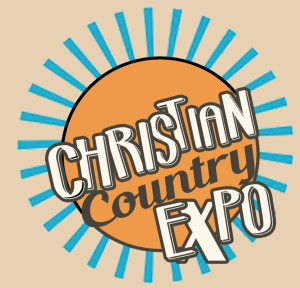 there is a special emphasis on Salute to Our Heroes, recognizing the First Responders and the hard work they do on an everyday basis.
Doors open at the Center at 5:00 pm on Monday night and again on Tuesday morning at 9:30 am for music showcases. For more information on lodging or tickets, please email Rob Patz of Coastal Media at rob@sgnscoops.com or call 360 933 0741. Find out more about Christian Country Exp on their Facebook page. 
For more information and news about Christian Country and Southern Gospel, watch the SGN Scoops mainpage and the SGN Scoops Facebook Page.
Tags:
Chris Golden
,
christian country
,
Christian Country Expo
,
oak ridge boys
,
William Lee Golden
Posted in
announcements
,
artists
,
christian entertainment
,
Christian interest
|
Comments Off

on Christian Country Expo Welcomes Chris Golden
Written by SGN Scoops Staff on June 5, 2015 – 11:02 pm -
This week's program on "Good News Music Radio with Woody Wright" features Part 2 of our interview with Duane Allen and music from The Oak Ridge Boys, Joseph Habedank, Wilburn & Wilburn, Jason Crabb, Ernie Haase & Signature Sound, Buddy Greene, Larry Gatlin and MORE!
Duane Allen takes you behind the scenes of the recording of the Oak Ridge Boys' brand new hymns CD release, "Rock of Ages"!
Tune-in to one of the stations listed on our site or listen online for an hour of great gospel music, inspiring ministry and fun with Woody Wright and D. Scott Kramer at:
Good News Music Radio Can Found On Facebook
Here
Tags:
Good News Music Radio with Woody Wright
,
oak ridge boys
,
Southern Gospel News
Posted in
announcements
|
Comments Off

on This Week on Good News Music Radio with Woody Wright
Written by Staff on March 4, 2015 – 9:00 am -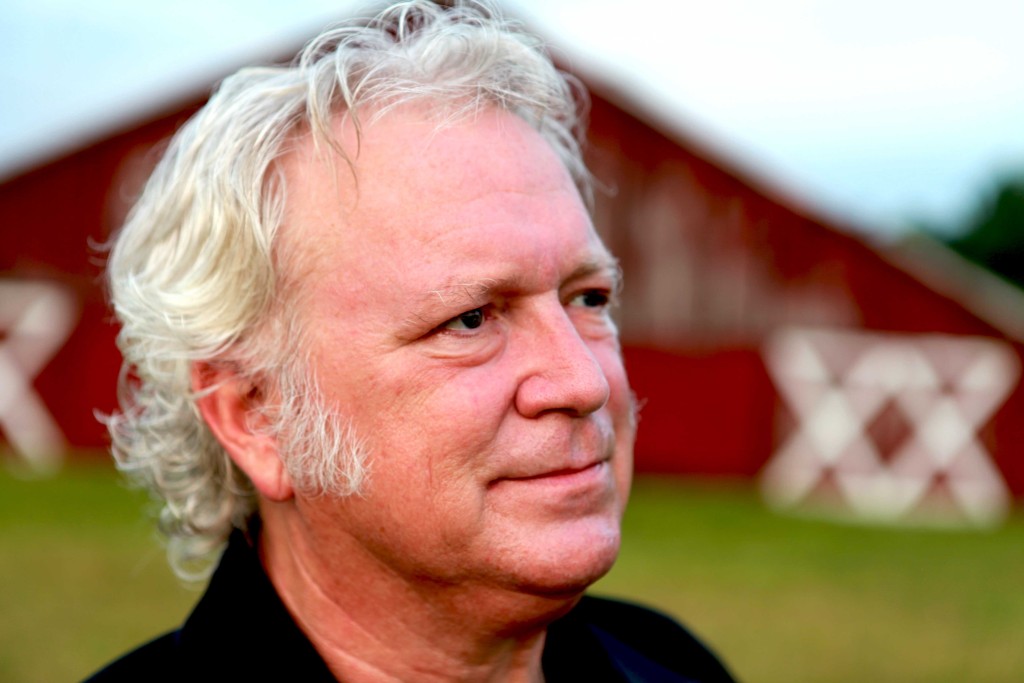 Franklin, TN (Mansion Entertainment)
March 5th,  2015
–  T. Graham Brown's latest Grammy-nominated album Forever Changed has hit 
Cracker
 Barrel Old Country Store locations. The critically acclaimed album features collaborations with some of the top Country artists in the music business including Vince Gill, The Oak Ridge Boys, and Jimmy Fortune. Brown also channels his Gospel side with collaborations with Christian singers Jason Crabb, Sonya Issacs, Three Bridges, among others."I'm so excited that 'Forever Changed' is in the 
Cracker
Barrel restaurant and stores! It's our favorite place to stop when we're out on the road" said an excited T. Graham Brown. "We love the food and it's so much fun to shop and look at all the "cool stuff" in the store. I always check out the CD rack, and to have my album there is a dream come true."
In an industry where you have stories each and every day concerning declining sales, the music program atCracker Barrel Old Country Stores continues to thrive, as it begins its' second decade. The company is responsible for top ten albums by such Country Music Hall of Fame members as Alabama and Kenny Rogers, and also partnered up with the iconic Dolly Parton for her 2012 An Evening With Dolly CD / DVD package, which is the program's only RIAA Gold selling project. In 2015, the 600-plus location restaurant chain resumed its' success story by teaming up with Bluegrass legend Ralph Stanley for his Man Of Constant Sorrow disc, which featured collaborations from a wide variety of artists, such as Lee Ann Womack and Elvis Costello. The set debuted on the Billboard Top Bluegrass Albums chart at #2, and also gave Stanley his highest ranking ever on the magazine's Country Album chart, entering the list at No. 14.
In addition to a Grammy nomination in 2015 for "Best Gospel Roots Album," Brown has also garnered some of the strongest ink of his career. He is set to appear in Country Weekly, in an issue that will hit newsstands later this month. Other features include Billboard, CMT, The Examiner, Power Source (which Brown graces the cover for February), and many more.
Track Listing:
1. He'll Take Care Of You (with Vince Gill)
2. From A Stronger Place
3. Soul Talk (with Jason Crabb)
4. Forever Changed
5. Shadow Of Doubt (with Leon Russell)
6. The Power Of Love (with Jeff & Sheri Easter)
7. Out Of The Rain
8. People Get Ready (with Jason Crabb, Leon Russell, Steve Cropper, The Oak Ridge Boys)
9. Pillow Of Mercy (with The Booth Brothers)
10. Midnight Rainbow (with Three Bridges)
11. Which Way To Pray (with Sonya Isaacs)
12. How Do You Know (with The Oak Ridge Boys)
13. Wine Into Water (with Jimmy Fortune)
About Forever Changed:
Co-produced by Mark L. Carman and T. Graham Brown, recorded and mixed by Joe Carrell, Forever Changed is comprised of thirteen tracks featuring guest vocal appearances by popular, award-winning artists Vince Gill, The Oak Ridge Boys, Leon Russell, Jason Crabb Jeff & Sheri Easter, Steve Cropper, The Booth Brothers, Three Bridges and Jimmy Fortune. The lineup of talent collectively boasts 26 Grammys and 37 Dove Awards. Forever Changed was nominated for "Best Roots Gospel Album" and was released by Mansion Entertainment with distribution through Sony/RED on January 27th, 2015.
About T. Graham Brown:
T. Graham Brown has recorded over thirteen studio albums and charted more than twenty singles on the Billboard charts. Three of these singles reached number one and eight more reached the top ten. Brown's voice is also recognized from his singing in advertising campaigns for McDonald's, Disneyland, Almond Joy, Coca Cola, Dodge Truck, Ford, Hardee's and many others including the Taco Bell "Run For The Border" television spots. This past year his appearance in the concept video for "Working on A Building" with Marty Raybon,Jimmy Fortune and Trace Adkins was aired across multiple national television networks. T. Graham Brown still actively tours throughout the year including multiple appearances on the legendary Grand Ole Opry and television appearances such as Larry's Country Diner and Country's Family Reunion. Brown's uniqueness has made him one of the most beloved and iconic performers of the day.
Tags:
booth brothers
,
christian country
,
cracker barrel
,
Forever Changed
,
Jason Crabb
,
jeff and sheri easter
,
oak ridge boys
,
sonya isaacs
,
T. Graham Brown
,
three bridges
Posted in
announcements
,
artists
|
Comments Off

on T. Graham Brown's 'Forever Changed' Now Available in Cracker Barrel Stores