Written by Rhonda on October 14, 2010 – 10:14 am -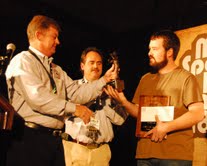 The Grand Master Fiddler Champion for 2010 is Justin Branum of St. Louis, Mo. Tashina Clarridge of Roslindale, Mass., previously of Redding, Calif. placed second. The two-day 39th annual Grand Master Fiddler Championship is the nation's championship event held at the International Bluegrass Music Association Fan Fest in Nashville, Tenn. in early October.
"In my forty-years of association with the Grand Master Fiddler Championship, I have never seen a younger group finish in the top-10 nor the level of competition been keener," said Howard Harris, GMFC president. "Clearly I am most encouraged by the level of participation by our young people that will ensure the future of fiddling for generations."
The Grand Master Fiddler Championship, Inc. is a Tennessee non-profit and a U.S. IRS 501(c)(3) charitable corporation, formed to educate about and perpetuate fiddling as an art form and cultural treasure
Fiddlers competed for over $14,000 in prizes.
Branum took home $2,000 in cash, the bronze Grand Master Fiddler statuette, appeared on the IBMA mainstage, and on the Grand Ole Opry. This was his first Grand Master championship.
Clarridge received $1,500 and a plaque. This was her six consecutive second place showing.
Competitors showed their talents amongst some of the leading performers in acoustic music including the Whites and friends, Brand New Strings, April Fools Old Time String Band, Carpenter and May, Rocky Top Revue Square Dancers, Cathy Roberts, Cadillac Holmes, Aly Sutton, Debra Connelly and Dawn-Joy Thornton.
In honor of its founder, the organization presented the Dr. Perry F. Harris Award to Buck White for his work in support of the traditional art of fiddling.
Actor/entertainer Randall Franks, "Officer Randy Goode" from TV's "In the Heat of the Night," served as celebrity host for both days of the event with an appearance by Stuart Fryer, Hallettsville, Texas State Championship Fiddler's Folics director, who hosted the accompanist contest.
"I was enthused by the interest the fiddlers enjoyed from an audience that spanned the globe," Franks said. "It was a wonderful event. I am honored to stand in the shadows of the great stars that have hosted in the past."
Other organizers include Grand Master Fiddler Championship vice president Ed Carnes, directors Crystal Plohman, Gayla Tanaka-Bollinger, Alva T. "Trey" McClain, Charlie Smith, Megan Lynch and Bobby Taylor.
Contest judges were Matt Hartz, Junior Marriott, Dale Morris, Jr., Hyram Posey and Bobby Taylor.
Among the sponsors were Choice Food of America, Mayberry's Finest, Vietti Chili, Carnes Group, IBMA, Metro Nashville Arts Commission, Tennessee Arts Council and the West Virginia Division of Culture and History.
The other top-10 winners included in descending order: Mia Orosco of Lorena, Texas; Jacie Sites of Idaho Falls, ID; Eischen Harkins of Canon City, Colo.; Jesse Maw of Kalispell, Mont.; Maddie Denton of Murfreesboro, Tenn.; James Schlender of Bozeman, Mont.; Doug Fleener of Leitchfield, Ky. and Adrianna Ciccone of Timmons, Ont., Canada.
Contestants placing 11 through 20 are Greg Henry of Sombra, Ont., Canada; Kimber Ludiker of Somerville, Mass.; Elisha Peter Voetberg of Chehalis, Wash.; Ellie Goodman of Boston, Mass.; Laura Cash of Hendersonville, Tenn.; Isaac Callender of Pendleton, Ore.; Casey Driscoll of Goodlettsville, Tenn.; Paul Lemelin of Sudbury, Ont., Canada; Kerry Varble of Toledo, Ohio; and Tim Hodgson of Victor, Idaho.
Doug Fleener received the Charlie Bush Traditional Fiddler Performance Award from the GMFC presented by the Bush Family – Sam and Janet – in honor of their father late director Charlie Bush.
The Grand Master Traditional Champion is Scott Miller of Ironton, Ohio. Other top five fiddlers were Gailanne Amundson of Longwood, Fla.; Kelsey Wells of Murfreesboro, Tenn.; Hillary Bevels of Fayetteville, Tenn. and Natalie Grimes of Avon, Ind.
Winning guitar accompanists are Anthony Mature of New Waverly, Texas; Darin Meeks of  Post Falls, Idaho; Melika Lemelin of Hanmer, Ont., Canada; Joe Sites of Idaho Falls, Idaho and Terry Ludiker of Post Falls, Idaho.
For more info, visit www.grandmasterfiddler.com.
Photo: Grand Master Fiddler Justin Branum (right) receives the Grand Master Fiddler Trophy from directors Howard Harris (left) and Ed Carnes. (Photo: Randall Franks)
Tags:
Grand Master Fiddler Championship
,
International Bluegrass Association
,
Justin Branum
Posted in
awards
|
Comments Off

on Grand Master Fiddler Championship Crowns 39th Master
Written by Rhonda on August 24, 2010 – 9:30 am -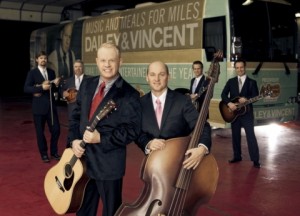 LEBANON, TENN.  (August 20, 2010)—Dailey & Vincent, the reigning International Bluegrass Music Association two-time Entertainers of the Year, are also the lead 2010 IBMA award nominees, receiving ten nominations this week including Entertainer of the Year, Vocal Group of the Year and Album of the Year, for the chart-topping Dailey & Vincent Sing the Statler Brothers on Cracker Barrel/Rounder Records, which was released exclusively through Cracker Barrel in February.  Other nominations include Song of the Year for "Elizabeth," from the Statler Brothers tribute disc; Male Vocalist of the Year (Jamie Dailey); Bass Player of the Year (Darrin Vincent); Gospel Recorded Performance of the Year for "Don't You Wanna Go to Heaven" from the duo's a cappella CD, Singing From the Heart; and Recorded Event of the Year for "Give This Message to Your Heart," from Larry Stephenson's 20th Anniversary CD.  Additionally, Dailey & Vincent Sing the Statler Brothers received a nod for Best Graphic Design for Recorded Project, while Singing From the Heart was honored with a nomination for Best Liner Notes for a Recorded Project.
 
Cracker Barrel Old Country Store® is proud to announce its support of the Dailey &
Vincent Front Porch Tour.  To maintain their heavy touring schedule, Dailey & Vincent will travel the country in their Prevost bus, which has been wrapped with specially designed Cracker Barrel signage.  They will continue to include a Cracker Barrel segment in their shows, featuring tracks from Dailey & Vincent Sing the Statler Brothers. "We are very pleased that Jamie and Darrin have received so many nominations in
important categories and that the Cracker Barrel project has been so well-received, but we are not surprised because we have always known how talented Jamie and Darrin are," said Peter Keiser, Cracker Barrel's Vice President of Marketing. "We are deeply appreciative of the consideration of all the people who voted in the nominating process, and look forward to a great awards show!""Working with Cracker Barrel has been an incredible experience for us," says Jamie Dailey. "We sincerely appreciate their continued support, and we're proud to partner with such a fine company," adds Darrin Vincent.
For  tour dates, visit www.daileyvincent.com.
Tags:
Cracker Barrel Stores
,
dailey & vincent
,
International Bluegrass Association
,
Rounder Records
Posted in
announcements
|
Comments Off

on Dailey & Vincent Lead 2010 IBMA Nominations; Cracker Barrel Supports Tour