Written by Staff on April 8, 2015 – 3:06 pm -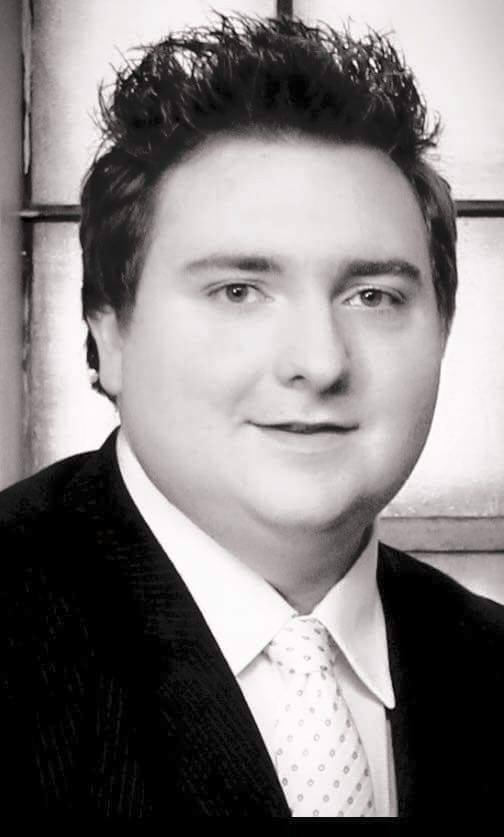 I first met young Josh Copenhaver online when I did a story regarding single people in Southern Gospel. His brother Jimmy joked that Josh was 'Gospel music's most eligible bachelor.' Shortly thereafter, I met Josh at the National Quartet Convention. He was sweet and funny, engaging and optimistic. He had met a girl recently and was really excited about where it might lead. Later, I wrote about Rachel and Josh's love story in a Valentine's article. I was friends with Josh on Facebook and occasionally saw a post or comment, talking about life and Southern Gospel music. He sang with his family, The Copenhavers.
I was shocked and saddened therefore to see a post before Easter. It said that Joshua Copenhaver had passed away at only 26 years of age.
SGN Scoops and SGM Radio sends their condolences and prayers to the family of Josh. With the consent of his mother Karen, we are reprinting his obituary as follows:
Joshua Copenhaver, 26, of Warren OH, formerly of Rittman, went home to be with the Lord on Saturday, March 28, 2015 at Trumbull Memorial Hospital in Warren.
He was born December 29, 1988, in Wooster, to Donnie R. and Karen (Jackson) Copenhaver.
Josh grew up in Creston, and graduated from Norwayne High School in the class of 2007. On May 18, 2013, he married Rachel (Romine) Copenhaver in Newton Falls, and made their home in Warren for the past 2 years. While there, he had been attending the General Assembly Church of God. Josh absolutely loved Southern Gospel music, enjoyed singing and recording albums in his home studio, all sports, especially football, baseball, and Nascar, and spending time with his family, especially his nephew Hutson. Josh was a positive, kind hearted, joyful man and was friends with everyone he met.
He is survived by his wife Rachel of Warren; parents Donnie and Karen Copenhaver of Wooster; brother Jim (Angela) Copenhaver of Wooster; nephew Hutson Copenhaver of Wooster; father and mother in law Lyle (Jennifer) Romine of Warren; aunts and uncles Bill (Betty) Copenhaver of Rittman, Linda Sineath of Virginia, Cathy (Dan) Hearn of Elyria; the Romine and Meadors families; and many other cousins, friends, and loved ones.
He was preceded in death by his maternal grandparents Rev. Neil S. and Della Jackson; and paternal grandparents Denzil and Hazel Copenhaver.
Funeral service will be held at 11:00 AM on Friday, April 3, 2015 at Auble-Gillman Funeral Home, 360 W. Sunset Dr., Rittman, with Pastor Mitchel Meadors officiating. Interment Rittman Cemetery.
The family will receive friends from 4-8 PM on Thursday, April 2, at the funeral home, and from 10-11 AM on Friday before services.
Memorial contributions may be made to Ron Moore of the Ohio Parkinsons Foundation, 127 S. Raccoon Rd., Austintown, OH, 44515.
For online register book, obituary, condolences, please visit www.gillmanfuneralhome.com.
Readers, we ask that you remember this family in your prayers.
You can reach the following Copenhaver family members on Facebook:
Tags:
gospel music
,
Josh Copenhaver
,
southern gospel
,
The Copenhavers
Posted in
announcements
,
artists
,
industry news
,
special feature
,
Uncategorized
|
Comments Off

on Josh Copenhaver: Gospel Singer Gone Too Soon
Written by Staff on February 13, 2014 – 1:48 pm -
February is all about love and we at SGMRadio asked a few couples to tell us their love story. They were happy to oblige! Read all about how these couples are living out their happily- ever- after. Happy Valentine's Day!
Jonathan and Sandra Wilburn
Jonathan grew up in Southern Gospel, singing with his family The Wilburns and then with Gold City Quartet. Jonathan currently sings with his son Jordan in Wilburn And Wilburn. http://www.wilburn2.com/
This is Jonathan's story:
I met my wife Sandra in high school. I played football and she played basketball. I met her one day when one of my best friends, Chris Carter, asked me to talk to this pretty girl and get her phone number. Well, one day while in class, it happened! Chris jumped up and pointed out the window that was facing the gym. He said, "That is her, go talk to her and get her number for me." I said, "No problem." She came down the hall toward our class and I looked her in the eyes for the first time. I got lost in her big brown eyes. I told her Chris wanted her number and she began to write it down. When she was finished, I had made my mind up. I said thanks, stuck that number in my pocket and went back inside. Chris asked, "Did ya get it?" I said "Nope, she wouldn't let me have it!" I called her that night and rest is history. On March 7, 2013 it will be 27 years that we have been together.
I am still in love with Sandra and those big brown eyes!
Jonathan Wilburn on Facebook: http://www.facebook.com/karter.hollins?fref=ts
Wilburn and Wilburn on Twitter: https://twitter.com/jordanwilburn1
Madison and Shannon Easter
Madison is a singer/songwriter/musician with Jeff and Sheri Easter. http://www.jeffandsherieaster.com/
Shannon is a songwriter who currently works in the Easter's office as Sheri's assistant. They are preparing to release their first EP together on March 19, 2013.
Shannon shares with us their love story:
Madison and I have always lived in the same town, attended the same school, and participated in many of the same extracurricular events. In August of 2004, our youth group was in charge of providing entertainment for our county's youth rally. The weekend for which the rally was scheduled happened to be a weekend that Madison was not traveling, so he was able to participate. Through rehearsals, Madison and I began talking more and we developed a strong friendship. We began dating on October 26th of that year, and on October 13th, 2008, he proposed by taking me down by The Lewis Family Home Place under the starriest sky, on one knee!
We got married on December 12th, 2010 at Sacred Heart Cultural Center, in Augusta, GA. The building, built in 1897, served as a Catholic church for over 70 years and still contains many of its original features today. The wedding embraced the warmth of Christmas and included a simple ceremony and reception immediately following. We honeymooned in Paris for 3 days and London for 3 days. Read more »
Tags:
Allison Lynn and Gerald Flemming
,
Johnmark Grant
,
Jonathan Wilburn
,
Josh Copenhaver
,
Karen Akemon-Griffith
,
Lorraine Walker
,
Love Stories
,
Madison and Shannon Easter
,
Rhonda Frye
,
Rick Hudson
,
SGM Radio website
,
southern gospel
,
Tammy Underwood
Posted in
special feature
|
Comments Off

on Southern Gospel Love Stories