Written by Staff on February 7, 2017 – 9:18 am -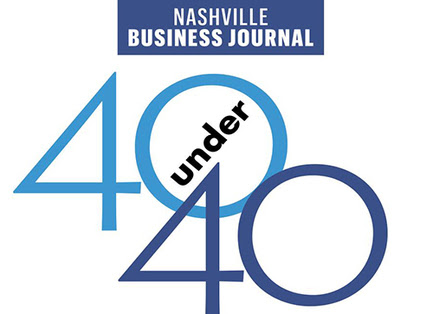 Nashville, Tenn. (
February 7, 2017
) –
Aaron Crisler
, CEO/Owner of Conduit Media, has been named a recipient of the
Nashville Business Journal's 2017 40 Under 40 Awards
. The announcement was made recently by Alison Nash, the Associate Editor of the Nashville Business Journal.
In it's seventh year, Nashville Business Journal's 40 Under 40 Awards recognizes top business and community leaders who are making their mark and promising to do even more before the age of 40. This year's winners were chosen from nearly 600 nominations. An independent panel of judges reviewed each nomination, looking for those with business acumen, strong ties to the community and a willingness to go the extra mile in all they do.
As the CEO/Owner of Conduit Media Solutions, Aaron Crisler has two decades of experience in the entertainment industry. As a talented photographer, he quickly gained trust in the industry working countless celebrity events, red carpet and award ceremonies in Nashville, Los Angeles, and New York. Prior to launching his own firm, Crisler worked with The Judy Nelon Group, where he developed and refined his skill of serving clients with integrity, excellence, and attention to detail. His clientele includes Jason Crabb, the Scott Brothers (stars of HGTV's Property Brothers,) Delilah, Neal McCoy, Loretta Lynn, Don Moen, Water Tower Records, Paula White, Joseph Habedank, Washington DC's Lincoln Memorial Easter Sunrise Service, The Bridge Ministry, Fox News Journalist Kelly Wright, Inspire Nashville / Possibilities, Inc. / Onsite, among others. Crisler serves on the Board of Directors for Delilah's Point Hope Charity, the board of Jason Crabb Ministries and volunteers with The Bridge Ministry and Proverbs 12:10 Animal Rescue, among others.
Each of the award winners will be featured in the Nashville Business Journal's 40 Under 40 special publication and honored at an awards luncheon on
March 14, 2017
at The Westin.
For more information on the Nashville Business Journal's 40 Under 40 Awards,
click here
.
Tags:
aaron crisler
,
Conduit Media Solutions
,
Jason Crabb
,
Joseph Habedank
,
Judy Nelon
,
Nashville Business Journal
,
Top 40 Under 40
Posted in
announcements
,
artists
|
Comments Off

on AARON CRISLER NAMED RECIPIENT OF NASHVILLE BUSINESS JOURNAL'S 2017 40 UNDER 40 AWARDS
Written by SGN Scoops Staff on June 21, 2013 – 2:14 pm -
June 21, 2013 (Nashville, TN) – Nelon Music Group congratulates Carroll McGruder on receiving top honors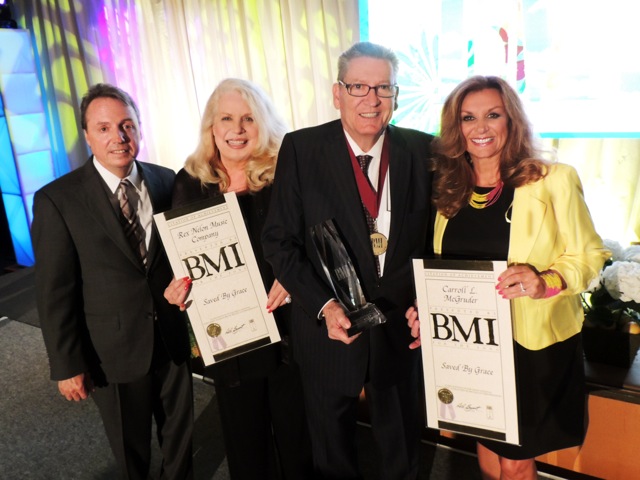 at the Broadcast Music, Inc.® (BMI) 2013 Christian Music Awards. During an invitation-only evening ceremony held on June 18, 2013, at the Nashville headquarters, Mr. McGruder was named Songwriter of the Year and honored for the song, "Saved By Grace," published by Rex Nelon Music, a division of Nelon Music Group and performed by Triumphant Quartet.
When McGruder arrived at BMI, he was aware that he was being honored for the song, "Saved By Grace," but he was surprised to hear his name called out as the recipient of one of the night's highest honors, Songwriter of the Year. "To say I was shocked is an understatement," commented McGruder. "To be allowed even the privilege of participating with such an elite group of talent and then to hear my name called…well, I can honestly say that it is a bit overwhelming. My wife, Sharon, had to pinch me and say 'get up there, they just called your name!'"
Continuing, McGruder stated, "I am thankful to everyone that has helped me through the years. I thank God for His mercy and grace. Judy Nelon and Kelly Nelon Clark have continued to promote my material and I thank them."
Judy Nelon, president of Nelon Music Group, shared, "Rex Nelon spent his life encouraging aspiring artists and writers. It is a joy to carry on his love of our music. Carroll L. McGruder is a shinning example of a gifted writer – his compositions are timeless!"
"Whenever Daddy told us he had a new Carroll McGruder song," Kelly Nelon Clark recalls, "We knew right away that we would be singing it for years to come."
McGruder was also honored for the song, "I'm Going Home With Jesus," published by Best of Zion Music.
Tags:
Carroll McGruder
,
Judy Nelon
,
Nelon Music Group
,
Rex Nelon
,
Saved By Grace
,
Songwriter of the Year
,
southern gospel
,
Southern Gospel News
Posted in
announcements
|
Comments Off

on NELON MUSIC GROUP CONGRATULATES CARROLL MCGRUDER
Written by Rhonda on September 28, 2010 – 10:58 am -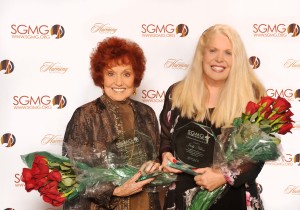 LOUISVILLE, KY – The SGMG (Southern Gospel Music Guild) recognized industry icons and life-long friends Lou Wills Hildreth and Judy Spencer Nelon with the prestigious Lifetime Achievement Honor at a special reception held during the 2010 National Quartet Convention in Louisville, KY. SGMG Vice-President Beckie Simmons Bates presented the honors where a group of industry friends and colleagues gathered to share in the special occasion. The afternoon celebration opened with a welcome from NQC Executive Vice-President Clarke Beasley. The Nelons sang, "The Lord's Prayer" and host Dr. Jerry Goff, well-known for his masterful MC work, introduced the presenters who included their congratulations and numerous stories. Beckie Simmons Bates, Jimmy Blackwood, Fay Shed and a phone call from Larry Gatlin for his mentor Lou Hildreth contributed to a very heartwarming presentation. Kelly Nelon Clark headed the list of presenters for Judy Nelon followed by Sue Dodge, Lisa Abraham and Eddie DeGarmo. Aaron Crisler presented red roses to Lou Hildreth thanking her for mentoring his mentor Judy Nelon. Crisler also presented red roses to Nelon alongside a heartwarming story of his life since coming into the world of Judy Nelon. Mark Lowry spoke words of appreciation for both honorees. Lowry started with Hildreth whom he told of helping him with her booking agency at the age of 11. Mark's mom brought him to a concert in Nashville, Tennessee dressed resembling a flag in red, white and blue. Lowry then thanked Nelon for her help in making it possible for him to perform on a showcase at the famous Christian Artists event in Estes Park, CO. He said, "It all started that day and finally landing me with the Gaithers." The afternoon celebration was sponsored by the SGMG and was attended by a list of prestigious Christian music members.
Lou Hildreth stated, "I am humbled and overwhelmed with gratitude to be the recipient of the 2010 SGMG Lifetime Achievement Award knowing that it came from my peers. The Southern Gospel Music Guild is dear to my heart, and I am thankful that I was there when this strong and growing organization was founded. The board made an excellent choice in giving Judy Nelon a Lifetime Achievement Award also. It made the celebration complete for me. Judy and I have both served the gospel music industry and fans with an equal passion and have combined our efforts on many projects, beginning with the 1971-72 GMA Board Of Directors. It has been a glorious 'lifetime in gospel music' and my heart overflows with love and thanks to a gracious Heavenly Father. Thank you my friends and colleagues at the SGMG."
Judy Nelon continued, "I am grateful and blessed to be the recipient of the 2010 SGMG Lifetime Achievement Honor, especially sharing this with my dear friend Lou Hildreth and surrounded by so many I have loved and worked with for over 40 years in gospel music.
Having Lou in my life has been one of my greatest blessings. She has a soft voice and a powerful impact. Wherever she is, Lou makes a difference in the outcome of any meeting. I have learned from her, but not near enough. In a lifetime, it would be impossible to gain the ability that Lou Wills Hildreth has which seems to have been born in her. She was a legend in gospel music long before I met up with her as board members of the Gospel Music Association in Nashville. It was while we served together, the GMA founded the Gospel Music Hall of Fame in 1971 and had the first gospel singing and dinner on the grounds of the White House in 1978.
We have shared rooms at most of the Gaither Homecoming tapings and marveled at the wonderful way Bill and Gloria Gaither have shared gospel music with the world: the music we both love so much. We have worked diligently to make everyone in the world know about it and the wonderful gospel music artists we have served as talent agents, publishers, and many other hats we have been delighted to wear when needed."
More photos from the event can be viewed online at www.GospelMusicUpdate.com
SGMG
In 1986, several Southern Gospel music leaders decided the industry needed an organization to foster the growth of the Southern Gospel music genre. Through the years, the Guild has grown to include every facet of the Southern Gospel music industry, encompassing artists (full-time and part-time), record companies, radio, promoters, publishers, distributors, talent management, media representatives, and booking agents. Looking beyond the needs of today, the Southern Gospel Music Guild hopes to affect the future of the industry. Through communication and education, we hope to significantly impact the image and awareness of Southern Gospel music for generations to come. This is accomplished by a variety of means: getting Southern Gospel music introduced to new audiences and promoting quality and professionalism within the industry. By working together we can learn how to better utilize our skills. Through extensive, persistent efforts, we can increase the visibility of and appreciation for our music, thereby touching tomorrow….today.
For more information on the SGMG, log on to www.sgmg.org.
Tags:
Judy Nelon
,
Lou Hildreth
,
national Quartet Convention
,
Southern Gospel Music Guild
Posted in
awards
|
Comments Off

on Lou Hildreth, Judy Nelon – SGMG Lifetime Achievement Honor