Written by SGN Scoops on July 13, 2011 – 6:53 pm -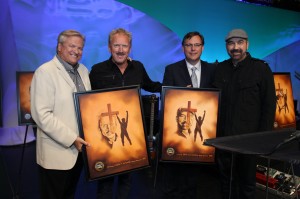 ATLANTA—Eddie Carswell and Billy Goodwin, founding members of Grammy-nominated NewSong, were named Musician of the Year at the inaugural The Champions of the Faith Awards & Benefit Concert, held this week at the International Christian Retail Show in Atlanta.
 
Presented by the Premier Foundation, in partnership with the Association For Christian Retail (CBA), the awards recognize businesses, organizations, entertainers, individuals and Christian retailers and vendors who are "champions" of the Christian faith by living lives dedicated to the principles taught by Jesus Christ.
 
In addition to Carswell and Goodwin, honorees included NASCAR's Trevor Bayne (Athlete of the Year); Karen Kingsbury (Author of the Year); World Vision's Richard Stearns (Charity of the Year); and AFFIRM Films/Sony Pictures Entertainment's Rich Peluso (Business Person of the Year), among others.  The event featured a concert by NewSong, along with GMA Artist of the Year Francesca Battistelli, as well as special guests Mike Donehey of Tenth Avenue North and visual artist Jared Emerson.  
 
The Premier Foundation is a 501 (c)(3) public foundation committed to fulfilling the mission of spreading the gospel of Jesus Christ. With the cooperation of the Premier Group (Premier Productions, Premier Christian Cruises, Premier Festivals and Camp Electric), the Premier Foundation touches millions of people every year through Christian concerts, radio and other Christ-centered events.
 
Co-founded by Carswell and Goodwin in 1981, NewSong is celebrating an unprecedented 30th year in Christian music. One True God, the band's 17th recording, debuted at #1 on Billboard's Top Christian/Gospel Albums chart in May, while NewSong's Winter Jam 2011 Tour Spectacular was the #1 tour in the world for the first quarter, according to Pollstar.  The group has amassed 20 #1 singles, a Grammy nomination, and a #1 mainstream adult contemporary single, among numerous other achievements.
 
For further information on NewSong, visit www.newsongonline.com or www.turningpointpr.com, and for additional information on The Champions of the Faith Awards & Benefit Concert, visit www.thechampionsofthefaith.com.  
Photo: Pictured at the First Annual Champions of the Faith Awards & Benefit Concert are (l-r) Gary Gentry, owner, The Premier Group; honoree Eddie Carswell, founding member of NewSong; Gene Krcelic, president, the Premier Foundation; and honoree Billy Goodwin, founding member of NewSong. (photo: Leland Holder, Leland On Location Photographic)
Tags:
AFFIRM Films
,
Association For Christian Retail
,
billy goodwin
,
eddie carswell
,
Francesca Battistelli
,
Karen Kingsbury
,
Mike Donehey jared emerson
,
Newsong
,
Premier Foundation
,
Richard Stearns
,
Trevor Bayne
Posted in
awards
|
Comments Off

on NEWSONG'S EDDIE CARSWELL AND BILLY GOODWIN HONORED AS 'CHAMPIONS OF THE FAITH'
Written by SGN Scoops Staff on June 15, 2011 – 7:48 pm -
Atlanta, GA—Many of the most creative and influential voices for Christianity will be attending the International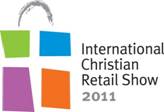 Christian Retail Show July 10-13 at the Georgia World Congress Center in Atlanta. From pop culture personalities in music, television, and film to authors and the deepest minds in theology, apologetics, and social issues, these innovators will discuss latest works, current thought, and upcoming releases that will impact the culture and Christianity in years to come.
Although the ICRS exhibit floor is not open to the public, there will be public events on Sunday, such as the evening worship service and the Champions of the Faith concert and auction which will recognize top leaders in professional fields who daily live out their Christian faith. Additionally, opening Sunday is the three-day Celebrate the Word Bible Legacy Exhibit of historical Bibles and artifacts to help celebrate the 400th anniversary of the King James Bible translation.
New to the convention line-up is competitive surfer Bethany Hamilton who lost her arm in a shark attack, but never lost her faith. Her story and testimony are the focus of the feature film Soul Surfer which is now being released on DVD.
The Duggar family, stars of the TLC reality show 19 Kids and Counting featuring Jim Bob and Michelle Duggar and their 19 children, will perform music at the open-to-the-public Sunday, July 10 Worship Him service. The Duggars also will perform and sign autographs in the Town Center on the exhibit floor and be in the Spring Arbor Content Group exhibit booth during the show.
John Schneider (Bo Duke of The Dukes of Hazzard) stars in Doonby, the story of a mysterious drifter who makes himself indispensable to a small Texas town. The pro-life film features a cameo by Norma McCorvey, who was the Jane Roe in Roe vs. Wade, the landmark 1973 Supreme Court case that legalized abortion. McCorvey later converted to Christianity. Schneider's RV will be parked on the ICRS exhibit floor, and he will be available to discuss the film to be released later this year.
Committed, the six-man a capella group that won NBC-TV's Season 2 of the hit series The Sing Off, will perform on the Town Center stage during ICRS. The Alabama-based group members expressed their faith and performed Gospel songs and favorite hits on the show.
The open-to-the-public Sunday evening service will feature Randy Frazee, who will speak from his latest work with Max Lucado, The Story¾an overarching multimedia epic of God's story through time that's still relevant today. Nicole C. Mullen will sing work from her upcoming worship album, Captivated, a homage to Jesus Christ's majesty. Atlanta's North Point Live also will lead Sunday worship.
Best-selling fiction author Karen Kingsbury will be announcing a contest to promote reading at ICRS. She also will receive one of the inaugural Champions of the Faith awards.
ICRS will host many other authors, artists, and church leaders. For more information, visit www.ChristianRetailShow.com.
Tags:
19 Kids and Counting
,
John Schneider
,
Karen Kingsbury
,
Randy Frazee
,
The Duggar family
Posted in
announcements
,
Christian interest
|
Comments Off

on Christianity's Most Creative and Influential Voices to Attend International Christian Retail Show
Written by SGN Scoops Staff on June 9, 2011 – 10:58 am -
r Immediate Release (Nashville, TN) – Conference speaker and recording artist Shannon Perry will release her first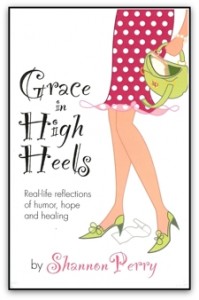 book entitled Grace in High Heels: Real-life Reflections of Humor, Hope & Healing via Grace and Fire Media, a division of Swanson Christian Products (SCP). Swanson has been a national distributor of gifts and church supplies to the Christian retail marketplace for over 75 years.
"I am so thrilled to be partnering with Swanson," said Perry.  "Their commitment to offering quality products to Christian retailers is long-standing and I appreciate their sincere desire to promote products that stay true to the Gospel."
Adam Swanson, president of Swanson Christian Products, says Perry's book made an immediate impression on his family. "My 10-year-old daughter saw the Grace in High Heels book on my desk," says Swanson.  "She picked it up while I was in a meeting and fell in love with it enough to take it off my desk and take it home!  She told her Mom she wanted to finish it for summer reading and said she thought the stories were funny and had lots of scriptures. If my daughter picked up on it that quickly, I thought, 'Wow, this must be an engaging book.'"
Based in part on material from her original women's conference "If the Shoe Fits," Grace in High Heels: Real-life Reflections of Humor, Hope & Healing includes true stories from Perry's life, reflecting on various issues such as being single, motherhood, marriage, finding purpose and many other topics that are divided into four sections: "Goody Two Shoes," "Is there a Hole in your Sole?," "Lacing up the Tongue," "Walk a Mile in my Shoes."
Perry has written articles for various media outlets including regular contributions to Salem Communications'  Crosswalk.com, Christian Voice magazine, Christian Women of Today magazine, WestSideStory.net, and Everyday Christian, to name a few.  Perry conducts her women's conferences across the U.S., averaging 50-75 events per year.  In addition to her conferences, Perry performs solo concerts and recently sang the National Anthem before 70,000 fans at a Houston Texans home game.
Perry earned her Master's Degree in Education with an emphasis in counseling and taught in the public school system for over fourteen years before entering into full-time ministry.  Her most recent recording, "The Real Thing," was produced by Lifeway Christian Resources producer/writer Paul Marino.  All ten songs were co-written by Perry who structured the lyrics to fit in with her conference themes.  She has performed with the Houston Symphony and appeared at Carnegie Hall. Shannon has shared the stage with best-selling authors Karen Kingsbury, Jan Silvious (Women of Faith), and Christy Award winner, DiAnn Mills.
Perry has created a two-minute radio show called "Does the Shoe Fit?" which was recently added to the WALK-FM Radio network (www.WALKFM.org) and will air on seven different stations in six states.  She is currently working on a bible study curriculum to accompany her conference teachings, and is putting together a pilot for a television show.
Founded in 1935, Swanson Christian Products is a not-for-profit ministry of Victory Christian Center. It is an importer, manufacturer and distributor of more than 4,000 Christian products in categories such as apparel, home/office décor, Bible accessories, entertainment and custom products. Grace & Fire Media provides a non-traditional alternative for authors to gain access to more than 3,500 retail stores in the traditional Christian retail market.
Tags:
Jan Silvious
,
Karen Kingsbury
,
shannon perry
Posted in
announcements
,
christian entertainment
,
Christian interest
|
Comments Off

on Speaker/author signs with national distributor